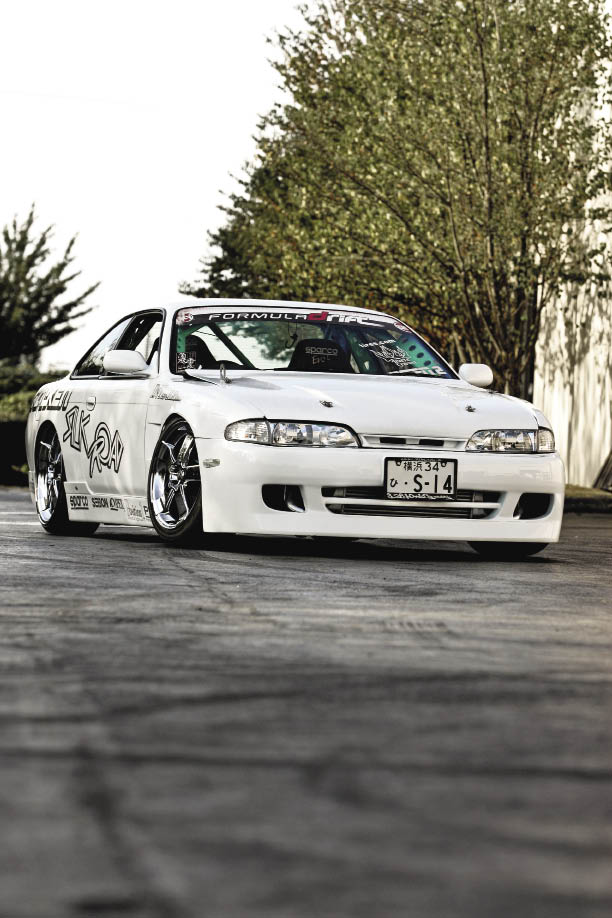 Renowned for his cunning moves in and out of the ring, pro wrestling manager Mr. Fuji was a cornerstone of the sport's popularity in the 1980s. The often sly Fuji would sneak into the ring with a handful of mysterious white powder, referred to as Kabuki powder, and blow the mystery dust off the palm of his hand into the face of his opponents when the ref was not looking. This move surprised opponents, sending them into a blind shock.
A similar stunning move took the entire drifting world by surprise in 2007 when Mitsuru Haraguchi took the Intec S13.5 to victory in Formula D. Winning the Long Beach event was a huge upset amongst a field of cars worth over a quarter million dollars. The Cinderella story doesn't happen often in competition against big dollar teams, so Intec Racing owner Lawrence Ojas celebrated the win by building a new machine for his driver. Haraguchi managed to accomplish the victory in a USDM car, and Ojas wanted to make his ringer more comfortable with the steering wheel on the opposite side, with a purely JDM-style.
Based in Kent, Washington, the Intec team began with a US-spec S14 shell and got straight to work. They spent many sleepless nights switching over the steering column and all other associated items from its JDM donor. After the chassis work was completed, it was sent off to P1 Racing for a Formula D spec roll-cage. The team also integrated a full air-jack system to dramatically reduce tire changing times between rounds, where every second counts.
Residing in the heart of the USDM-to-JDM engine bay lays an SR20 engine that was built with a full Brian Crower (BC) stroker kit to an undisclosed displacement, and matched with BC Cams, valve springs, and retainers. An A'PEXi head gasket was added alongside of 740cc injectors, while a Garrett 3076R turbocharger has been paired with an ASP turbo manifold, GTi-R throttle body, Silk Road intercooler, and A'PEXi titanium exhaust to give a menacing growl. A custom SARD fuel system, located in the trunk, feeds the motor with the octane needed to handle the boost. A Koyo radiator is paired with a GReddy oil cooler to keep fluid temps down, with a Silk Road coolant bleeder to keep out unwanted air.
This setup made well over 400whp and 400 lb-ft. of torque. The original aftermarket clutch couldn't hold down that power and had to be replaced with an OS Giken twin-plate. The SR20 transmission is known to be a weak point, but since Ojas replaced the moving parts with an OS Giken gear set and LSD, the car has been unstoppable.
The "Drifting on Dubs" setup that is known in the land of JDM has been brought to our North American shores by fitting 20s on the car. Even with this setup, the S14 maintains full steering lock and Ojas claims that with an endless supply of tires, the setup is fully reliable for drifting. Ojas routinely switches between two staggered wheel setups, custom AME 18/20 and Work VS-KFs, both wrapped in Falken Azenis RT-615 tires. Bringing these massive wheels to a stop is quite a job, but the rebuilt calipers, Silk Road rear brake conversion, Endless pads and Peak Performance braided lines are up to the task.
Ojas then sourced a set of Silk Road coilovers for adjustability that would allow for full travel with the custom valving and spring rates. Silk Road also supplied a full set of custom camber arms, coilovers, toe rods and tension rods. Haraguchi's company, 326 Power, also helped out with the suspension build, supplying his custom steering knuckles for the car, while Peak Performance tie rod ends were mounted to Ikeya Formula tie rods. The wheel wells were given custom tubs to fit the insanely large wheels, and the whole car was ready to be sent to the paint shop.
The entire car was sprayed in a lab-coat white, with a now-infamous teal and blue mixture on the sides. Under the paint, a 326 Power aero kit has been paired with 326 Power headlights and taillights to give the car flawlessly clean lines. The car was outfitted with a bunch of Seibon carbon fiber goodies as well, with the doors, hood and trunk all aiding in keeping the weight down.
Inside the car, everything is kept strictly to the basics. The centre console was fitted with a switch panel for all the required controls, with a custom-fitted A'PEXi AVC-R controlling the engine while in plain view of the driver. While on the other (now JDM passenger) side of the vehicle, the glove box houses an A'PEXi Power FC Commander for minor adjustments to the tune while at the track.
A P1 roll cage surrounds a pair of Sparco racing seats and harnesses. Just in front of the driver's seat is a Sparco suede steering wheel and a Stacks heads-up display system. The suede continues to the entire dash, to minimize glare for Haraguchi.
Like Mr. Fuji, Ojas and Haraguchi's S14 have been taking most other competing drift cars by surprise, bringing an unknown specialty to the table in two very different sports. But Mr. Fuji and Haraguchi do have one similarity in common; both leave their opponents dazed in a cloud of smoke.