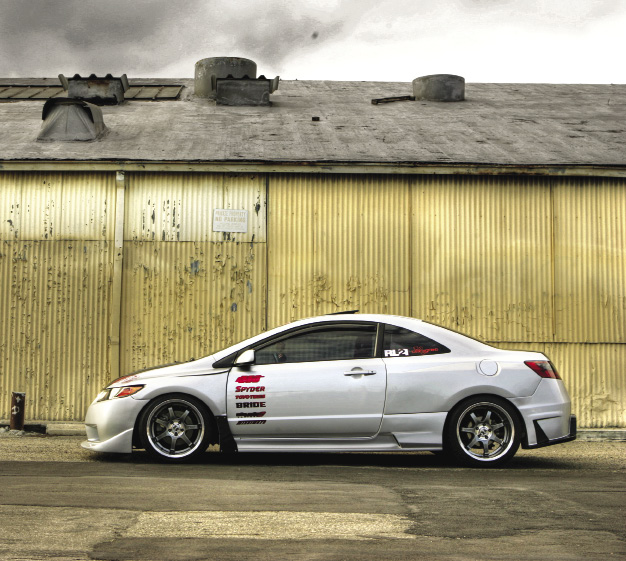 Written by Dave Pankew | Photos by Jacob Leveton
Like many who get their hands on some extra money, I tend to start shopping with it even before the check is cashed. We live in a society where the 'buy now, pay later' phenomenon means many of us don't save up as much.
Consumers can simply pull out their credit cards, dip into lines of credit or get financed to pick up pretty much whatever their hearts desire. Well, times have changed because it isn't easy to get credit after the sub-prime collapse and those who rolled too hard are now maxed out. From our perspective, it is reassuring to still see passionate projects churned out regardless of how much money is required to get the job done.
Honestly, its been a while since we saw this kind of money put into a Civic, since the Honda/Acura brands as a whole have lost some of their illustrious street cred with hot products like the RSX, S2000 and of course the NSX ceasing production. I always use the phase "gone are the days when tuners sink $50,000 into a Civic!" However, I might end up eating my words considering Honda enthusiast Justin Fong has done just that.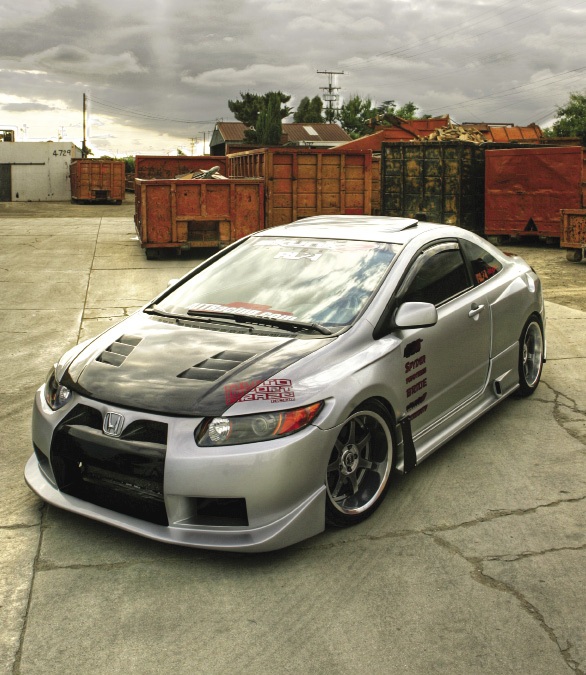 "I initially picked up my Civic Si back in 2006 and had intended for it to be my basic transportation - nothing more, nothing less… seriously," states Fong. "But after acquiring a position at AIT Racing (the well known aftermarket aero parts company), I was confronted with a decision that would alter the entire purpose of my humble Civic. So after a few months of working there, the tuner bug got the best of me and AIT took my car in for the prototyping and development of the first-ever widebody design on Honda's latest Civic platform!"
This move became the basis of Fong's Civic project: to turn it into a demo vehicle for AIT Racing. "This was to be the first step into the tuning world that now engulfs the car you see before you," laughs Fong "After the kit had been put on, it was painfully obvious that the car needed a new set of custom wheels to go with its aggressive exterior GT styling. That's when I picked up a set of Axis wheels and added a few small accents hoping it would put the brakes on the project." Not a chance.
As the project continued to charge full steam ahead, the AIT Racing GT-i widebody kit was complimented with an AIT carbon fiber hood and trunk. A set of TSX projectors were retrofitted on the front end and a set of Spyder LED tails were added to the rear. With the body work complete, DTM Autobody applied the elaborate two-tone alabaster metallic silver/metallic black paint scheme.
The engine received a handful of goodies to crack the 200 whp marker. A Skunk2 Racing MegaPower header was added, along with a MegaPower exhaust. A Mishimoto carbon intake and some of their cooling gear like radiator and 4-ply hoses were also installed. The head also got a shot in the arm with a port and polish along with Skunk2 Pro Series cams, titanium retainers and fortified springs. The package was capped off with a custom painted teal valve cover, ARC spark plug cover and a carbon fiber intake cover. For now, it's going to be left to Kraftwerks to complete the intercooled supercharger that they've been developing for the Si.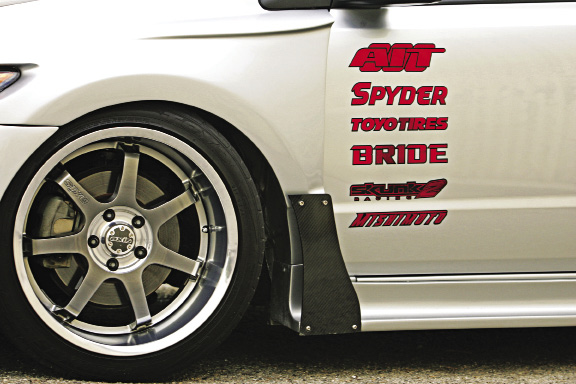 With enough power on tap, Fong decided the running gear need to be upgraded in order to keep pace. A set of Skunk2 Pro-C coilovers were added in addition to a Skunk2 camber kit and lower A-arms. Fong decided on a fatter set of rollers to accommodate his new found width. Fong selected a set of Axis widetrack wheels in 18 x 9-inches all around with a +20 offset. Toyo Proxes T1R tires were wrapped over the wheels measuring 245/40R18 to maintain grip.
With new found athletic abilities, Fong turned to the inside where he would spend his days sitting in California traffic. He decided to roll with a BRIDE-themed interior starting with a pair of BRIDE Brix II racing seats. The seats fabrics were sourced out and the craftsmen at California Upholstery in Bell Gardens, CA got to work creating custom rear seats and panels out of red suede.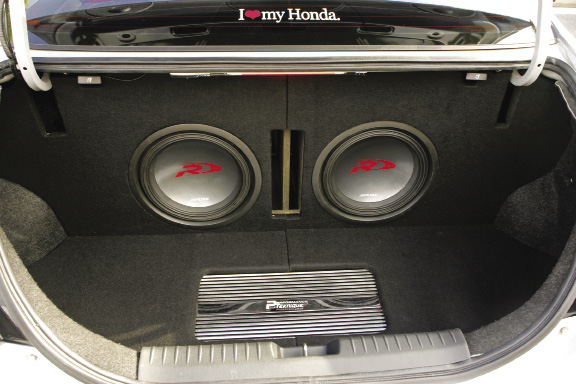 Finally, it was time to add some audio to the mix when Fong picked up some Alpine gear. An Alpine headunit sends signals to the Performance Technik amp that drives a pair of Alpine Type 10-inch subs in a custom enclosure. With the project nearly complete, Fong's Civic definitely gets noticed. Although it isn't living the life of a trailer-queen show car, this Honda can pull a trophy or two from almost any show it enters. "My car is my pride and joy… I'm going to continue fine-tuning it and improving the dynamics of the car to make sure it out shines every other Honda on the West coast," smiles Fong.
ESSENTIALS // Owner: Justin Fong | Location: Diamond Bar, CA. USA | Vehicle: 2006 Honda Civic Si | Power: 200 whp | Engine: Honda K20Z3 2.0L VTEC
ENGINE MODIFICATIONS // Mishimoto Air Intake | Skunk2 Racing Stage 1 Camshafts | Skunk2 Racing Pro Series Valve Springs | Skunk2 Racing Titanium Retainers | Mishimoto Radiator | Mishimoto Radiator Hoses | ARC Oil Cap | ARC Spark Plug Cover | Carbon Fiber Intake Manifold Cover | Custom Teal Valve Cover | Skunk2 Racing MegaPower Exhaust | Skunk2 Racing MegaPower Headers
WHEELS, TIRES, BRAKES // Axis Widetrack 18 x 9-inch | Toyo Proxes T1E 245/40R18
SUSPENSION // Skunk2 Racing Pro-C Coilovers | Skunk2 Racing Rear Camber Kit | Skunk2 Racing Lower Arm Bar
EXTERIOR // AIT Racing GT-I Widebody Kit | AIT Racing Carbon Fiber Hood | AIT Racing Carbon Fiber Trunk | Retrofitted TSX Projector Headlights with 6000k HIDs | Spyder Auto LED Taillights
INTERIOR // ARC Shift Knob | Bride Brix II | Bride Seat Rails | Takata 4-point harnesses | Custom Red Carpet | Custom Bride Door Panels | Custom Bride Rear Seats
AUDIO / MULTIMEDIA // Performance Teknique Amp | Custom Vented Subwoofer Enclosure | Alpine Type-R 10-inch Subwoofers x2
SHOUTOUTS // AIT Racing | Bride | Mishimoto | Skunk2 Racing | Spyder Auto | Touge Motoring | Toyo Tires