Photos by Jacob Leveton
---
If you are like me, you are addicted to video games. Not that I play all the time, I purposely try and avoid them 'cause I simply can't put them down. I was getting pretty good for some time there, especially with online play. I've resisted as much as I can, giving away games and selling off consoles. I almost mangled my last year of University thanks to the original Playstation and then network games like Counterstrike and Battlefield almost cost me a girlfriend. Unfortunately, I fell off the wagon yet again and bought a Sony PS3 with loads of games. In my defense though, the cold Canadian winter means my Nissan GT-R is put in storage and I must turn to my PS3 for my driving fix. For others though, they have year round AWD beasts, some of which sport snow-scheme camo to blend in!
But this particular STi doesn't blend in very well. Yes, it is road legal but we're not sure what favors owner Jamarri Whiteside had to exchange at the DMV to get it fully plated, which by the way was hilarious in itself. The Oregon plate reads 'H8RZNV' which is a warning to all the haters out there not to envy, or test this STi.
From the exterior, you can tell this sedan is no joke. The STi sports a Seibon carbon trunk and hood along with wicked graphics by Fred at The Shop. Seibon is responsible for the carbon fiber roof vane and gas door lid, while NRG supplied the CF mirrors. The darker colors were complimented by blacked-out headlights and 50-percent tints including the windshield! The lighting also got a shot in the arm with the EDM foglights, JDM tails, yellow fogs and 12,000K HIDs with yellow Nokya high beams. The grille has been modified to accommodate the front mount and some Nukabe tow hooks are found in front and back of the vehicle, finished in pink.
Don't forget, this particular STi has enough under the hood to back up its game face. The EJ25 breathes freely with a Fujita short ram intake and exhales through GReddy headers and a Turbo XS 4-inch downpipe leading into an Agency Power exhaust. A Perrin FMIC is found on the cool side with a maze of piping connected to a Turbo XS RFL blow-off valve. With all of the hard parts bolted up a few dress up accessories were added and it was off to the tuning shop. Bobby at PRE performed the tune and kept the drivability of the potent Subaru.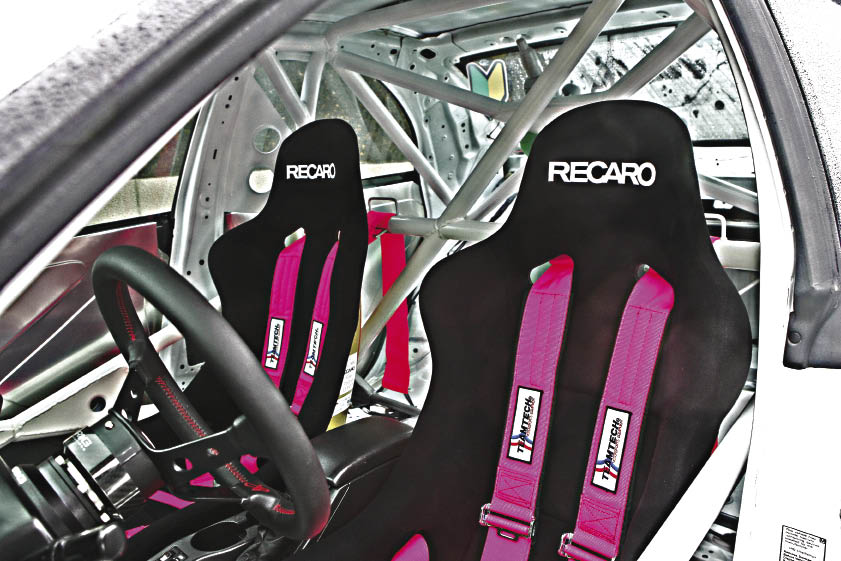 With the drivability in place, it seems Whiteside messed with the program on the interior. Crack open a door and it is very obvious it was not built for comfort. An SCCA-spec cage fabricated by Kyle Pollard snakes its way around the cockpit and deletes the back seats. The front seats have been replaced with Recaro Pole Positions featuring a custom gold flake backing and draped with Team Tech 4-point harnesses. Steering inputs are made with a Vertex 10 anniversay cone wheel connected to an NRG quick release hub. All of the interior panels have been carefully fabricated in sheetmetal complete with ribbing for strength. An AutoMeter pod houses a Megan Racing boost and EGT gauge to keep tabs on the turbo activity.
No Subaru is complete with a few suspension and brake tweaks. A set of Megan Racing fully adjustable coilovers were added in addition to the Carbing strut bar and Cusco triangle bar. The chassis has been stitch welded as well by Eddie at RaceDezign to maintain rigidity. As for the brakes, they received a light mod with SS lines and Hawk HPS pad.
It took a fair amount of research and painful tweaks to get the stance you see here. A set of Volk RE20s in 17x8-inches all around are wrapped with Bridgestone Potenza RE070s sized in 225/45R17. The dark wheels and blazing gold Brembos work well together and complete the look of this mean Pacific Northwest rocket.
Whiteside is content running this thing on the street, but takes it to the track whenever possible. With its out-of-the-box appearance it gets lots of attention but we understand he drives 'pretty casual' to not attract the wrong type.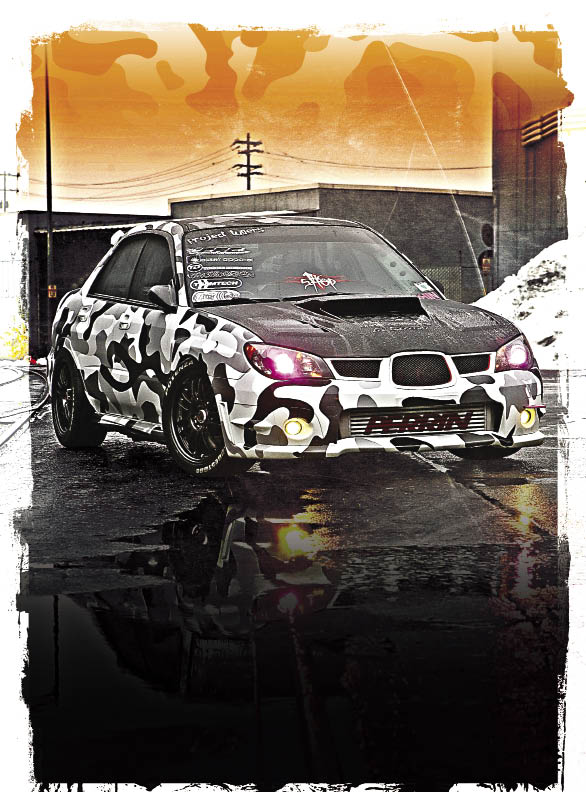 ---
ESSENTIALS
Owner: Jamarri Whiteside
Location: Portland, OR
Vehicle: 2006 Subaru STi
Subaru 2.5L EJ25 Boxer-5
EXTERIOR
Full snow camo vehicle wrap (done by Fred @ The Shop)
Seibon carbon fiber roof vane replacement
Carbon fiber gas lid door
GT Spec carbon fiber exhaust heat shield
Seibon carbon fiber hood
Seibon carbon fiber trunk (no key hole or indent)
Custom painted black headlight housings
'04-'05 taillights w/JDM conversion
JDM Subaru window vent visors
NRG carbon fiber mirrors
Muteki neo-chro lug nuts
Hella horns w/painted pink grills
OEM fogs w/yellow Lamin-x
12,000k HID headlight bulbs
3,000k HID fogs
Nokya yellow high beam bulbs
Changed all bulbs to L.E.D. bulbs inside and out
EDM rear fog light in driver taillight
Custom cut front bumper for FMIC
Custom matte finish Grill Craft grills w/red pinstripes
Nukabe front and rear tow hooks custom painted pink metallic
Painted side vents on front bumper
35% window tint, 50% windshield
INTERIOR
Full 6pt. SCCA spec weld-in through dash roll cage w/gussets (fabricated by Kyle Pollard)
NRG short hub
NRG quick release w/carbon ring
Vertex 10th anniversary cone steering wheel
Custom black suede dash w/red stitching (done by The Shop)
Recaro Pole Positions w/custom painted gold pearl mirror metal flake backs
Recaro aluminum side mounts custom brush finished w/chameleon logos
Speedware brackets (fixed position)
Team Tech custom pink 4pt harnesses
Custom made aluminum race door panels
Window switches moved to glove box
Battleship gray trim pieces
Fully gutted interior
JDM hazard button
Autometer bezel gauge pod
Megan Racing boost gauge
Megan Racing EGT gauge
Painted battleship gray OEM floor bar and covers
NRG carbon fiber shift knob ball
JDM STI carbon shift pattern badge
Broadway rearview mirror
Passenger air bag delete
Head unit block off plate and speakers delete
ENGINE MODIFICATIONS
GReddy header
Turbo XS 4in down pipe
Turbo XS RFL BOV
Agency Power cat-back exhaust
Kartboy polyurethane exhaust hangers
Fujita short ram intake
ECU reflash (tuned by Bobby at PRE)
Koyo aluminum radiator
Perrin blue silicone hoses w/Perrin T-bolt clamps
Apexi turbo timer
ARC titanium pulley cover
ARC titanium air diversion panel
Greddy oil & radiator caps
TEIN hood dampers
Painted pink metallic caps
Custom made red ground wire kit
Optima yellow top battery
DC battery tie down w/custom brush finish
(2) Greddy oil catch tanks custom mounted w/custom hoses
Perrin FMIC w/polished piping
WeaponR polished overflow tank
Beatrush pitch stop mount
Custom carbon fiber fuse box cover
Buddy Club voltage condenser mounted on a custom made bracket
Custom carbon fiber wire cover w/copper rivets
SUSPENSION / WHEELS / TIRES / BRAKES
RAYS Volk RE30's 17x8 38mm offset
Volk limited edition center caps
Bridgestone Potenza RE070 tires
Megan Racing full coilovers
Carbing Craft front strut bar w/brake master cylinder brace
Cusco rear strut bar w/triangle bar
Stitch welded rear inside seam (by Eddie @ RaceDezign)
25mm wheel spacers
Hawk HPS ferro-carbon brake pads