Photography by Jacob Leveton
---
In the early 1970s, the Toyota Corolla was one of the most successful cars in a number of Asian racing series'. Although the Corolla was available for sale in the Philippines, it was ?a stripped-down model designed to be economical, unlike the Levin-trim that was actually raced in series like the Japanese Touring Car Championship, Japanese Formula 3 series and World Endurance Championship. For years, these '70s Corollas have been collected, restored and modified by Filipinos who grew up idolizing these cars. This is one of those stories.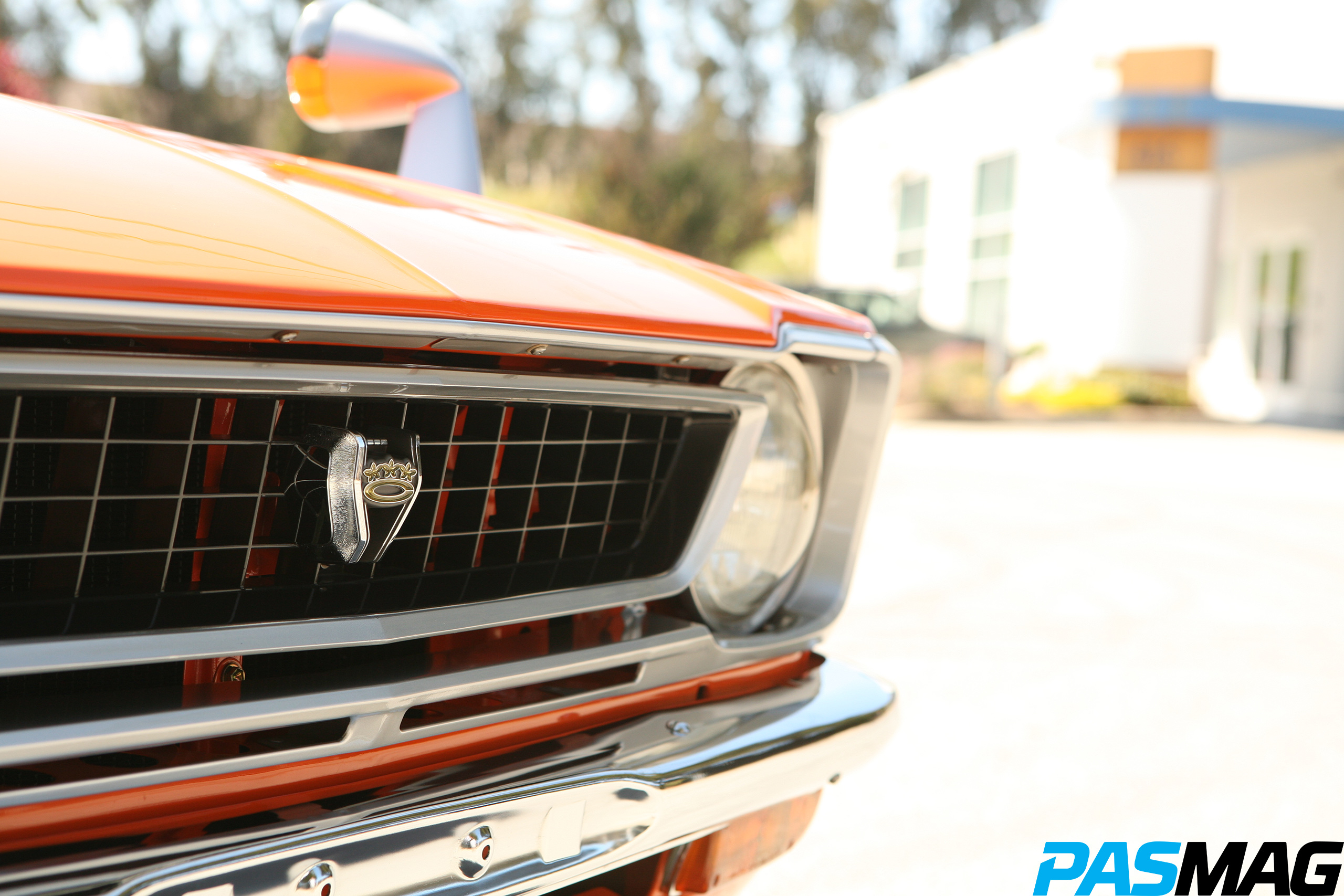 Patrick Ng originally picked up this car from a fellow enthusiast a few years back, but it was substantially more stock back then. He traded a 1986 Corolla hatchback for this chassis and proceeded to build the car to the glory he envisioned. While it may look simple, Ng searched for very specific, rare parts to ensure his build would meet this vision. Setting out to have one of the most talked-about Mango chassis Corollas in the U.S. isn't an easy task, but he worked hard for just that.


| | |
| --- | --- |
| | |

Under the hood, the 2TG engine has been completely rebuilt for performance and longevity. The stock crank is replaced with a 3TG stroker crank and TRD forged pistons while. The aluminum head is ported, polished and packed with oversized valves and higher-lift 288 duration intake and exhaust cams by JB Autoworkz in Hayward. Tom's Racing short manifolds are paired with dual Solex 44 side draft carbs that bring more air to the motor, while a very rare TRD 4-2-1 rally header moves the air out and through the custom 2.5-inch mandrel-bent exhaust. Paired with the short-ratio stock T50 transmission, a Ferodo TRD clutch, eight-kilogram TRD flywheel, balanced OEM driveshaft and TRD two-way LSD, power is put to the ground quickly and efficiently so the 2,100-pound chassis gets off the line quickly.


| | |
| --- | --- |
| | |

Outside, the American crash-tested bumpers are replaced to accommodate slimmer bumpers and valences from the Asian counterpart. OEM Japanese fender mirrors along with OEM-style carbon fender flares from Restored Japan are also featured. The body is sprayed in PPG Lamborghini Orange by Revolution Auto Collision in Vallejo, Calif. The lighting package has been updated with TRD Rally H4 headlights and supplemented with very rare Tosco bubble headlight protectors.

Several rare badges and trim pieces have made their way on to the car, including the side markers, bonnet vents, washer nozzles and grille trim pieces. At first glance, many of these trim pieces might be overlooked by someone who doesn't understand the differences between Ng's Corolla and one they may have seen 20 or 30 years ago; but, to the eye of the enthusiast, these help shape the car to be the unique collector item it is today.


| | |
| --- | --- |
| | |

Ng has been through many sets of wheels, but he currently uses 14x7- and 14x8-inch RS Wantanabe wheels with Yokohama S-drive tires. Ng has a collection of wheels at home that includes the Tom's Racing, TRD and even some Hayashi Racing wheels that are highly coveted. Behind the wheels, the front calipers, rear drum brakes and all suspension arms are reconditioned and improved. The suspension is further stabilized with TRD braces and sway bars, which are specifically developed for various racing series in Asia back in the '70s. Under the chassis, Ng has kept the car just as clean as the body with many suspension components powdercoated or painted to match the chassis.




Paired with a plethora of unique parts, the faultless condition of the car makes this one of the most thorough TE27 Corolla builds in North America. For Ng, it is exactly what he grew up idolizing on TV and in magazines. Now he parks this treasure in his garage – it's his prized possession, a dream fulfilled. After building no less than seven previous Toyota chassis ranging from AE86 Corollas to a Starlet and a Cressida, this one is definitely his favorite.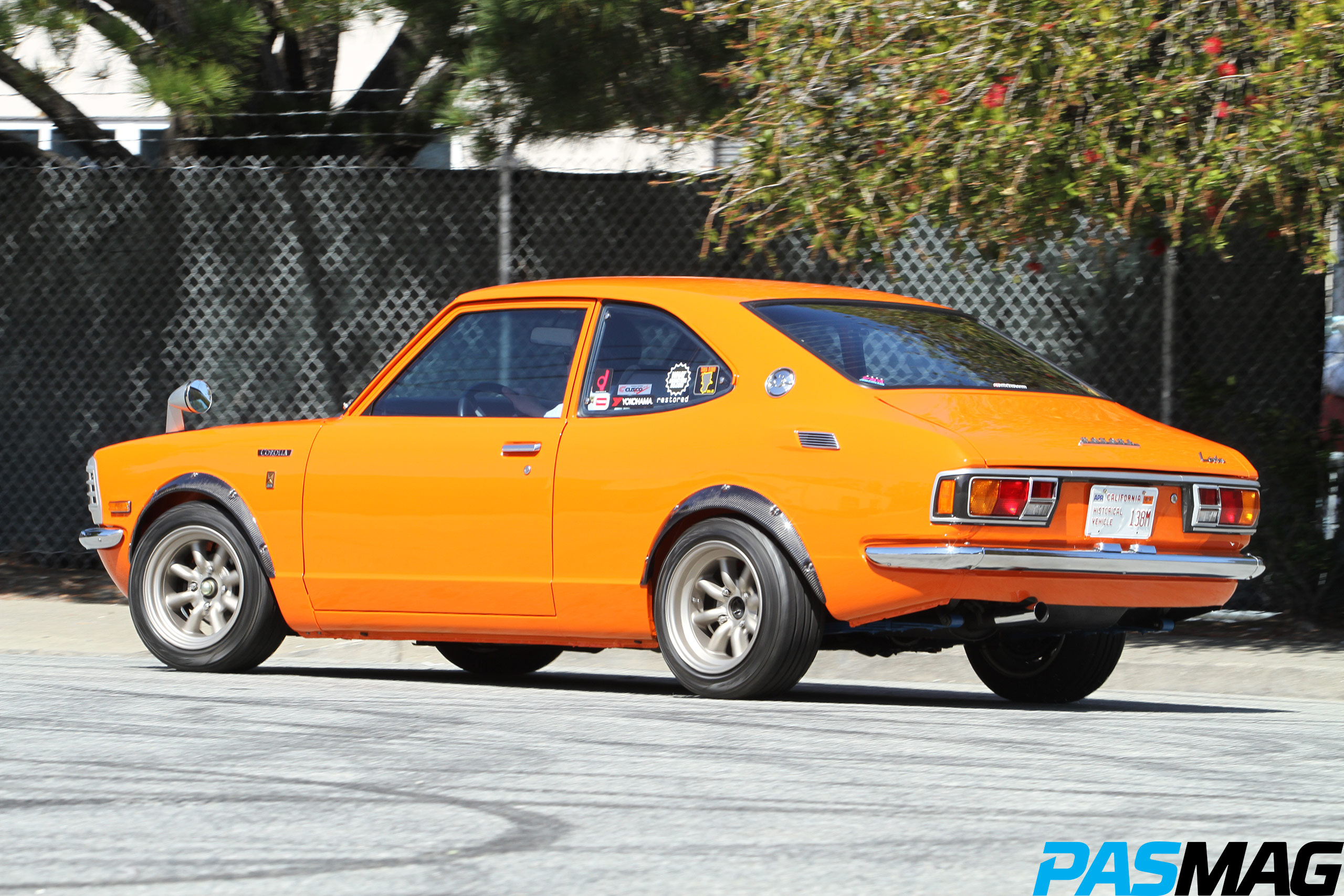 | | |
| --- | --- |
| | |

ESSENTIALS
1973 Toyota Corolla (USDM SR-5 converted to JDM Corolla Levin model)

Driver: Patrick Ng
Club Affiliation: Lone Wolf
Engine: 2TG (1,550 cc stroked using 3T crank)
Horsepower: 165-170 hp (est.)
Engine Modifications
Port and polish by JB Autoworks
Tuned by Arnold Escano
Aluminum dual overhead cams
TRD (oversized intake and exhaust valves, 288 intake / 288 exhaust duration camshafts, camshaft gear, OEM 3T stroked / balanced / polished crank, Denso coils, connecting rods, pistons, piston rings, head gasket)
Tom's short runner manifold
Solex dual 44 side draft carburetor
Mitsuba fuel pump
NGK (spark plugs, ignition wires)
ARP connecting rod bolts
Motul fluid
Repco remote booster
Exhaust
Custom (2.5-in. mandrel-bent exhaust, cone merge collector, stainless tips)
Magnaflow silencers
Drivetrain
TRD (Ferodo clutch, flywheel, two-way LSD)
Chassis/Suspension
TRD (dampers, 6.0 coil-overs, 8-way adjustable rear struts, Tosco leaf springs
Suspension Techniques urethane bushings
Cusco front strut bar
Wheels / Tires / Brakes
RS Watanabe wheels (matte finish) – 14x7.5 (f), 14x8 (r)
Yokohama S.drive tires – 185/55 R14 (f/r)
Exterior
PPG Lamborghini Orange paint
Stock NOS 1972 bumpers (f/r)
JP carbon fiber OEM-style fender flares
NOS OEM JDM fender mirrors
TRD Koito Rally H4 headlights
Tosco clear plastic bubble headlight protectors
Bodywork by 515 Autobody
Graphics by Jay Lapid of Graphtech
Interior
Restored door panels (custom leather replicating stock pattern)
Custom OEM-style headliner
Abarth steering wheel
TRD / Tosco classic racing seat
Sabelt harnesses
Sponsors
Yokohama, Cusco, Japanese Nostalgic Car, JB Autoworks (Hayward , CA), Graptech Graphics (Daly City, CA), Restored (Tottori, Japan), Tsubasarisa Marketing (Osaka, Japan), Ichiban Motors (Philippines), JDM Chicago, Light and Motion (Chicago, IL), 515 Autobody (Burlingame, CA), WhatMonstersDo.com, Dayuum.com