Sometimes dreams don't always come true in the way that you want. The next best thing could end up being better than what you were shooting for all along. For Fernando Rivera, the R34 Skyline GT-R has always been the holy grail, but we're sure many would argue that the R35 GT-R he's put together might just be better than the original Godzilla.
Growing up, walking around car meets instilled a love of Japanese imports in Rivera. The advent of The Fast and the Furious reinforced that love, while any R34 Skyline that blew by the screen made his jaw drop.
"I knew that one day I needed to have one," Rivera explains. "Of course, considering how they're so difficult to come by these days, especially with the whole legal aspect of them, it just remained a dream.
Rivera fooled around with Hondas for a while, but what he considers his first real build was a 2006 Mitsubishi Evo MR that he put together after joining the army out of high school. Becoming obsessed with the performance of the all-wheel-drive platform of the Evo, Rivera knew his next build would have to have all four wheels driving power to the ground. After years of putting away deployment money, he purchased his "next best thing," a 2013 R35 GT-R.
The R35 has been outfitted with the full gamut of Top Secret's aero catalogue: the front bumper with splitter and canards, plus a carbon fiber undertray and rear diffuser. On all four corners are the tried and true Volk TE37, in their Ultra variety. The body of the GT-R lowers over the TEs via the Airlift 3P air suspension system, which also helps save the super aggressive front end from being scraped up on bad roads or steep inclines.
This R35 isn't all looks, however. The transmission has been built to "Stage 2" specifications by Jack's Transmission with upgraded oil cooling from HKS. The built trans and improved Driveshaft Shop driveshafts are in response to the upgraded Boost Logic intake and intercooling system, plus the E85 conversion and Cobb tune mounted to the V3 Accessport. The result is 650 horsepower to all four wheels, about 100 horses more than the factory numbers from 2013.
"My whole plan was to just build a show car, but after some research, I have decided to go with a mild engine build in the near future," Rivera says.
In addition to an upcoming new turbo kit and a full roll cage, this GT-R is aiming for some astronomical power numbers. Paired with the looks, we think that many out there wouldn't hesitate to scoop up this GT-R over an R34. It may not have been the ultimate goal, but we think this is better than the next best thing - we think it's better.
Fernando Rivera's 2013 Nissan GT-R was the winner of the Tuner Battlegrounds #TBGLIVE award at Hot Import Nights: Dallas, TX, and featured in PASMAG #166. Click here to order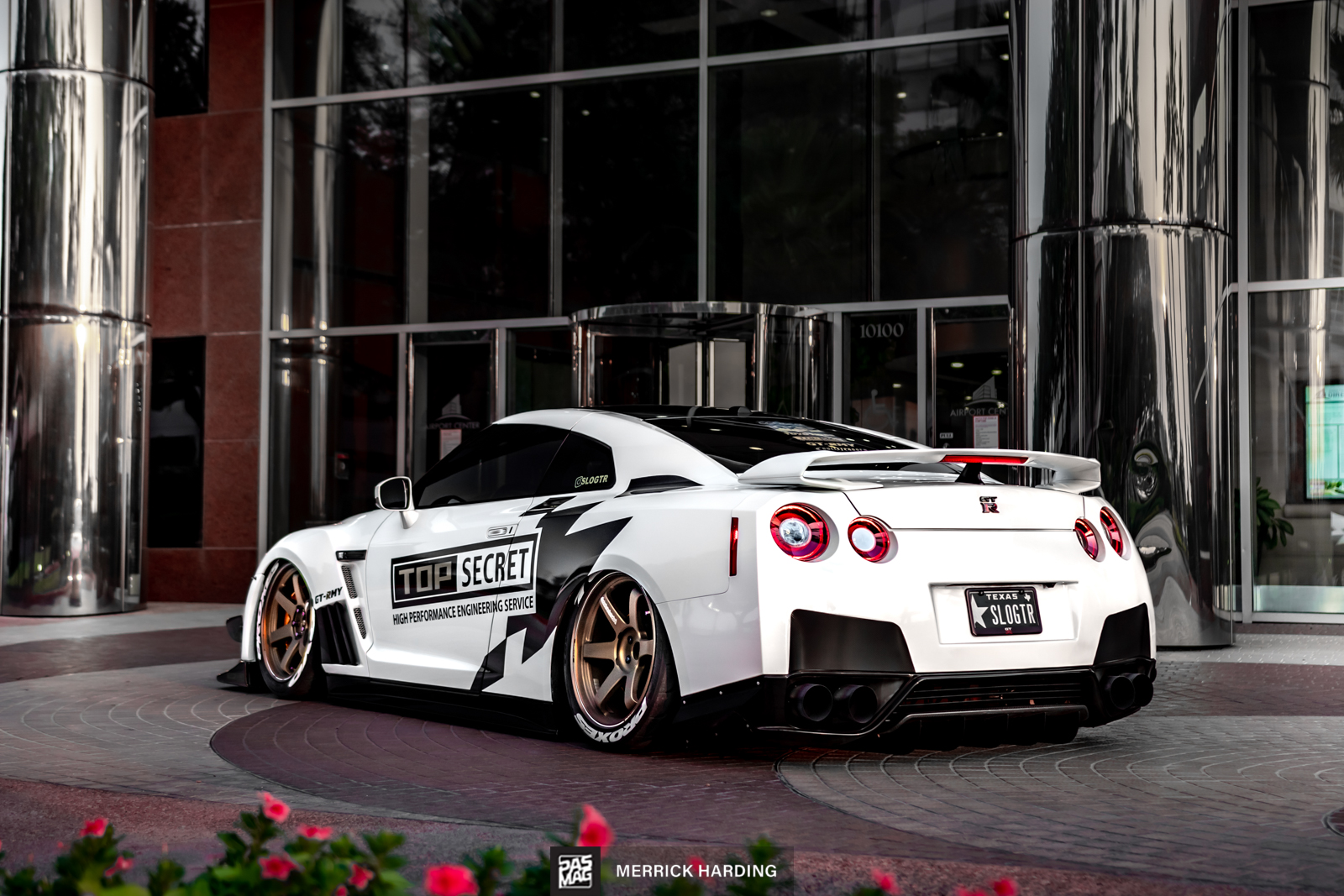 ---
PHOTOS BY Merrick Harding (@merrick_media)
ESSENTIALS
Owner: Fernando Rivera
Location: Killeen, TX
Vehicle: 2013 Nissan GT-R
Power: 650 WHP
Club: Team Daily Driven Revolution
SOCIAL
Facebook: /fernando.e.rivera.3
Instagram: @slogtr
ENGINE
AMS front-mount intercooler
Boost Logic (3-inch intercooler piping, Engine Breathing intake system, Speed Density kit)
NX nitrous oxide system
Cobb (V3 Accessport tuner, tune)
GotBoost E85 conversion kit
Tial wastegates
1000cc fuel injectors
EXHAUST
AMS down-pipes
Boost Logic 4-inch titanium exhaust system
DRIVETRAIN
Jack's Transmissions Stage 2 transmission build
Driveshaft Shop Level 5 driveshafts (f/r)
HKS (transmission oil pan, DCT oil cooler kit)
WHEELS / TIRES / BRAKES
Volk TE37 Ultra wheels - 20x10.5 +26 (f), 20x12 +13 (r)
Toyo R888R tires - 285/35 R20 (f), 325/30 R20 (r)
DBA 5000 T3 slotted brake rotors
Project Mu Club Racer brake pads
CHASSIS / SUSPENSION
Airlift Performance 3P air suspension system
EXTERIOR
Top Secret (front bumper, canards, front splitter, carbon fiber undertray, carbon fiber rear diffuser) Zele side skirts
Difflow (carbon fiber side shrouds, rear diffuser fins)
FlyRide custom sequential headlights & taillights
INTERIOR
Top Secret carbon fiber extended paddle shifters
MD custom carbon fiber & alcantara digital steering wheel
SPONSORS
---
PHOTO GALLERY