The unspoken rule between father and son: if you score a point during (insert sport here), you'll get (insert what's usually a sugary or cheese-smothered food item here). When squared up with the pitcher of the opposing team, aiming to knock the ball out of the park for a home run, has a BMW ever been on the line for you? No? Well, that's because you're not Alan Saavedra and his father, Alfredo.
At 17 years young, Saavedra was told that one home run would garner him his first car, but another homer would guarantee that it was a BMW. To some kids, the pressure of graduating from ice cream after the game to "The Ultimate Driving Machine" would throw them off their game, but not this kid. With one home run to open the game, and another to close it, Saavedra left the ballpark among cheers from his teammates, with dreams of curvaceous European metal filling his head. Some say that on that day, the clouds opened, the sun shone through, and if you really listened carefully, you could hear the wail of a straight-six in the distance.
Of course, his father wouldn't have made such a promise without something already lined up, so a few days later, they were on their way to a friend's place to pick up the prize. When they entered the lot where the promised BMW lay in wait, Saavedra was left scratching his head.
"I still hadn't noticed any BMWs, so I started to think something was up," Saavedra chuckles, thinking back. "Finally, we walked over to this old silver car. I actually had no idea what an E30 was at the time. I looked at it and said, 'That's not a BMW.' My dad looked over with a grin and said, 'Sure it is, it's just an old one.'"
Fresh off of learning how to drive manual, Saavedra pulled into his high school for the first time, only to meet one of his friends freaking out over his 1986 325e coupe, asking him if he'd ever thought about how cool giving it eyebrows would be. Confused about how facial features could make his old Bimmer better looking, his friend led him down the rabbit hole of E30 modification - a rabbit hole that Saavedra still happily digs down to this day.
Unfortunately, here is where misfortune strikes. Both Saavedra's first and second E30 would be taken off the road, one after the other, by careless drivers. With so much time and effort seemingly wasted sourcing parts, installing them, and even getting each car painted, Saavedra decided that maybe modifying cars just wasn't for him and settled into an A-to-B econobox.
One day though, like a retired assassin from a mafia movie, a friend made him an offer he just couldn't refuse: one clean E30 shell, another, semi-complete and non-running, and skid of parts, all for a crisp $1,000. Just when he thought he was out, they pulled him right back in.
With help from his father, the duo took this pile of parts and made a running 3 Series emerge. Once again having a running and driving E30 in his possession, the bug had no choice but to bite Saavedra. Years later, the result is what we see here.
At a glance, what's been built is an enthusiast's dream. A late-model bumper conversion, rounded out with Mtech II skirts and front valance, squats tastefully over 17-inch Autostrada Modenas and their stretched rubber. The Mtech I spoiler sourced from an E28 535iS and the glass moonroof are often unseen additions that should get even the most seasoned Bimmer enthusiast hot under the collar.
Back around to the front though, you may be asking yourself, "Hey, where's the rest of this guy's hood?" The quarter-cut hood is meant to be there, and is actually a cue taken from VW builds Saavedra has seen in the past. This is the perfect peek into the car's showpiece: the engine bay. Wires have been tucked, walls have been shaved, and every single accessory has been replaced with new OE bits to make the inline-six and matching transmission out of an E36 M3 feel right at home in the E30. As a thoughtful housewarming gift, the S52 has been given license to scream the song of its people via Racing Hardware Development's ITB setup. The resulting noise is something to behold.
"I wish your readers could hear the roar from the individual throttle bodies screaming in a tunnel," Saavedra explains, excitedly. "The sound never gets old. Every time I see a tunnel or bridge, I grin and downshift!"
Though, the ITBs did come with their own hardships in the form of tuning. Saavedra was set on using an open source ECU, however, shops local to him were unwilling to work with his Speeduino standalone. Funny enough, his rescue from this island came from Dwight Charlery of DC Werx, located in Saint Lucia. From the comfort of his couch, Charlery worked his magic, making the E30's new heart turn-key. The hope is, the next time the car is tweaked from the Caribbean, it'll be on the dyno making over 250 horsepower.
Until then, Saavedra passes the time tinkering with ideas. At the time of this writing, custom systems for both exhaust and air suspension are in the works, and there's even word that the 3M Pine Green Metallic Matte wrap may be swapped out for a full-on paint job. While we wait for his next big move, from a small workshop, alongside his father, Saavedra will be knocking a spectrum of E30 builds out of the park. The kid's still got it and he can't be stopped.
Alan Saavedra is featured as a Builds To Follow in PASMAG #167. Click here to order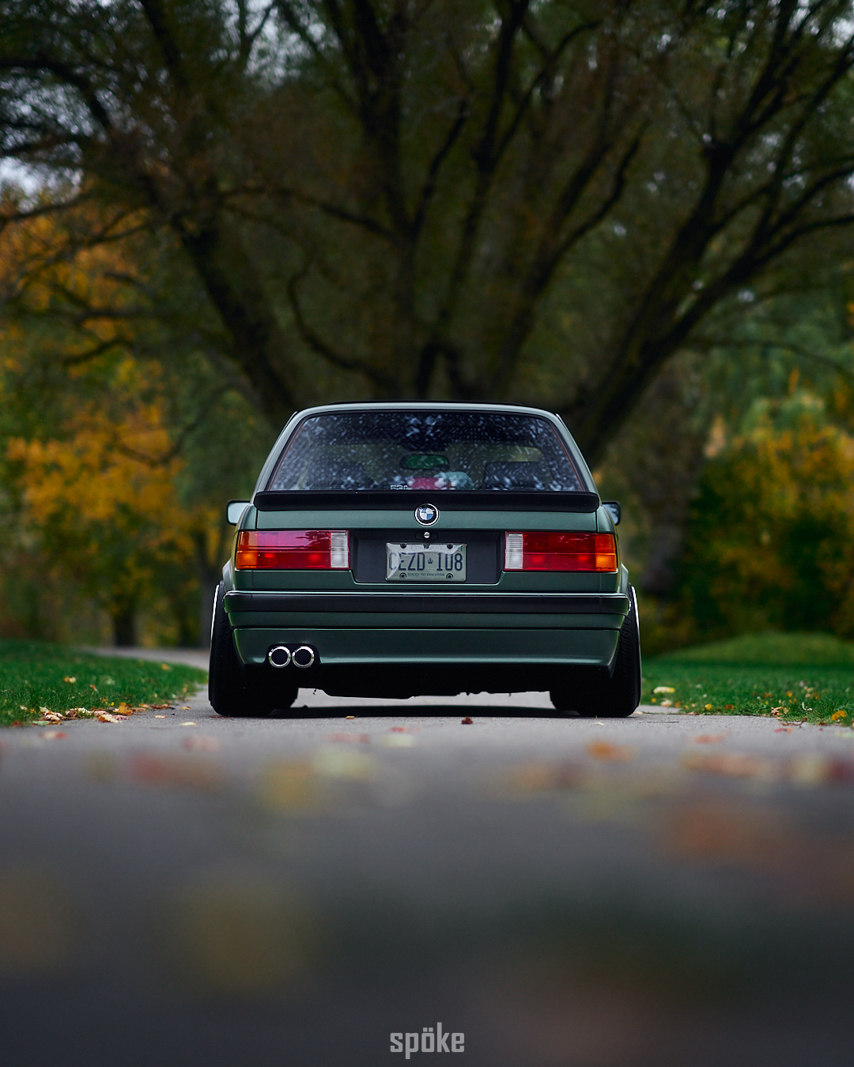 ---
PHOTOGRAPHY BY Micah Russel (@spokephoto)
ESSENTIALS
Owner: Alan Saavedra
Location: Toronto, Ontario, Canda
Vehicle: 1987 BMW 325
Club: Next Level
SOCIAL
Instagram: @woofer101
ENGINE
BMW S52 I-6 3.2L engine
Racing Hardware Developments ITBs
Speeduino DIY standalone ECU
DC Werx custom tune
250cc fuel injectors
Shaved engine bay & wire tuck
EXHAUST
Raceland long-tube headers
Custom Y-pipe
Remus cat-back system
DRIVETRAIN
BMW E36 (M3 ZF transmission, 328i driveshaft)
BMW E24 3.46 LSD
WHEELS / TIRES / BRAKES
Autostrada Modena wheels - 17x9.5 +20 (f), 17x10 +18 (r)
Spacers - 20 mm (f), 15 mm (r)
Hankook tires - 205/40 R17 (f)
Yokohama S-Drive - 215/40 R17 (r)
EBC brake pads & rotors (f/r)
CHASSIS / SUSPENSION
BC Racing coilovers
BMW (E30 M3 offset control arm bushings, E46 330Ci steering rack)
Racing Dynamics front strut bar
Sparco rear strut bar
Polyurethane bushings - rear subframe, differential
EXTERIOR
BMW E30 (late-model bumper conversion, Mtech II bumper valances, Mtech II side skirts)
BMW E28 Mtech I trunk spoiler
3M Pine Green Metallic Matte vinyl wrap by AP Shield
Depo smoked Euro headlight projectors
Custom quarter-cut hood
INTERIOR
BMW E30 (rear headrest, Mtech II steering wheel, glass moonroof)
BMW E36 M3 Vader front seats
AUDIO / MOBILE ELECTRONICS
Clarion flip-out head unit
Infinity Kappa (front speakers, 12-inch subwoofer)
MB Quartz rear 6x9 speakers
MTX 4001 mono amplifier
SPONSORS
SPECIAL THANKS
1Concept Auto Inc
Delta Park Auto
AP Shield
The Drop Stash
Pfaff BMW Mississauga
Luxury Autobody
EBC Canada
---
PHOTO GALLERY