Photography By Gail Tolentino.
---
The older you get, the weirder the trends start to unfold. Not because they are anything totally new or dramatic but because they are often modern twists on fashionable crap history has already seen before. These movements are cyclical, the designers and hipsters of the world dictate how and when it will happen, then you, the public follow it. Depending on your age, you might not have yet experienced a cycle 'cause they typically happen every 25 years or so. So you can imagine my shock when I saw younguns rockin' high-tops and studded belts slightly earlier than expected. A few kids even did some new level moves by actually growing a mullet to complete their neo-headbanger motif.
Then the preppy movement charged back on the scene big. Dock shoes, bombers and popped collars was something I was all too familiar with. And then dudes started wearing pink … again. Now this is something I wasn't familiar with 'cause even though I was in the movement that was always considered fruity in my circles. I mean, sure we dressed 'prep' but we had gangsta rap in our Walkmans and were basically outlaws most of the time, so pink wasn't legit. Back in the day I drove a black-on-black '73 'CUDA which was basically would be a good look for me in pink now would it?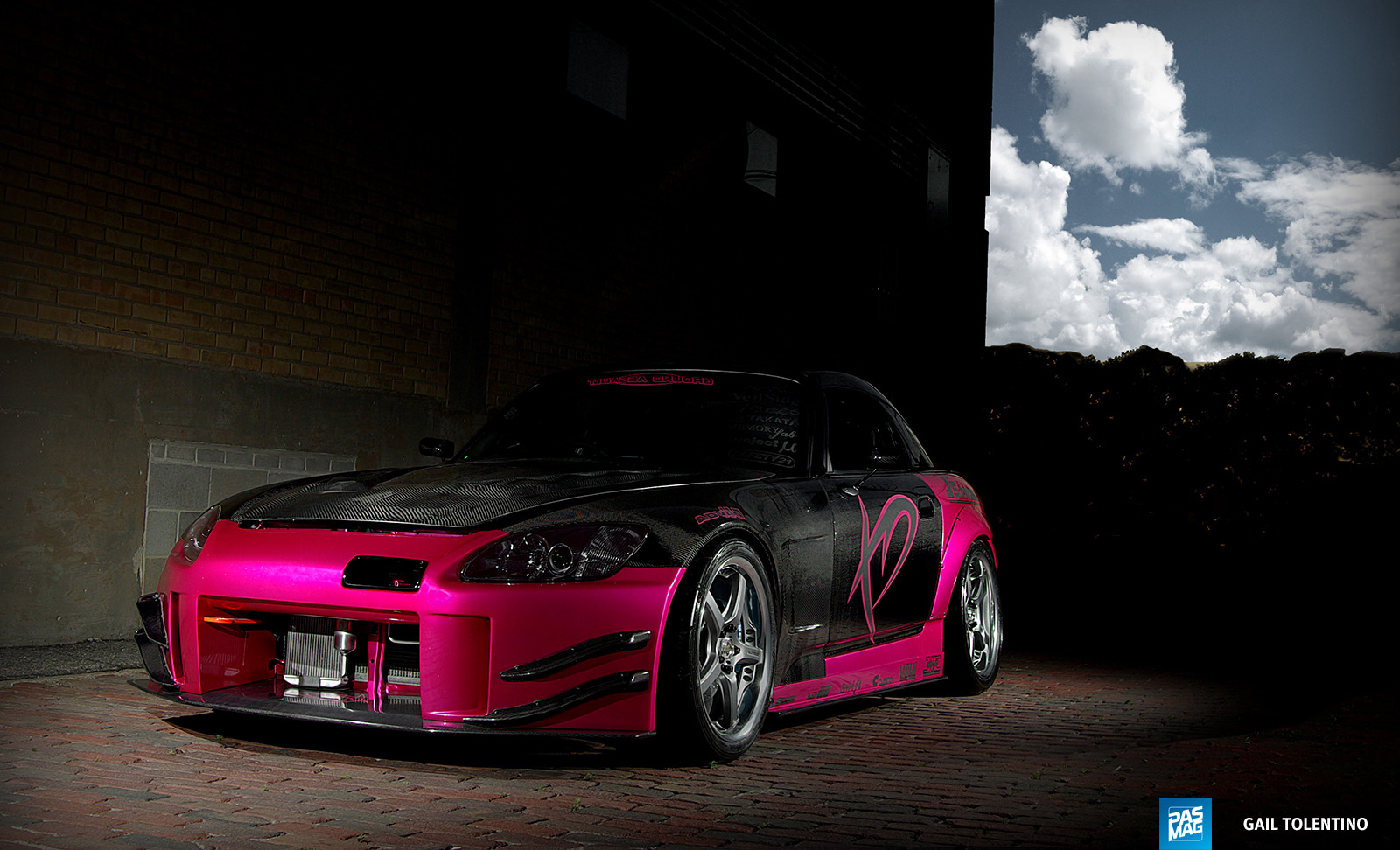 But for some projects, it just works. Splashing your project in a Hubba Bubba hue might not be on the top of your to-do list but on an S2K, with loads of unruly modifications and carbon fiber it can happen. Hell, if owner Tony Swartz jumped out wearing a pink popped-collar Hollister with a with a white tennis sweater draped over his shoulders we would still give him mad respect for putting this pink Honda together. And to top it all off, it was one of those builds that is rarely seen considering it is in the forgotten mid-west.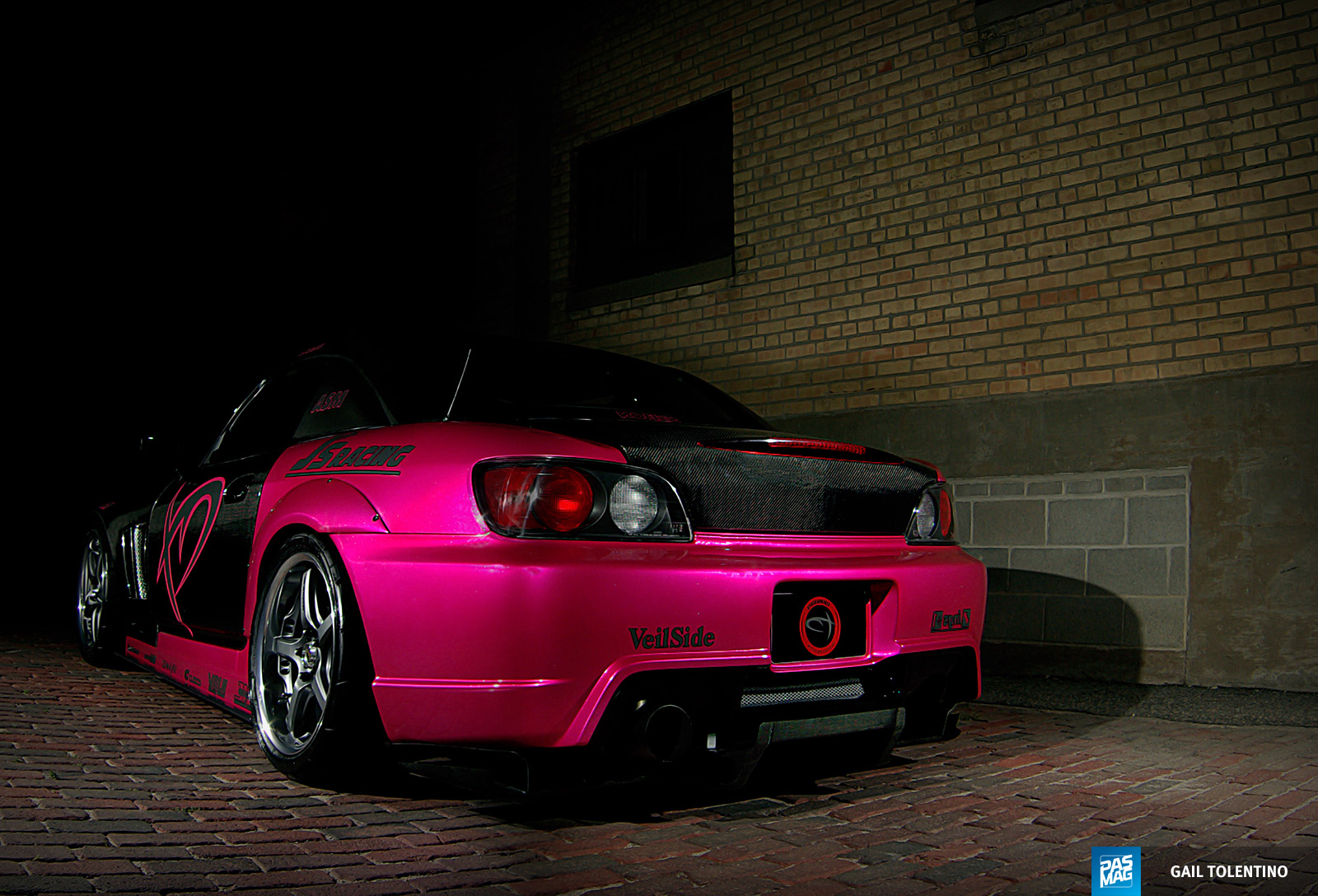 Hailing from the frigid north in Fargo, ND, Swartz has been around for a while. He was leaning more on the domestic side though having previously built a Mustang and a Malibu but as he explains that is what people were driving around those parts. He purchased the car a while back in 2002 and has slowly been stockpiling parts for the build. Originally, he installed a VeilSide kit and completed the first phase in 2005 but decided he would mix it up. Swartz began ordering mods from around the world because as he says "it isn't easy getting parts in North Dakota." So after two years of collecting the gear, he commenced on the build in 2007.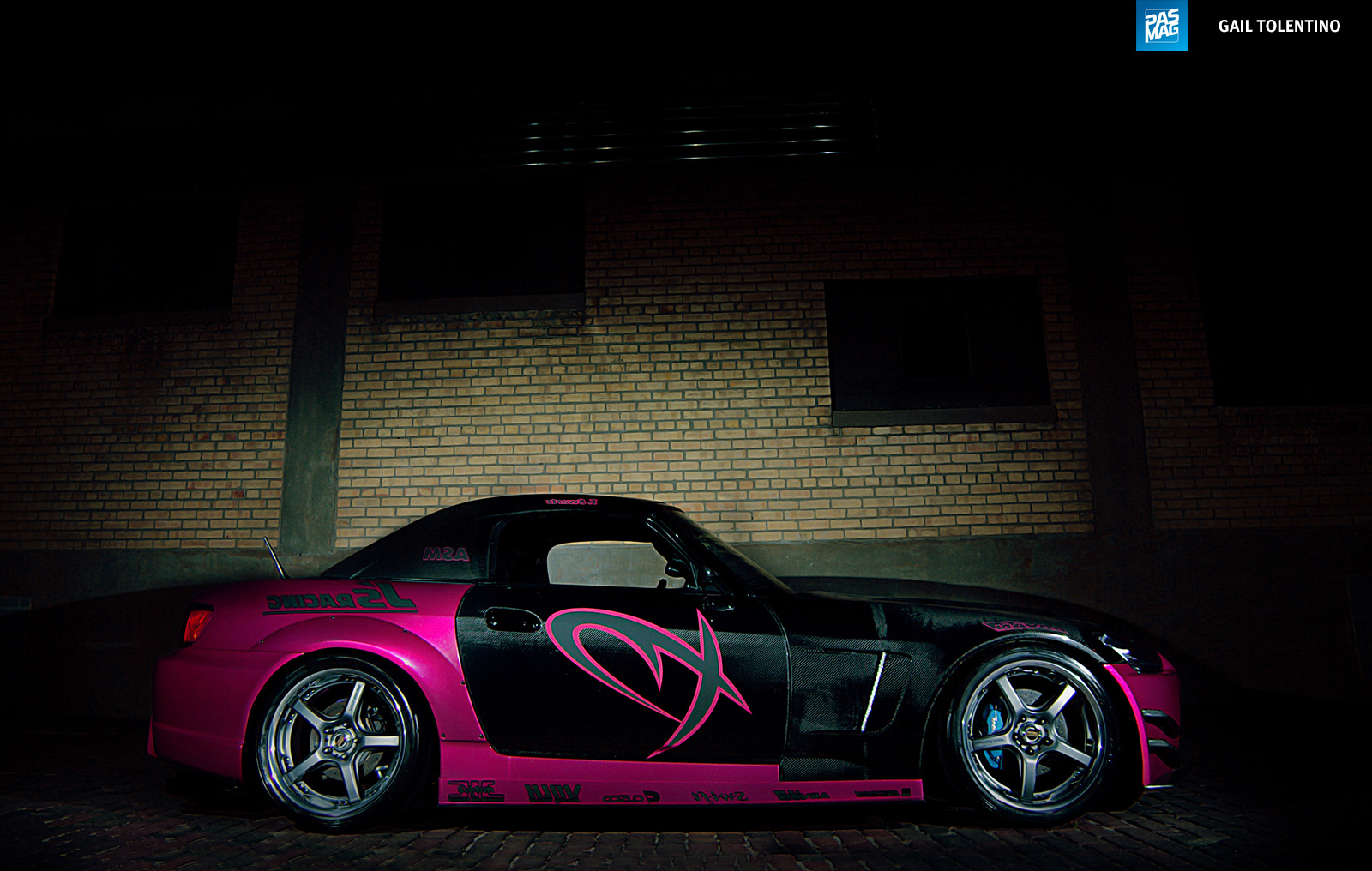 Some of the rare parts, like those from ASM were air shipped directly from Japan at a huge expense too. As the final items trickled in just before its debut, the car emerged from the paint shop only one week before HIN Minneapolis. The crew scrambled to complete the car in time not only for HIN but for a local Tintmasters show. NZ customs was entrusted with prepping the body and fitting all of the parts to the car. They installed the J's Racing Type S carbon fiber sideskirts and carbon fiber canards. The front bumper is also a J's Racing carbon fiber piece while the rear is an INGs urethane piece. The front fenders are a Seibon 10mm over-sized and the rears are a race ASM IS Design from Japan built by Super AutoBACS. A Top Secret carbon fiber rear diffuser and APR mirrors are complimented by Seibon carbon fiber: doors, trunk, hood and hardtop to complete the ultra lightweight theme. The paint work was done by a local shop Tri-Color which drenched the shell in BASF Hot Pink with Artic Ice. "My wife Sarah picked the color and I had the opportunity to give her the pink car she has always wanted." Swartz proudly explained.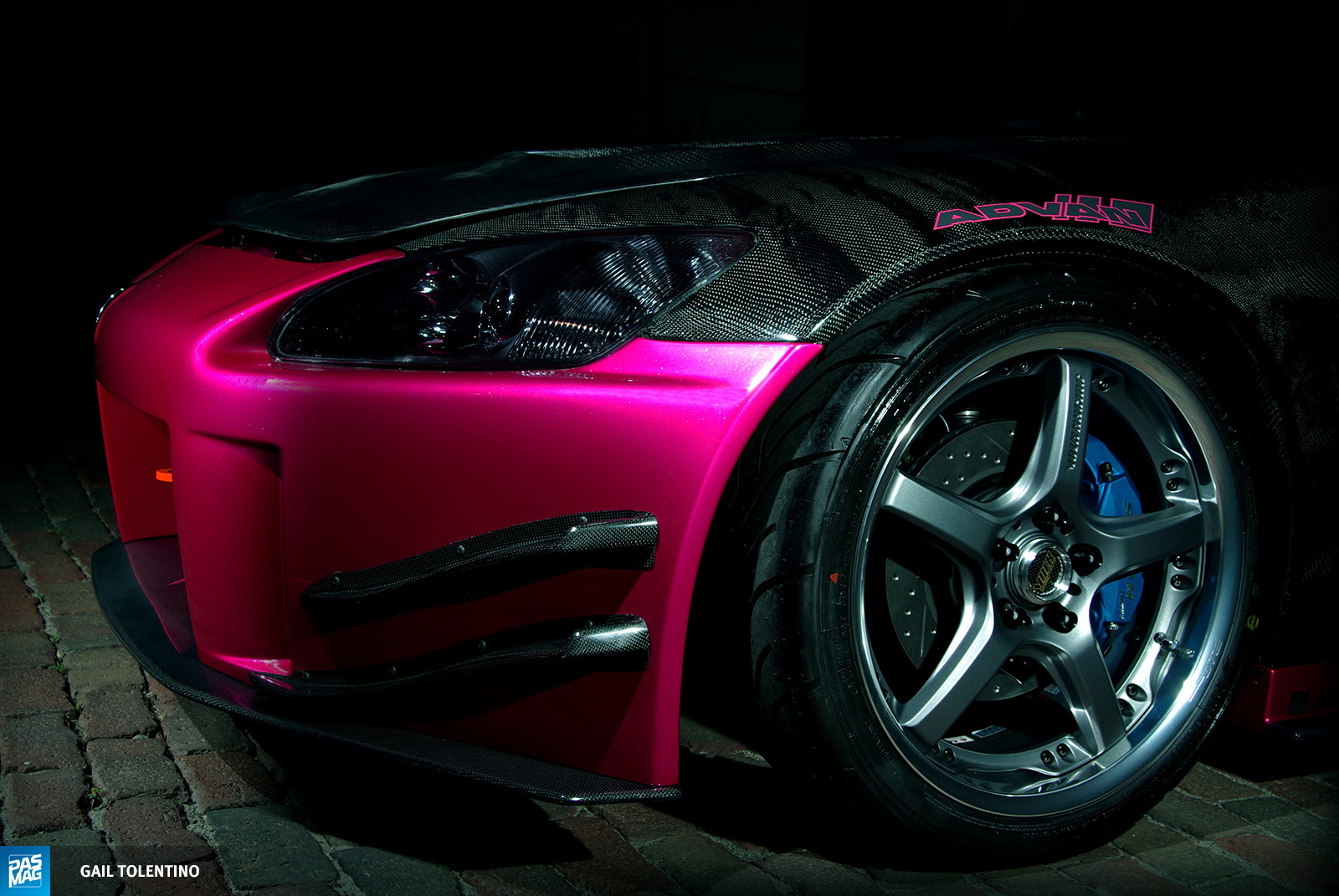 Sitting on Volk Racing wheels, the appearance of the car is far from girly though. A set of GT-S gunmetal alloys sized in 18x8 and 18x9-inches, these forged wheels are cloaked in Advan A048 stickies with 225/40R18 and 265/35R18 dimensions. The A048s are going to provide unreal levels of grip and even stop faster in conjunction with the upgraded Spoons onboard. Up front are the Spoon monoblock 4-pistons with slotted and drilled rotors. Eliminating some of the sponge are Earl's braided lines filled with Castrol SRF racing brake fluid.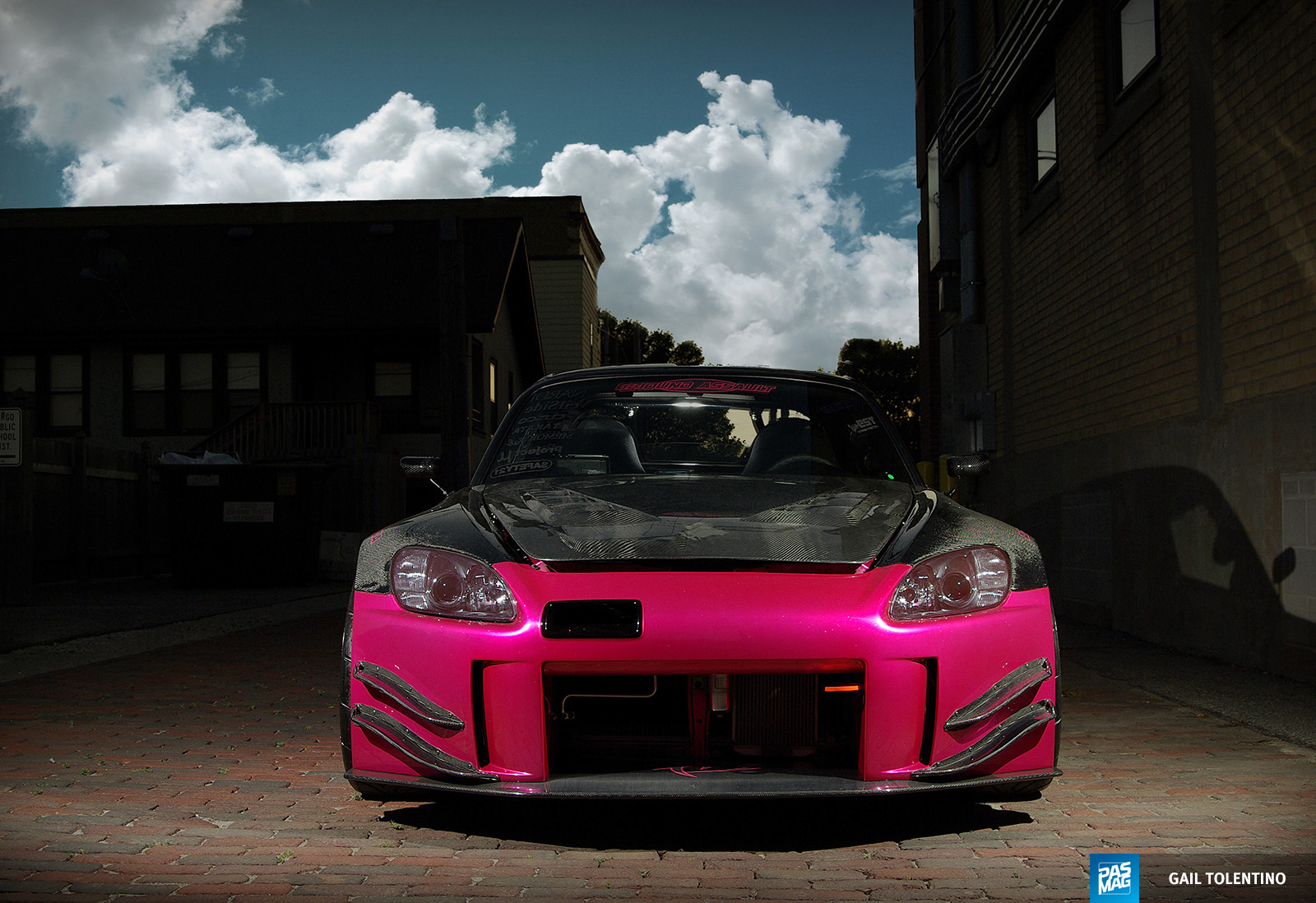 On all four corners are some of the leading coilovers on the market. A set of JIC FLT-A2s with adjustable dampening and ride-height are onboard for a major step up in handling. The JICs are a unique design that allow for full travel in the tube even on the lower settings to eliminate the bump. The sway bars are made by Swift and the anti-bumpsteer kit is manufactured by T1R. JIC supplied the strut bar and the pair lower arm bars to eliminate flex. To add to the stiffness, Swartz added a 3-pece Cusco reinforcement bar that was originally finished in the trademark blue color. But Swartz powered coated all of the suspension goodies in Pink Translucent to match the exterior. The net result is one agile S2000 with a custom undercarriage that could easily pull off the hot rod trick of slipping a mirror under there at the show.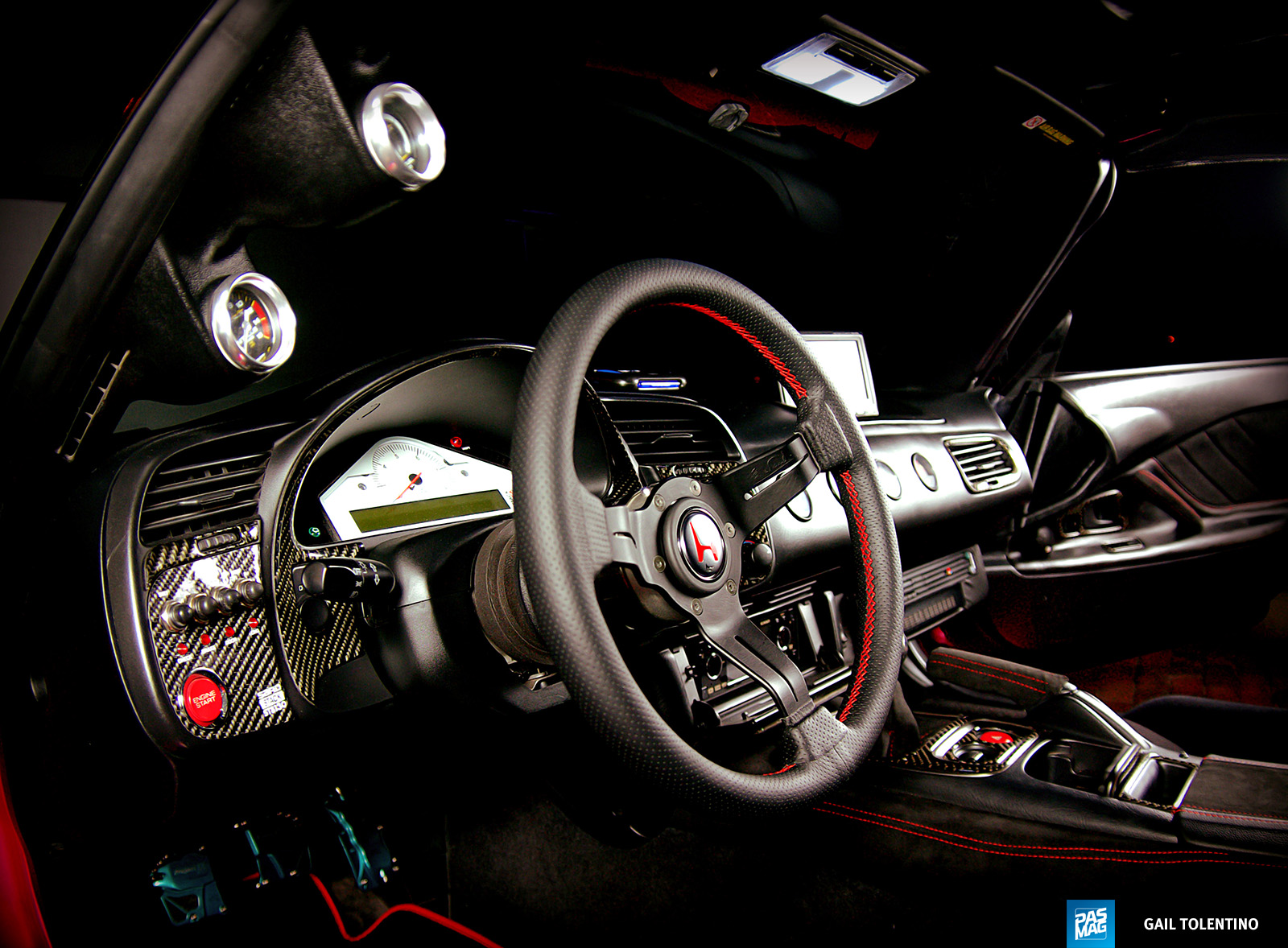 The compact roadster cockpit is also nothing like you are used to seeing. We were sold on the exterior, it almost didn't even matter what was under the Seibon CF lid. But what we found was a complete custom interior. The seats have been swapped out for Memory Fab S58 carbon fiber buckets reupholstered in black Alacantara with red stitching. The upholstery treatment didn't stop there as the door panels, elbow pads, shift boots, center console and e-brake handle have all been recovered JPM Upholstery. What isn't fabric is carbon fiber with striking black twill found throughout the cabin. The steering wheel is a black suede Nardi 330mm unit with a J's Racing titanium shift knob and Project Mu alloy pedals. Sunk into the dash are a quartet of VeilSide Euro gauges and carbon fiber trim. The cluster has been pulled and replaced with a SARD digital unit to relay the engine vitals to Swartz. To cap it all off, a Cusco Safety 21 4-point cage has been added to tie up the chassis and keep occupants that are strapped into the Takatas, totally drama-free.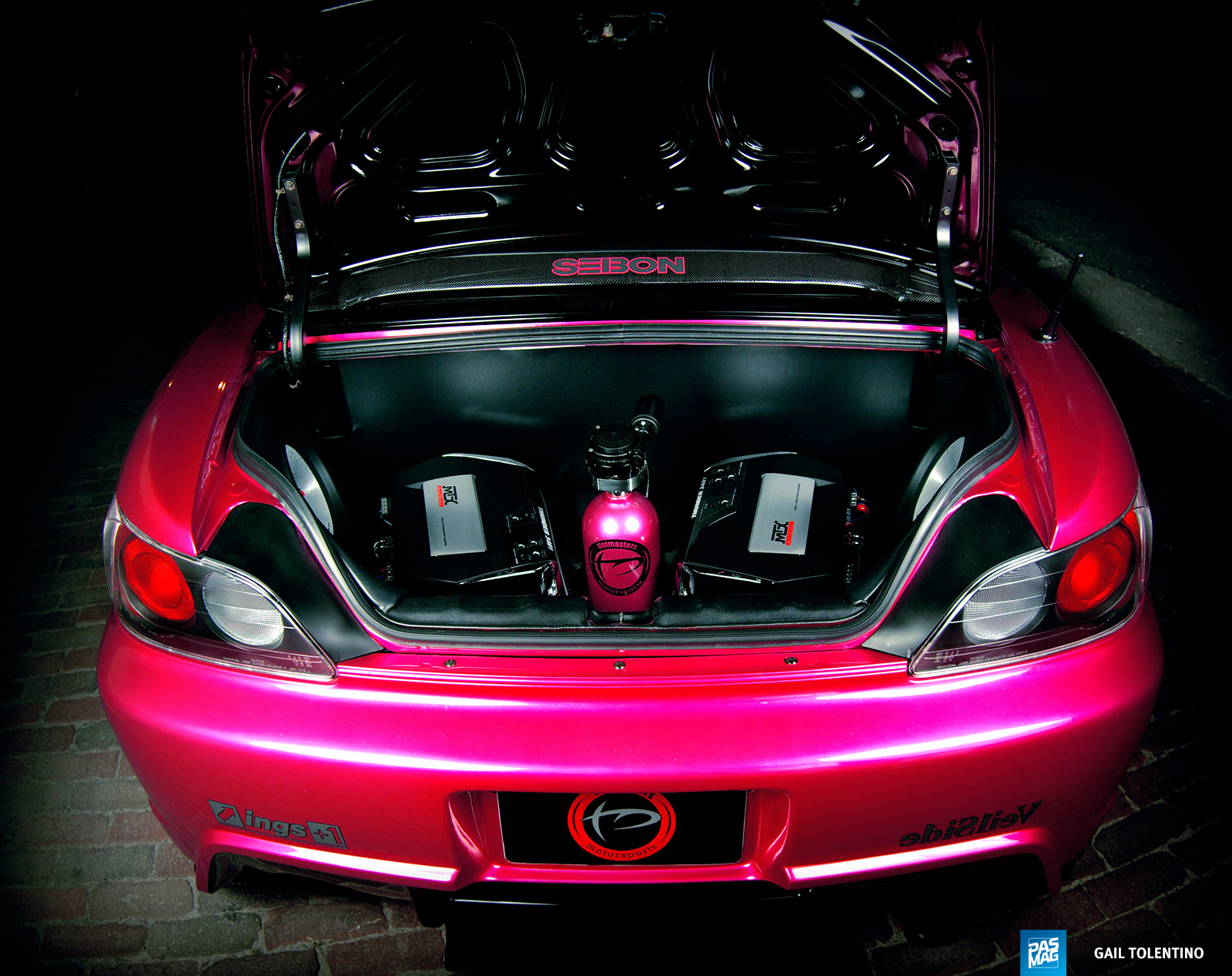 And this project is not without gadgets. Despite all of the hardcore performance parts and its new superpowers, it is still a show car that requires the audio and multimedia dimension. With direction from a JVC KD-AUX2 in dash LCD headunit, the signals are fed to a pair of MTX TA 3401 sub amps and an MTX TA 5302 mid-range. The 12-inch MTX 7500 subwoofers are mounted into a custom carbon fiber and Plexiglass. The mids and highs are pumped out to MTX and Alpine components.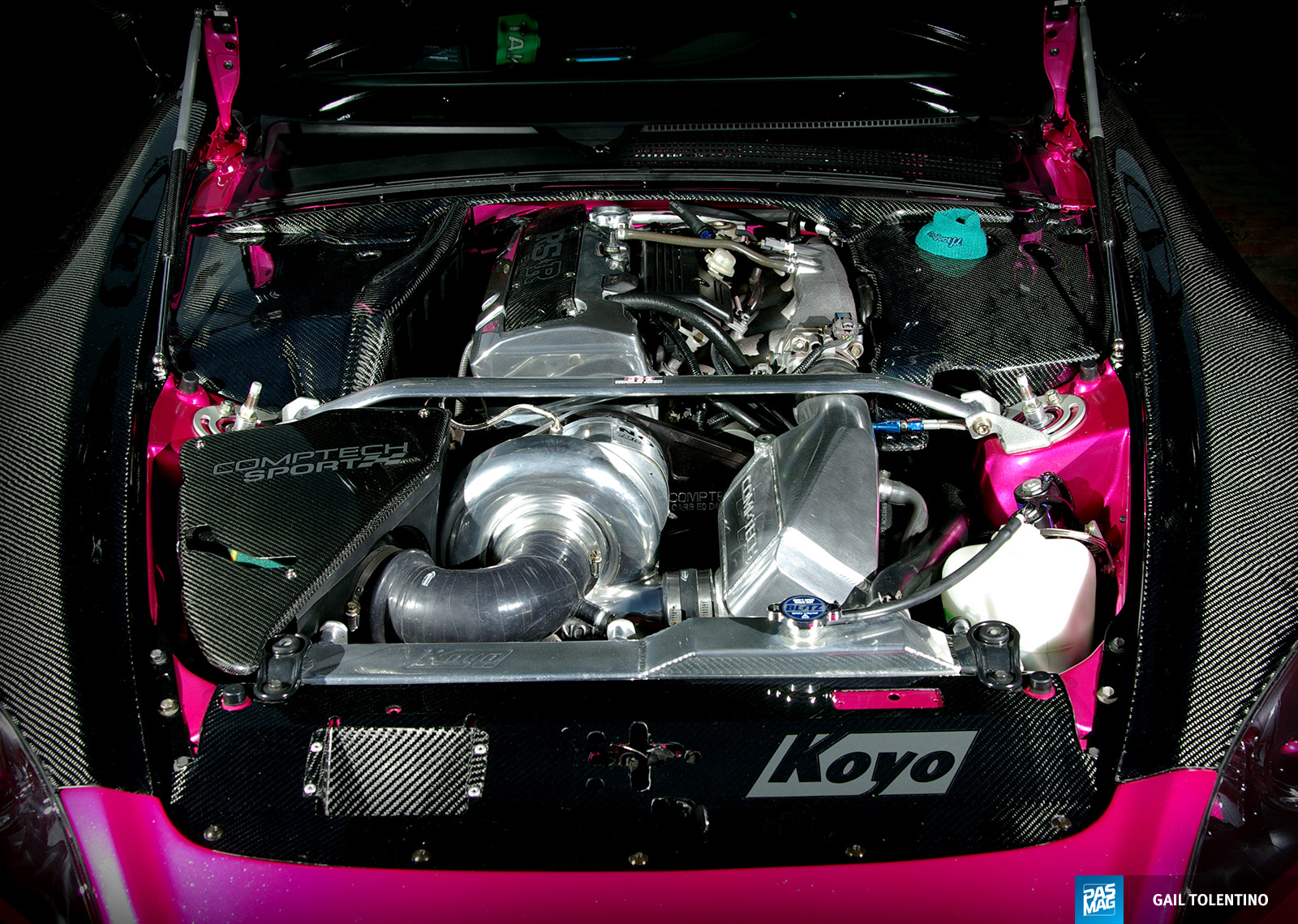 On to the F20C, the high-revving inline-4 that has been forced full of air to make more jam. Using factory internals, Swartz boosted his project with a CompTech Paxton Novi 1000 centrifugal supercharger kit. This bolt-on kit also features a CompTech aftercooler and a more capable fuel pump and fuel pressure regulator to feed it. The spent gas flows in to an RS*R header and downpipe that meets up with a JIC test pipe and fires out of a 5.5-pound VeilSide Titanium exhaust. What the mods can't accomplish, the NX fogger kit will. The estimated horsepower is around the 350 range and the added boost made the stock clutch tap out. An Exedy Hyper carbon single has been added to handle the increase in power.
We have to give due credit here and making the Performance cover is what was necessary. After bagging a Best of Show at DTP Winnipeg, Hottest Honda at two HINs and a 2nd place 2-door Mild at HIN Chicago, Swartz is on the right track. Hopefully his future builds come around a little quicker than once every six years.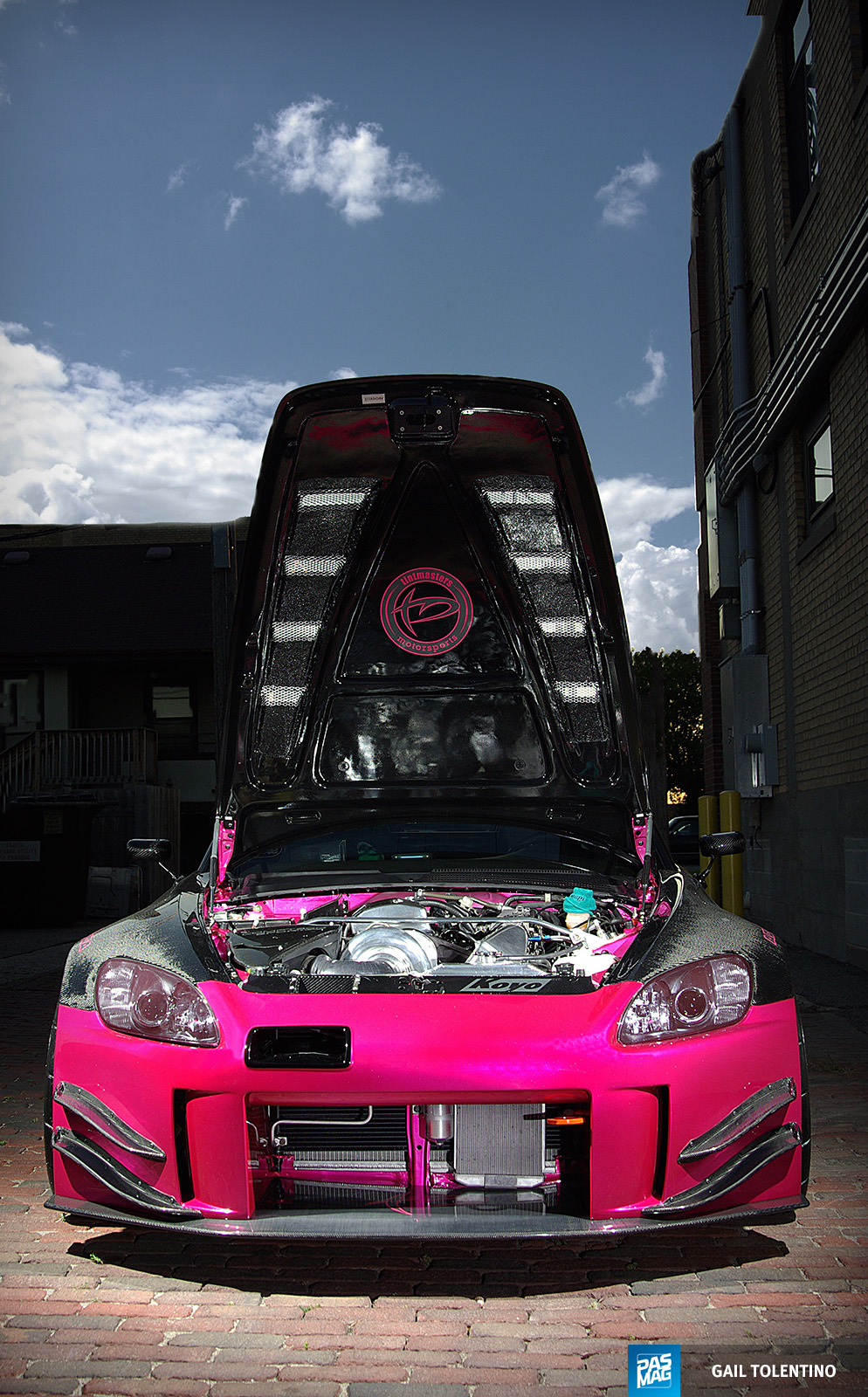 ESSENTIALS
Owner: Tony Swartz
Location: Fargo, ND
Vehicle: 2000 Honda S2000
Power: 350whp (est.)
Engine: Honda 2.0L F20C inline-4
ENGINE MODIFICATIONS
CompTech Supercharger
CompTech aftercooler
CompTech fuel pump
CompTech FPR
Koyo Rad
Nitrous Xpress fogger
DRIVELINE
Exedy Hyper Single carbon clutch
WHEELS, TIRES, BRAKES
Volk Racing GT-S gunmetal wheels - 18x8-inch +44 (f), 18x9-inch +38 (r)
Yokohama Advan A048 tires - 225/40R18 (f), 265/35R18 (r)
Spoon 4-piston
Earl's SS braided lines
Castrol SRF fluid
SUSPENSION
JIC FLT-A2 coilovers
JIC strut bars
JIC lower arm bars
Swift sway bars
Cusco 3-piece underbrace
EXTERIOR
ASM rear over fenders
J's Racing Type S CF sideskirts
J's Racing Type S CF carbon fiber canards
J's Racing carbon fiber fron bumper
INGs rear bumper
Seibon CF front fenders (+10mm)
Top Secret carbon fiber rear diffuser
APR CF mirrors
Seibon carbon fiber: (doors, trunk, hood and hardtop)
BASF Hot Pink with Artic Ice
Tintmasters vinyl graphics
INTERIOR
Memory Fab S58 carbon fiber seats
Black Alacantara with red stitching: ( door panels, elbow pads, shift boots, center console and e-brake handle)
Custom carbon fiber dash kit
Nardi 330mm steering wheel
J's Racing titanium shift knob
Project Mu alloy pedals
VeilSide Eurox4.
SARD digital cluster
Cusco Safety 21 4-point cage
Takata 4-point harnesses
AUDIO / MULTIMEDIA
JVC KD-AUX2 3.5-inch LCD headunit
MTX TA 3401 amp x2
MTX TA 5302 amp
MTX 7500 12-inch subs x2
MTX Axe component speakers
PHOTO GALLERY