Photography by David Barnhouse
---
There was a moment in 2010 that brought the Toyota JZX100 way up in coolness factor, and it was during the fifth round of D1GP at Ebisu. Coming in extra-spicy, Daigo Saito initiates his drift right at the apex of the turn, catching air mid-initiation, and landing his red Toyota Mark II in a full-on drift at full lock. If you've never seen this jump drift, here's your homework: watch the 35-second clip of the jump on YouTube, and then immediately watch it seven more times because it's so rad.
For some, this would make the Toyota Mark II or JZX100 platform in general more awesome, but also expose Daigo Saito and his D1 shenanigans to an international audience. For others, like Ethan, this stunt was something that Daigo and his drift-mates on the WELD team were known for. Sliding sedans with crazy graphics, big power, big body kits, big wings, and big wheels that could leave the track and probably place at a car show are what WELD is all about, and that's what Ethan fell in love with.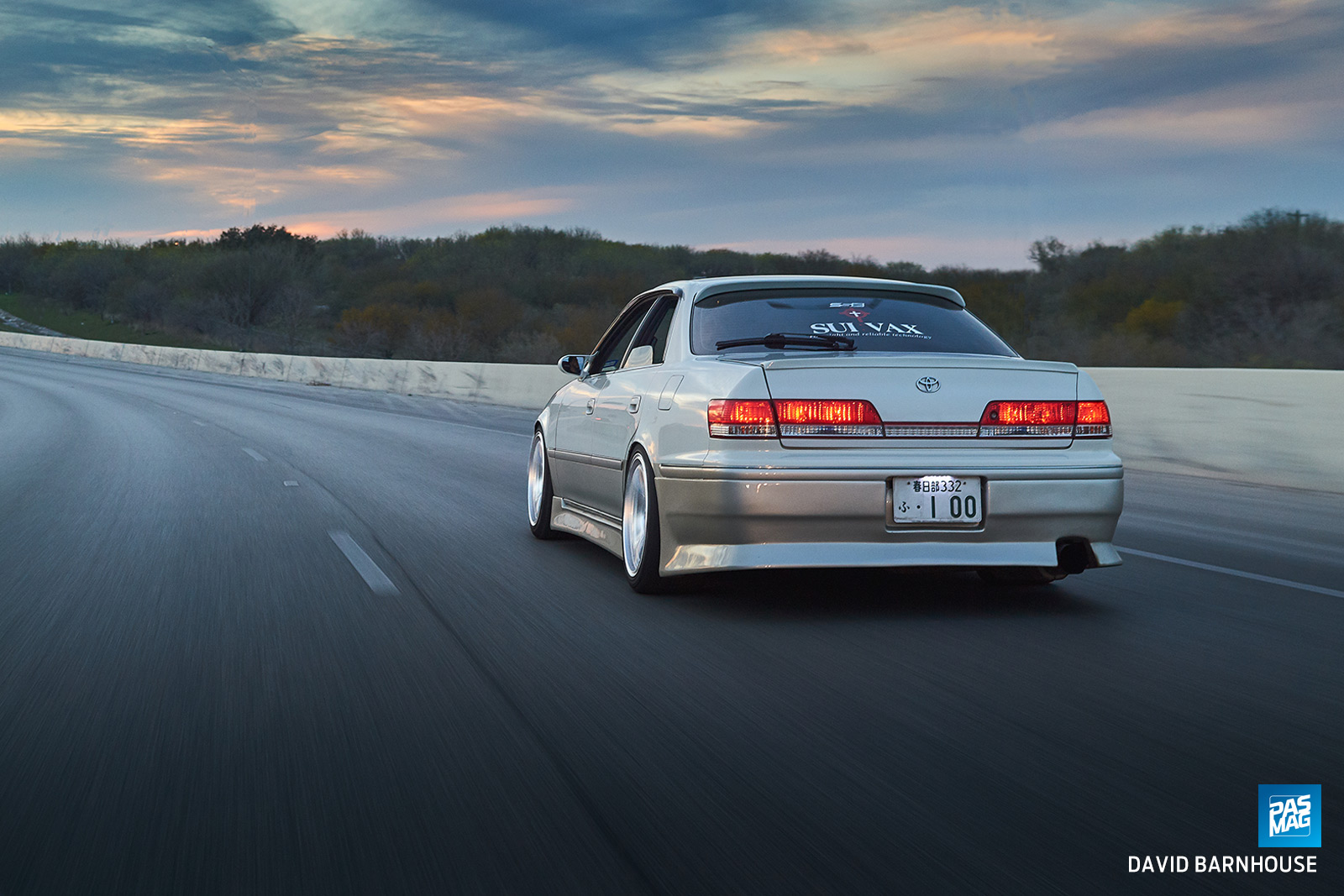 "I've wanted [a JZX] since I was 17," explains Ethan. "Daigo Saito and the WELD cars were some major reasons why I got into them. Most other cars around then were S-Chassis or Corollas, so seeing something so excessive was super, super cool. Once I got more into JDM stuff, I learned of WELD and their fleet of incredible cars."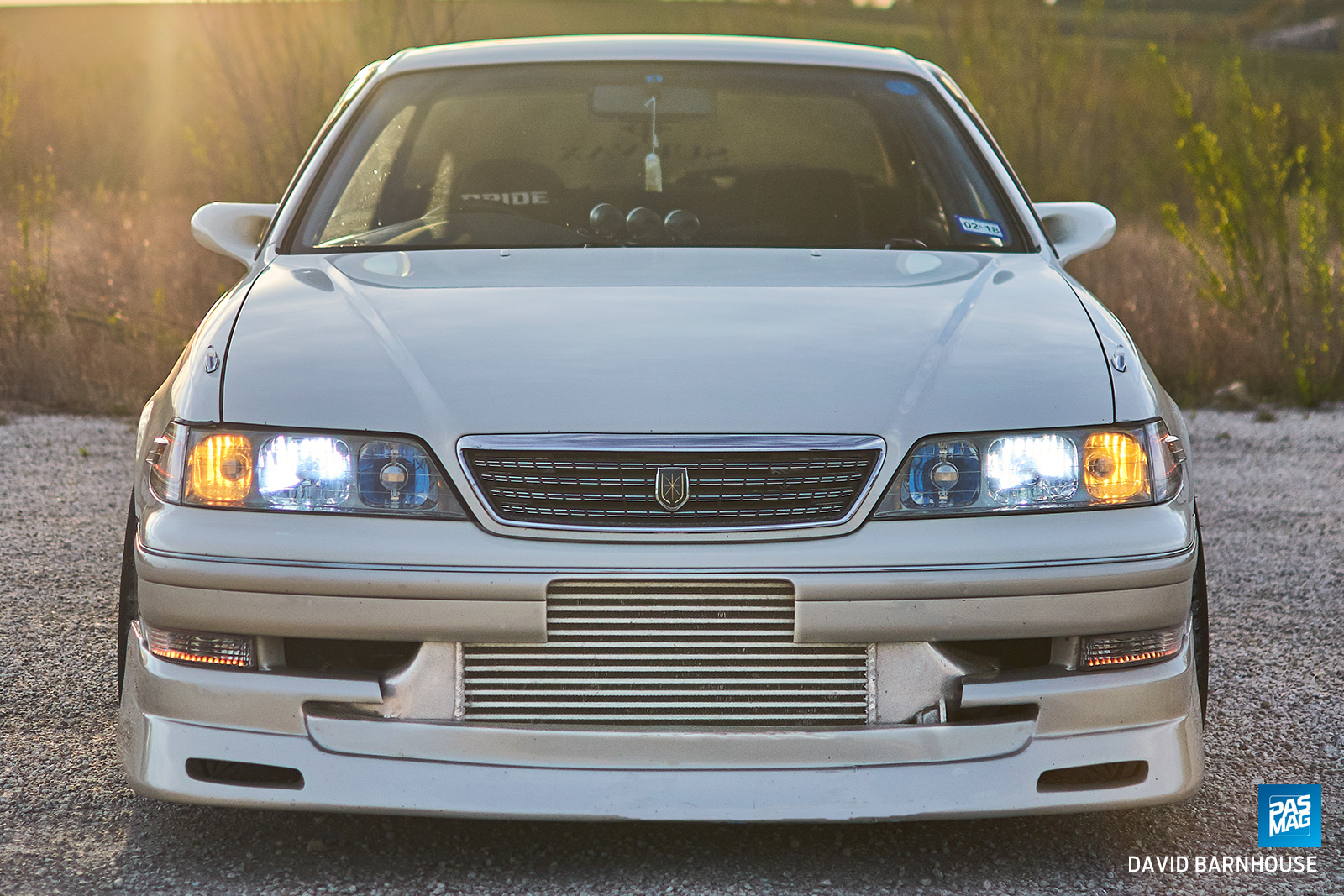 While S-Chassis were really common in the mid-to-late '00s in Japanese drifting, they were also a big part of Ethan's life. After getting his modifying start in Hondas and VWs, Ethan went on to own a few of Nissan's most popular sport compact – seven in fact. Some highlights include an S13 with a 1JZ swap, SR20-powered hatch and convertible versions, and an S14 with some rare parts and the reliable power of an S15 SR20. The thing is, Ethan's car has to do dual duty by being up for drifting at the track, and then be good to drive home or do the occasional road trip, and by looking at those requirements, a Japanese sedan with rear-wheel-drive and a dependable 1JZ-GTE engine seems to fit the bill perfectly.
When he eventually did come across the perfect Mark II, Ethan made sure that the 1JZ would be up to task, no matter the circumstances. The JZX100 was handed over to Leask Spec, headed by a buddy of Ethan's, to get a refreshed turbo 1J in the engine bay. The stock turbo has been upgraded to a 5858 Precision charger, and paired up with a large front-mount R33 Skyline GT-R intercooler, Greddy Type-R blow-off valve, and a dump-tubed Tial 44-mm wastegate, which makes for some insane noise at boost. Ethan also procured a "slug" manifold that needed some working to fit everything around it. For example: the SARD fuel rail didn't line up at first, so it was fixtured and threaded with locator tabs, and then the AC compressor, power steering, pump, and oil dipstick didn't fit, so those were all reworked to fill their roles again. A coolant bleeder tank, complete with swirl pot for air separation were fabricated and matched up with a modified Koyorad radiator to complete the cooling system once the charge pipes were done.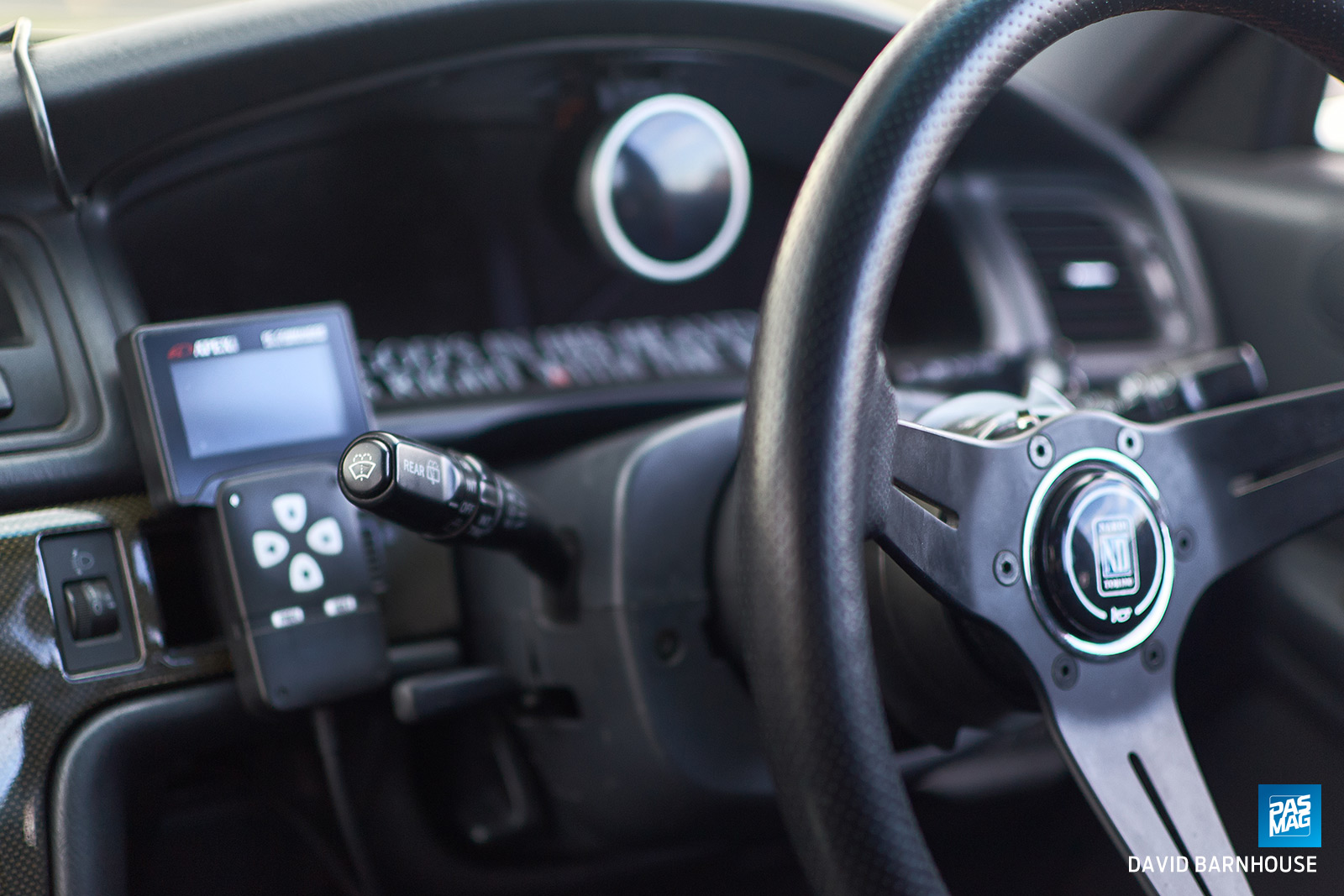 With an Apexi PowerFC standalone ECU tuned by RS Enthalpy, plus HKS boost control and a Bee*R rev limiter for insurance, this daily driver is capable of 576 reliable rear-wheel-horsepower at about 29 psi, which, when put down through a twin-plate OS Giken clutch and two-way Cusco LSD, is more than enough for getting the wheels loose at the track or passing on the highway.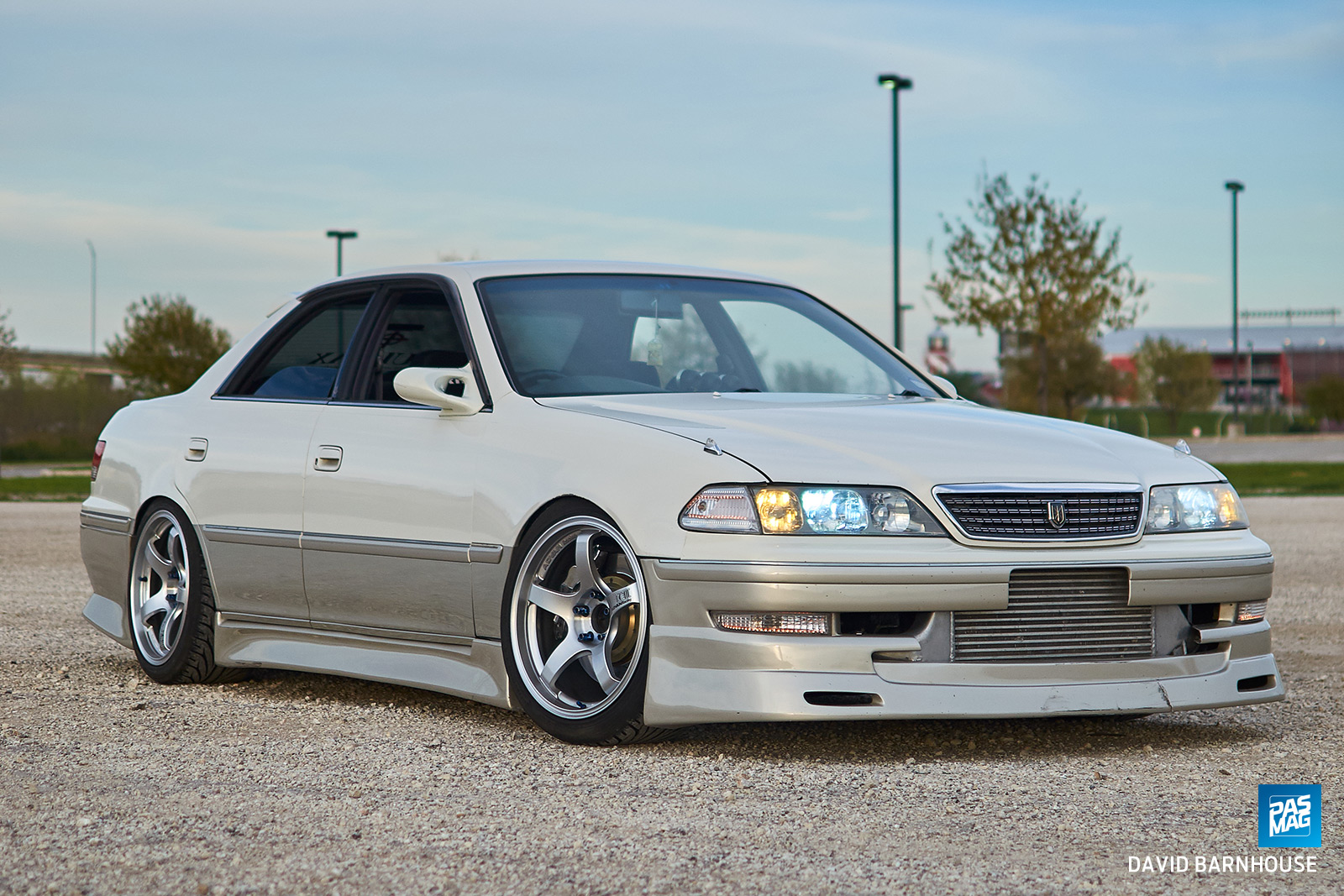 Another thing that Ethan wanted to protect were his aesthetics. Being friends with the floor is cool and all, but being so low that you damage your kit everytime you leave a parking lot isn't. Vertex kits don't come cheap, you know? To preserve his investments, the Mark II is sitting at just the right height on some Swift-spring-equipped custom-valved Stance XR1 coilovers. His Advan TCIII wheels are tastefully stretched on some Kenda Kaiser KR20 tires and hide some serious six-piston GREX calipers behind the front set. Serialnine front upper and rear lower control arms, toe arms, traction arms, as well as some one-off front lower control arms and tension rods from Walker Pro Motorsports (another friend of Ethan's, who also made his turbo piping), tailor in the tasteful stance of the Toyota, while a set of C's Garage steering knuckles and Odyssey Fab subframe reinforcement help the sedan's sliding capabilities.
"Though it doesn't look like a WELD car, they've definitely shaped my view of what a drift car can be," Ethan gushes. "Their competition car was damn-near a show car, and I try to keep this car as clean as possible, while using it as much as I can."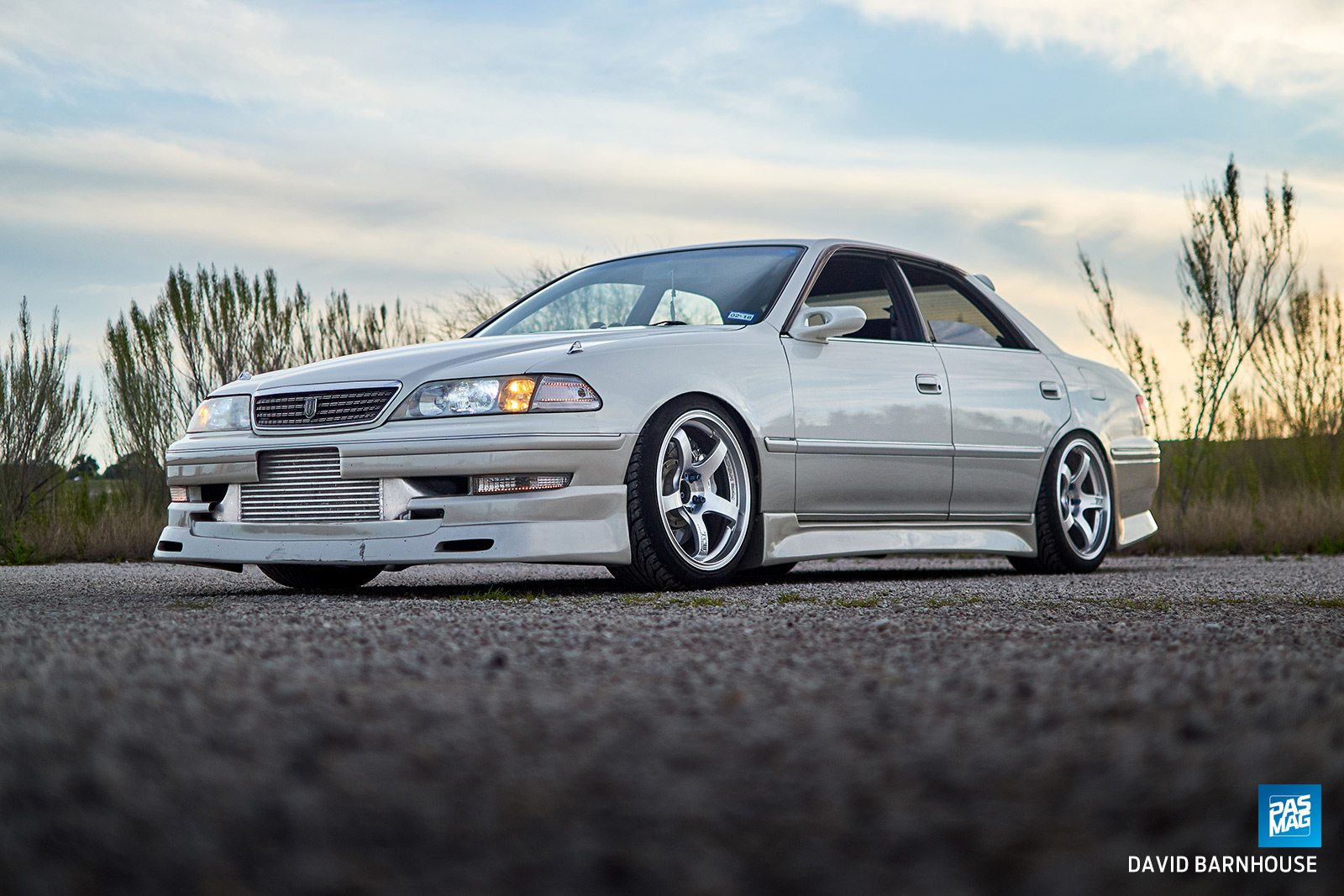 While it doesn't have then wild outward appearance of a WELD car, the Mark II definitely exudes JDM stylistic vibes. Vertex aero, Ganador mirrors, and Origin trunk lip and roof spoiler outside, plus the Bride Zeta II seat, Nardi Deep Corn wheel, and straight-out-of-Japan Carrozzeria head unit inside, this JZX is an exercise in how to build a clean and timeless car. And that's not to say that WELD's spirit doesn't exist here – the coil pack cover on the engine, shifter bushing, braided brake lines, and, most recently, the differential bushings have all travelled overseas from the team's shop to take up residence on Ethan's car.
What Ethan has built, with some help from some friends, is a well-rounded JDM car that serves as a bit of culture shock to the streets of Texas that it cruises down. It's not specifically a drift car, and it's not specifically a highway racer – it's daily driver in every sense, especially when part of your seat time includes getting sideways. This is a Mark II that makes its mark, everywhere it goes.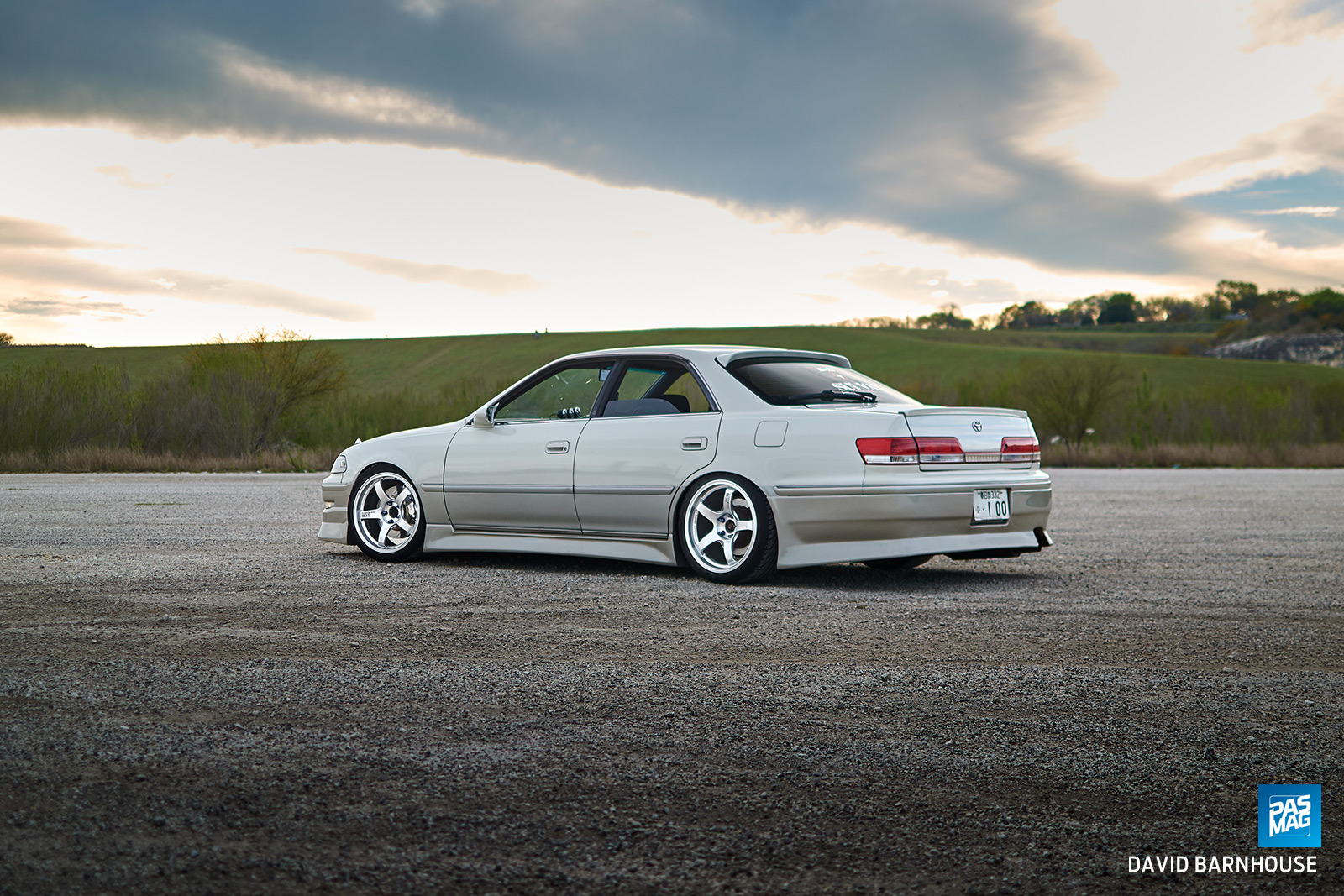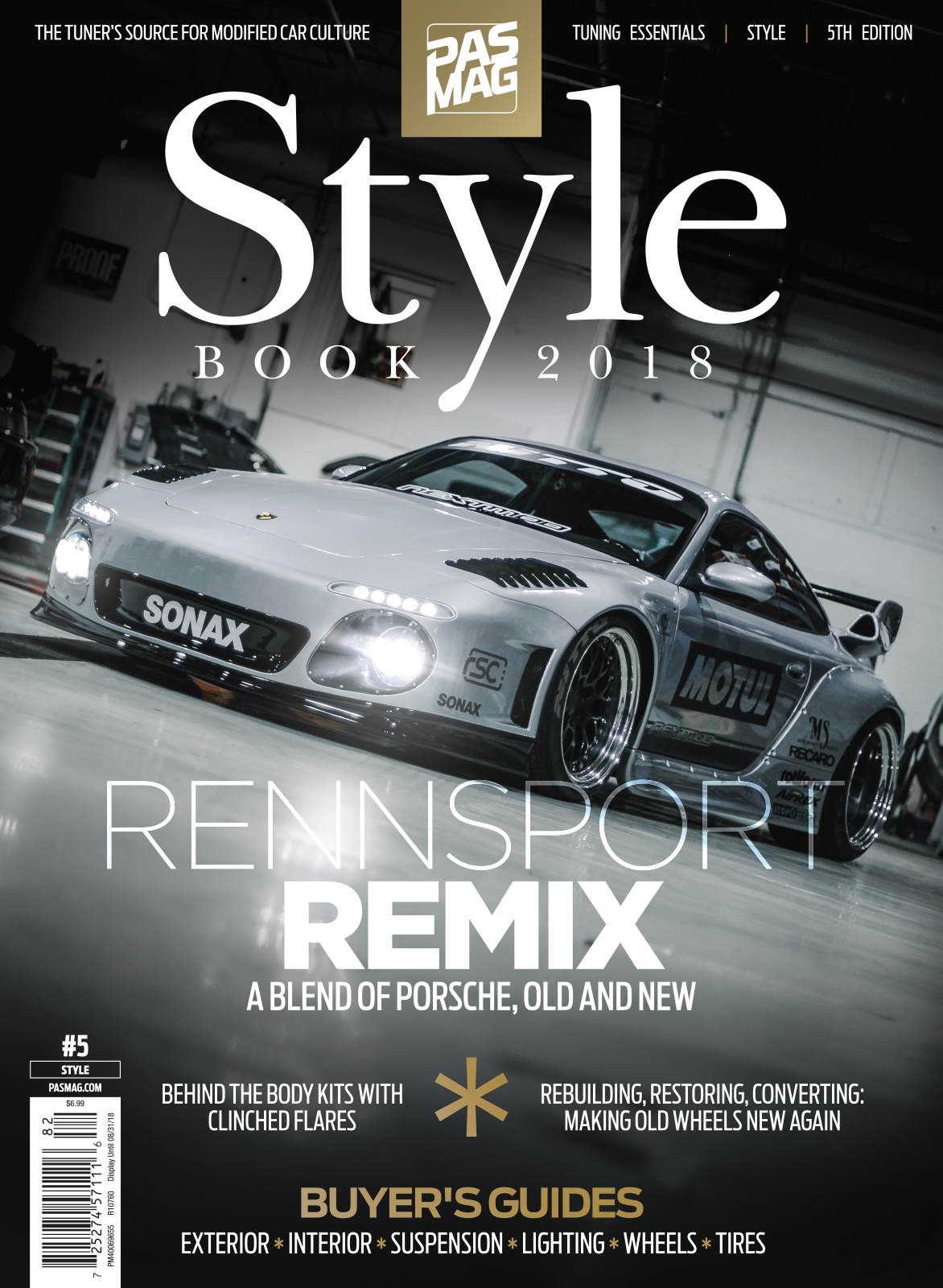 Full feature of Ethan's 1996 Toyota Mark II can be seen in PASMAG Tuning Essentials: Style Book Vol 5.
Click here to order.