A Mid-90s Dream Car in Michigan.
Let's take a trip back in time for a moment, back to a time when the original Lion King, Forrest Gump, and Jurassic Park movies topped the box office. Skateboarding, pop rock, and early mainstream hip-hop were pillars in pop culture, and the Japanese cars of the era would come to be some of the most desireable vehicles for tuners - though no one knew that at the time. The mid-90s were a special era. If you're not familiar, there's an aptly titled Jonah Hill movie that really highlights what those years looked like. For Michael Colton, those years were spent entrenched in a blossoming car scene which would grow to become the automotive aftermarket world we know and love today.
At the time, Colton was invested hardcore into lowrider trucks, but as time went on, that same appreciation for slammed pickups transformed into a love for imported tuner cars and JDM style. His love for all things automotive was inherited, as both his father and step-father were always into cars. By 2003 he was the owner of a 1990 Nissan 240sx with an RB20DET engine swap, and was working at a small shop in Sturgis, Michigan called Ultimate Performance. It was here he learned and honed some automotive modification skills that were useful in building his S13, and he also got to see all sorts of builds come and go through the shop for inspiration.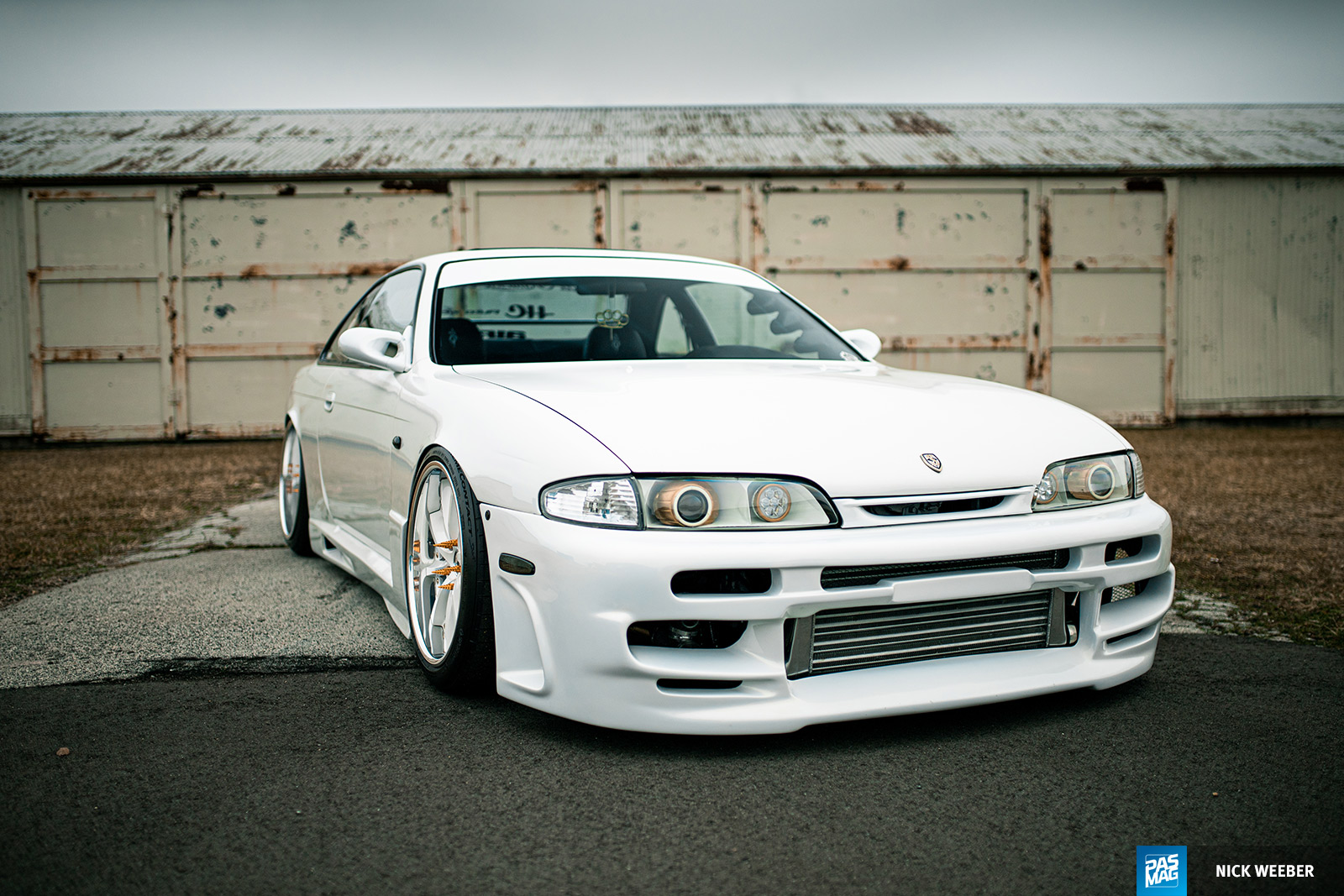 One day on the job, the owner of the shop purchased a car which was being delivered to the shop - a 1995 Nissan 240sx. It was love at first sight for Colton. He was already imagining the kinds of modifications he would do if the car was his. "When are you gonna sell it to me?" he asked his boss before the S14 was even off the truck. At first, the offer was turned down, but two weeks later Colton was the owner of another 240sx, this time a generation newer. He got to work on his vision as soon as he could.
The S14 platform has a ton of aftermarket support in every aspect, but even with the countless body kits available for the car, Colton couldn't find one that quite encompassed the vision he had. Plenty of kits had aspects or parts that fit the look, but not one kit altogether. This gave him an idea. With the help of Brass Knuckle Hardware, a shop local to him, he brought three separate kits to the shop and got to work cutting and molding entirely custom body parts with pieces from each kit. Once his custom aero was assembled, and some sweet custom headlights were retrofitted, the car moved into the booth for a clean white paint job.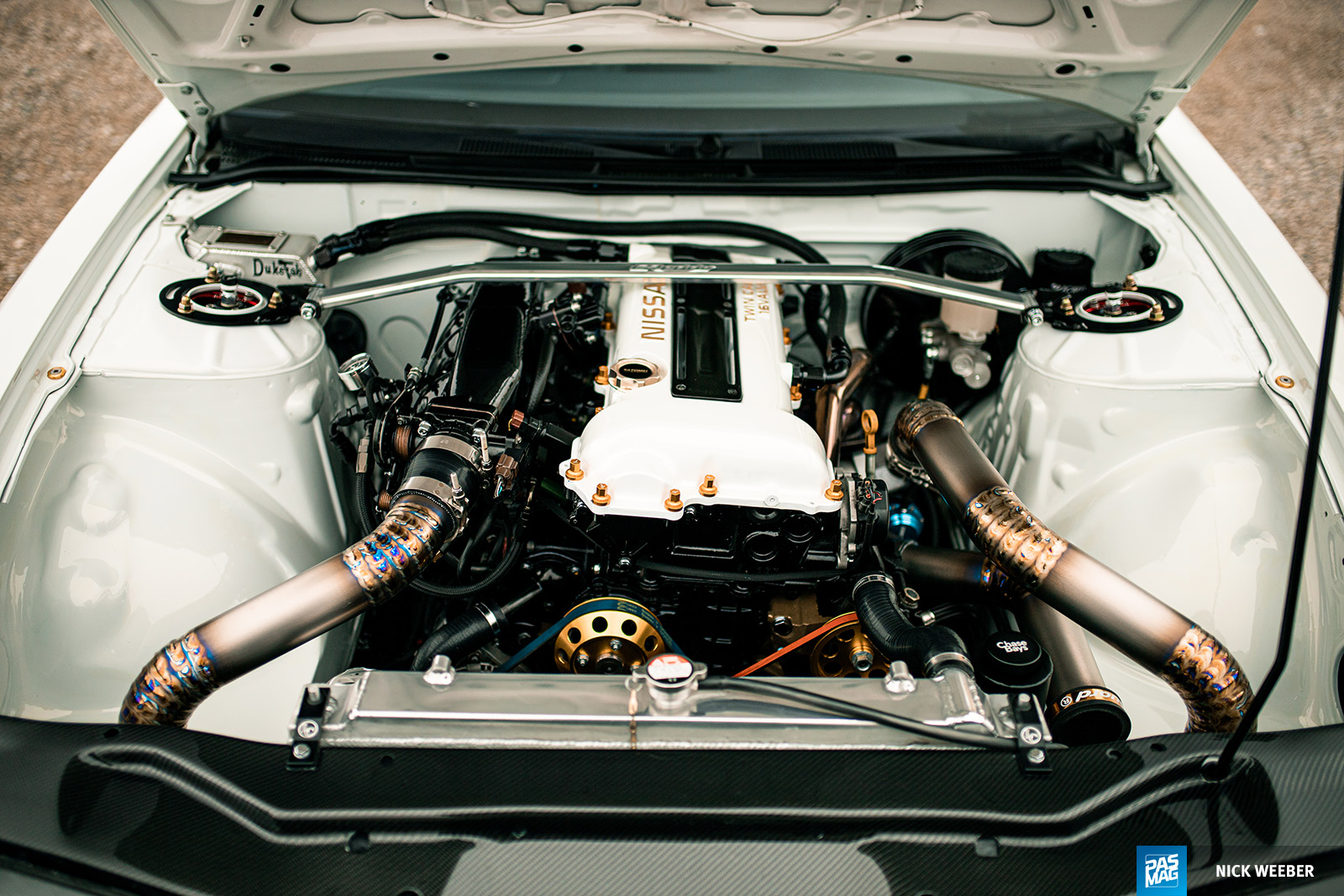 Now that it had started to look the part, Colton didn't want to let aesthetics get too far ahead of performance right away. For this build, balance was key. A regular SR20DET swap is always cool, but what if he took things to the next level? Enter the holy grail of SR20s, the Tomei SR22DET. A fully built SR20DET with a Tomei 2.2L stroker kit, 260-degree cams, crank, rods, pistons, and a bottom-mount manifold for an Arms M8270 turbo make for a potent powerhouse of a 4-cylinder. A BC valvetrain, 1200cc injectors in a Radium fuel rail, and all sorts of quality bolt-ons are all present, and the entire setup is managed by Link ECU's G4+ engine management. All in, the setup makes a healthy 575 whp, singing the SR's signature song through a Tomei T1 titanium exhaust. The extra titanium in the engine bay is just the icing on the cake.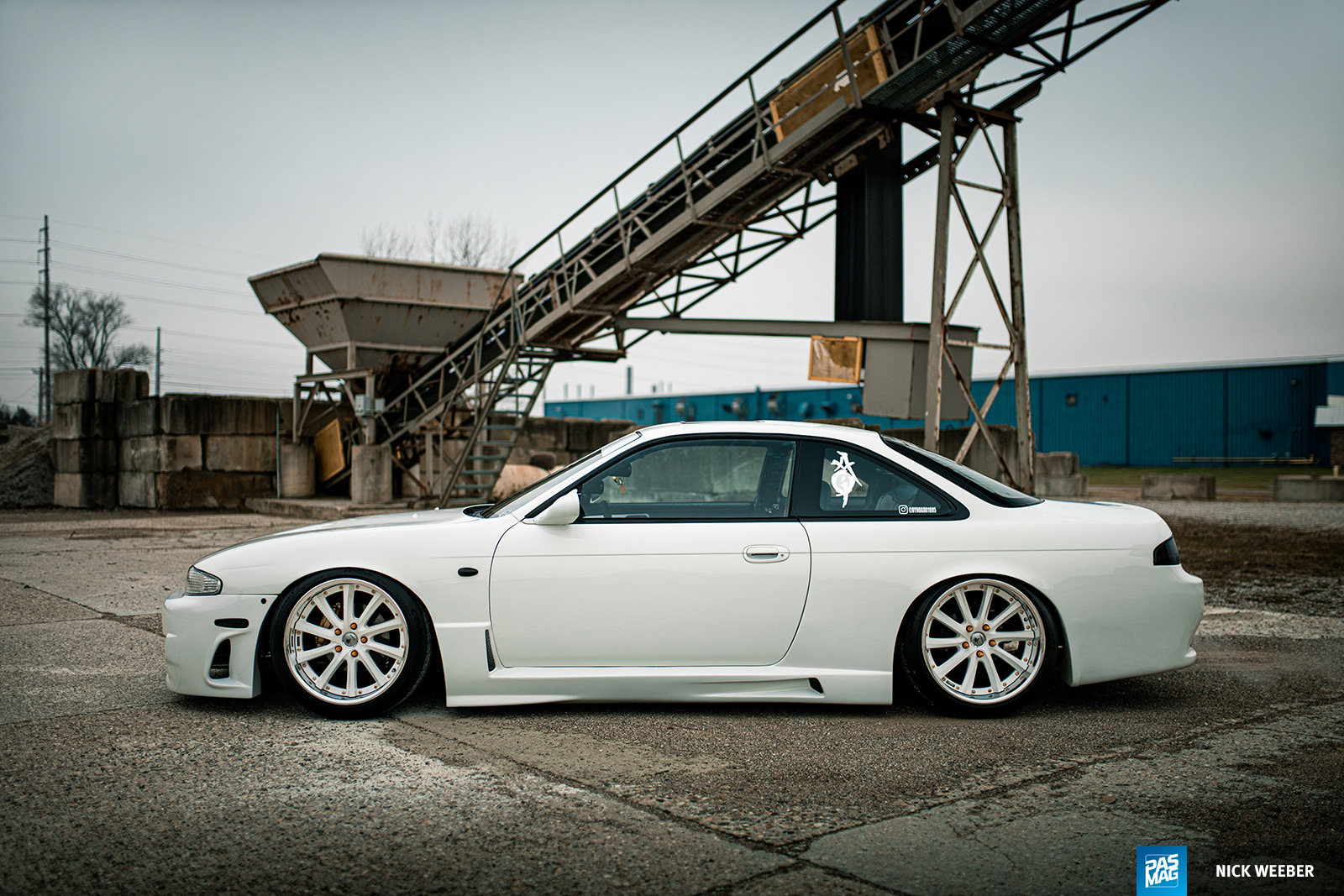 With ample power on tap, the 240sx was officially a weapon, but Colton wasn't done in the style department just yet. Sure, he could just throw on some nice wheels, twist the coilovers as low as they could go, and it would be stellar by most standards, but with balance in mind, he had other plans. Thanks to a sponsorship from Air Lift Performance, he was able to outfit the S14 with their Performance Series 3H air suspension system. Couple this system with a full set of Voodoo13 arms and tension rods, and he was soon able to tuck a set of 18-inch WedsSport Vishnu wheels perfectly up to the fender lips on all four corners.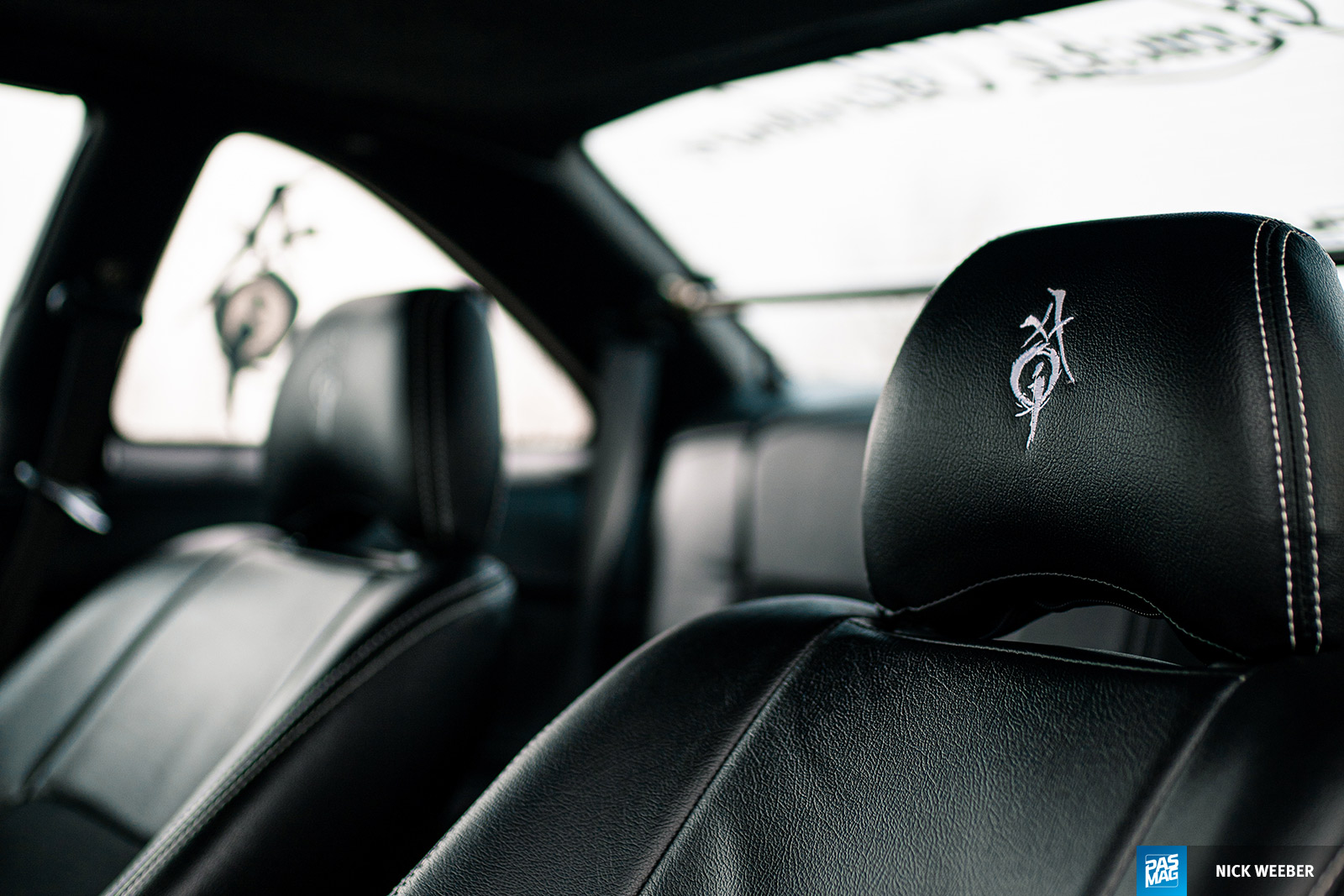 With everything coming together and working in harmony, his interior started to feel lacking - it was the last place he hadn't touched yet! Some paint-matched trim pieces and the gauge sets were a good start, but it didn't seem to live up to the standard the rest of the custom work on the car had set the bar for. The solution was a complete reupholstery. Custom seats in the front and rear with black suede inserts matched the black suede headliner, door cards, and rear speaker cover perfectly, creating a beautifully custom, yet subtle, interior makeover.
After years of work, and several partially-finished iterations of the 240sx you see here, Colton was finally finished in 2019 - or at least as "finished" as any project ever gets. With a trusty proven drivetrain combination of Nismo, Driveshaft Shop, SPEC, and Kaaz parts, the car is worthy of daily driving and weekend abuse as long as the weather in Michigan is cooperative. Keep an eye out for this one-of-a-kind S14 if you're ever in the area!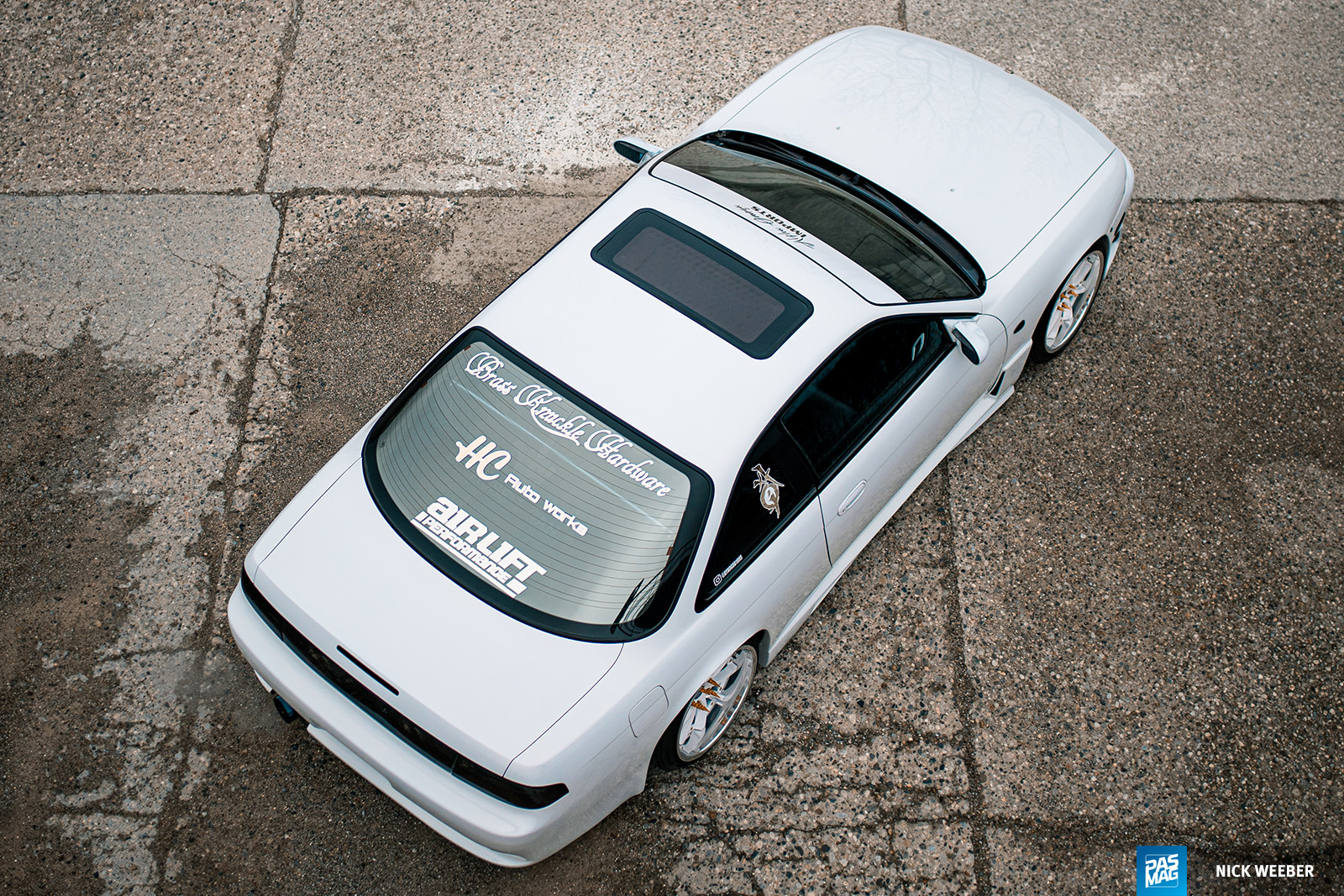 Photography by Nick Weeber (@weebermedia)
---
ESSENTIALS
Owner: Michael Colton
Vehicle: 1995 Nissan 240sx
Location: Sturgis, MI
Engine: Nissan SR20DET Turbocharged I4
Horsepower: 575 whp
Club: Alpha Omega Imports
SOCIAL
Facebook: /michael.colton.14
Instagram: @dynogod1995
ENGINE
Tomei (SR22DET 2.2L stroker kit, crank, rods, pistons, 260-degree cams, Arms M8270 turbocharger, bottom-mount manifold)
BC (1mm oversized valves, dual valve springs, valve guides, retainers)
AOI (Dual rocker guide set, custom titanium intercooler piping)
Fuel Injector Clinic 1200cc injectors
Radium fuel rail set
Walbro 450 fuel pump
GReddy front-mount intercooler
HKS SSQV blow-off valve
Duke Fab catch can
Wiring Specialties pro harness
ChaseBays power steering kit
PERFORMANCE ELECTRONICS
AEM Performance Electronics (fuel pressure regulator, TruBoost controller)
AEM Performance Electronics (temp gauge, oil pressure gauge, UEGO wideband)
Link ECU (G4+ engine management, oil pressure sensor, coolant temp sensor, fuel pressure sensor, IAT sensor)
EXHAUST
Tomei (T1 titanium exhaust, downpipe, test pipe)
DRIVETRAIN
SPEC Stage 3 clutch
Nismo (clutch master cylinder, clutch slave cylinder, transmission mount)
ChaseBays clutch line kit
Driveshaft Shop one-piece aluminum driveshaft
Kaaz 2-way LSD
GReddy differential cover
WHEELS / TIRES / BRAKES
WedsSport Vishunu wheels - 18x10 +15 (f), 18x10 +12 (r)
326 Power lug nuts
PBM spacers
Nissan 300zx front brake calipers
Powerstop (rotors, pads)
ChaseBays brake lines
CHASSIS / SUSPENSION
Air Lift Performance 3H air suspension system
PBM power brace
TF Works tie rod ends
Voodoo13 (traction arms, rear upper camber arms, high clearance rear toe arms, front tension rods)
Energy Suspension poly bushings
EXTERIOR
Custom aero kit
Ganador mirrors
Aerowolf mirror visors
Brass Knuckle Hardware (custom front fenders, custom overfenders, custom paint)
Retrofit custom headlights
Circuit Sport (smoked two-tone tail lights, clear corner lights, smoked marker lights)
INTERIOR
Custom front and rear seats (black leather suede inserts, white stitching, AOI logo stitched headrests)
Suede (headliner, rear speaker cover, door cards)
Paint-matched interior trim
Custom gauge pods
Grip Royal (steering wheel, hub)
AUDIO / MOBILE ELECTRONICS
CT Sounds (AT-125.4d amplifier, Meso 6.5-inch component set)
Soundman iPad dash kit
SPONSORS
Air Lift Performance
Alpha Omega Imports
Whalen Speed R&D
PHOTO GALLERY