Boys rarely follow their father's advice, but they often follow their example.
The target audience for the new Mk5 Toyota Supra spans across generations, and that has never been more evident than in the case of Stephen Aguayo and his son. Aguayo has been building show cars and racecars since the first Mk4 Supra rolled off the assembly line, and now nearly two full decades later, he's still at it. Growing up in southern California hanging out with some of the west coast's OG car clubs and attending shows for years, he fell into the passion for modified cars early on. Much to his appreciation, his son seems to be following in his footsteps.
It wasn't long before Aguayo's son took notice of his dad's history as a builder after seeing some of his projects from days past, as well as some recent projects from as early as last year. Being the younger of the pair, his son was drawn to newer and sportier vehicles, a slight departure from the two lifted vehicles Aguayo had most recently built. His son asked if they could build a car together - every father's dream. Together, they settled on the 2020 Toyota Supra, and specifically wanted to incorporate the HKS widebody kit they saw online during their research.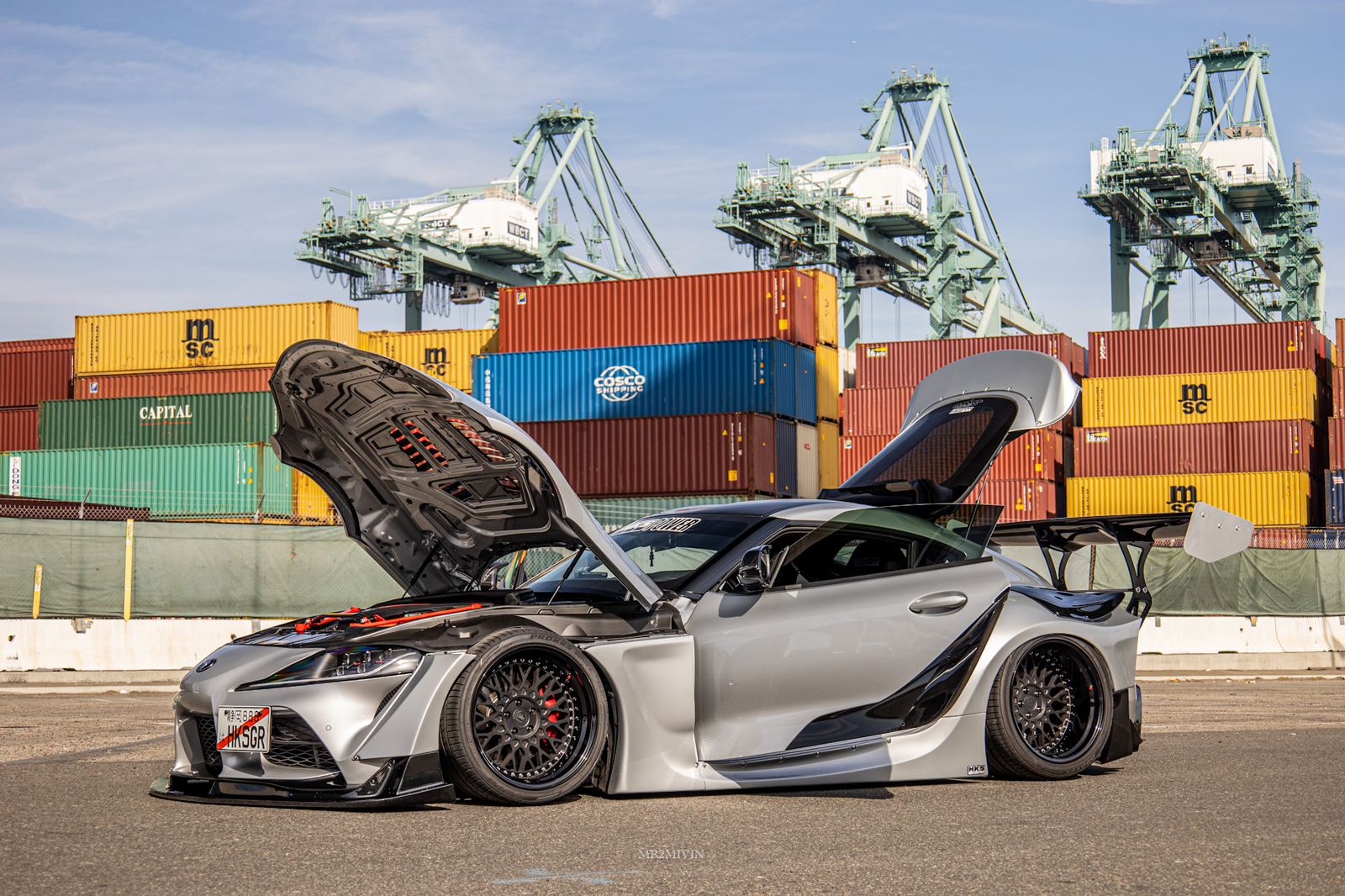 That specific desire led to the biggest challenge of the entire build: finding and acquiring the HKS widebody kit in a timely manner. At the time, the only way forward was to inquire with a vendor and be placed on a waiting list to buy the kit, and only three kits had been imported from Japan thus far. Luckily for Aguayo and his son, Vivid Racing was able to source a full HKS kit, including the wing - a rare option, along with his HKS exhaust to match the theme perfectly.
Thanks to HKS products' commitment to quality, and their long-standing reputation with Japanese platforms, the parts were perfect. The exhaust was mated to an AMS Performance downpipe in no time, and the kit offered incredible fitment, making the job of the body shop a streamlined process for the guys at SOS Customz. With the kit and wing from HKS fitted, a custom rear diffuser, Full Torque wing support rods, and a Cusco tow hook completed the rear with aggressive style. Up front, Trackspec hood vents go the distance in changing the front end styling.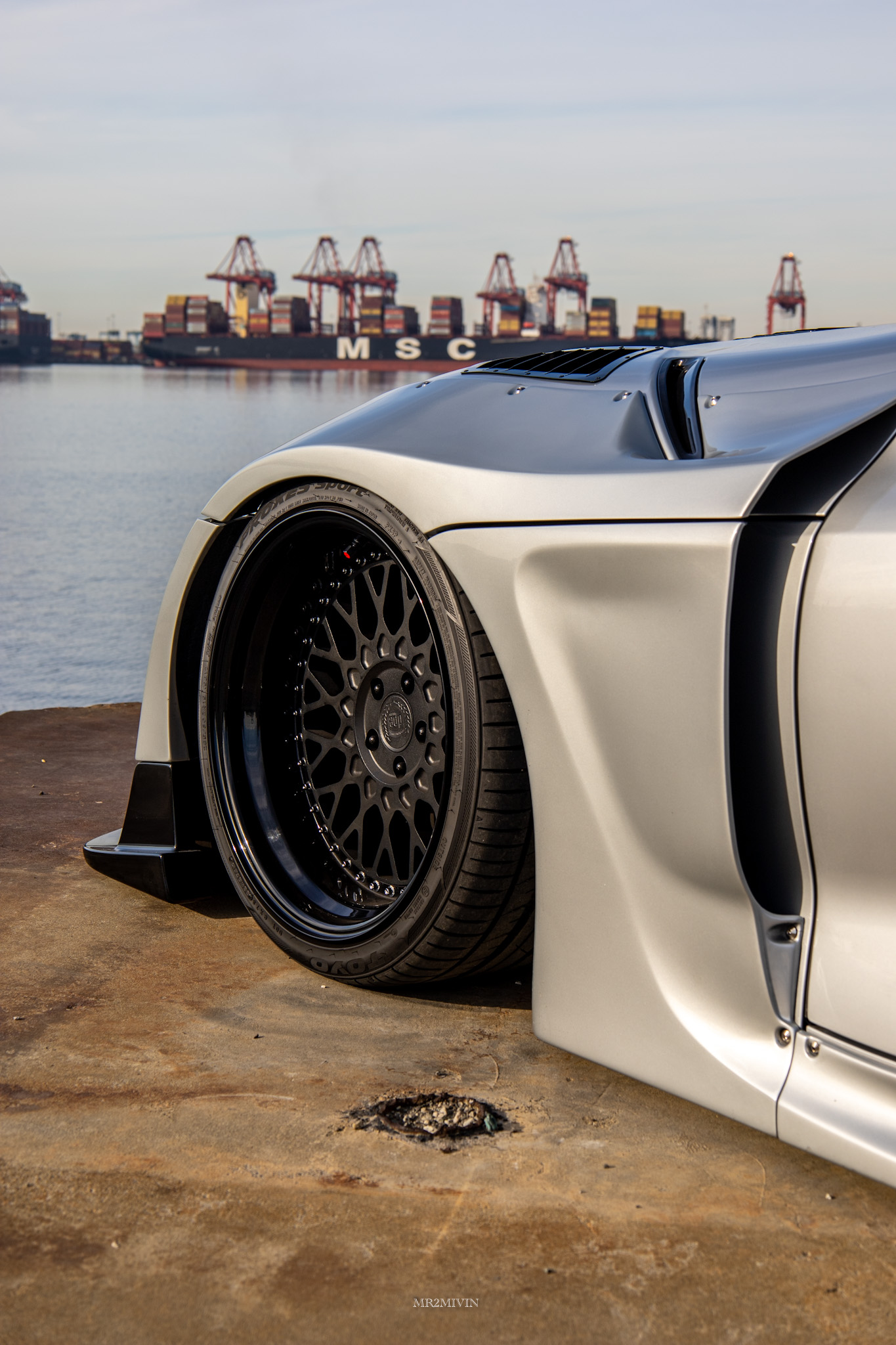 Completing the looks from afar is a set of DPE Forged 3-piece wheels, measuring 19x10.5 and 19x12.5 in the front and rear respectively, wrapped in Toyo tires and sporting cool little HKS valve stem caps - a nice detail that doesn't go unnoticed. A custom air suspension system made up of Universal Air Suspension bags and AccuAir's e-Level+ system allows the Supra to tuck those wheels under the widened body perfectly, with wheel lips just hairs away from the fenders.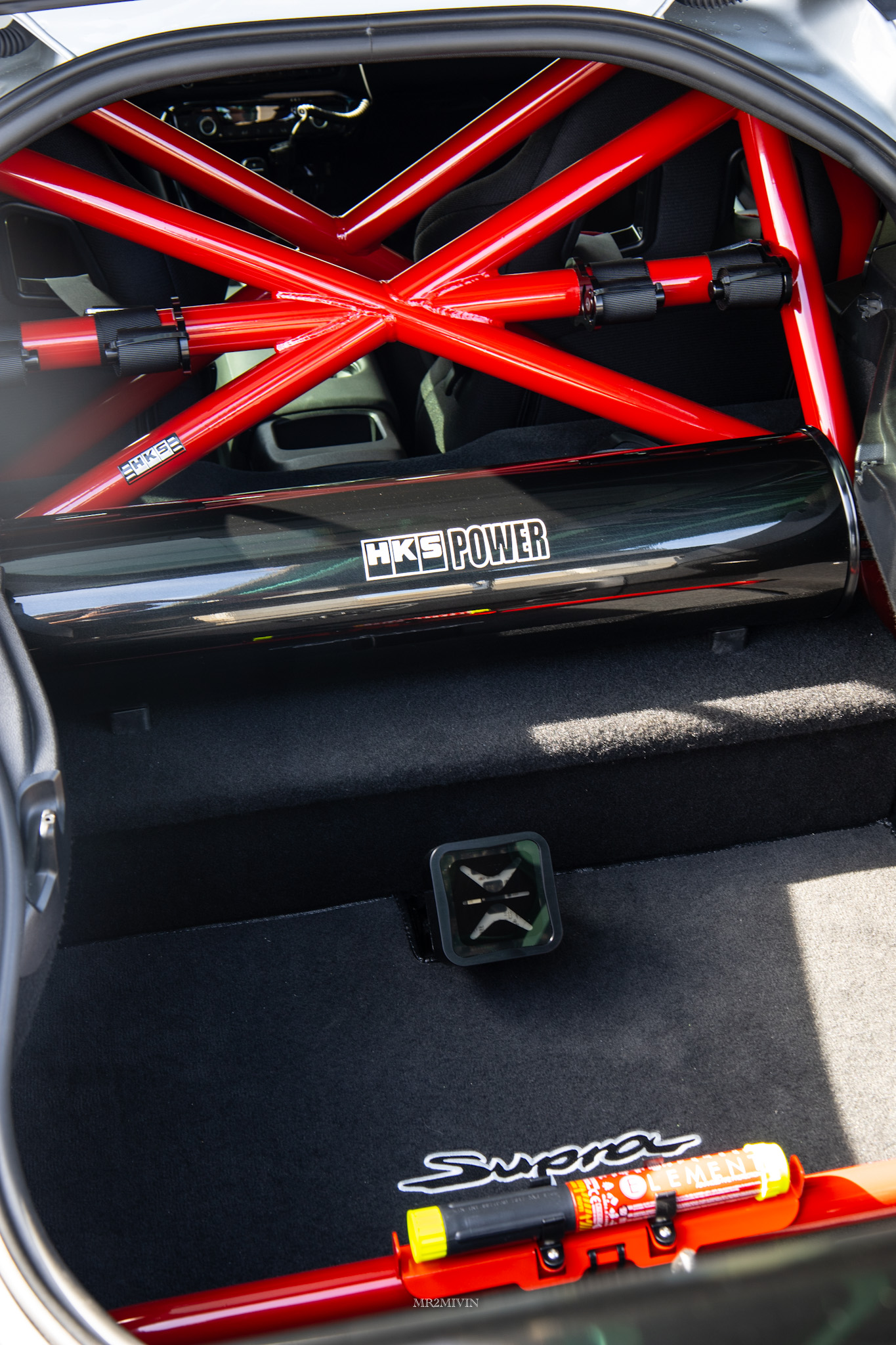 Inside the cockpit, the new Supra's interior was treated to a healthy dose of carbon fiber. A steering wheel and race mirrors from Unleashed Customs, interior badging from Rexpeed, shifter paddles from AutoTecknic, and an anti-wind buffeting kit from Verus Engineering all add carbon fiber trim in a tasteful way that plays on the factory interior design of the car. Sparco R600 seats and 4-point harnesses keep Aguayo and his son snug in their seats, and a Rad Rides trunk setup to showcase the AccuAir ENDO-CVT 5-gallon tank ensures the entire inside of the car is as show-worthy as the outside.
Of course, very few people buy a Toyota Supra with the intentions of keeping it stock, and with future plans for a bigger turbo setup and dual external wastegates, Aguayo got to work revamping the B58's entire fuel system, including a flex fuel kit, thanks to Burger Motorsports. With supporting modifications like the fuel system, heat shields, and the HKS air filter and charge pipe, the groundwork has been laid out for a future turbo upgrade, and also allowed him to turn the boost up for the time being, equating to a respectable 480 horsepower at the rear wheels. Certainly no slouch.
All in, Aguayo's goal with the Mk5 Supra was to build a vehicle that could hold its ground on both the show floor and the track, and all things considered, he seems to have done just that, with plans to turn things up a notch soon. More than all of that, this build was the perfect chance for him to pass the torch to his son, undoubtedly a future builder as well. "You are never too old," Aguayo tells us, "never stop dreaming." Sound advice for the next generation. His son's passion is in good hands.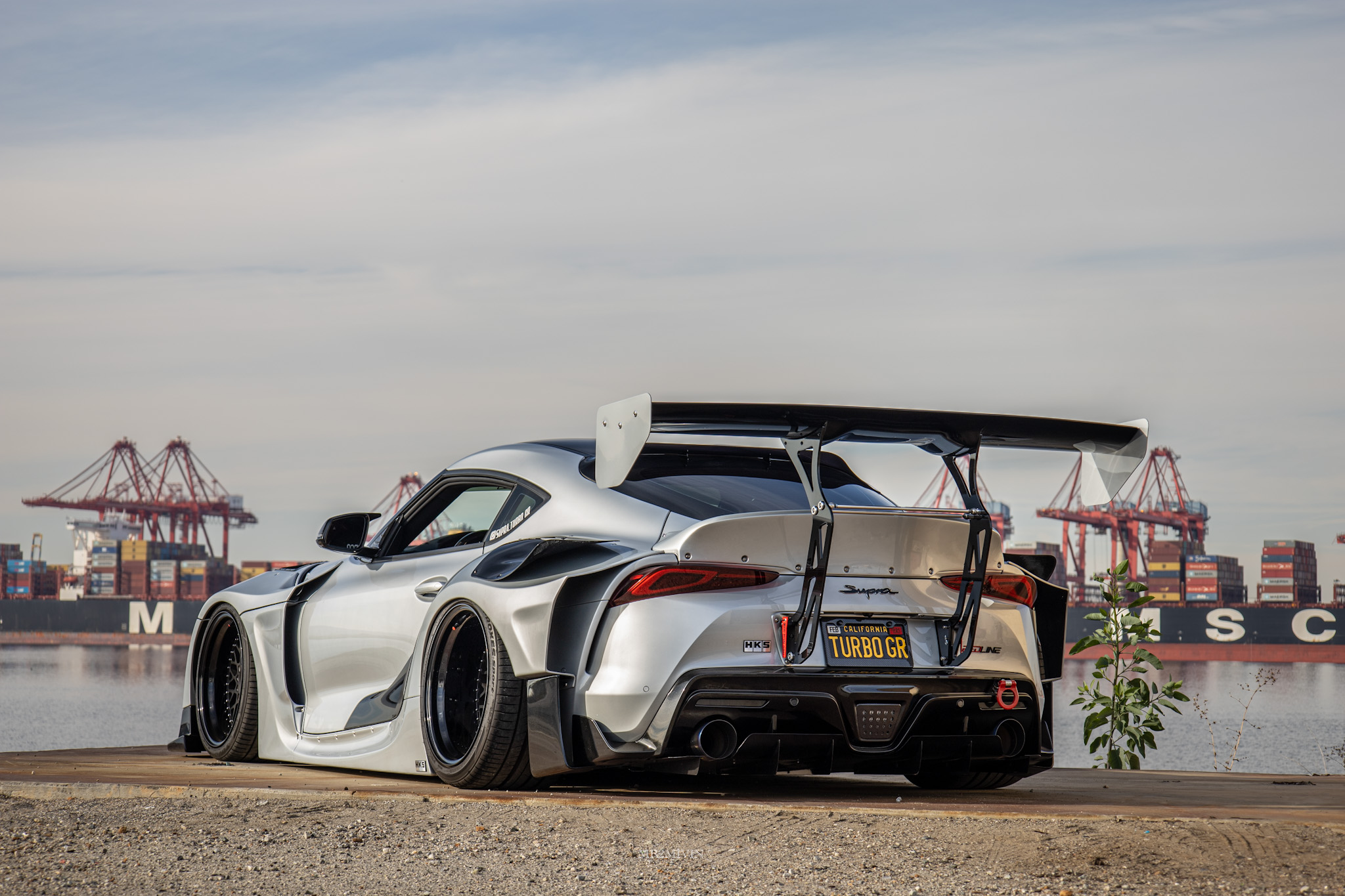 Photography by Marvin Recinos (Gorilla Garage) - IG: @mr2mivin
---
ESSENTIALS
Owner: Stephen Aguayo
Location: Lake View Terrace, California, USA
Vehicle: 2020 Toyota Supra GR
Horsepower: 480 whp
SOCIAL
Instagram: @hks_supra_gr
ENGINE
Burger Motorsports (B58 Supra fuel pump, Fuel-It flex fuel kit)
HKS (Performance air filter, charge pipe)
Torque Master spark plugs
Verus Engineering (turbo heat shield, resonator delete, engine bay fluid cap kit)
Boost Mod Stage 2 ECU
EXHAUST
HKS full exhaust
AMS Performance downpipe
DRIVETRAIN
Verus Engineering differential cooling plate
WHEELS / TIRES
DPE Forged 3-piece wheels - 19x10.5 (f), 19x12.5 (r)
Toyo Proxes tires - 285/30/19 (f), 325/30/19 (r)
HKS valve stem caps
CHASSIS / SUSPENSION
Universal Air Suspension bags
AccuAir (ENDO-CVT 5-gallon air tank, e-Level+)
Studio RSR roll cage
Cusco strut bar
EXTERIOR
HKS (Premium widebody kit, rear roof wing, Japanese license plates)
Custom rear diffuser
Perrin front license plate bracket
Cusco rear tow hook
Trackspec hood vents
Full Torque wing support rods
INTERIOR
Sparco (R600 seats, 4-point harnesses)
P2uned seat rails
Speed Industry red push start/stop button
Unleashed Customs (carbon fiber steering wheel, carbon fiber race mirrors)
Rexpeed (carbon fiber steering wheel badge, carbon fiber interior badging)
Auto Tecknic carbon fiber shift paddles
Broadway rearview mirror
Verus Engineering gloss carbon fiber anti-wind buffeting kit
Supreme fire extinguisher
Rad Rides trunk air tank setup
---
PHOTO GALLERY