Photography by Christopher Thibert
---
J.J. Dubec adds another notch in his Liberty Walk belt with his most impressive build yet.
Our friend J.J. Dubec is no stranger to the pages of PASMAG. Some of you may recognize his name from previous features such his Liberty Walk R35 GT-R, or one of his Liberty Walk Ferrari 458s. Presumably by the time you lay your eyes on these pages, you'll have noticed a common denominator among Dubec's latest builds - they're always adorned with a Liberty Walk widebody kit. Being a pioneer in the space has landed Dubec a sort of unofficial brand ambassador role to Liberty Walk, a role that allowed him to be the first in the world to complete a next-gen NSX Liberty Walk build.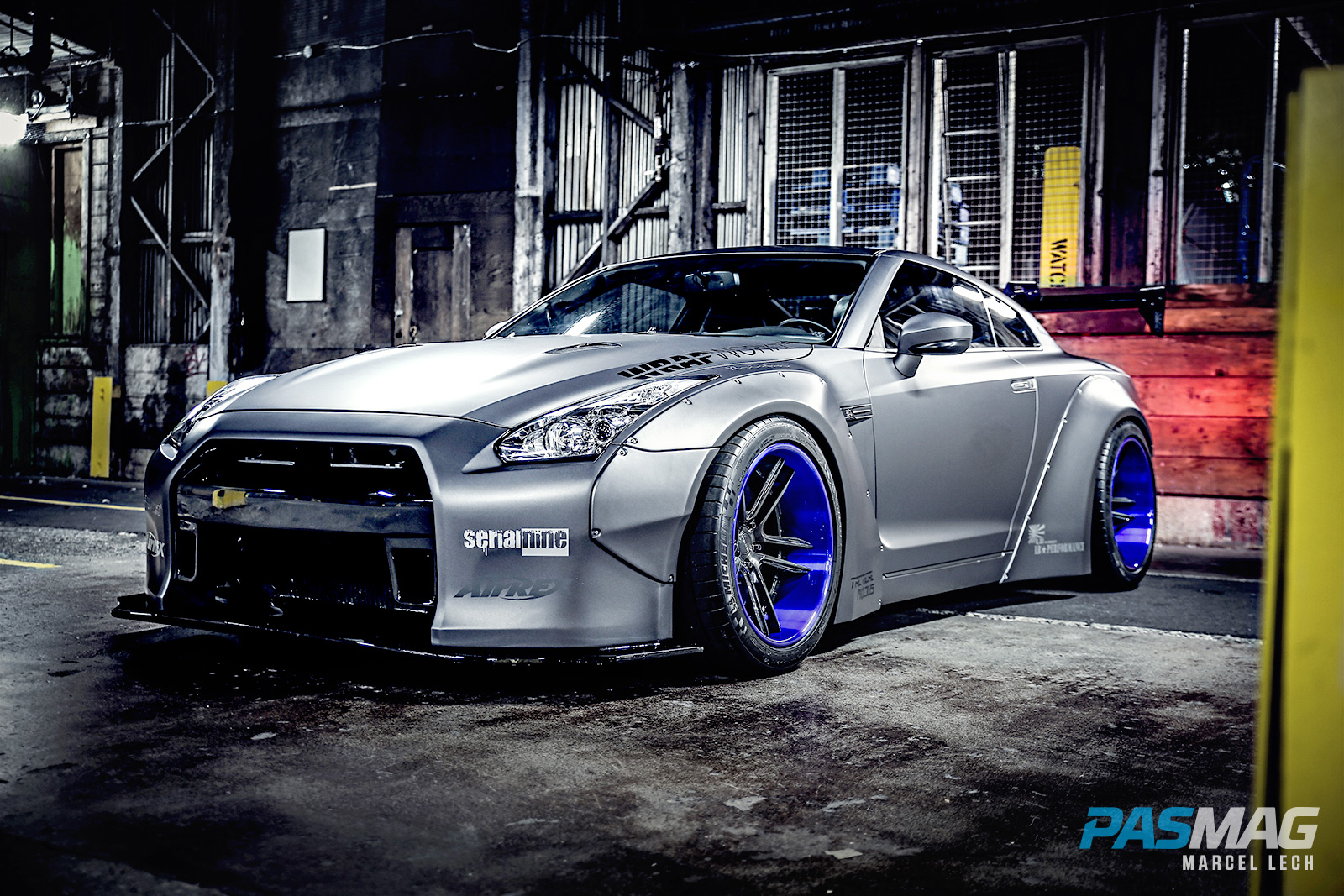 The concept for this build was hatched at SEMA 2015, when Dubec sat down with Kato Wataru, founder of Liberty Walk. Having seen Dubec's previous build expertise on display at the show, Kato-san was already impressed, and asked Dubec what projects he thought would be cool for their near future. They were both excited seeing the concept renderings of the NSX kit, and Dubec agreed to embark on another widebody project to set the bar even higher than before. In November of 2016, Dubec acquired the very first serial-numbered LB Works widebody kit for the NC-1 NSX.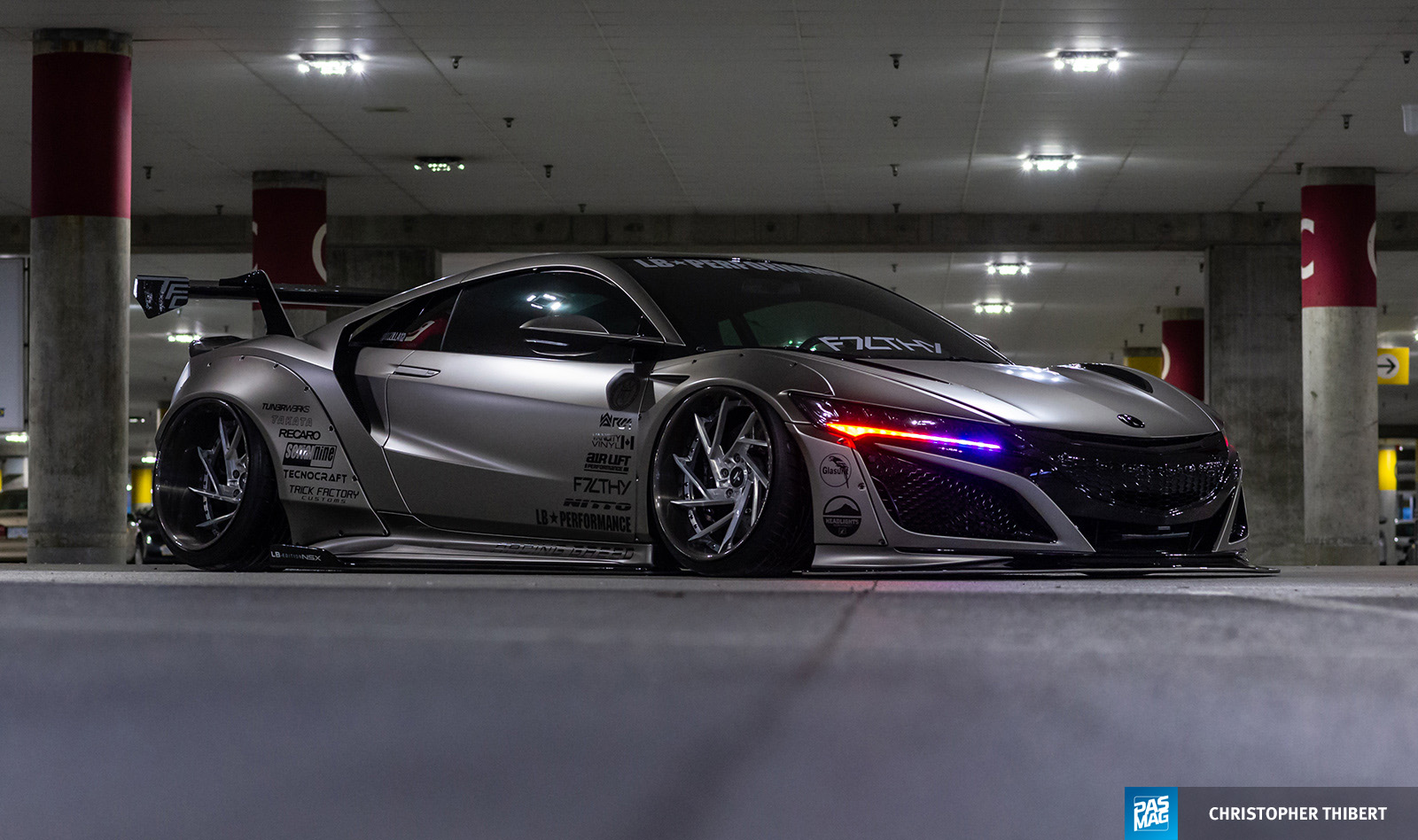 Dubec's trailblazing didn't end at the body kit, either. His reputation and networking ability helped partner with brands like Armytrix to design the world's first aftermarket full exhaust system for the platform. He also enlisted ZeroDivision, SerialNine, and Trick Factory Customs to develop the first air suspension system for the NC-1, managed by Air Lift Performance's 3H management system. Helping expand the tuner aftermarket in this way filled Dubec with pride. "We weren't simply buying parts off the shelf," Dubec tells us. "We were actually helping design and manufacture new parts that would be used to further the available list of options for the other owners out there who choose to modify and personalize their cars."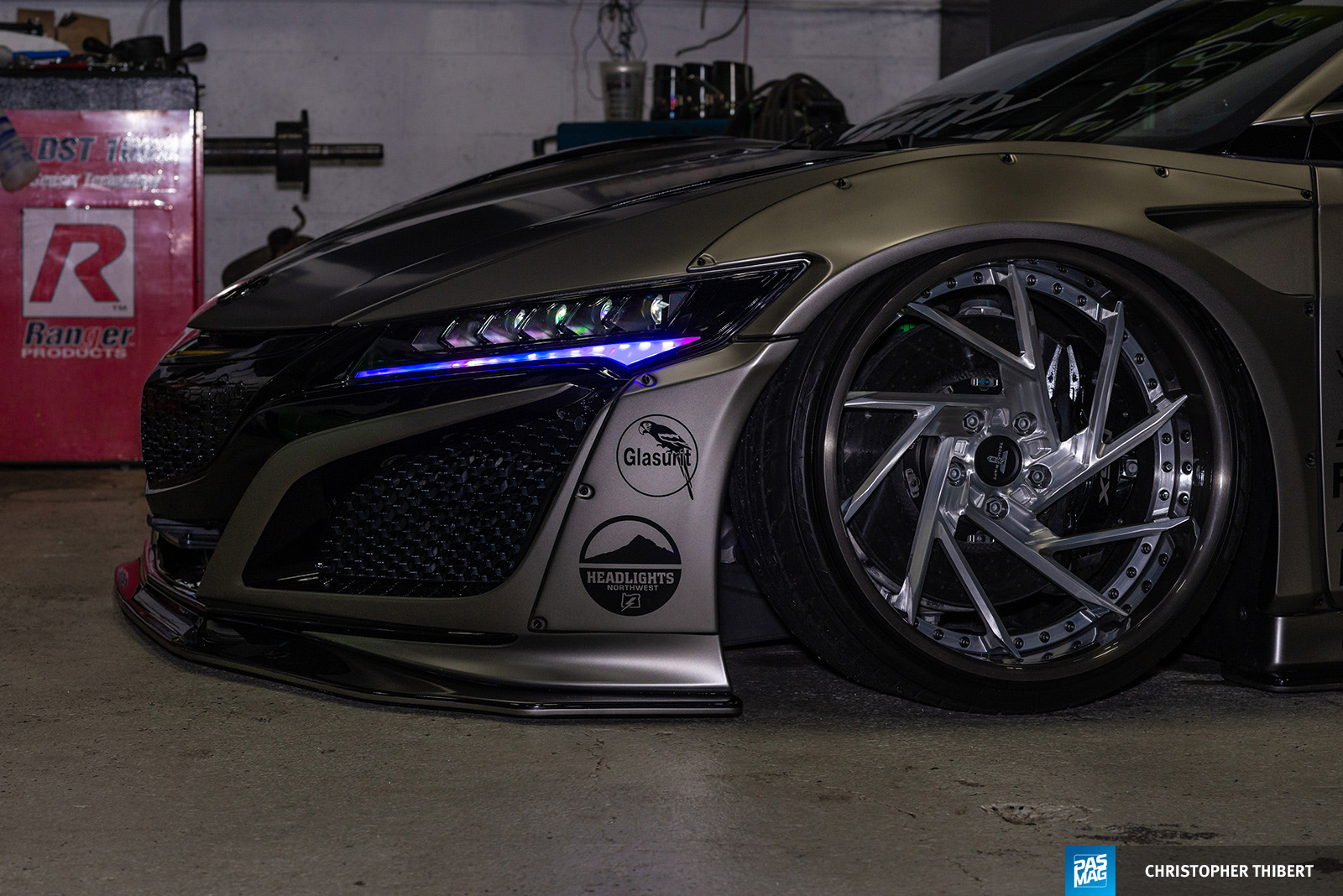 With the bar set so high right out of the gate, the rest of the build had to live up to the hype, and the widebody install was just the beginning of a radical change in the NSX's appearance. In addition to the carefully crafted and installed LB Works kit, the Acura supercar was treated to a carbon fiber swan-neck spoiler, bespoke Trick Factory Customs/Headlights NW dancing headlights and tail lights, and a special matte metallic paint blend from BASF's Glasurit line made specifically for Dubec, dubbed DocZilla Surgical Steel. Tying the exterior look together is a set of Technocraft Forged custom 3-piece wheels, 20-inches wide, wrapped in Nitto NT555 and NT555 G2 tires in the front and rear respectively.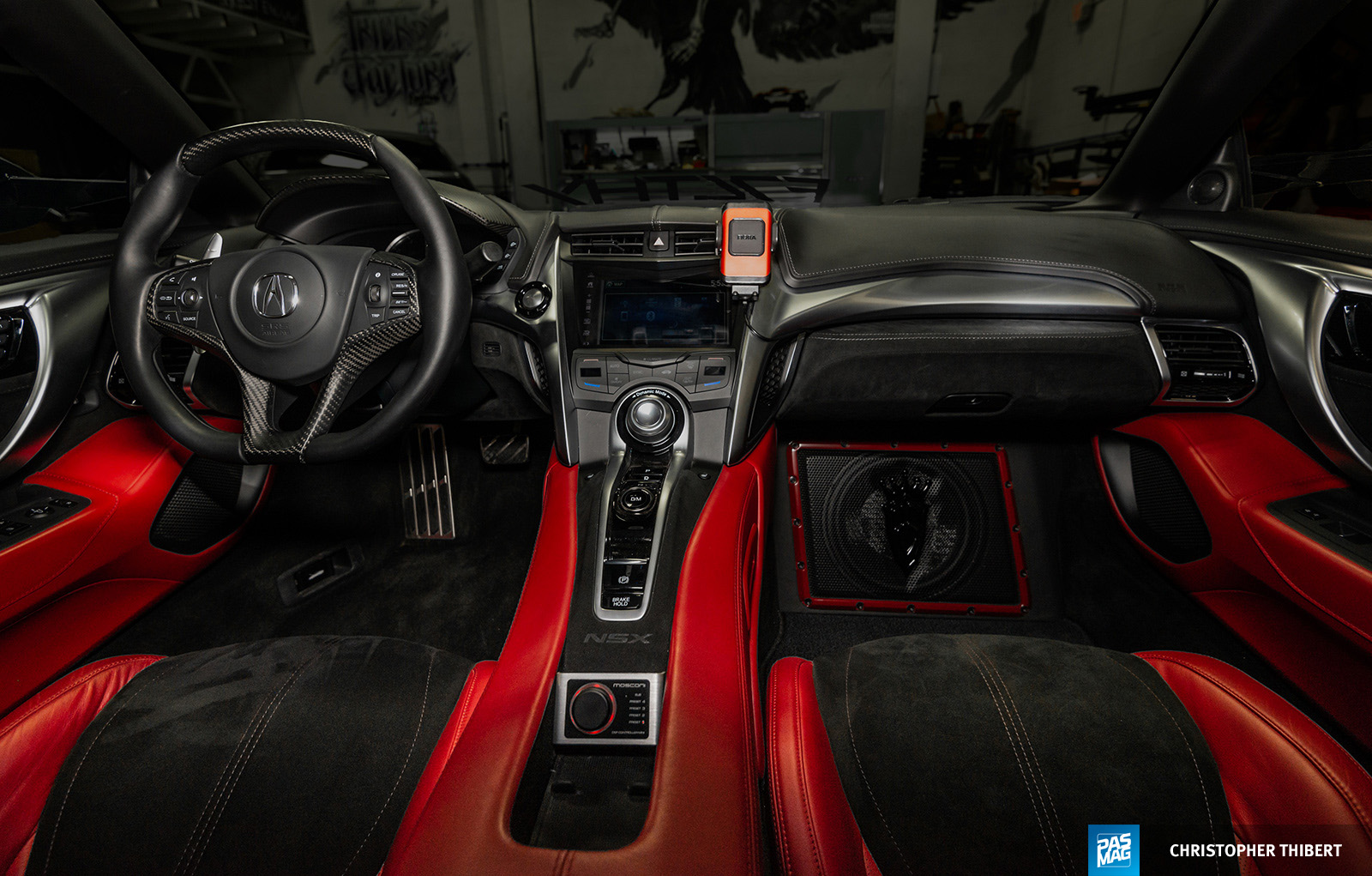 Inside the cabin, the NSX's red leather and carbon fiber interior is improved thanks to a custom alcantara headliner, some color-matched accents to bring the exterior theme inside, and one seriously impressive audio install. As you might already expect, only the highest quality audio components were permitted. Using a combination of Mosconi, Morel, and Metra mobile electronics, the car was outfitted with a cleverly compact system that boasts seriously impressive sound quality at all volumes.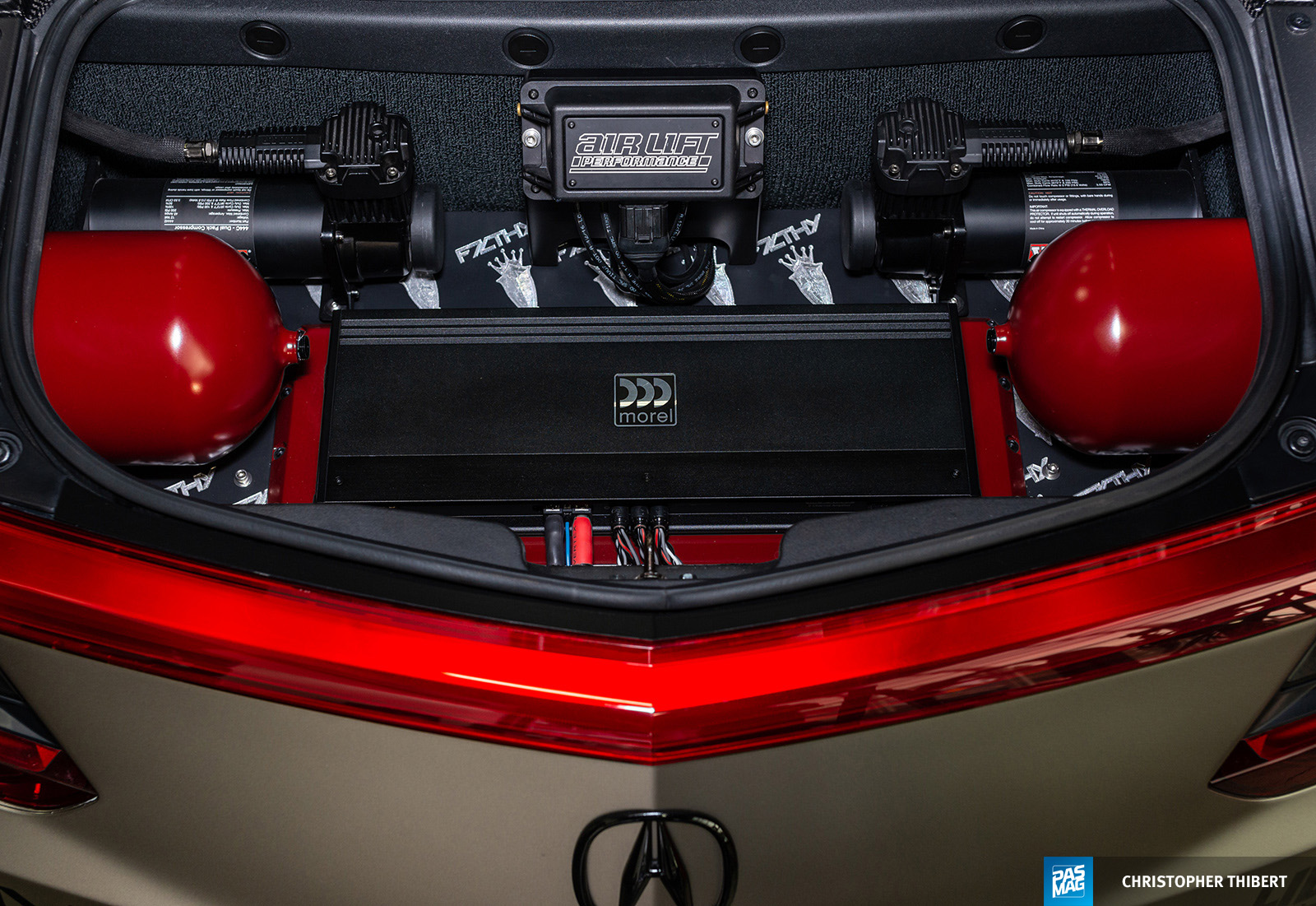 Rather than fill the small front and rear trunk spaces with audio components, leaving no room for practicality, Dubec and the Trick Factory Customs team opted to place just the amplifier - a Morel MPS 5.950 5-channel - on a custom rack between the two air tanks in the tight half-sized rear trunk. Integrating the amplifier and air tank installs together with a custom CNC-engraved bracket, featuring the F7LTHY x Trick Factory Customs logo design makes for a stylish space-saving and show-worthy trunk. This amplifier uses a Mosconi AMAS-2 Bluetooth streaming interface module coupled with the OEM head unit fed into a Mosconi 8to12PRO DSP as a source.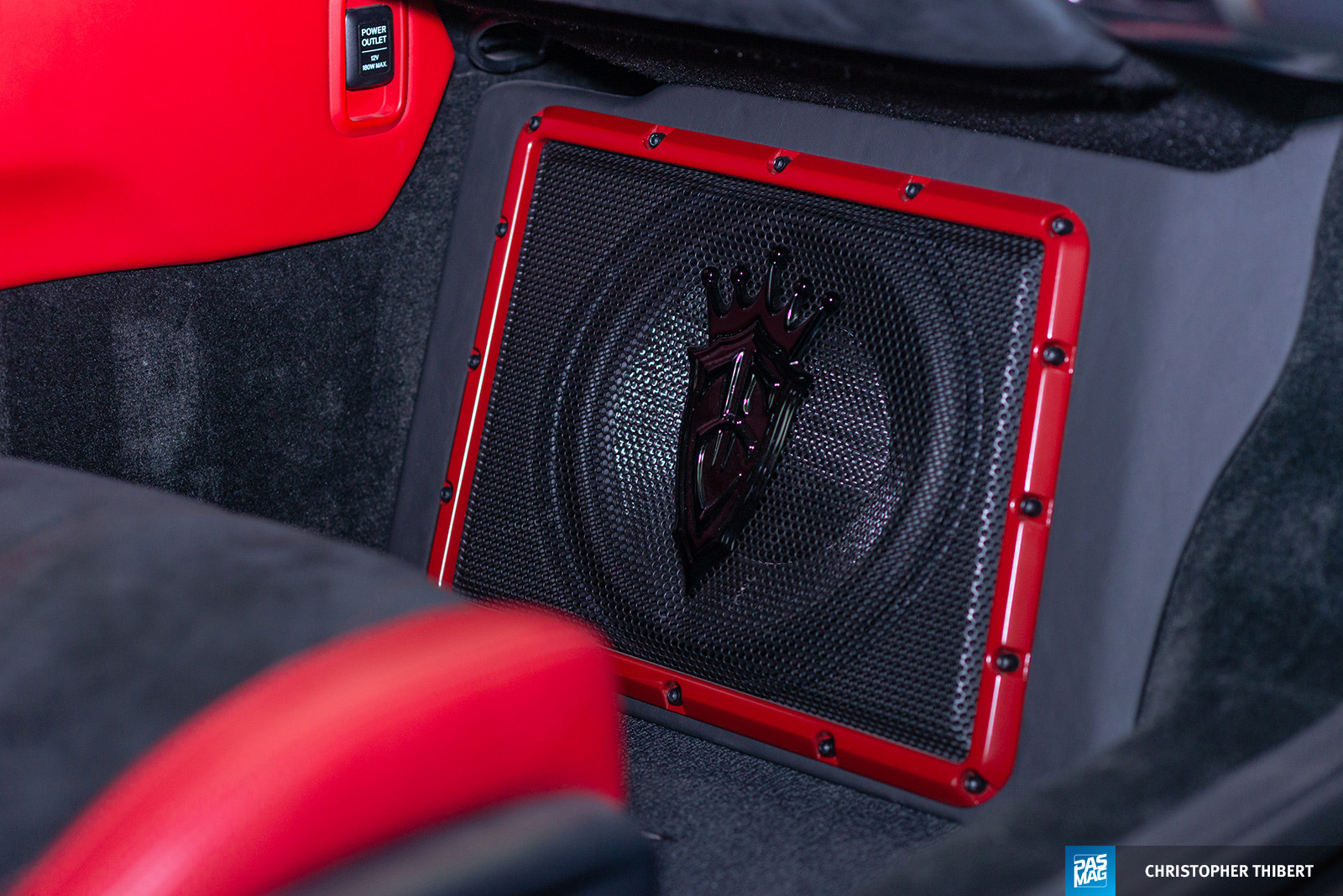 Bellowing the audio in the car is a combination of Morel audio components, which includes Morel Elate Ti-602 6.5-inch component speakers up front, mounted to acrylic adapter/spacer plates. In the footwell of the passenger seat, a Morel Ultimo Ti SC104 10-inch single voice coil subwoofer sits in a custom sealed and brace enclosure, which features custom accents in a glossy dark red finish to play off the factory red leather interior perfectly. All in, the audio system not only sounds phenomenal, but is carefully crafted to continue the overall theme and execution of the build. The details of the entire build inside and out cannot be overstated.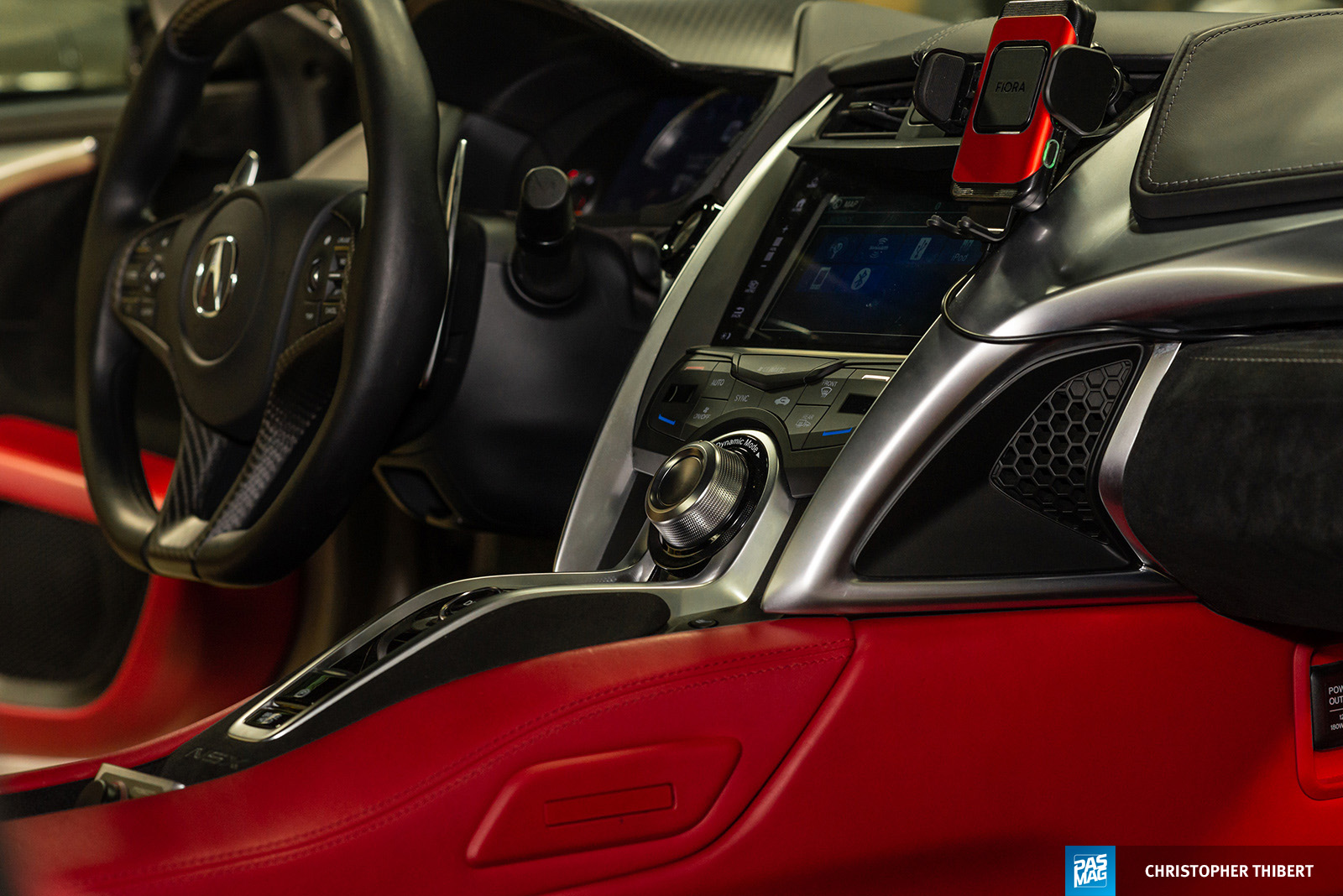 "I personally love some of the meticulous details that most eyes, except the most keen, will tend to overlook. For example, the paint throughout this car has been painstakingly redone to include gloss black painting of all the stock black parts. Every vent opening and most of the contours around openings were extended to include a black silhouette," Dubec explains. "This gives the car a very subtle but noticeable ferocity. It is best seen when next to a stock NSX. Also the smallest details like using ProBolt USA titanium tapered heads and washers with threaded inserts throughout instead of screws, or custom inner and outer diameter hardware with meticulous repainting of those parts to the custom body colors."
To the victors go the spoils, and the effort put into this build, much like any of Dubec's previous work, did not go unnoticed when it showed up at SEMA. "Having pros like Chip Foose and Ryan Friedlinghaus approach our F7LTHY team at SEMA shows and compliment us on these builds are extremely motivating for us to continue to outdo ourselves year after year," he says. If he and his team plan on outdoing themselves once again, we can't wait to see what they're cooking up next!
ESSENTIALS
Owner: J.J. Dubec
Vehicle: 2017 Acura NSX
Location: Vancouver, BC
Engine: Honda JNC1 3.5L Twin-Turbocharged V6 w/ dual front electric motors + single rear electric motor
Horsepower: 573 whp
Torque: 476 lb-ft
Club: F7LTHY
SOCIAL
Facebook: J.J. Dubec
Instagram: @doczilla12
Twitter: @DrJJDubecMD
ENGINE
TunerWERKS ECU module
Tuned by ECU Werks and RacingGreed
EXHAUST
Armytrix titanium valvetronic exhaust
WHEELS / TIRES / BRAKES
Tecnocraft Forged custom 3-piece wheels - 20x10 -10 (f), 20x13 -55 (r)
Nitto NT555 tires - 245/30/20 (f)
Nitto NT555 G2 tires - 305/30/20 (r)
CHASSIS / SUSPENSION
Stance USA Nova dampers
ZeroDivision/SerialNine x Trick Factory Customs air suspension system
Air Lift Performance 3H air suspension management system
EXTERIOR
Liberty Walk LB Works widebody aero kit
Carbon fiber swan neck spoiler
Custom Trick Factory Customs/Headlights NW (headlights, tail lights)
BASF Glasurit "DocZilla Surgical Steel" matte metallic paint
INTERIOR
Custom alcantara headliner
Red leather and carbon fiber interior
Color-matched audio accents
Fiora smartphone inductive charger mount
AUDIO / MOBILE ELECTRONICS
Mosconi (AMAS-2 Bluetooth streaming interface module, 8to12PRO DSP, RC mini controller)
Morel (Elate Ti-602 6.5-inch component speakers, Ultimo Ti SC104 10-inch subwoofer, MPS 5.950 5-channel amplifier)
Metra (Shuriken batteries (2), T-Spec dual battery isolating relay, T-Spec circuit breakers, T-Spec wiring, V12 power/ground wire, speaker wire, RCAs)
Custom (CNC-cut battery mount, sealed enclosure)
SPONSORS
Morel
Mosconi
Metra Electronics
Fiora