Photos by Logan Warfield
---
Standing out can be a huge challenge, especially when it comes to a stage the size of SEMA. As if that wasn't pressure enough, our friend Neil Tjin and his Tjin Edition brand took on their very first Hyundai build ever in 2015, being assigned a Genesis Coupe with the 3.8-liter power plant. Definitely, wanting to start their relationship off with a bang, but being given a car that's been done almost as much as the Scion (Toyota) FR-S would prove to be a pain when approaching it from a fresh angle. Well, for more people.
Mr. Tjin has been at this for quite some time for a reason. "We did research," explains Tjin. "We went through every Genesis Coupe since 2010 or 2011 and went completely different compared to all of them."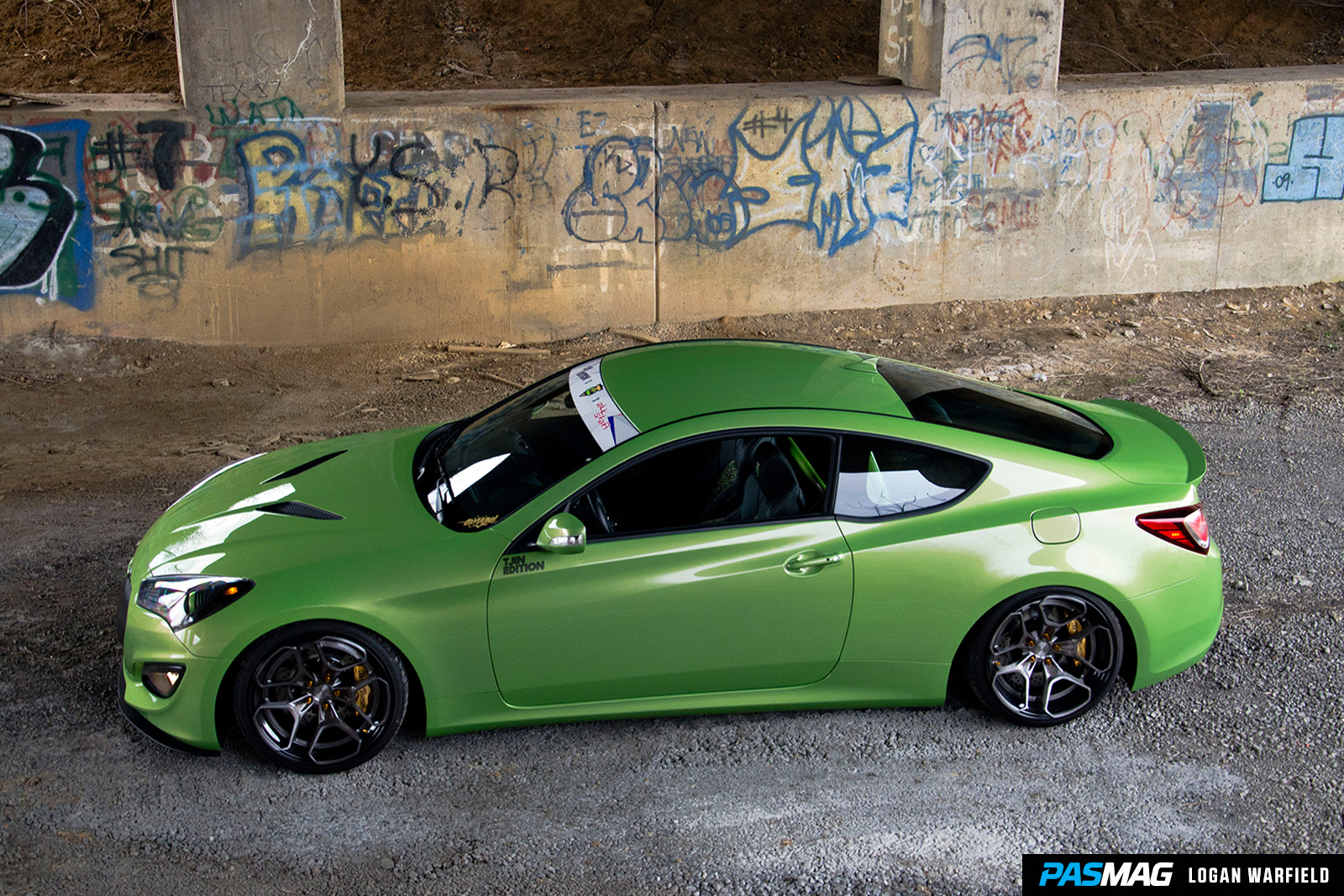 So, what exactly did all that painstaking research bring to light? It turns out that the vast majority of Genesis Coupes at Hyundai's SEMA displays were widebody (go figure), almost every other color except green, and lacked some high-end performance parts. Just so turns out that Tjin has the hookup on some serious parts, no widebody would make his life a little bit easier, and his favorite color is green. Just goes to show that it pays off when you do your homework, kids.
No widebody; no problem. And some high-end performance parts? You've obviously not seen a Tjin Edition car before. Rotiform stepped in with their HUR wheel in black and gold, measuring 19 inches around with 9.5-inch width in the front and a whole extra inch in the rear. Falken tires just slightly stretch over the Rotis in 235/35 and 255/30 in the front and rear, respectively. Just under the wheels, on either end, are some golden, six-pot Baer big brakes. Holding the wheels on and topping the air valve stems are custom Downstar gold "bullet" lug nuts and valve caps, because you really can't have enough gold.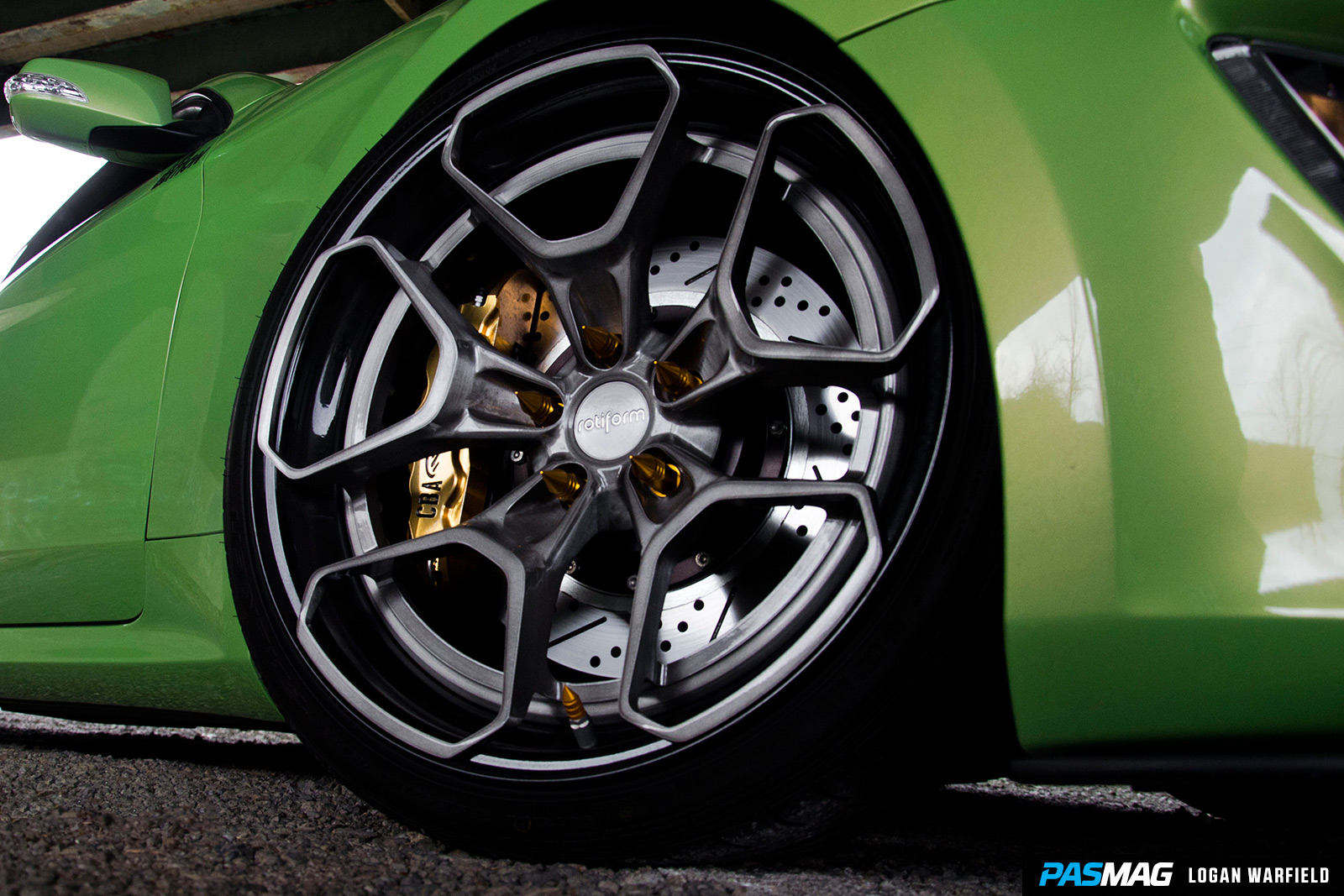 Initially, the Genesis was planned to have air suspension, but with Hyundai revealing to Tjin that the coupe would be used in a drift demo, those plans soon changed. The aggressively custom-built wheels and tires to stretch and meant for air fitment were already ready, so it was up to Tjin's in-house team to make it all work. With the help of the KW suspension's adjustability, they got it to not only work, but to perform. This coupe gets sideways.
Getting the Genesis green seemed easy enough. With a call to Axalta, Tjin nailed down a killer Lamborghini shade of green with a gold pearl infused to really make the car pop underneath show lights. The paint itself wasn't so straightforward. That specific green color isn't available in a water-based mixture, so they wouldn't be able to paint it in California due to the extremely strict emissions laws. So, Tjin did what anyone does in a time of hardship – headed to Vegas! This time for a paintshop, not the slots.
Inside is pretty dapper. The Genesis is an RS trim model, so it comes with some high bolstered racing seats from the factory, but they'd totally look better covered in leather. Tjin's usual leather partner couldn't tackle the RS job, so he used a recommendation through Hyundai's channels, which lead him to Alea Leather. They import their material from Italy, so you know it's good. Paired with the custom printed Colin Tjin (Tjin's son) inserts and a full roll cage from Unique Fabrication, the interior was completely transformed.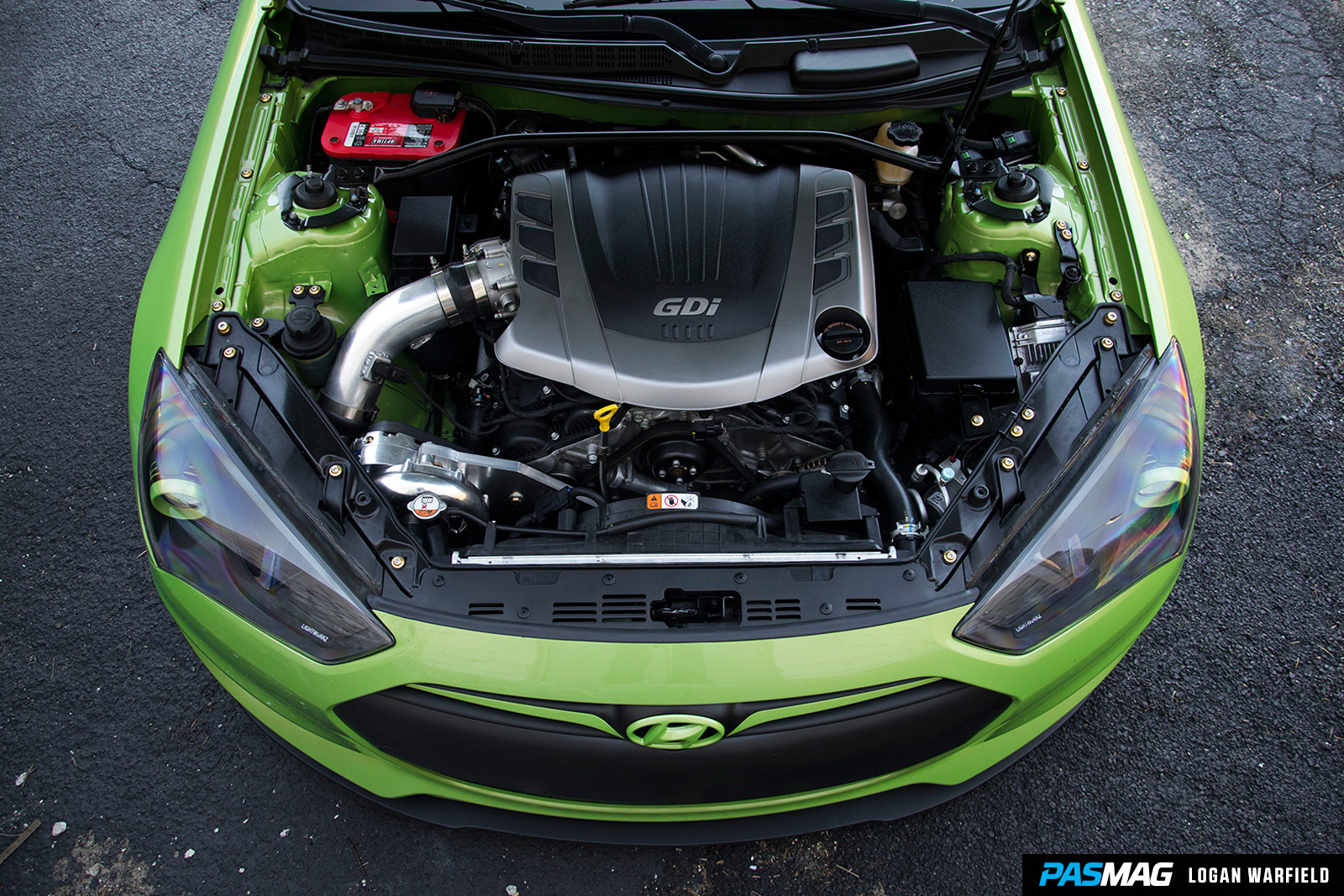 The last, and most important tidbit that his prior investigation yielded was the fact that no one had supercharged a Genesis Coupe equipped with the Lambda 3.8 liter V6 before. As Tjin is the Automotive Marketing Director at Vortech, this was right up his alley, but he soon realized why no one had supercharged a Gen Coupe previously. It's a giant pain in the ass.
As usual though, Tjin had a solution (I told you he's been at this a long time), and called on his friend, the tuning guru himself, Bisi Ezerioha of Bisimoto Engineering. If you didn't know, that's the guy who builds those wild twin turbo Porsches and that 1,000-horsepower Honda Odyssey. Together, they combined their efforts and came up with a successful system that added some extra kick to the already capable V6.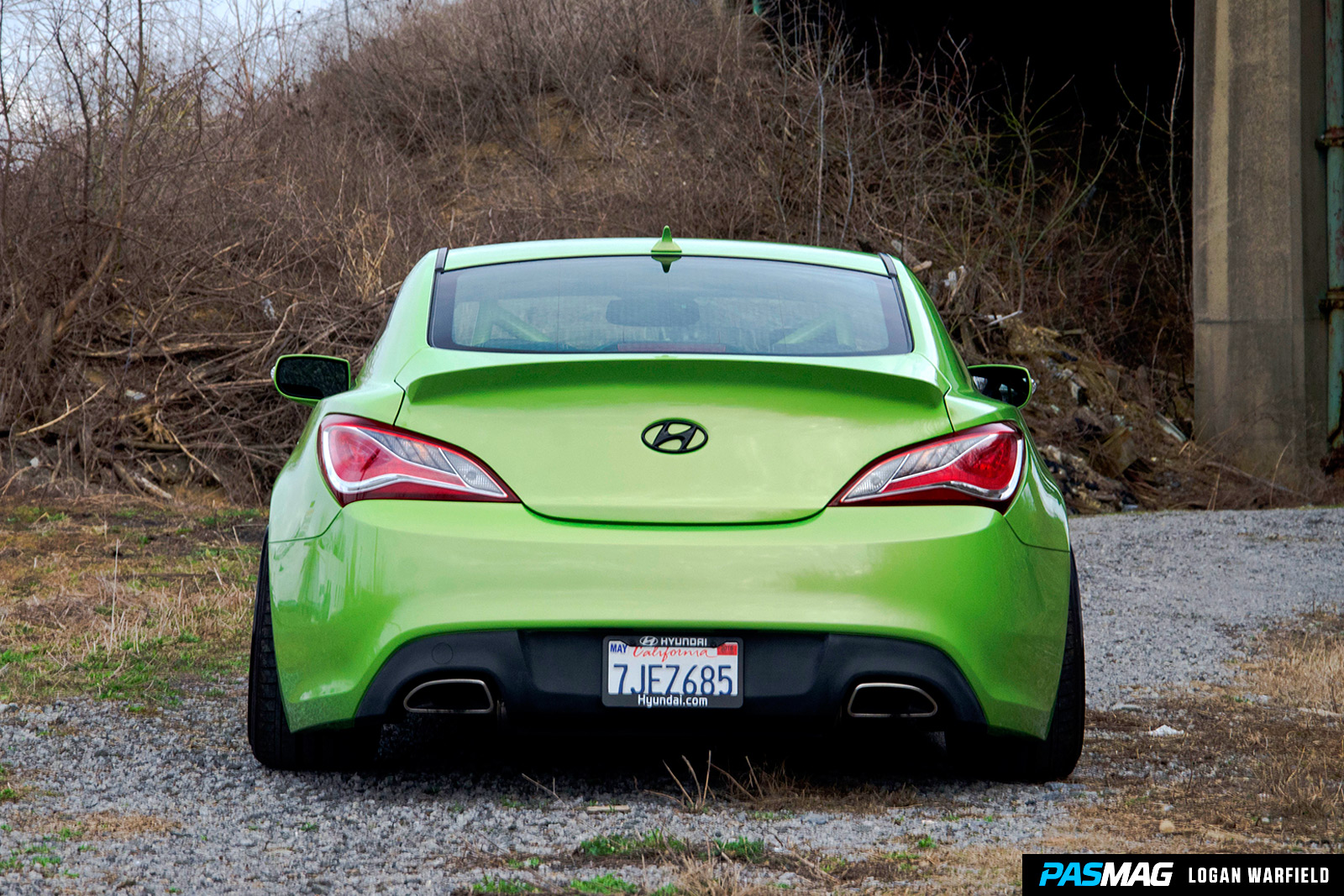 "I got the blower, the blow-off valve and the intercooler from Vortech and then Bisi made the brackets, the piping and everything else," explains Tjin. "It's basically a Bisimoto kit with Vortech hard parts, and it'll be available that way through Bisimoto."
You heard it here, Genesis owners! And as usual, from both Vortech and Bisimoto, the kit is tuned to be reliable for daily use. It uses the stock engine after all. "We tuned it so that it could be beaten on and be a lot of fun," Tjin says. "I drive the car all the time. I don't want to build something you can't drive."
So, let's run through our checklist here. Green? Very. Solid performance parts? Yes, sir. First supercharged 3.8-liter Genesis? Absolutely. You can actually drive it and have some fun with it? Bonus! Neil Tjin does it again, in a way no one else has.