Written by Dave Pankew | Photos by RCH Designs
While the majority of the Japanese performance aftermarket has been focusing on Sport Compact applications, many enthusiasts don't know about their efforts with the Exotics. Virtually every popular Japanese tuner dabbles in European vehicles from common makes like Audi and BMW but some also manufacture
gear for Porsche, Lamborghini and Ferrari. For owners of high end marques, there are options beyond legends like TechArt and Hamann from names this generation knows and trusts.
David Huang of Irvine, CA knows all too well the transition from a common platform to something more exotic. Huang is well known for his Lexus and Scion builds over the years but now has made a dramatic departure with this project. He started with a 2001 Porsche 996 Twin Turbo, which was inexpensive but very potent. "I noticed lots if JDM-tuning being recognized in the European automotive scene" Says Huang "I went to Tokyo Auto Salon '09 and saw the Top Secret aero styling for the 996 in person. I decided to take on the 996 project but only to make it better than Top Secret's very own demo car. As I result, I made more power in a project that has more originality."
The Porsche build was not only a response to Huang's personal tastes but according to him is a movement that will overtake the tuner scene. "I can already tell you that by the time the readers are flipping through the pages on the coverage of this innovative Porsche, they will also see the pictures from this year's SEMA show and find more JDM-Euros. Cars like the ASI Ferrari & Bentley or Newing/Alpil Widebody R32 Golf (R32) to name a few."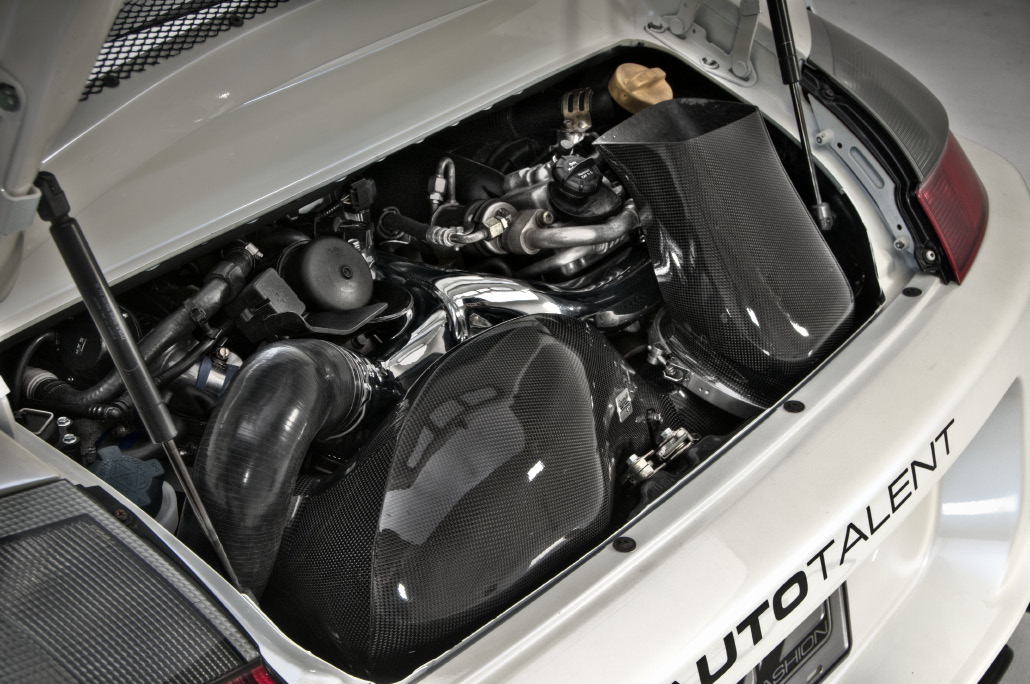 Huang started with the motor, where he had to make a statement to gain street cred. He started with a K24/18G twin turbo upgrade connected to Arqray turbo manifolds.
A pair of Arqray downpipes, run through high flow cats and an Arqray titanium exhaust. Drawing in gulps of air are twin GruppeM carbon fiber intake boxes, which lead to AWE Tuning intercoolers post compression.
The air ends up meeting a Porsche GT3-RS throttle body matted to a Road Sport Supply intake plenum. Tuned with an EPL reflashed ECU, the car puts down nearly 600whp.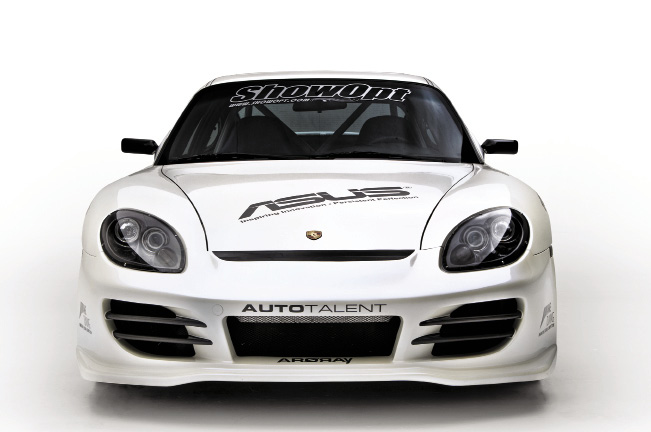 The attention turned to the exterior where Huang took Top Secret gear to the next level. A Top Secret carbon fiber widebody was carefully fitted to the car. The widebody consists of: CF front and rear bumpers, sideskirts, front and rear fenders. Huang added a Top Secret whale-tail spoiler and Carrera GT headlights using a Top Secret HID kit. The entire project was sprayed in several coats of Signal's MAZiORA Matterhorn paint before Craft Square CF mirrors and corners were fastened up.
The look is decidedly Porsche but with a JDM twist that is hard to replicate. Huang even sourced out some quintessential Japanese wheels … TE-37s by Volk Racing with19x9.5-inch fronts and 19x11-inch rears. The lightweight alloys have been wrapped in Toyo R888 R-Compounds that are at home on the track but can be driven on daily. Behind the hollow forged spokes lurk some of the finest equipment from Endless of Japan. Massive 16-inch 2-piece rotors are gripped a 12-piston front calipers while the rear features 14-inch rotors is clamped by 6-piston binders. Connected by Teflon lines and filled with Motul RBF600, the new braking system eclipses the performance of the already amazing factory brakes.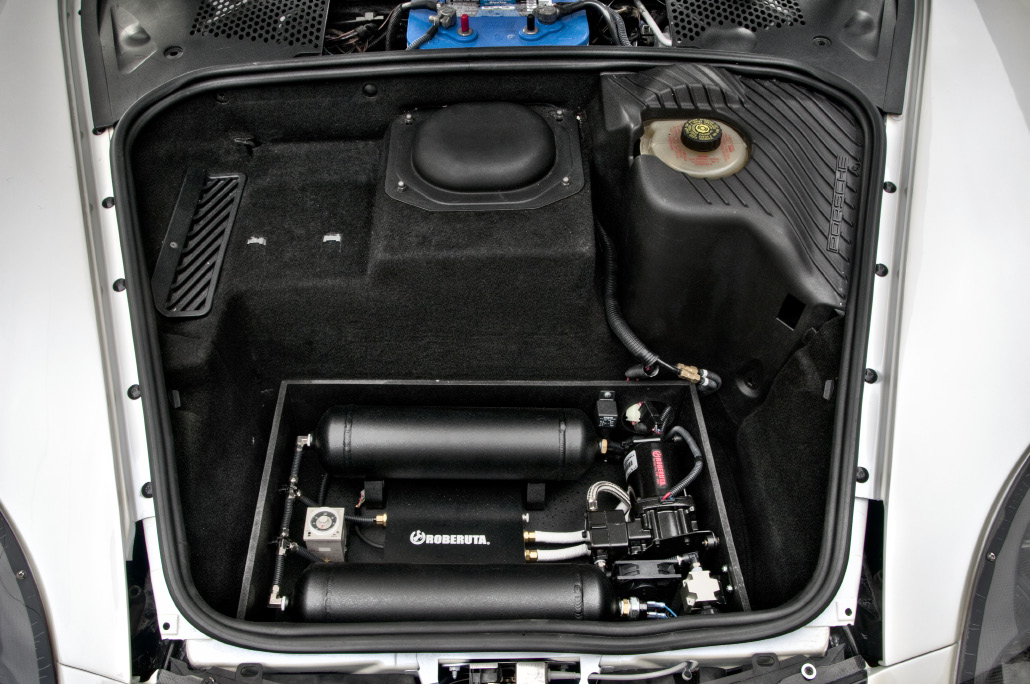 The suspension had to perform but also had to be livable, so Huang set out to find a dampening and ride-height adjustable solution. The Top Secret-spec Aragosta coilovers afforded all of the performance adjustments a driver could ask for but the ride height adjustability came in the form of an upgrade from another company. Huang added a Roberuta air suspension system which uses cups above the coilover that raises and lowers the assembly with compressed air. The Roberuta system uses a pair of air tanks and features a remote inside the car to raise and lower it for different conditions.
Being a show veteran, Huang spent loads of time on the interior. Huang found that Japanese manufacturer, I.Code would be able to supply all the elements needed for a fresh interior design. An I.Code steering wheel with hub were added in front of I.Code cluster rings. I.Code pedals were installed along with a dead pedal for a matching look. APR provided some carbon pieces including a shifter trim ring and shift knob, while MA Carbon supplied the dash and center console trim.
For the safety of the occupants, a GMG Carrera Cup roll cage was added around fixed racing seats and 6-point harnesses.
Huang introduced some I.C.E. into the project as well with some more Japanese gear. Made by Japanese company Fujitsu Ten, an Eclipse AVN6554 double-DIN was blended in along with navigation and full iPod integration. Eclipse speakers are found throughout the cabin driven by a pair of Eclipse amps.
When an industry heavyweight like Huang makes a move, enthusiasts notice. Huang sees the tuners of today maturing and buying pre-owned luxury and exotics cars and modifying them as a trend that swill only gain traction. As he says, just because the car is European doesn't mean you have to stick with companies like BBS, Brembo or Brabus because there are many other options from Japan. The true test will come when these parts are installed, tested and reviewed by qualified magazine editors, which begs the question: "Anyone wanna sponsor my Porsche?"
ESSENTIALS
Owner: David Huang
Location: Irvine, CA
Vehicle: 2001 Porsche 996
Power: 600whp (est.)
Engine: Porsche 3.6L Flat-6 Twin Turbo
ENGINE MODIFICATIONS
K24/18G Turbo x2
ARQRAY Turbo manifold x2
ARQRAY Down pipe
ARQRAY Titanium Exhaust
ARQRAY Resonator & Cats
HKS "Limited Black" BOV
Tuning 72lb. Fuel Injectors
GruppeM Carbon Inatke Box
GruppeM Carbon Intake Funnel
Gemballa Japan Carbon Plenum Pipes
AWE Tuning Intercoolers
Porsche 997GT3RSR Throttle Body
Speed Gallery Custom Chrome Y-Pipe
RSS/IPD Intake Plenum
ENGINE MANAGEMENT
EPL Flash Custom Tuned ECU
SUSPENSION
I.Code Carbon Front Strut Bar
Top Secret Spec "Aragosta" Coilovers
Roberuta Air Cups x4
Roberuta Air Compressors
Roberuta Air Tanks x2
Roberuta Air Lines
WHEELS, TIRES, BRAKES
Volk Racing TE-37; 19x9.5-inch (f), 19x11-inch (r)
TOYO R888 R-compound tires
ENDLESS rotors; 16-inch (f), 14-inch (r)
ENDLESS calipers; 12-Piston (f), 6-Piston (r)
ENDLESS Stainless brake lines
ENDLESS brake pads
EXTERIOR
MAZiORA Matterhorn Paint
Top Secret Front CF Fanscia
Top Secret Front Wide CF Fender
Top Secret CF Side Skirts
Top Secret Rear Wide CF Fender
Top Secret Rear CF Valance
Top Secret Deck "Whale" Spoiler
Top Secret Carrera GT Head Lamp
Top Secret H.I.D. & High Beam kit
I.Code Smoke Side Markers
Craft Square CF Side Mirrors
Craft Square Side Signals
INTERIOR
I.Code Steering Wheel
I.Code Pedal Shifters
I.Code Steering Wheel Hub
I.Code Gauge Cluster Rings
I.Code Ignition Glow Ring
I.Code Head Unit Din
I.Code Drilled Pedals
APR Shift Knob Kit
APR Carbon Shift Booth Surround
GMG Carrera Cup Roll Cage
MA Carbon CF Dash Trim
MA Carbon CF Center Console
StitchCraft Suede Headliner
StitchCraft Suede Pillars
AUDIO & MULTIMEDIA
Eclipse 6554 Head Unit
Eclipse "I-Pod" Integration Cable
Eclipse Speakers
Eclipse OEM Replacement amplifiers
Eclipse OEM Replacement subwoofers