Photography by Brian Chin.
---
As the Grand Daddies of the sport sedan, BMW often takes a lot of heat. First it was the persistent Japanese using them as a benchmark and now even Korean cars are taking some pot-shots at the established manufacturer from Bavaria (not to mention some styling cues). And that is what any alpha dog has to deal with, constant comparisons and challengers hungry for the top slot. We have seen some pictures floating around the "Intarweb" of this CEO contraption. It is some sort of reiteration of the X5 and well it's embarrassing in its flagrant disregard for any sort of ethics. But Lexus never resorted to desperate movements like that rather hardwork and deicated engineering. And while mainstram media was all over the IS300 like the 3-series would be obliterated, the tuning world could have cared less; they were all thinking family Supra.
And that is basically where the IS300 fit in the scene. Who knows if Toyota brass ever imagined it when they designed an FR platform with a non-turbo 2JZ under the bulge. In Japan the car was super trendy under the Altezza nameplate giving North America all of the aftermarket support the scene needed (and one lame trend in tail-lights it didn't). So it became the subject of many daydreams finding an IS300 with a cooked motor ready for a MKIV Supra motor, a 6-speed tranny, matched with one disgustingly large single turbo.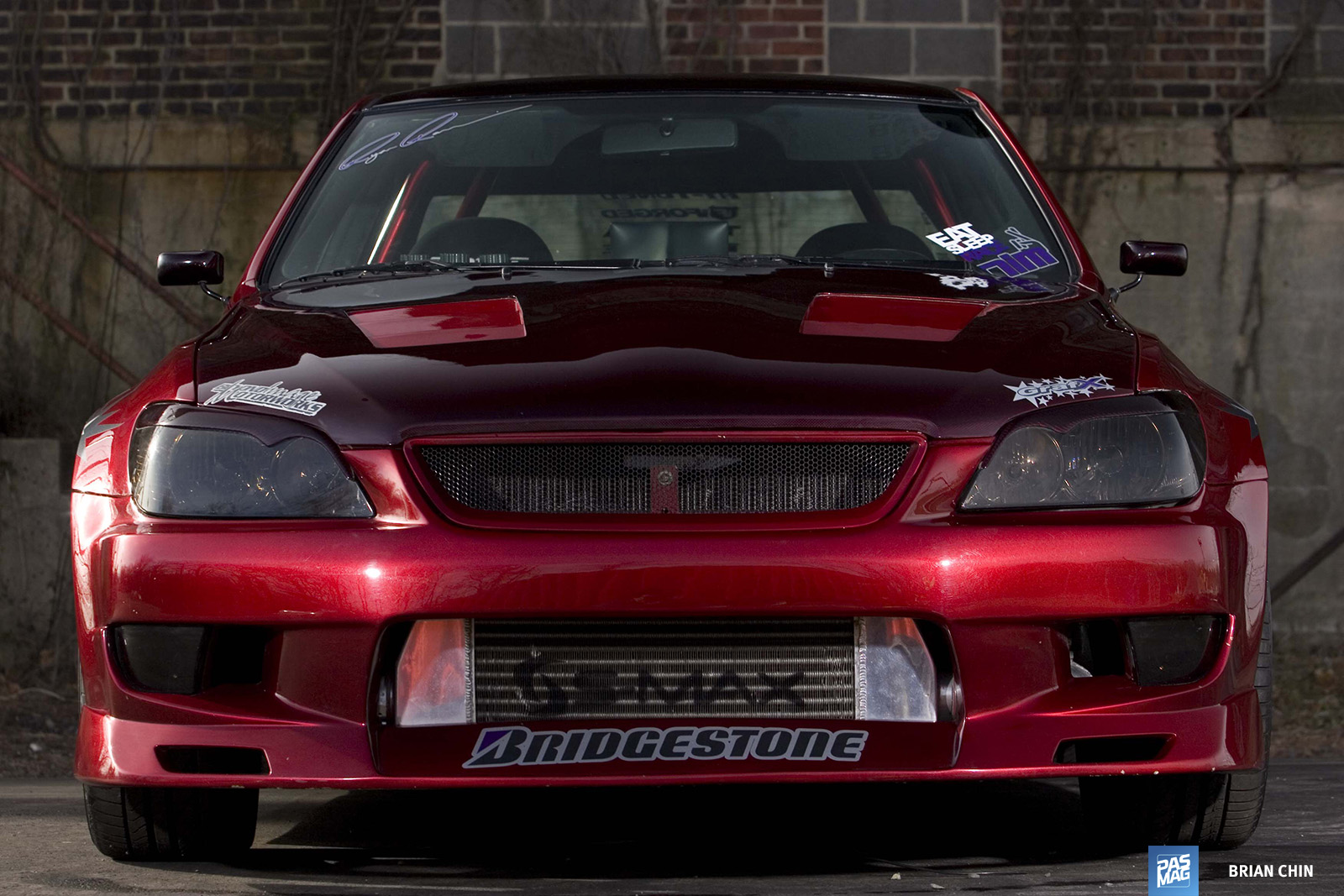 Ryan Ramnarain out of Boonton in Jersey is just one of those dreamers. His IS300 is a cumulative effort of an army or industry players, lots of hours and the $100,000 budget he started out with. One might ask, why drop that kind of money on a Lexus, you could have bought an M3 or Porsche. "It isn't even about that," explains Ramnarain, "my generation is all about the Japanese imports and I already did the M3 thing. Plus there was unlimited potential in this platform, even from the non-turbo block!"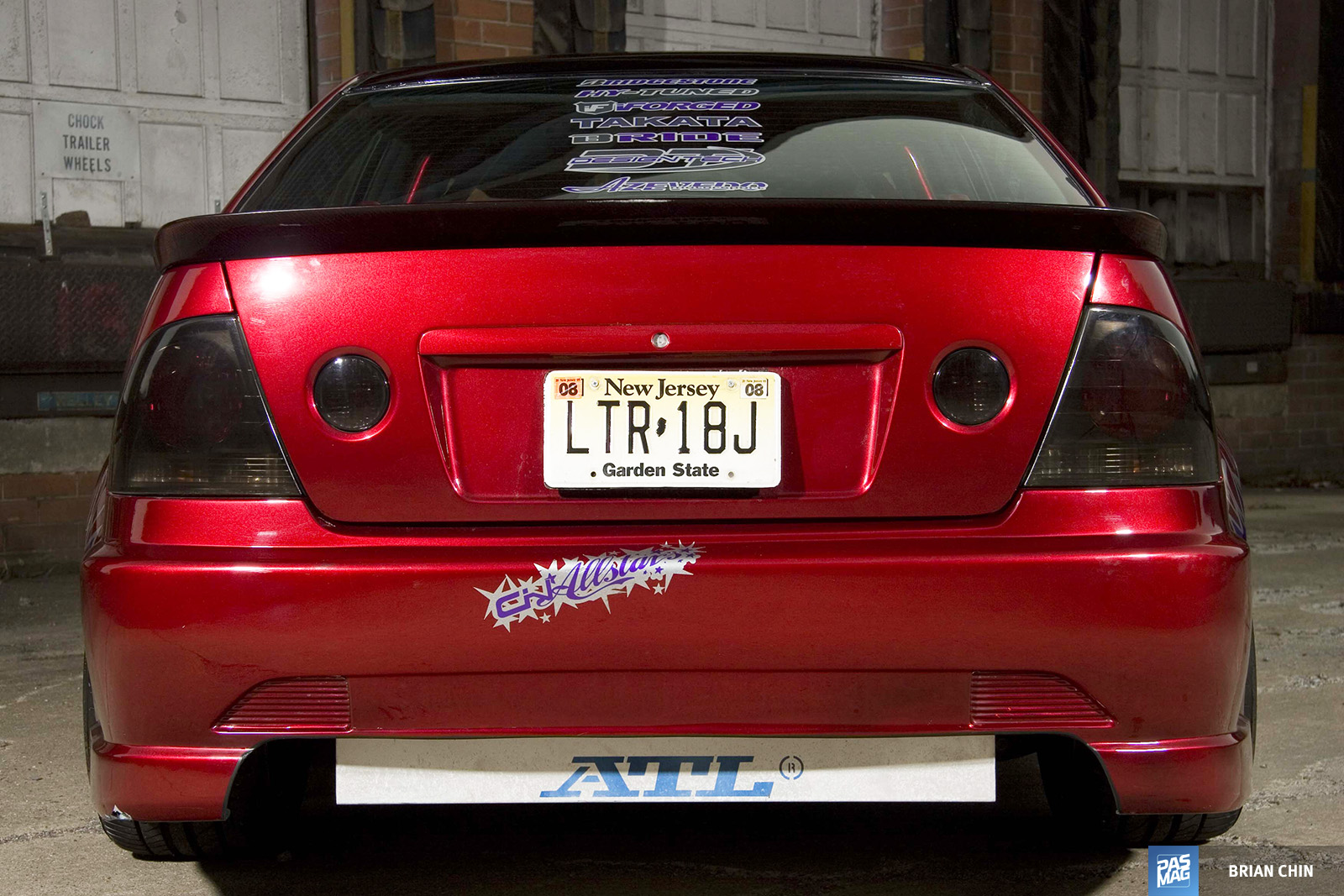 A determined Ramnarain lined up his partners, all of which have high horsepower cars, most of them Supras. The engine work was performed by Junior Barrios of Signature Motorsports and the boys down at Turbotrix in New Jersey where a 3.41L stroked bottom end was now matched with a ported race head. A Brian Crower crank spins up six Carillo connecting rods capped by CP plugs and rings. An HKS headgasket is squished by ARP head studs in a core housing HKS 272s and Titan Motorsports cam gears. The turbo selected to make some serious twist was the Garrett GT42R connected to a Toyomoto SS header feeding down into a custom dual 4-inch system! The air is hauled into a Virtual Works intake merging with a front-mounted Garrett intercooler and vented with a TiAL Sport BOV. The charge air feeds into a 90mm Virtual Works throttle body and polished intake plenum. A steady stream of fuel pumped in by the Weldon pumps to the Virtual Works rail supporting HKS 1000cc injectors. The HKS Twin Power DLI feeds some stout OEM GTE coils connected to NGK Iridium plugs.
After an extra special "Junior-tune" on the AEM EMS wonderbox, the package produced 997whp at The Shop CT dyno. We should all just round up to 1000 for the sake of argument but tither way, this IS is fast, too fast for the street so it's peak 40psi for light duty. And all those ponies are channelled thorough the Supra 6-speed Getrag mated to an Exedy triple carbon clutch for a positive connection to the blacktop.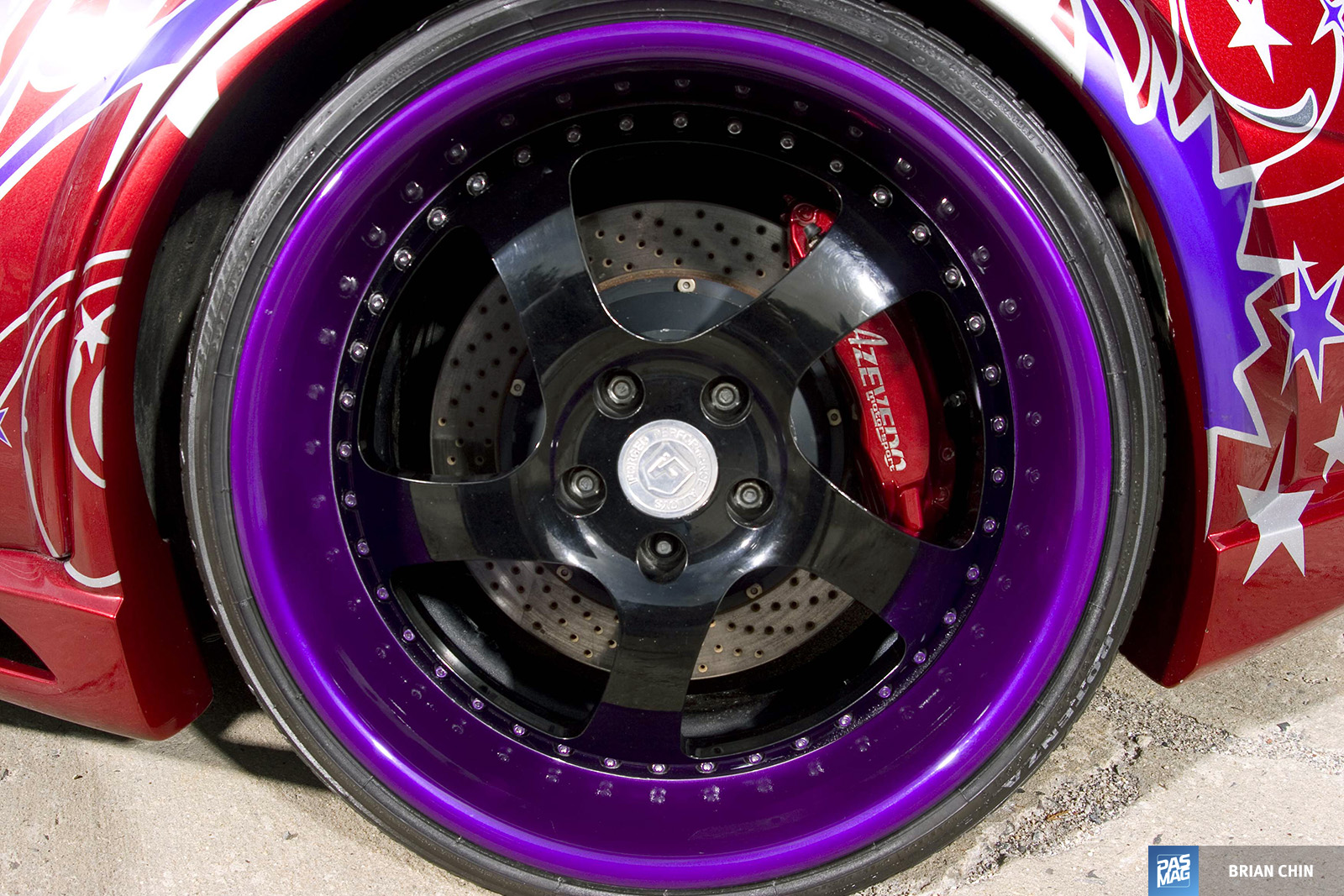 Despite having 275/30R19 Bridgestone RE050 meats on the rear, it still isn't enough to keep the Lex in line. While being able to light the tires up in first, second, third and sometimes fourth it's the front 245/35R19 Bridgestones that provide the only solid link to the road. The Potenzas are wrapped onto i-Forged Variant wheels with 8.5-inch width up front and a max'ed out 10-inch in the rear. Behind the i-Forged wheels are a set of StopTech's big brakes with blazing red calipers. These 6-piston units on all four corners clamp down on 2-piece 355mm rotors and are fed by stainless braided lines filled with Castrol SRF.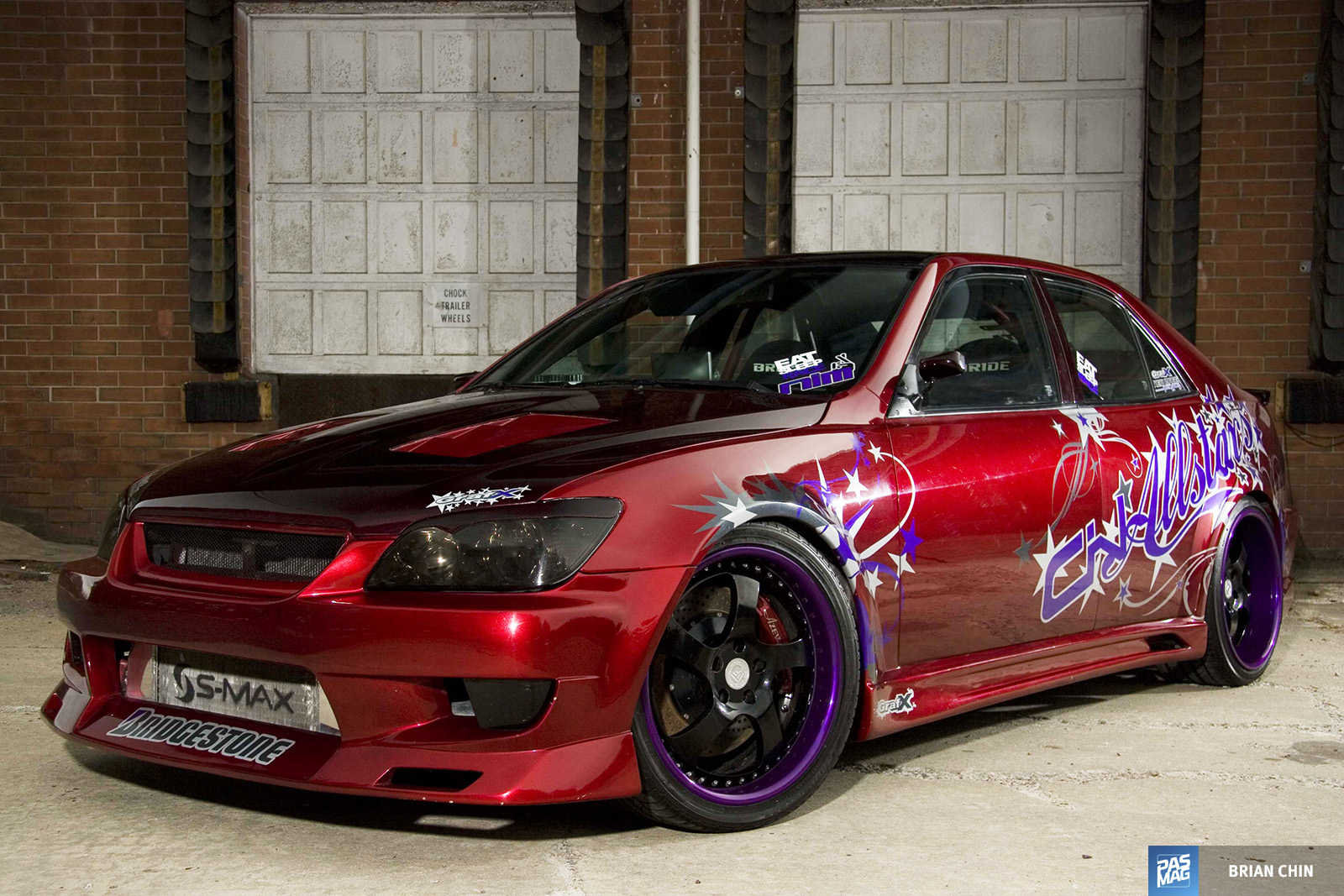 Keeping the baby Lex grounded in cornering situations is one of the more advanced coilovers on the market. The JIC FLT-A2 is a 15-way compression and rebound adjustable coilover that maintains plenty of travel while dumping the ride dramatically. JIC doesn't simply port over their JDM application list and hope they work out but rather tests North American vehicles, on North American streets. So the compromise is smooth regular driving with superior abilities on the track. The linear-rate spring rate was spec'ed out as 12kg front and a 7kg rear with up to 2-inch drop from the lower perch. Eliminating the body-roll are a set of oversized Hotchkis sway bars and the chassis rigidity is increased with a TRD front sway bar and Cusco rear tie.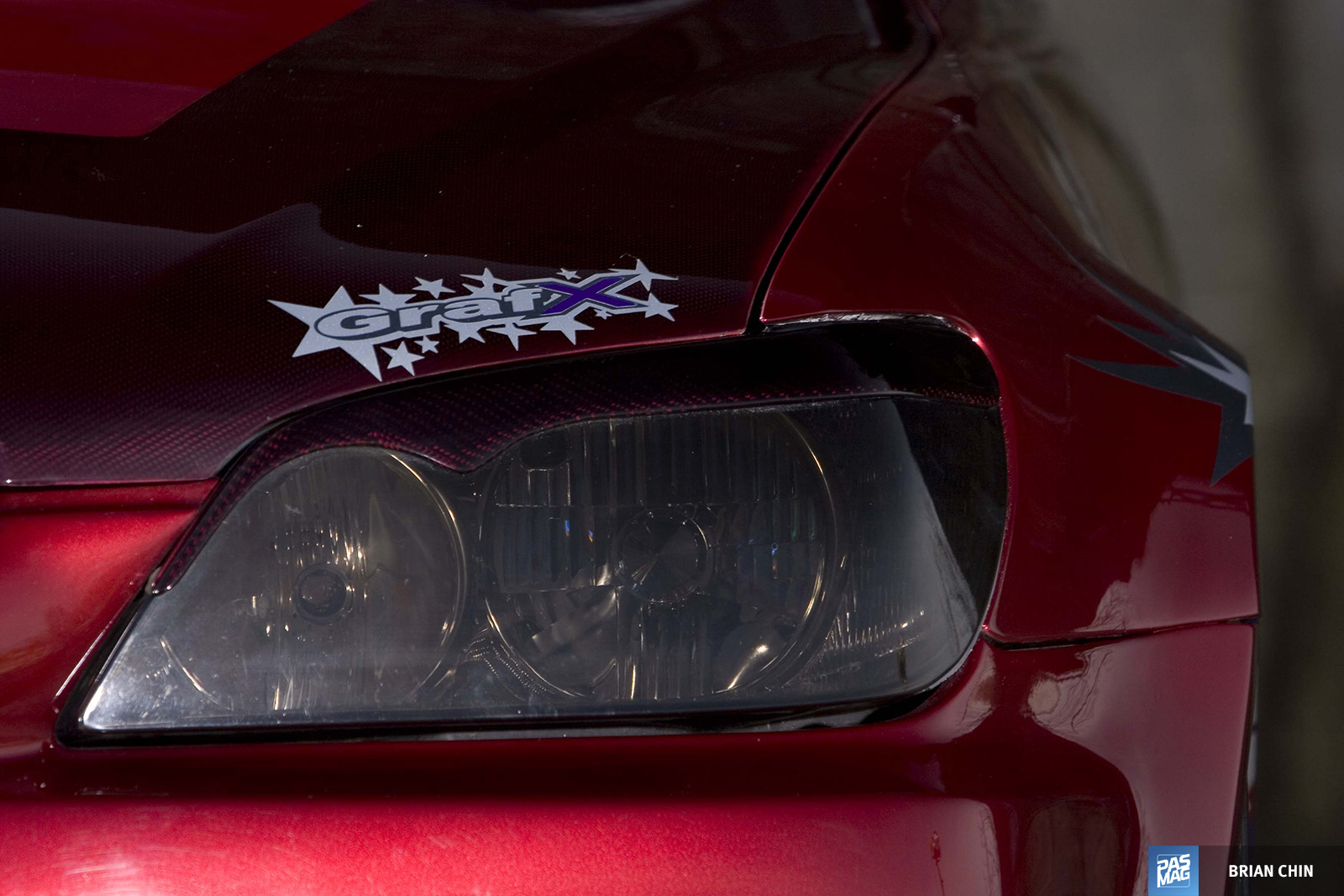 The overall presence of the car is one that we just couldn't ignore. This eye-grabbing sedan seduces the crowds, yet incorporates enough racing accents to alert others that there is excess muscle ready to flex. The front fascia is updated with and Elixir bumper to match the Elixir carbon fiber hood atop the Rod Millen grille. The sideskirts are a C-West design as is the rear bumper. The Wald front fenders are vented with and increased width of a few millimetres. On the rear deck lid sits a rare TRD carbon fiber wing above genuine JDM Altezza tails. The front headlights are also from the JDM Altezza IS200 but powered by a yellow 3700K HID kit from M-TEC. Aside from having custom shaved trim and door handles the most striking feature of Ramnarain's IS is on the roof. Or rather, is the roof which was cut out to make way for a carbon fiber skin. The weight savings is always welcome but it is a huge job that should only be attempted by pros. The project was coated in several layers of House of Kolor Kandy Brandy Wine.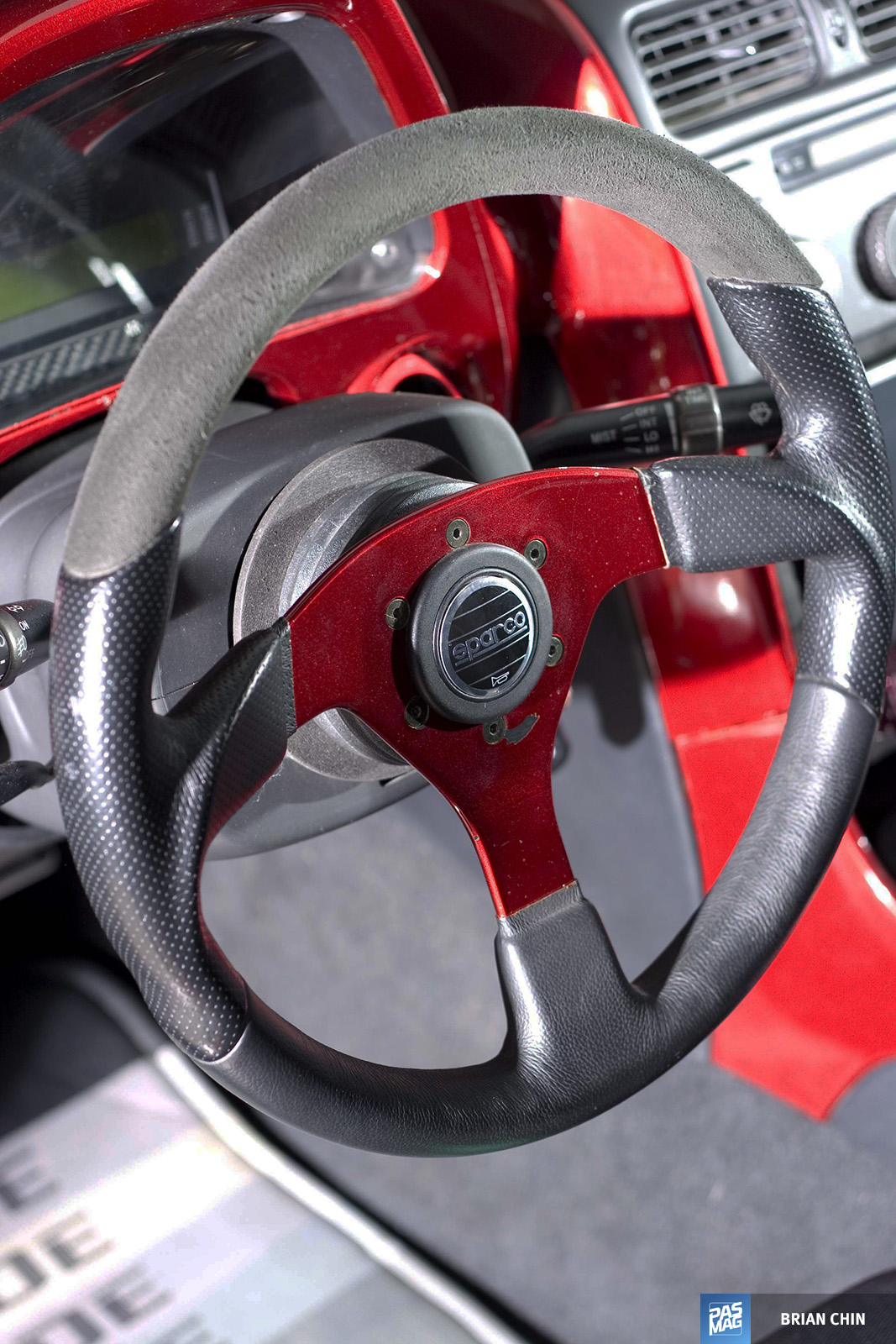 Inside the cabin is another show-stopping scene. At the center of it all are Bride Stradia carbon-Kevlar recliners with Takatas surrounded by a Bride interior theme carried throughout. Design Tech in Union, NJ wrapped the headliner, rear deck and door panels in the custom fabric. Inside is a bolt-in Cusco cage, which ups the ante for safety and strength. Driver inputs are made with Sparco gear including the: steering wheel, shift knob and pedals. The cluster STACK racing clutch to relay engine vitals. Inside an Auto Meter gauge pod is an AEM wideband to keep tabs in air fuel readings.
Banging out the tracks is a brigade of Memphis Audio gear. Fed by a an Eclipse 5550 headunit, the Memphis 1200W power amps drive a pair of 10-inch JL Audio subs in a sealed enclosure. With the low frequencies taken care of, the mids and highs are dealt with using a MB Quart components speakers in the doors. The dash was customized to house the LCDs and the trunk is an elaborate install inclopoarting Fahrenheit 7-inch LCDs, a motorized amp and the twin JL Audio subs.
Touring most of the East Coast, Ramnarian's Lexus hasn't been trailered much to be seen elsewhere. So when we stumbled on it, we wanted to be the first to expose it mainstream. There isn't much to compare it to either and when Ramnarain offered to take it anywhere and vinyl it up in any way just fo our cover shoot we knew his commitment was there. What is considered the 4-door Supra isn't really the same anymore with the new IS platform. Its heavier and more complex with a different mill lurking under the hood, so we though it was only fitting to get one of the best IS300s around on the cover. It's the least we could do.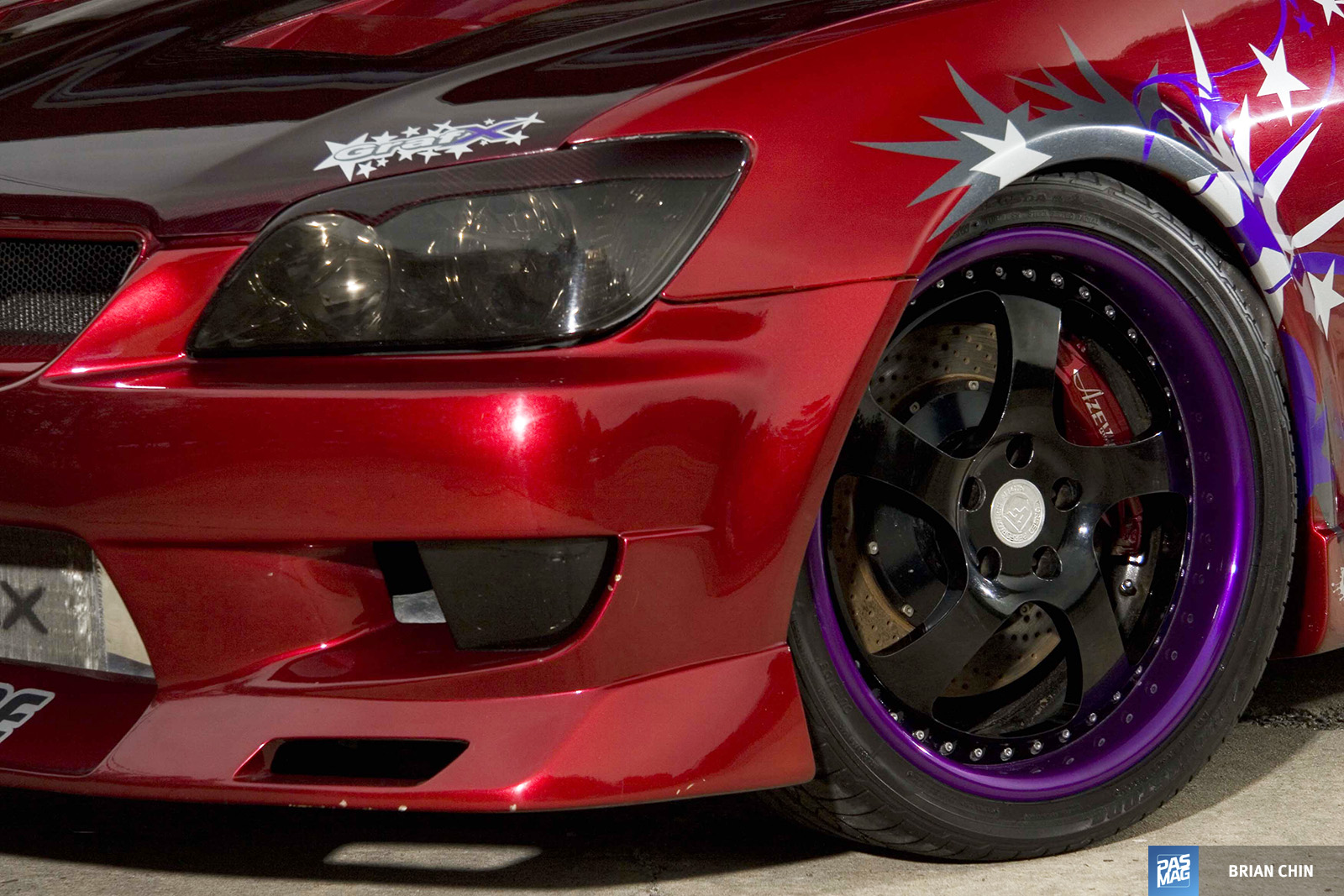 ESSENTIALS
Owner: Ryan Ramnarain
Location: Boonton , NJ
Vehicle: 2001 Lexus IS300
Power: 997whp @ 40psi
ENGINE MODIFICATIONS
Junior Barrios-Built 2JZ-GTE
3.41L Brian Crower Stroker
Turbotrix ported head
HKS headgasket
HKS 272 cams
Titan cam gears
ARP fasteners
Garrett GT42R turbo
Garrett intercooler
Virtual Works throttle body
Virtual Works fuel rail
Toyo Moto intake manifold
Toyo Moto header
TiAL wastegate
Bosch 1000cc injectors
HKS Twin Power DLI
Custom 4-inch SS exhaust
Getrag 6-speed transmission
EXTERIOR
Elixir front bumper
Elixir carbon fiber hood
C-West sideskirts
C-West rear bumper
Wald fenders
Rod Millen grille
Shaved handles / moulding
Custom carbon fibre roof
TRD carbon fibre wing
JDM Altezza headlights
JDM Altezza tails
Yellow M-TEC HID kit
WHEELS, TIRES, BRAKES
i-Forged Variant 19x8.5-inch front
i-Forged Variant 19x10-inch rear
Bridgestone RE050A 245/35R19 front
Bridgestone RE050A 275/30R19 front
StopTech 6-piston / 355mm
StopTech 6-piston / 355mm
SUSPENSION
JIC FLT-A2 coilovers
Hotchkis sway bars
TRD front sway bar
Cusco rear strut bar
INTERIOR
Custom dash w/ LCD screen
Bride Stradia seats
Bride upholstery including (headliner, rear deck, door panels) by Design Tech Union , NJ
Stack LCD cluster
Cusco cage
AUDIO / MULTIMEDIA
Eclipse 5550 7-inch LCD x3
Fahrenheit 15-inch LCD flip
Fahrenheit 7-inch LCD x4
Memphis Audio 1200W 5ch amp
JL Audio W6 10-inch sub x2
MB Quart component speakers
Kinetik Blue top
PHOTO GALLERY