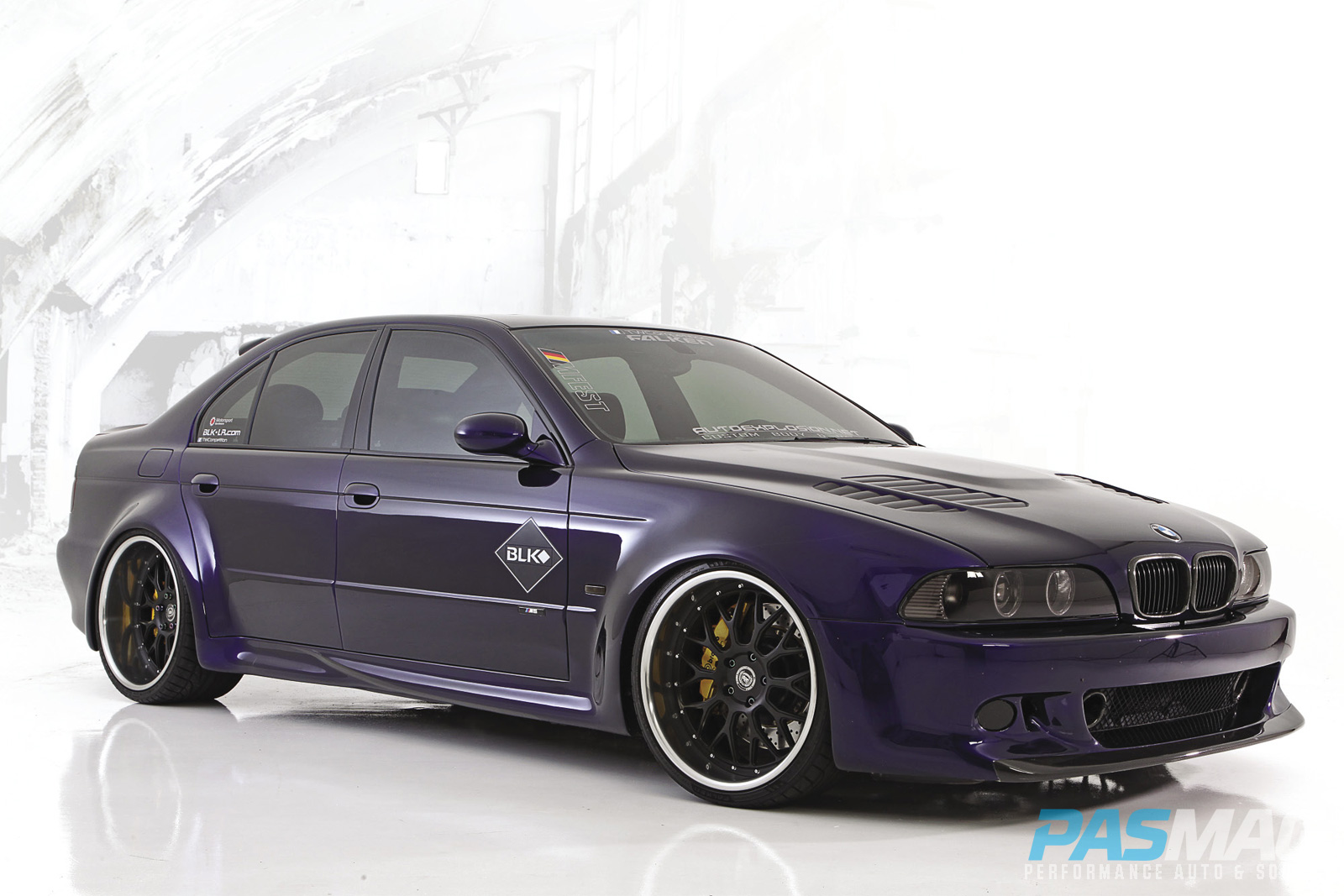 Written by Dave MacKinnon / Photography by Icon Media
Show cars come to fruition many different ways. Some are bought with the intent of transforming and showing them, some are rebuilds of previous projects and some evolve slowly through various stages of modification and intensity.
The latter is how the 2000 BMW M5 you see here came to be. Owned by Mamerto Contapay, III, of Walnut, CA, this subtle beast started life as his wife's daily driver. Three evolutions later, it's a show stopping monster that embraces performance, style and entertainment.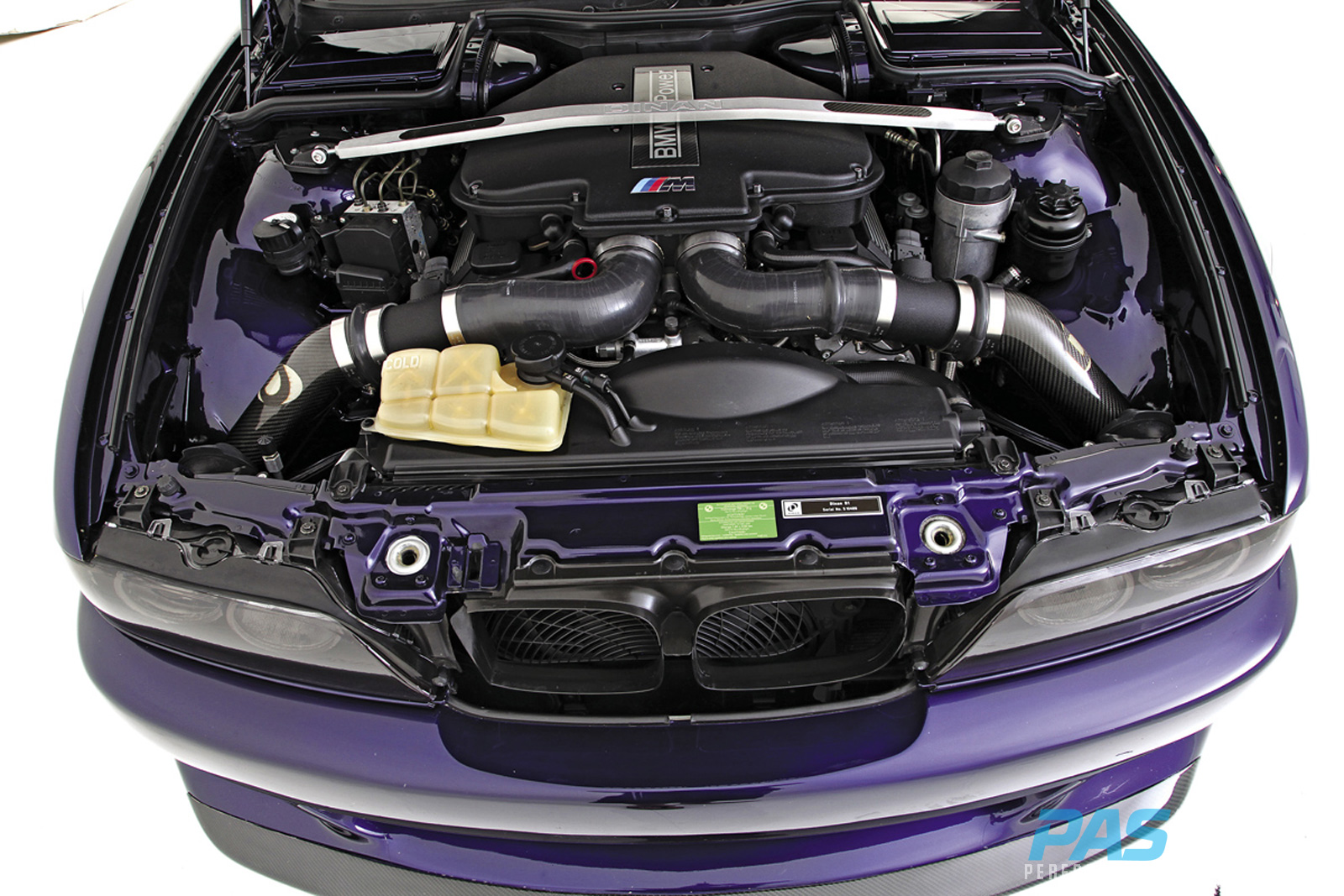 The 4.9L BMW V8 was treated to a host of bolt-on upgrades from Dinan. Upgrades include new throttle bodies, air filters, cold air intakes and air flow meters. The engine breathes out through a Supersprint headers and an X pipe before hitting a set of Dinan mufflers. A Spec Stage 3 clutch and lightweight flywheel makes sure the power can be put down efficiently.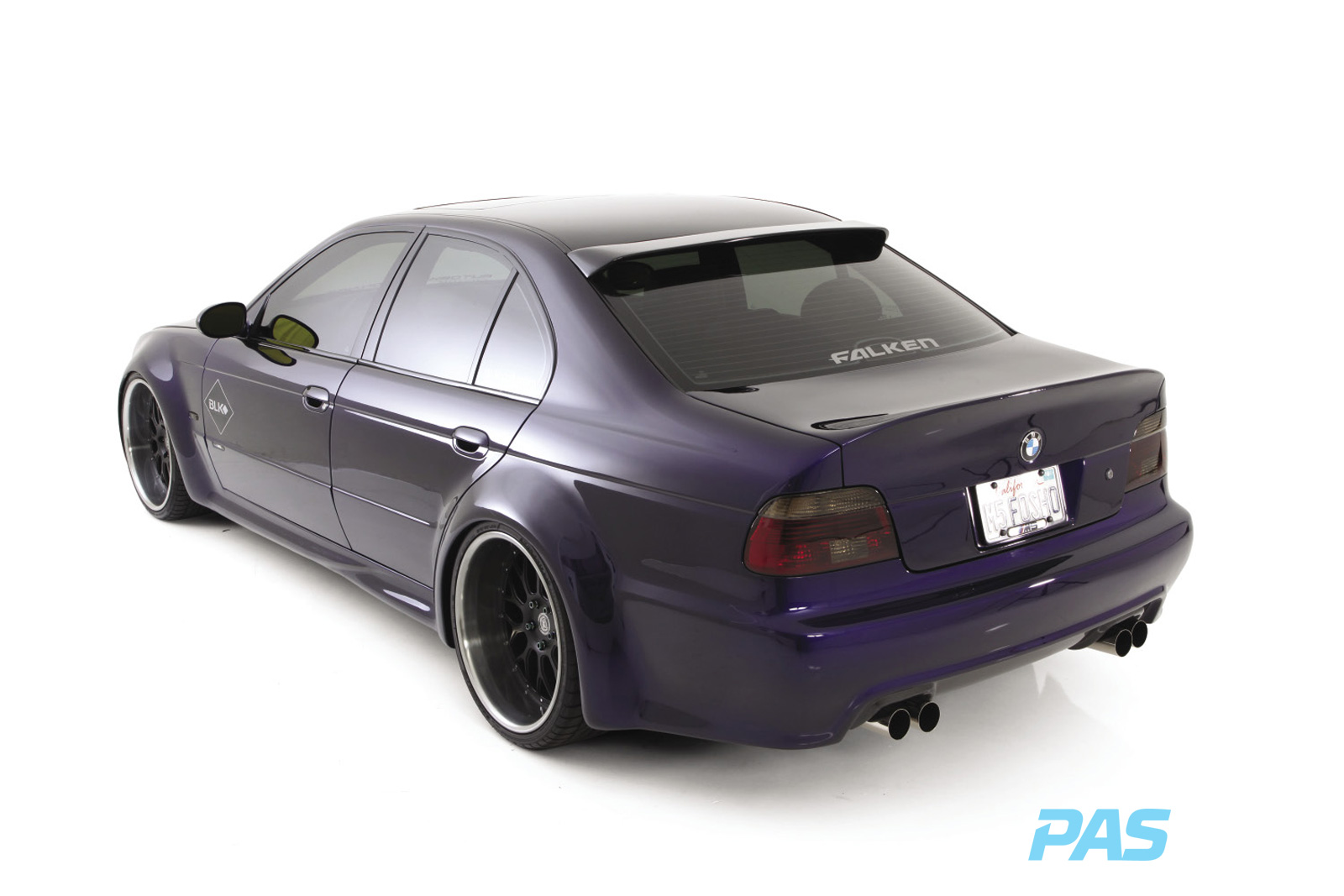 Contapay wanted to make his M5 really stand out, so he set to work on making it one of the few widebody M5's we have seen. The front moldings, headlight washers and tow hook cover were shaved off to smooth out the look. An Exotic Tuning front lip with a carbon fiber insert was flushed into the front bumper. The sides of the bumper were stretched to flow with the widened fenders. The rear of the car shares similar attention with smoothing and stretch. A modified Vorsteiner rear diffuser accentuates the tail end. A Vorsteiner carbon hood, CA Automotive CSL style trunk and RD Sport side skirts were all tweaked and fitted to flow with the fattened design. Euro headlights with FXR projectors and Orion V2 angel eyes stand out up front as part of the BMW signature. The tweaking, smoothing, shaving and more was handled by Auto Explosion in Gardena, CA. They also laid down the House of Kolor Kameleon Saphire Pearl paint job that included 4 coats of clear for a deep and lustrous look.
The M5 rolls on DPE S20 wheels with matte black centers and shadow chrome outer, and black inner lips. The front wheels are 20 x 9.5 inches with a 4.5 inch lip and the rears are 20x11 with a 6 inch lip. Falken FK 452 rubber sized at 255/30 in the front and 305/25 in the rear ensure the big cruiser stays planted. Inside the wheels is a custom painted Brembo Gran Turismo brake kit. The front rotors have a diameter of 380mm and are clamped on by 8-piston calipers. 345mm rotors in the rear are grabbed by 4 piston calipers. Contapay had custom carbon fiber brake air ducts made to keep the rotors cool. KW V3 coilovers set the cars stance. A Dinan 17mm adjustable rear sway bar, Powerflex thrust arm bushings and a Dinan front strut bar ensures the stance is stable in the corners.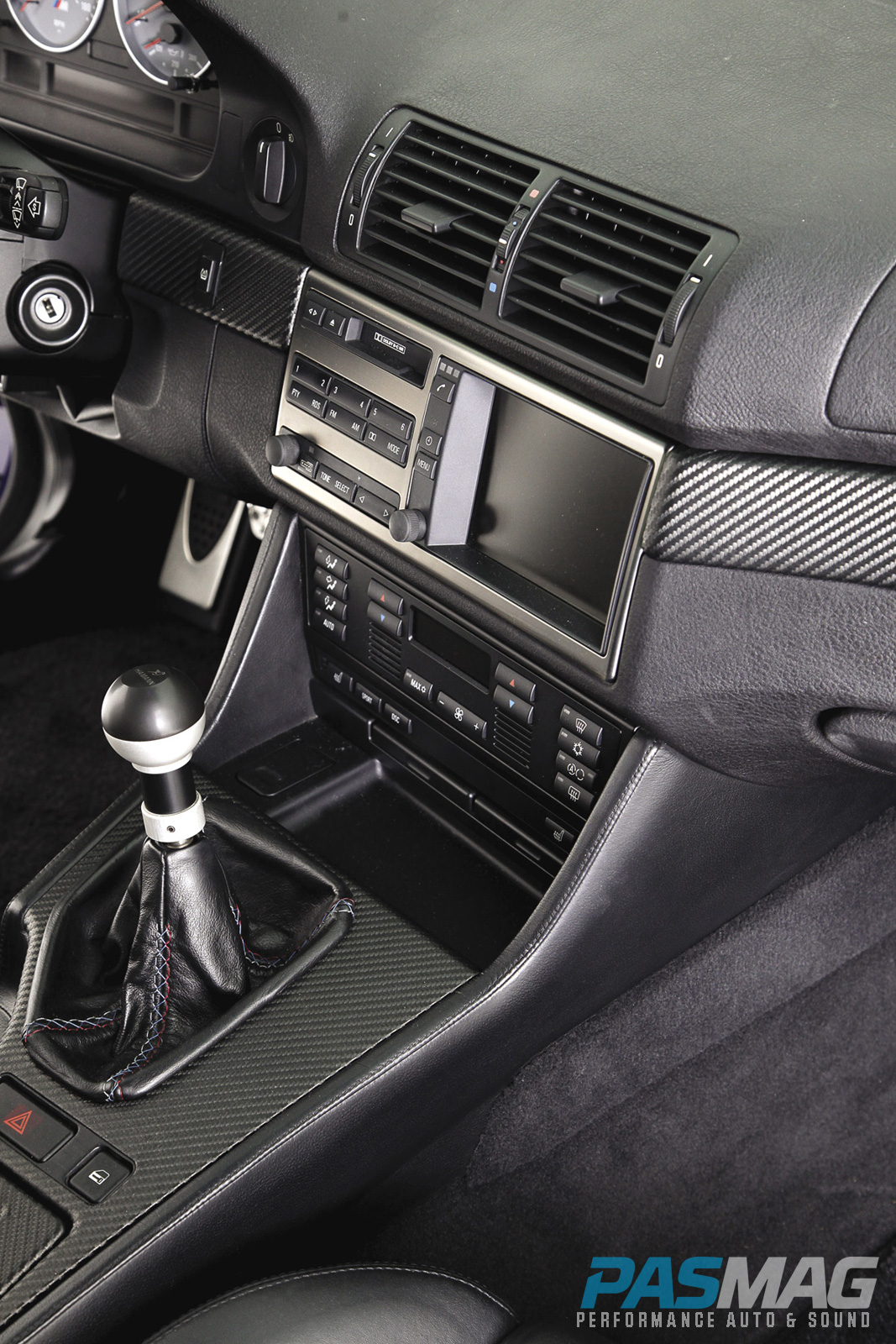 The interior of the M5 wears black and silver tone leather on the seats. Hamann, Leather Z and UUC accessories upgrade everything without looking out of place. Even the factory radio is in place. But, that doesn't mean the audio system is at all factory.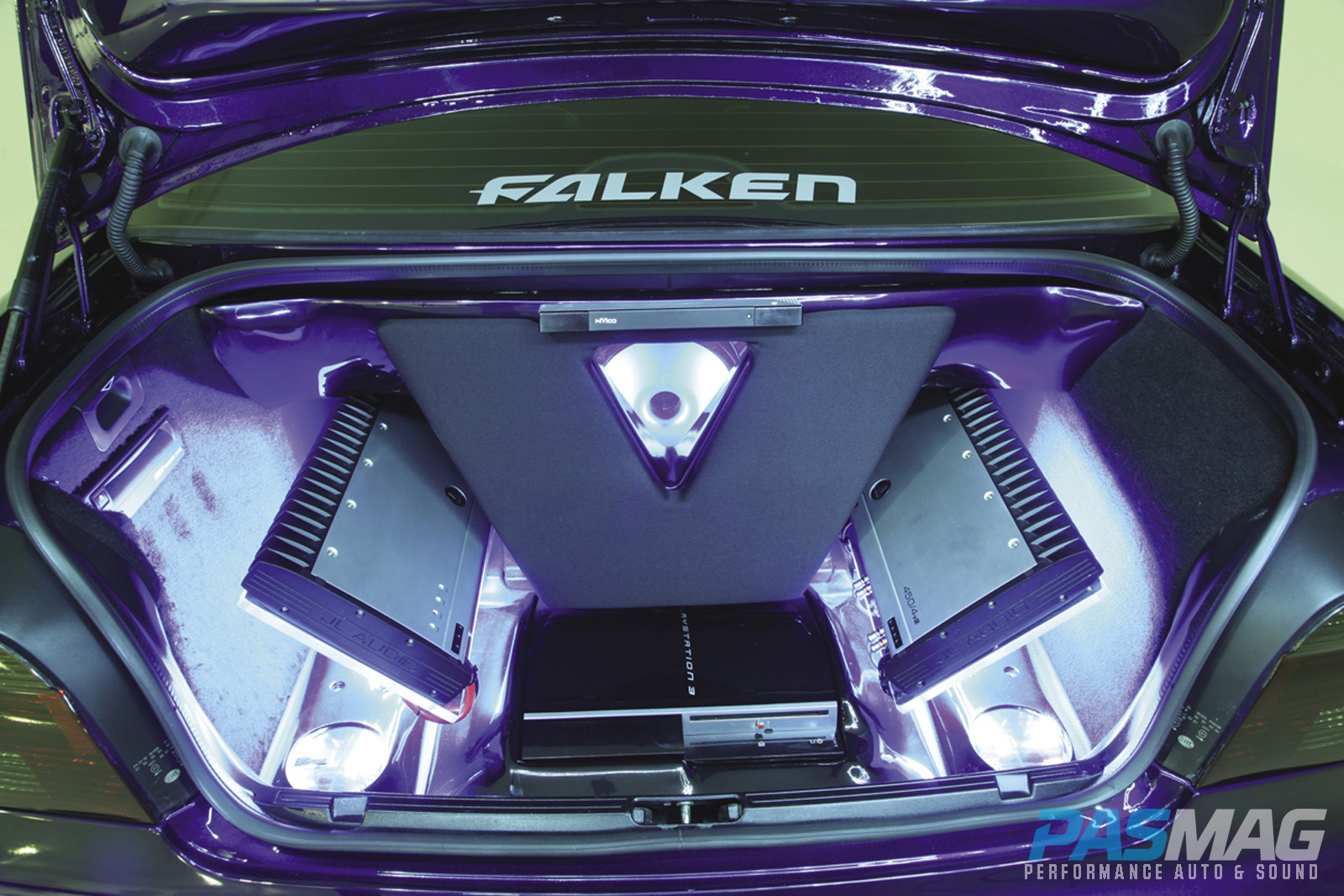 Audio from the factory head unit is sent to a pair of JL Audio Cleensweep processors to smooth it out before being passed to a pair of JL Audio amplifiers. A 1000/1 Slash V2 feeds a JL 13W7 subwoofer. A four-channel 450/4 Slash V2 runs two sets of JL Audio ZR 525-CSi components.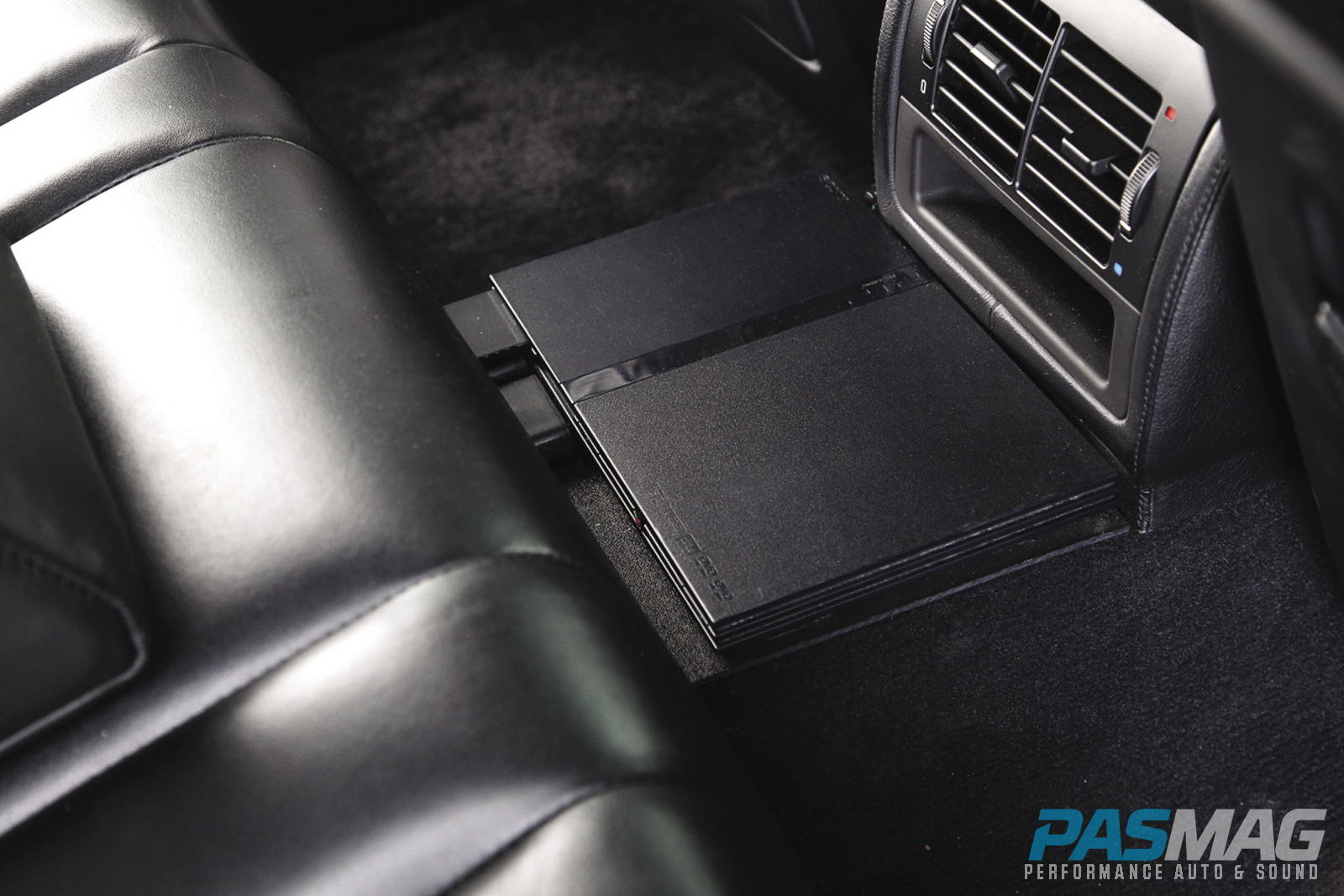 A Sony PlayStation 2 sits on the floor in the back seat, while a PlayStation 3 and Nintendo Wii were installed in the trunk.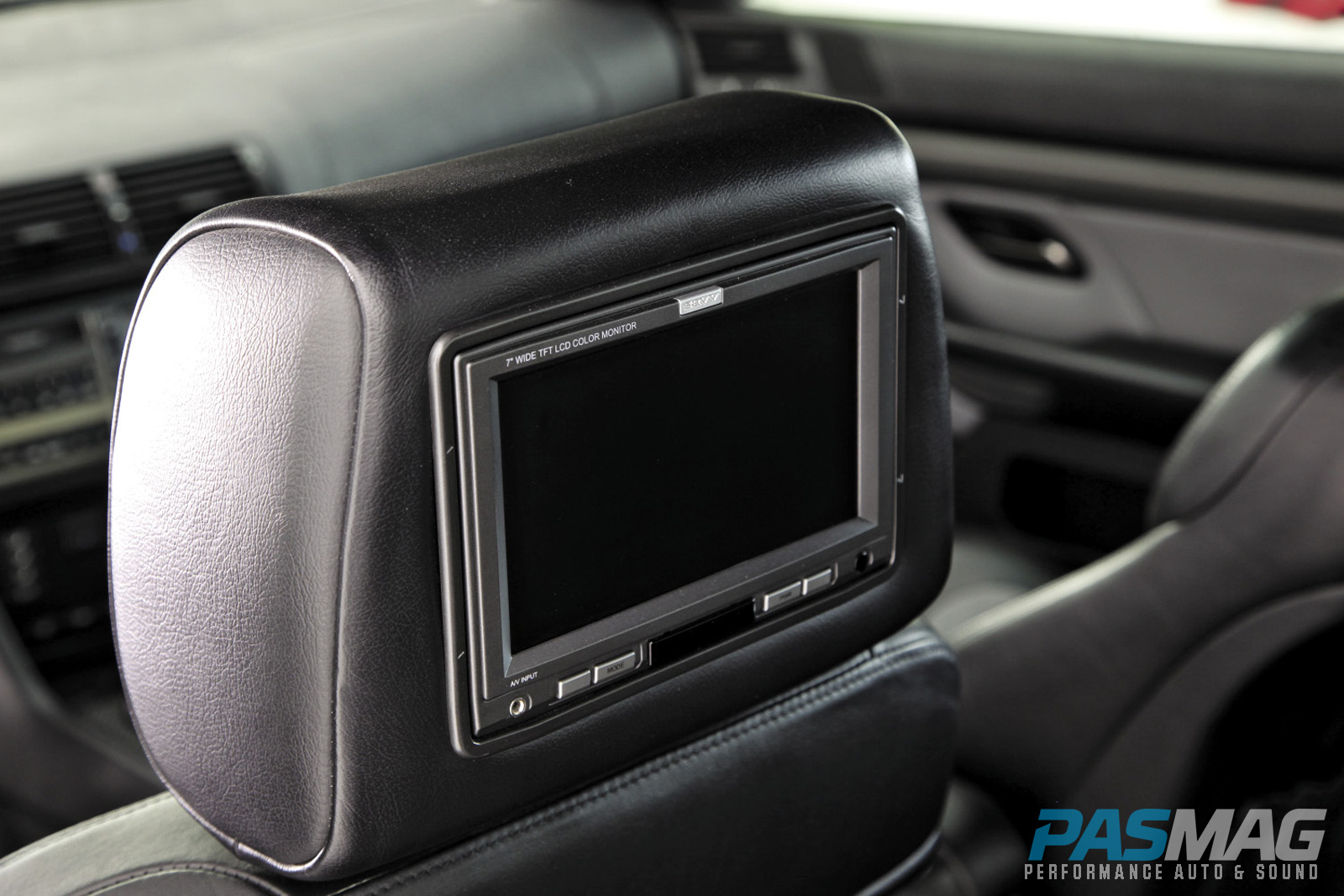 Savv 7" headrests were installed in the front seats and a pair of 19" monitors completely fills the trunk lid. The system is powered by a Kinetik Power Cell.
Contapay spent 3 years making this M5 stand out from the rest, and his efforts have been rewarded. He rolls with the TWCompetition Team and BLK Diamond Group and has taken Best BMW, Best Paint, Best Detail and 1st place Euro awards at major events like HIN, Motion, Mfest, Wekfest and Remix. That's pretty serious hardware! Contapay sends his thanks to his sponsors and to his wife, Nicole. After all, this car was bought as her daily driver. I wonder if she still takes it for groceries? We would!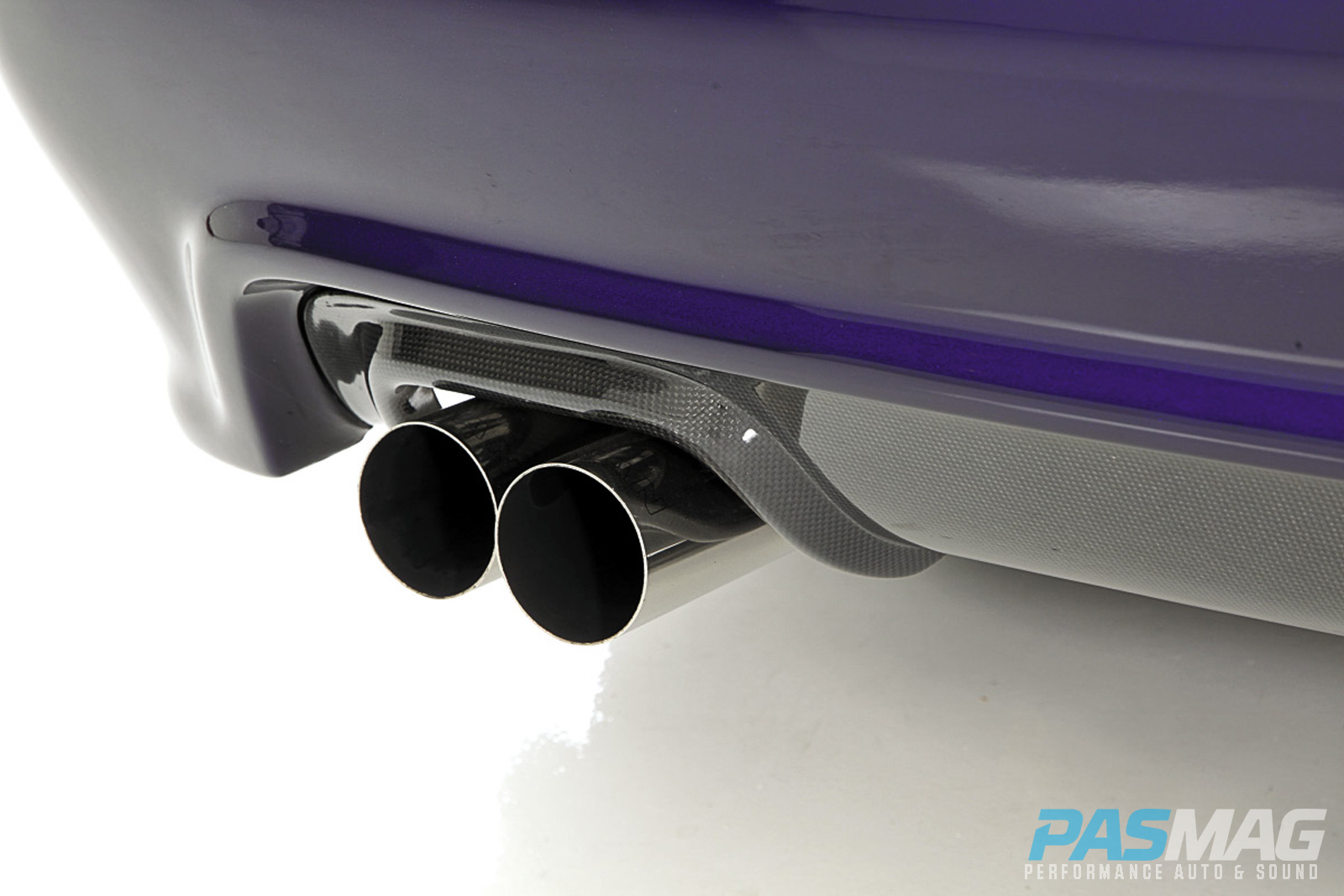 ESSENTIALS
Vehicle: 2000 BMW M5
Owner: Mamerto Contapay III
Location: Walnut, CA
Engine: 4.9 liter S62 B50
Estimated Max Horsepower: 378 hp
Estimated Max Torque: 344 lb-ft
Top Speed: 182 mph
Curb Weight: 4,300 lb.
Web site: www.BLK-LA.com
ENGINE MODIFICATIONS
Dinan (air filters, cold air intakes, air flow meters, throttle bodies, Stage 4 software)
EXHAUST
Dinan mufflers
Supersprint headers
DRIVETRAIN
Spec (Stage III clutch and lightweight flywheel)
3.62 Limited Slip Differential
CHASSIS / SUSPENSION
KW Suspensions Variant 3 coil-overs
Dinan (17 mm rear sway bar, front strut bar)
Powerflex thrust arm bushings
WHEELS / TIRES / BRAKES
DPE S20 wheels – 20 x 9.5 (f), 20 x 11 (r)
Falken FK 452 tires – 255/30R20 (f), 305/25R20 (r)
Brembo Gran Turismo big brakes with custom painted yellow eight-piston calipers
Cross-drilled brake rotors – 380mm (f), 345mm (r)
Carbon fiber brake ducts
EXTERIOR
Custom wide body kit
Modified front and rear bumpers
Vorsteiner (rear diffuser, carbon fiber hood)
Hamann (fog light covers, roof spoiler)
RD sport side skirts
Smoked DJ Auto Euro headlights
Hella 2001 taillights
Modified quarter panels
Silver & blue carbon fiber BMW rondels
Full wire tuck
House of Kolor Kameleon Saphire Pearl paint
CSL style carbon fiber trunk
Umnitza HID (high beams, low beams, fog lights)
INTERIOR
Hamann (pedal set, shift knob, emergency brake handle)
UUC Evo 3 short shifter kit with DSSR
Updated 2001 steering wheel
Leather Z tri color shift and brake boots
Dinan floor mats
Blue LED interior lighting
AUDIO / MOBILE ELECTRONICS
JL Audio (1000/1 Slash V2 monoblock amplifier, 450/4 Slash V2 amplifier, W7 subwoofer, (4) ZR 525-CSi component system, (4) one-inch tweeters, (2) Clean Sweep Modules, (4) crossovers)
Sony PlayStation 2 and 3
Nintendo Wii
19-inch LCD trunk monitors (2)
Kinetic Audio Battery
Distribution Blocks
Micro Vision DVD player
Savv seven-inch headrest monitors (2)
Boyo VTK100 rear view camera
NAV TV intragration
SPONSORS
BLK Diamond Group
TWCompetition
Auto Explosion
Falken Tires
DPE
Motorsport Hardware
Mfest
Revolution Automotive (formerly Garageworks)
Sagenhaft Designs
Umnitza
Custom Car Alarms
Randy Riggs
Instyle Graphics