Photos by Crustless Media
---
Over a year ago, at age 19, Andrew Lee was diagnosed with HLRCC, a rare form of kidney cancer. Shortly after the diagnosis, Andrew and his family found out that because the cancer was so rare, it was incurable, with treatment options looking to last anywhere from as much as three to four years, to as little as one year.
After soaking in the realization, Andrew's father sat him down and asked what his life goals were. Being a car enthusiast, one of Andrew's main goals in life was to work hard enough to eventually buy an R35 GT-R. To his absolute surprise, his father came into his room the next day and said, "Hey, let's go buy that car."
Once he had acquired his dream car, Andrew set out to make that summer a memorable one and make the most of his GT-R ownership experience by seeking out cars and coffees, meets of any kind, supercar rallies, and like-minded car owners he could befriend. He cites these events and newfound friendships as some of his best memories.
When that summer had passed, Andrew had to go back to school in New Hampshire. Between the workload, flying back and forth for treatment, and the absence of his beloved GT-R, he was feeling the strain and really wasn't happy with where he was. So, instead of pouring his efforts into school, he came up with the idea for Driven To Cure. He would build his R35 up to be what he'd only dreamed of and then tour his story around to high profile shows and events, raising both money and awareness for rare forms of kidney cancer in children and young adults. And so, Driven To Cure was born.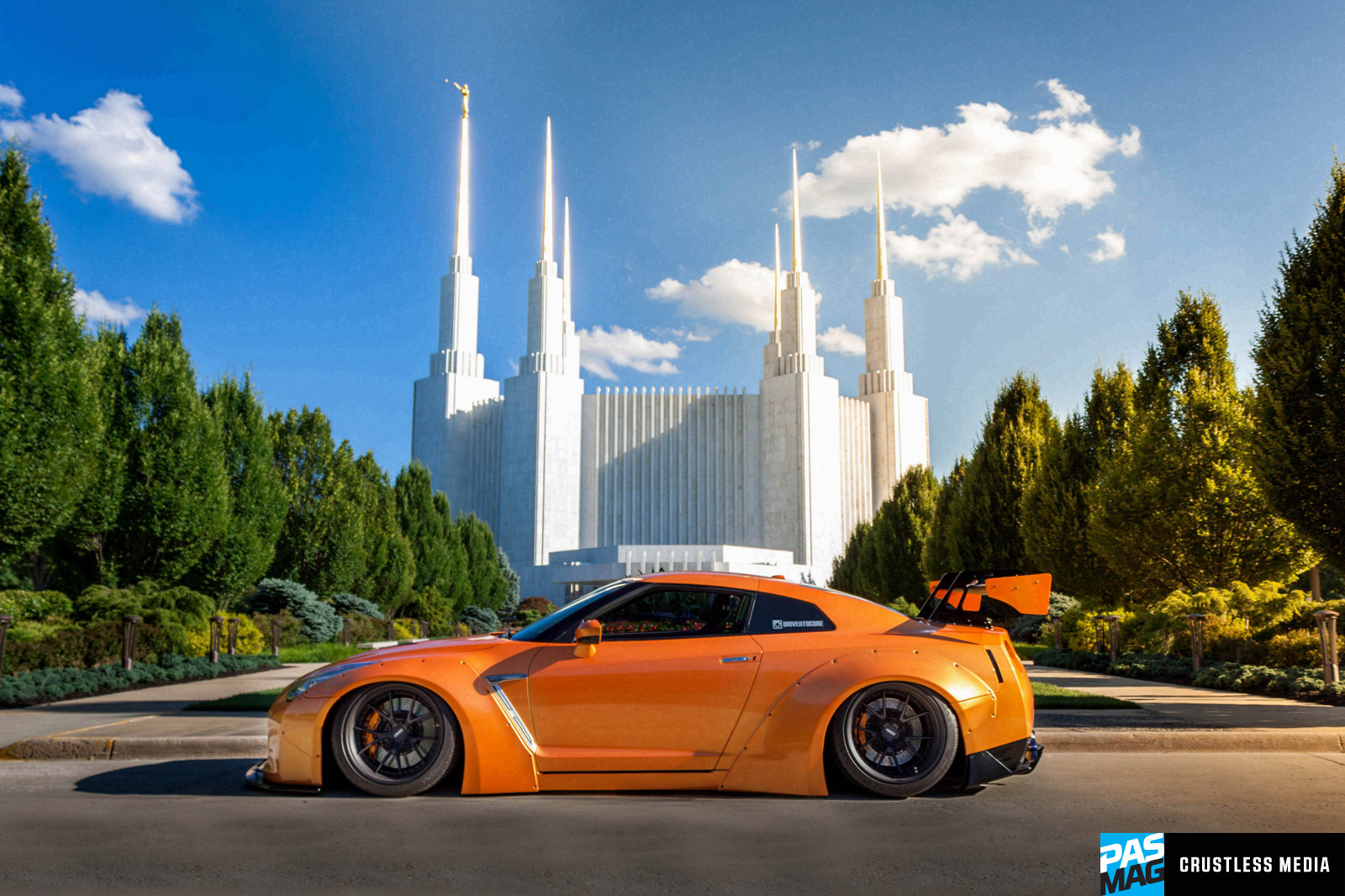 The first stop on Andrew's GT-R's dream build list was APAC, in Linthicum, Maryland, for all the bodywork needed to install his Liberty Walk widebody kit. The kit is traditionally riveted in, but instead of sealing the seams, the team actually molded the edges of the flares to be seamless and coated the car in a one-off shade of orange with gold pearl. APAC also dialed in the fitment via Airlift V3 air suspension, as well as sourced the RSV Forged RSF1 wheels to bring it all together.
The now orange R35 would then go to Baker Performance, the GT-R performance shop most local to Andrew in Maryland. Dave, the owner at Baker Performance, recommended full bolt-ons (intercooler, full exhaust, intakes, and injectors) plus a custom tune for the "F CANCR" GT-R, leaving Andrew's R35 sitting right around 700 horsepower. Inside, the GT-R houses Bride seats, Takata harnesses, and even a roll cage.
Making their debut at the OC Car Show in Ocean City, Maryland, Andrew and his GT-R generated some serious attention and donations, a trend which has lost no steam whatsoever in all of the show appearances since.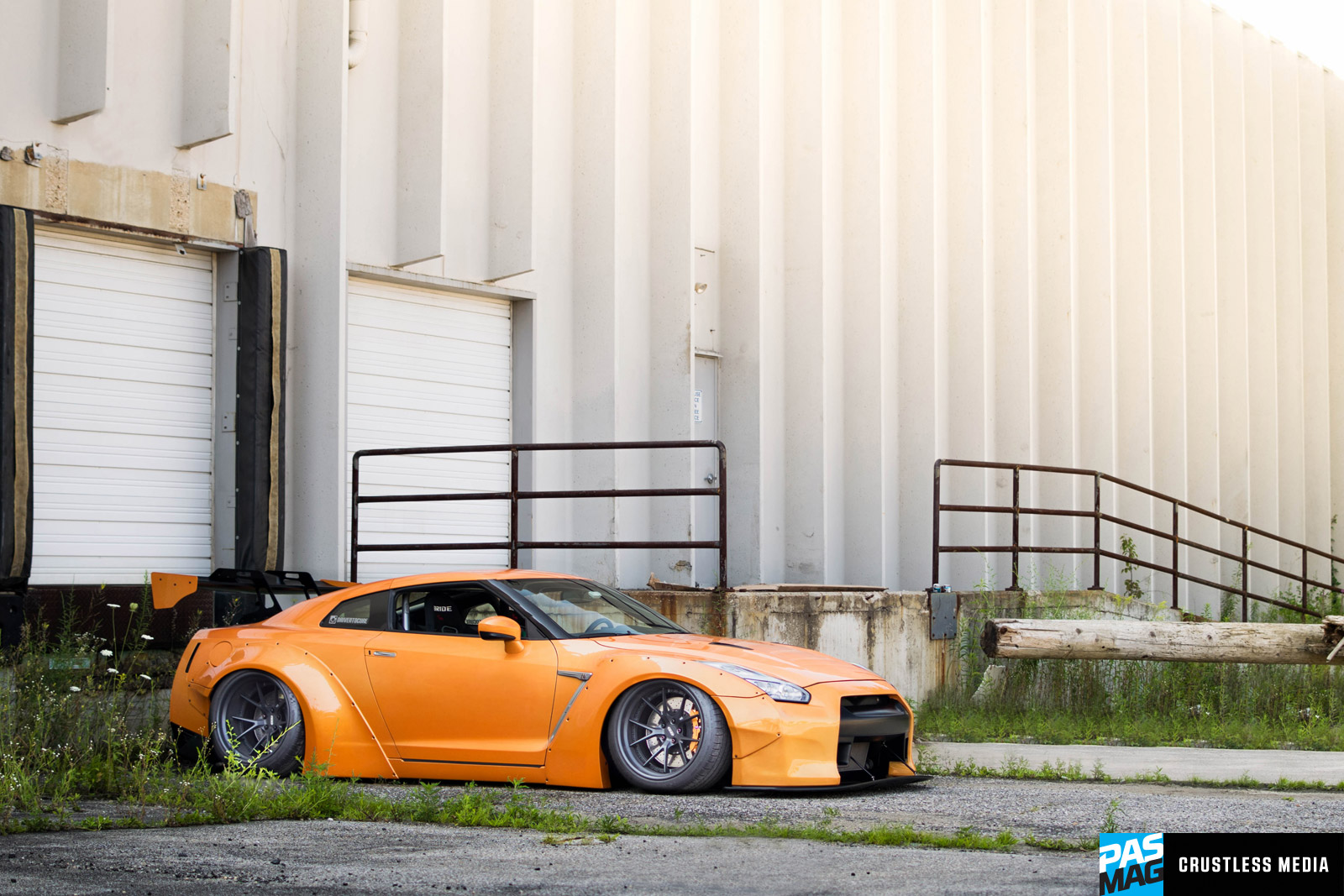 "There are people in my position that can't fulfill their dreams in the time period they're given." Andrew explains. "I really wanted to take my dream and help people in my position down the road to find different treatments or cures.
"The car world is awesome. The one thing it's taught me is that car people stick together, and that's why I really wanted to start this charity and do it through this industry. I love community, I love the people, and I thought that the car world would take the story and back it. Let's see how far we can take this thing!"
You can follow Andrew's awareness journey via the Driven To Cure Facebook and Instagram channels, and donate to support their cause at http://driventocure.org. Godspeed, Andrew, and may all your dreams come true. #pasmag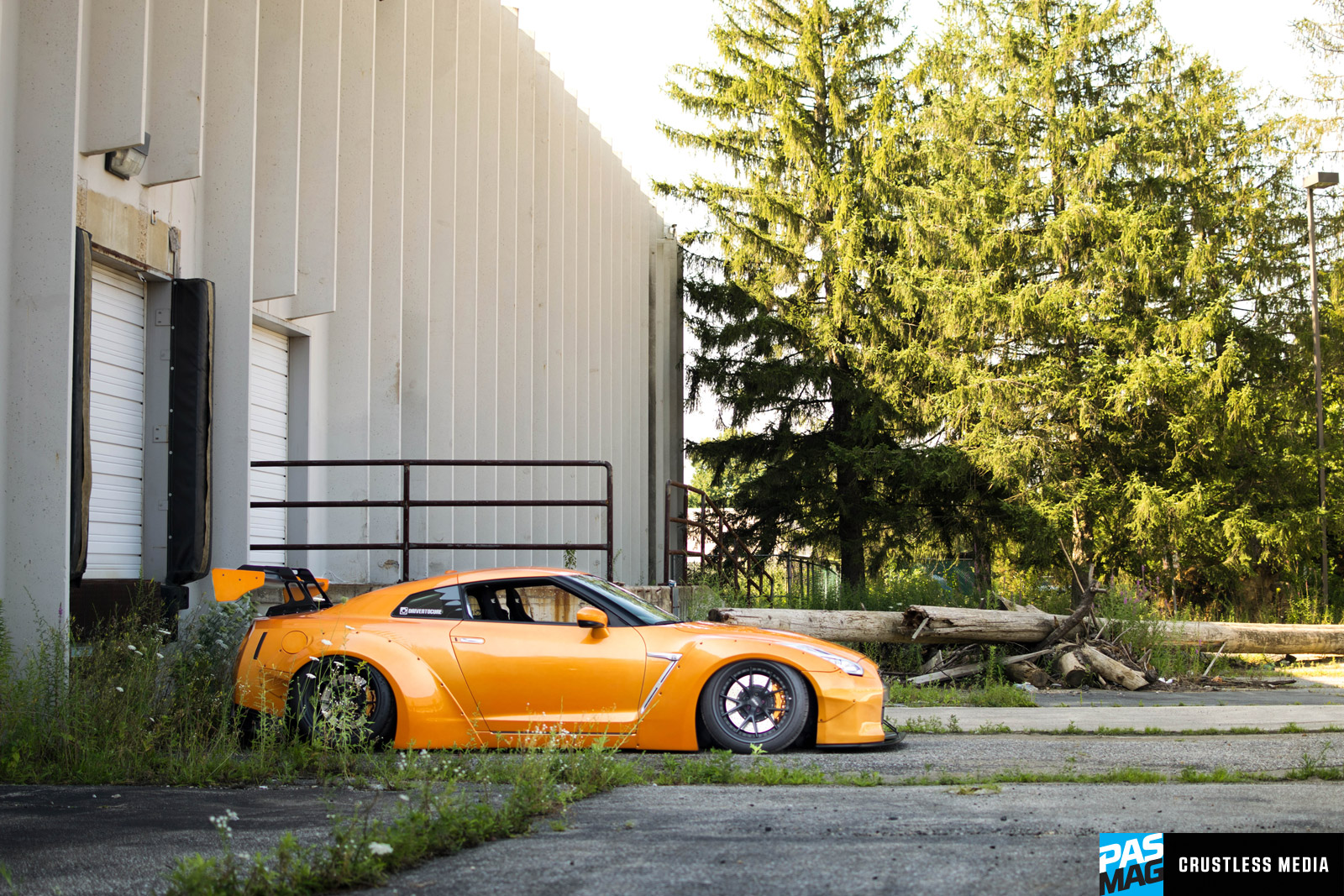 ESSENTIALS
Vehicle: 2015 Nissan GT-R
Owner: Andrew Lee
Location: Silver Spring, MD
Engine: Nissan VR38 twin-turbo 3.8L V6
SOCIAL
Facebook: Driven To Cure
Instagram: @driventocure
ENGINE

ETS Race intercooler
Tial blow-off valve
Speed By Design intakes
Bosch (EV14 Series 1150cc injectors, plug-n-play harnesses)
Baker Performance custom tune
AMS (air/oil separator, coolant tank)
EXHAUST
Speed By Design (4-inch non-resonated V-band mid-pipe, 3-inch cat-less downpipes)
Zury Fabrication custom 5-inch single-exit exhaust
WHEELS / BRAKES
RSV Forged RSF1 wheels
Rolloface brake lines
CHASSIS / SUSPENSION
Titan roll cage
Airlift V3 air suspension system
EXTERIOR

Bodywork by APAC
Liberty Walk V1 widebody kit (seamless)
Custom fender liners
BASF Glasruit one-off custom paintjob
"F CANCR" license plate
INTERIOR
Auto Tecknik gear shift paddles
Bride LoMax racing seats
Takata harnesses
Contributor: Crustless Media