Photography by Jay Canter
---
The Daily Driven Lotus Fueled By Sandwiches
Johnny Ngo of Rancho Cordova, California, is no stranger to unique and interesting vehicle builds. Many years ago he had a custom yellow Toyota Celica GTS, named "Bumble Bee Cali," (remember when builds used to have names?) which he built himself and took many show awards with. The Celica was actually featured in PASMAG way back when, and a toy company even made a model of his ride! To up the ante from his Celica, Ngo wanted to build something not only unique and eye catching, but something that people wouldn't normally think to modify in the way he did for a performance-oriented daily driver. To boost the cool factor even more, let's also mention that almost all of this build was done in his own garage.
Ngo started off with a 2006 Lotus Elise. Building this car on his own time in between work took him over eight months to complete. He did virtually everything himself from the one-off widebody to the custom audio system. You may have noticed that the car has been slapped with the name "PBJ Lotus," and there are a couple reasons for this.
"PBJ Lotus came from the time spent building this car," Ngo recalls, chucking. "I was limited on time and money, so all I could afford to eat to save on both was peanut butter and jelly sandwiches. Also, with the indigo base paint color in certain lighting and accompanied with the gold wheels being a shade closer to peanut butter, the car practically named itself."
As mentioned, the custom widebody was done by Ngo himself in his garage. When the sanding and prepping tools were put down and it came to do the paint, the car was taken all the way up to Washington State to Phantasy Kolors. There they applied the BASF R-M Candy Teal paint over an indigo base.
Along with the body work, Ngo incorporated a custom-made 72-inch carbon fiber spoiler, GT3 carbon fiber mirrors, carbon fiber doors, front splitter, rocker panel extensions, and carbon side vents, all courtesy of APR Performance. Yes, it looks incredible, but it's also very much functional.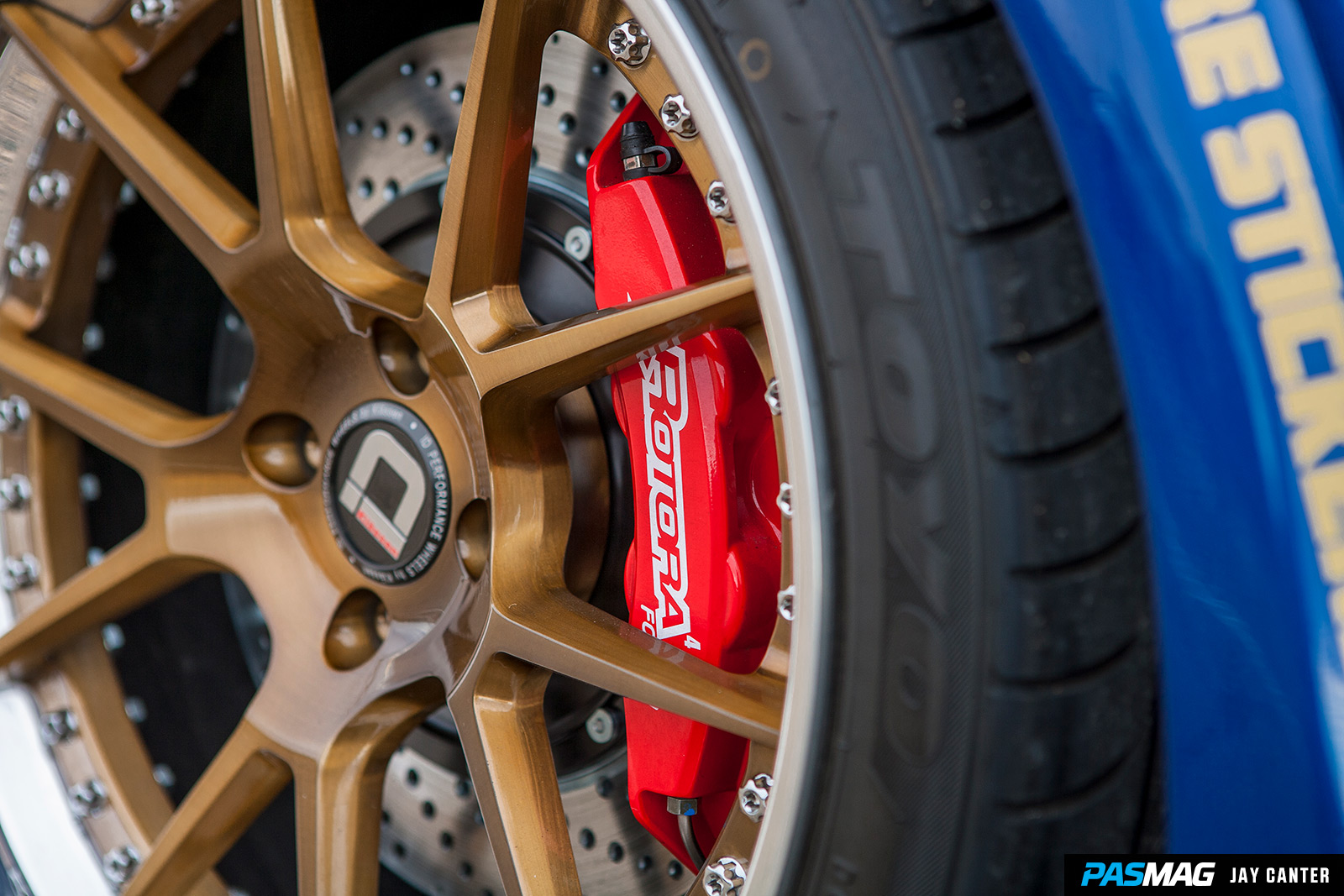 Wanting to getting the wheel gap to look just right, but also install some suspension that would perform, BC Racing 30-way adjustable BR coilovers were sourced. From there, Ngo needed to find the right wheel and tire combo to accentuate the beautiful widebody. For those custom wheels he turned to Klassen ID and put on a set of CRS-X concave five V-spoke wheels - 18x8 up front with 19x10.5 in the rear. The wheels were then wrapped in Toyo T1 Sport tires in 245/35 R18 and 285/30 R19 sizing.
Supporting the Lotus' wheel and tire setup, a four-piston Street Challenge big brake kit from Rotora, running larger 328-mm front rotors, helps bring this high horsepower daily down. Keeping all the power down to the ground comes from the help of a Clutch Master FX350 clutch kit, while a Quaife Helical LSD makes sure both wheels are spinning together.
Wanting to produce a bit more power from the stock 1.8-liter 2ZZ-GE, Ngo opted to do quite a few things after cracking the engine open. Starting with custom rods and pistons, bringing the compression ratio to 9:1, MWR's cams and Stage 3 valvetrain were also thrown into the mix. Giving the 2ZZ a crucial boost in performance is the addition of the Garrett GTX3076R turbo as part of the Radium Hard Parts full turbo kit. As with any turbocharged application, you should always look to upgrade the fuel system as well, so Ngo upgraded to an AEM E85 320-lph high flow fuel pump, which to pumps through to a Radium Engineering fuel rail and 1,000-cc Injector Dynamics fuel injectors.
Controlling all the fuel, spark and boost is a DRS Motorsports EFI X2 ECU, tuned by DRS's very own Kris Valdez. On the dyno, the PBJ Lotus makes 461 horsepower with 322 lb-ft of torque. Plenty for any daily driver.
Let's not forget that all-important part of the car, the cockpit. Of course there's nothing left out inside either. Corbeau takes up the seating area up front with their LE-X sport road seat for the driver and LE standard seat for the passenger. Both occupants are strapped in for some spirited driving with a pair of three-inch, five-point harnesses.
From there, you can view more carbon fiber additions that follow from the outside of the Lotus in the form of door sills, interior door pulls, and upper sills, all from ORE. There is also plenty of instrumentation to keep the driver in the know, like AEM's digital wideband, EGT, oil pressure and temperature, and Tru-Boost gauges.
Sometimes you need to be able to hear more than just the wind blowing through your hair or the sweet sounds of the engine. Obviously, with a car as small as a Lotus, creating big sound is quite difficult, and that was one of Ngo's biggest complexities. First, he needed to lay the foundation with a full Dynamat interior treatment. Focal Access 6.5-inch components and a JL Audio 13TW5V2 13-inch subwoofer in a custom carbon fiber enclosure took some extensive modifying to fit into the dash and between the front two seats. With all of things going on in the tiny interior a custom chromoly roll bar not only stiffened up the chassis and helped to mount some of the audio components.
The PBJ Lotus is that perfect blend of form and function – a beauty that puts those looks to work. Ngo's Lotus was also hand built almost exclusively by him in his garage to be used as a super impressive daily driver (with weather permitting). This car is the full package, and it was well worth all the peanut butter and jelly.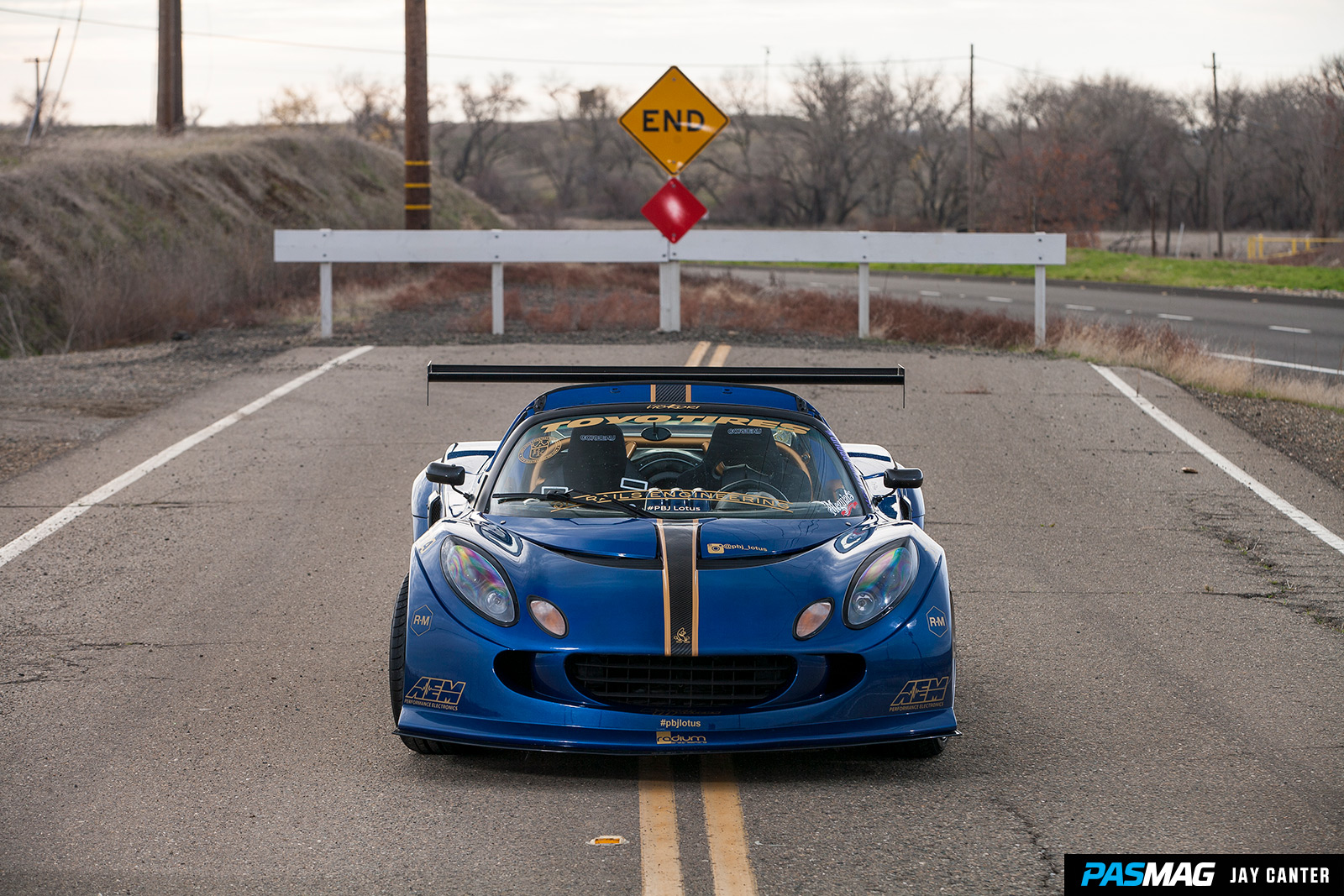 Go to next page for Photos and Specs.