Colin Rogerson may have a lot of dream cars, but he knows for sure than the R32 Skyline GT-R is somewhere at the top of the list. Growing up during the golden era of Japanese sports cars, and testing them out virtually in video games at a young age, the car's undeniable coolness and potential took hold. After building a Lexus LS400, and two Evos, Rogerson took advantage of the expanding aftermarket for the R32 GT-R, and picked up his dream car to get to work.
The key to making his GT-R a perfectly well-rounded performance build was going into it prepared. "I did plenty of research, built my pile of parts before the car was even brought into the shop, and was fortunate enough to work with and get advice and tips from many friends and partners in this industry that have volumes of knowledge with these cars," he says. All that preparation equated to a beautifully built R32 that looks the part, and has the power to back it up.
Despite all this, Rogerson tells us that this is only "V1" of this car. He now has plans for proper safety equipment so he can take his Skyline to the track and push its limits. We can't wait to see it out there!
Photography by Colin Rogerson, Front Street Media, Chinzo Photo, Jeffrey Liu.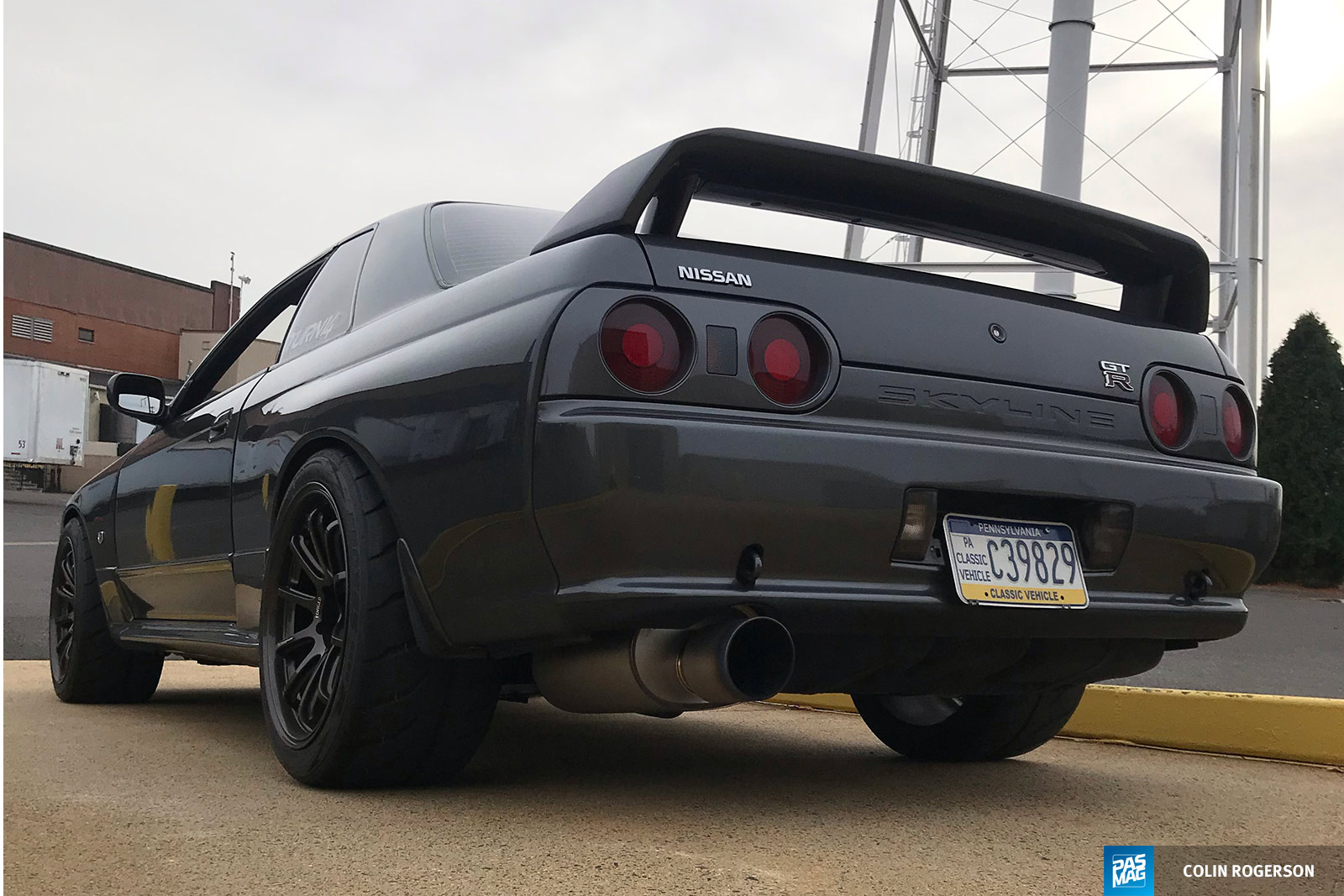 ---
INTERVIEW
PASMAG: Why did you choose the 1991 Nissan Skyline GT-R?
Colin Rogerson: The Nissan Skyline R32 GTR is a dream car of mine.How many dream cars do I have? A lot! But the BNR32 is definitely somewhere at the top of that list.In addition to that, the US Automotive Aftermarket (specifically, in parts sales) was just starting to get a taste of the potential these cars becoming legal via the 25 Year Rule would bring.Based on my occupation, I wanted to get my hands on one start modifying it to help support that trend!
Do you have any prior build experience?
I've definitely had a number of other modified vehicles, but the only other car I'd consider a "build" was my 2006 Evo IX MR.I had this car prior to the R32, and in a perfect world, would have kept it in addition to the Skyline, but that wasn't realistic at the time.I actually closed the sale of the Evo on a bus to Gotema, to later visit HKS's Factory in Japan.Despite loving my Evo IX, it was at that time I felt I had made the right decision, haha. Otherwise, I had an Evo VIII prior to the IX, and a UCF20 LS400 that I lost to a deer… I need another one of those in my life soon - I loved that car.
What got you into building in the first place?
This is always a tough question to answer "what got you into it?"I didn't have a lot of inside influence - I mean, I definitely have family members into cars, but none that really took it past owning/driving some cool machines.From an early age, well before I was old enough to drive, I would always want to be playing with cars.It'd be Summer and I'd be pestering my mom as a kid (always a good pastime back then.)She'd tell me to "Go DO Something!"I'd tell her I wanted to work on a car, "My first car" I'd say.She'd laugh, make sure I knew how old I was, and I'd end up washing hers… But honestly, my family was always supportive of my obsession with cars.It was just a passion I've had since as long as I can remember.I'm sure growing up through the Golden Era of Japanese Cars, being able to see, modify and drive these cars in Gran Turismo, Need for Speed and Forza helped too.
What is your favorite aspect of the build?
It's all in the HKS Stroker Kit for me, man.Even with the single Garrett GTX3584RS, that little extra displacement truly helps make for a responsive, smooth and linear powerband as the Inline-6 is naturally a very much top-end bias design out of the box.To really eliminate this, many swap an RB30, but I wanted to stay true to the motor that came in this chassis and see what I could make of it.I also love the drivability of the car still at this power level.At 600hp the car still acts very tame in everyday traffic conditions, but as soon you hit that on-ramp and the wastegate opens it's an entirely different animal. That said, this is just the beginning!
Were there any major challenges you experienced in the build?
I tried to make sure I was VERY prepared for this build. I did plenty of research, built my pile of parts before the car was even brought into the shop and was fortunate enough to work with and get advice and tips from many friends and partners in this industry that have volumes of knowledge with these cars.Truly, the only hiccup I had was on the dyno, where the old OEM CAS was not able to keep up at high-RPM causing misfires.Swapped in a PRP Trigger Kit and her graph was butter-smooth, allowing us to produce the numbers she's at today with ease.
What were your original intentions with the build?
Not going to lie - this car had zero purpose at the inception of the build.I did it for myself, building based on what I always wanted in my "Dream" BNR32.That being said, she does clean up nicely and hits shows all season long.After being able to enjoy the car for the majority of last season, I definitely want to get it onto the track, but there are still some things that need to be addressed before I do so, like safety equipment for starters.
Why did you choose certain brands for your build?
Mainly, I wanted to use brands that Turn 14 Distribution offers, which fortunately, is a huge selection of the top brands in all automotive segments.I figured this build was the perfect way to showcase what you, or your customer, can do with this car as a partner of Turn 14 Distribution.Within that, even on the very few pieces that we didn't carry, I was able to work with current partners to complete the puzzle, allowing me to build the car exactly how I wanted and staying "in the family."
What influences or inspiration helped you over the course of your build?
Having the opportunity to attend HKS Premium Day for their 45th Anniversary, and Japan as a whole prior to the build, was a huge inspiration for me.Seeing their infamous HKS Group-A car in person ripping down track, and their RB28, V-cam equipped, single turbo long block display, and the release of a limited-edition full titanium super turbo muffler for the car in celebration of their Anniversary was all the influence I needed to know it was time!Plus, have you ever heard a built RB at 8000rm?That'll do it…
Is there anything personally or about the build that you would like readers to know?
This is V1 of the car. I'm one of those guys that takes the phrase "while I'm in there" way too seriously.Without focusing on self-control, the car would have been on a rotisserie in no time, getting a full ground-up restoration and power build.I needed to take this one step at a time to make sure I continued to enjoy the car along the way.She's still on pump gas, so next is E85 and a strengthened drivetrain to withstand the additional power that the corn juice will provide, along with Safety Equipment so I can get the car on track and see what It can do!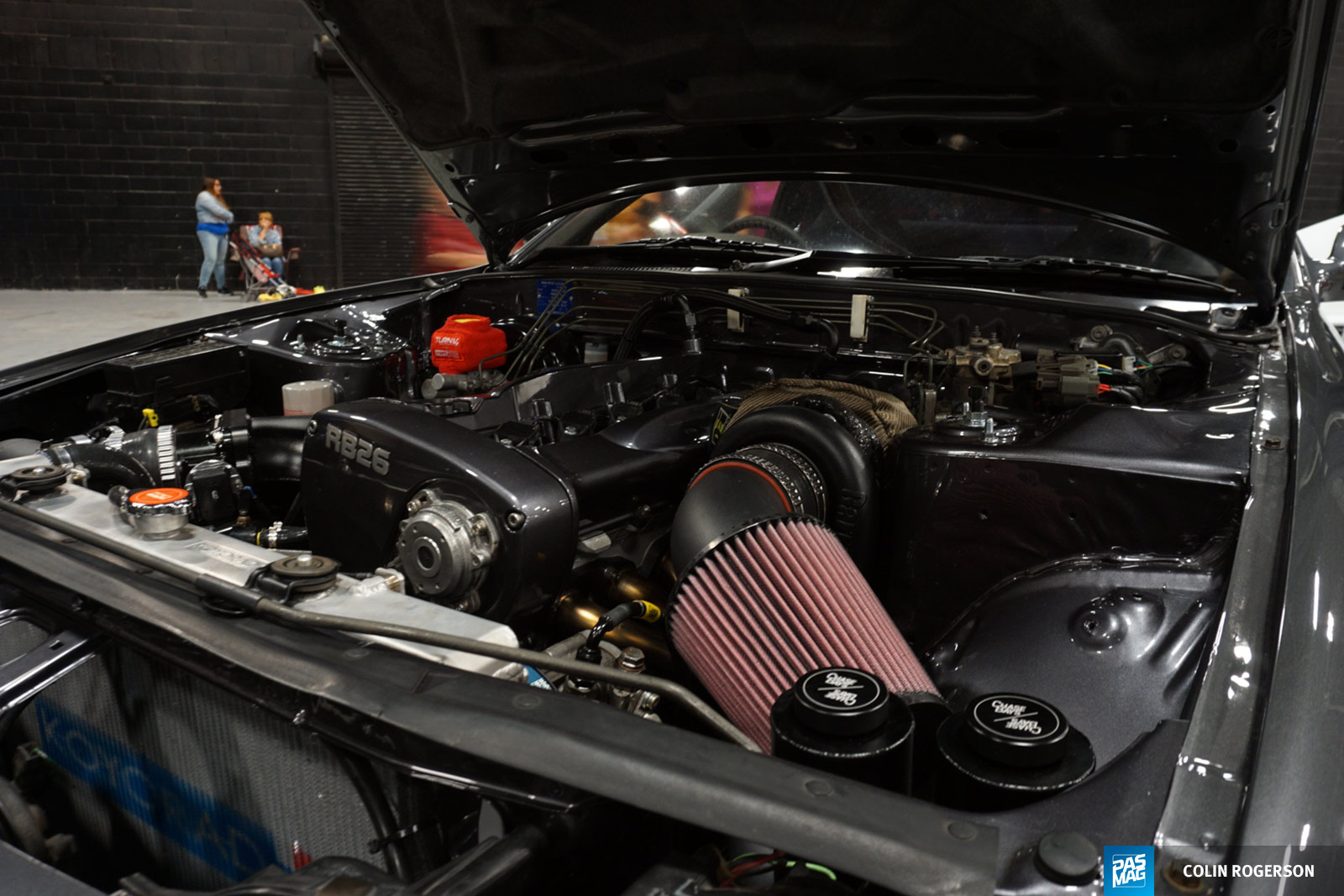 ---
ESSENTIALS
Owner: Colin Rogerson
Vehicle: 1991 Nissan Skyline GT-R
Engine: Nissan RB26DETT Twin-Turbocharged 2.6L I6
Horsepower: 610 whp
Torque: 430 lb-ft
SOCIAL
Instagram: @crogas8
ENGINE
N1 engine block
HKS (Step 1 2.8L Stroker Kit, 272 cams, adjustable cam gears)
Brian Crower valve springs , titanium retainers, +1mm valves)
Injector Dynamics 1300x injectors
GReddy oil cooler kit w/ oil filter relocate
Aeromotive fuel pressure regulator
Single 90mm throttle body forward facing intake manifold
Garrett GTX3584RS turbo
HKS 60mm wastegate
Turbosmart Gen V Raceport BOV
Tomei (oil pan baffle, oil restrictor)
Billet oil pump gear set
Vibrant catch can
Fluidampr crank pulley
King engine bearings
Procom Racing custom 3.5-inch intercooler and short route piping
Nismo engine mounts
Koyo radiator
Mishimoto (fan shroud, electric fans)
Samco radiator hoses
ChaseBays coolant reservoir
Platinum Racing Products trigger kit
VR38DETT coil packs
Carz Performance VR38 coil pack adapter plate
Haltech Elite 2500+ ECU
Wiring Specialties engine harness
Tuned by Procom Racing
EXHAUST
HKS (top mount single exhaust manifold, 45th anniversary full titanium cat-back exhaust)
Procom Racing (custom downpipe, dump pipe)
DRIVETRAIN
Exedy HD twin-disc clutch
Pull type 5-speed transmission
WHEELS / TIRES / BRAKES
Advan RS-DF wheels - 18x10.5 +15 (f/r)
Toyo R888R tires - 275/35/18 (f/r)
StopTech big brake kit
R34 Skyline GT-R brake master cylinder
CHASSIS / SUSPENSION
Silvers Neomax 2-way coilovers
SPL HICAS delete
Cusco (rear upper control arms, tension rods)
Nismo front lower control arms
ISR adjustable camber arms
INTERIOR
Revel VLS OLED gauges
Vertex checkered steering wheel
Works Bell short hub w/ quick-release
Nismo (titanium shift knob, floor mats)
Terra Firma Fire Red plush carpet
PHOTO GALLERY