A Rabbit Pickup assembled over several years in many locations.
For many enthusiasts, the love for their cars starts in the family, and Juan Ragusa is another in a long line of car enthusiasts in his family tree. With a father and grandfather who both worked in the industry, Ragusa was working alongside them as early as just eight years old, learning the tools of the trade earlier than most. As he got older, he found himself drawn to European cars, especially first-generation Golfs and similar models from that era. As a mountain biker, he eventually decided that the Volkswagen "Caddy," the Rabbit Pickup, was the best way to combine his two hobbies.
In 2007 he was able to find an affordable and restorable 1982 Volkswagen Rabbit Pickup for sale in central Florida, and immediately set out to bring it back home. Luckily for him, his family history helped out, and his father had a small warehouse where he was able to store and work on the Caddy. As soon as Ragusa started the restoration process, he was able to get an idea of the magnitude of the restoration work the car needed. Right away, he removed the floor and lowered it by an inch in order to fit some custom modified BMW E60 seats.
Shortly after finishing his first bits of fabrication, Ragusa was met with tragic news - his father had passed away. In the wake of this news, he was forced to store the VW for nearly a full year. After pleading with his boss, he was able to convince his workplace to allow him to work on his car in their old warehouse until the company moved. Between moving into the company's old shop, and the day he had to move the car out when the company moved locations, Ragusa was able to finish the floor work, shave the engine bay, replace all rusted panels, and complete the entire body work and paint process.
By this time, it was 2012, and Ragusa was once again looking for a storage spot to continue the restoration. Luckily, his fiance managed to convince her father to let him use their garage to complete the restoration. With suspension fitted to the chassis, he brought the Caddy to his fiance's father's house. During the wedding planning process, he was working away on the truck, installing a completely custom wiring harness, custom stainless steel brake lines, a fuel line revamp, and some interior transformation.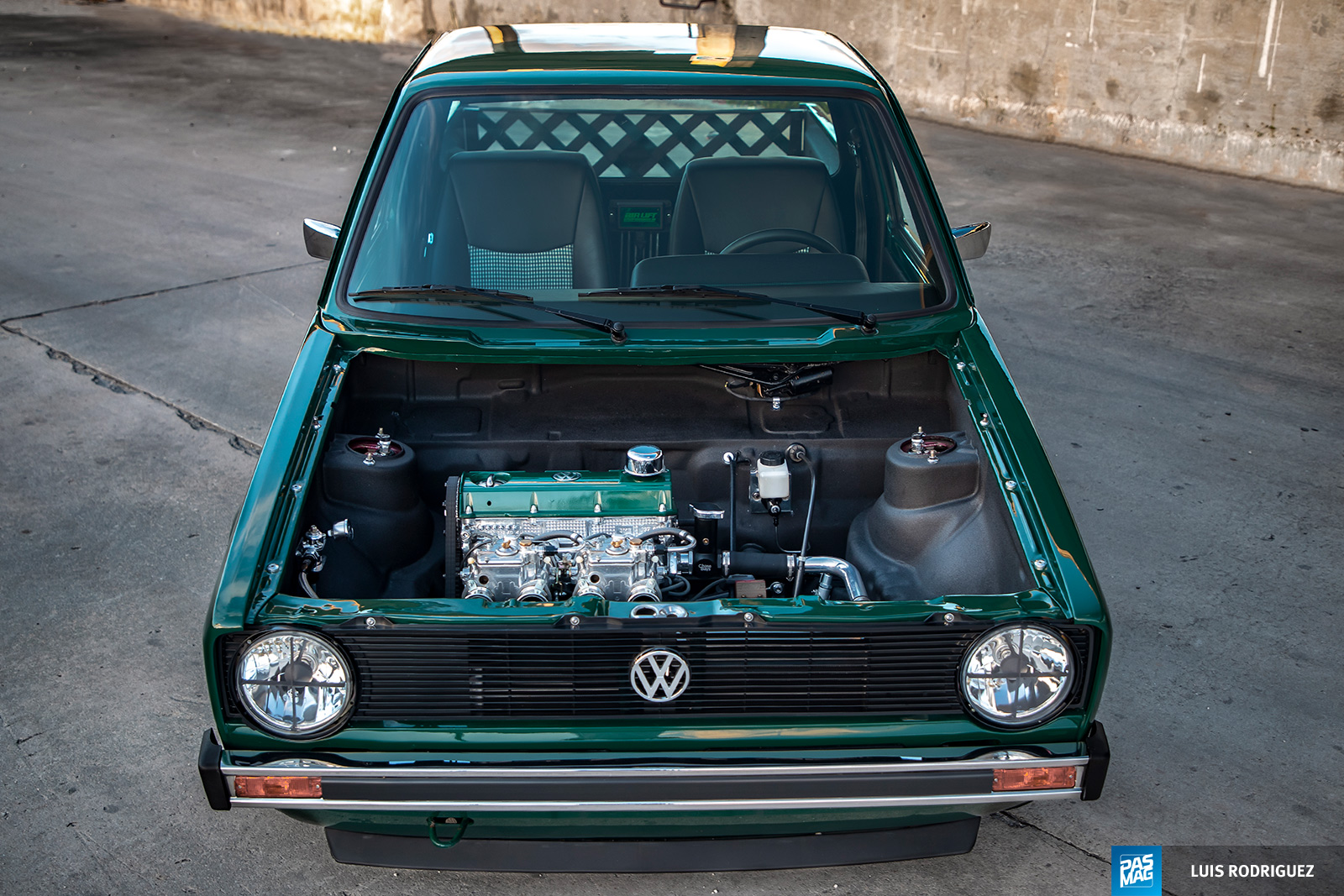 The ABA 2.0L engine was outfitted with dual DCOE 40 Weber carbs, thanks to some help from Ragusa's brother-in-law and some creative garage engineering and ingenuity. A 270-degree cam, a Rowland manifold, and MSD 6AL ignition are all found up front, and the entire engine setup dovetails into a set of custom headers and a Techtonics Tuning exhaust. A little over six months after the facility change, and the restoration process was essentially completed.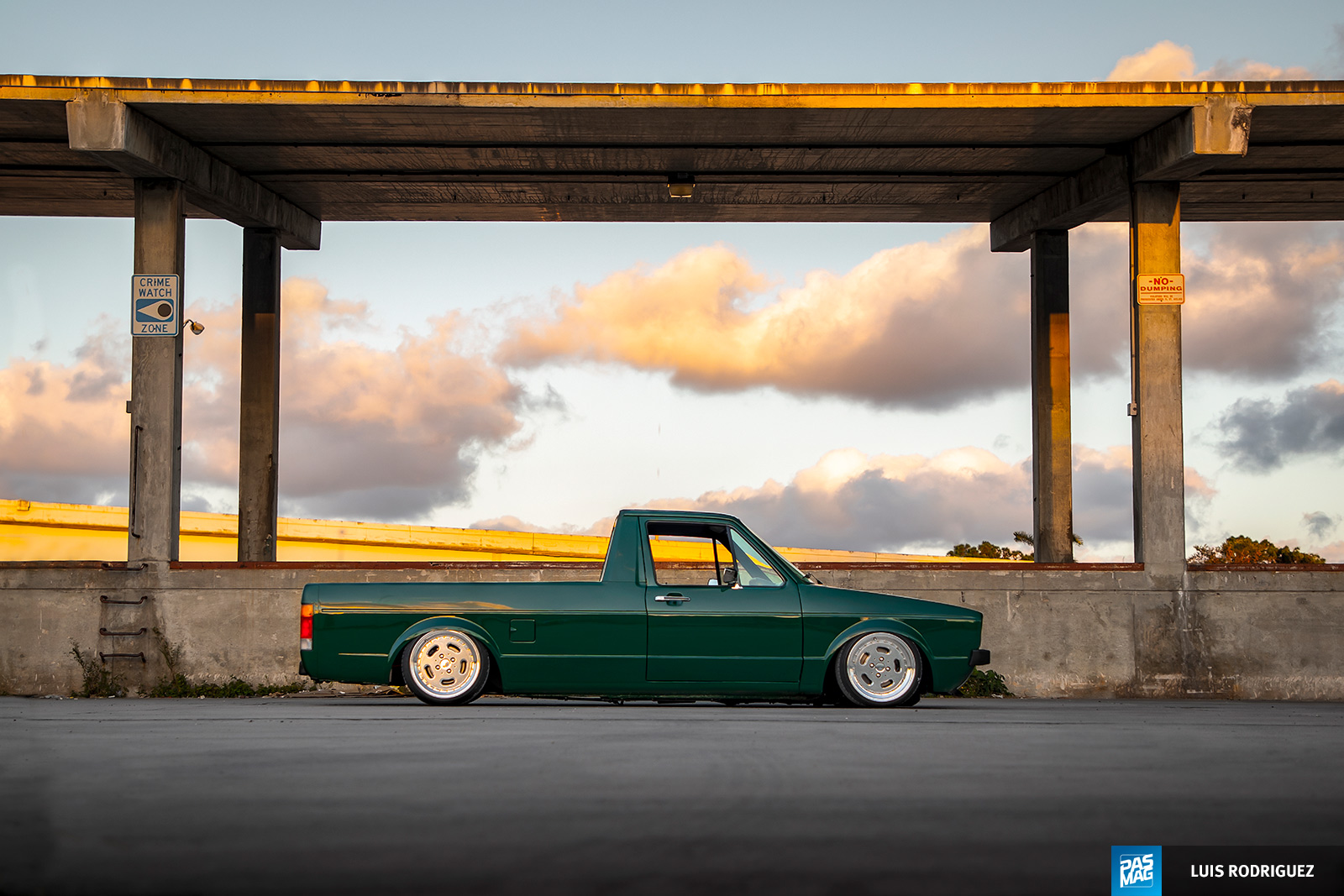 After attending the first local show in 2014, Ragusa's marriage, mortgage, and overall life responsibilities kept him out of the game for a while. In his time off, he eventually acquired a garage of his own, which gave him enough time and space to install Air Lift Performance air suspension, create custom bed slats, modify the wheel arches, and fit up some 15-inch Carline CM2 wheels. With the new look and custom air suspension setup dialed in, he made it to EuroTripper in 2018 to take home several awards. Fueled by his success at that show, he decided to go all in.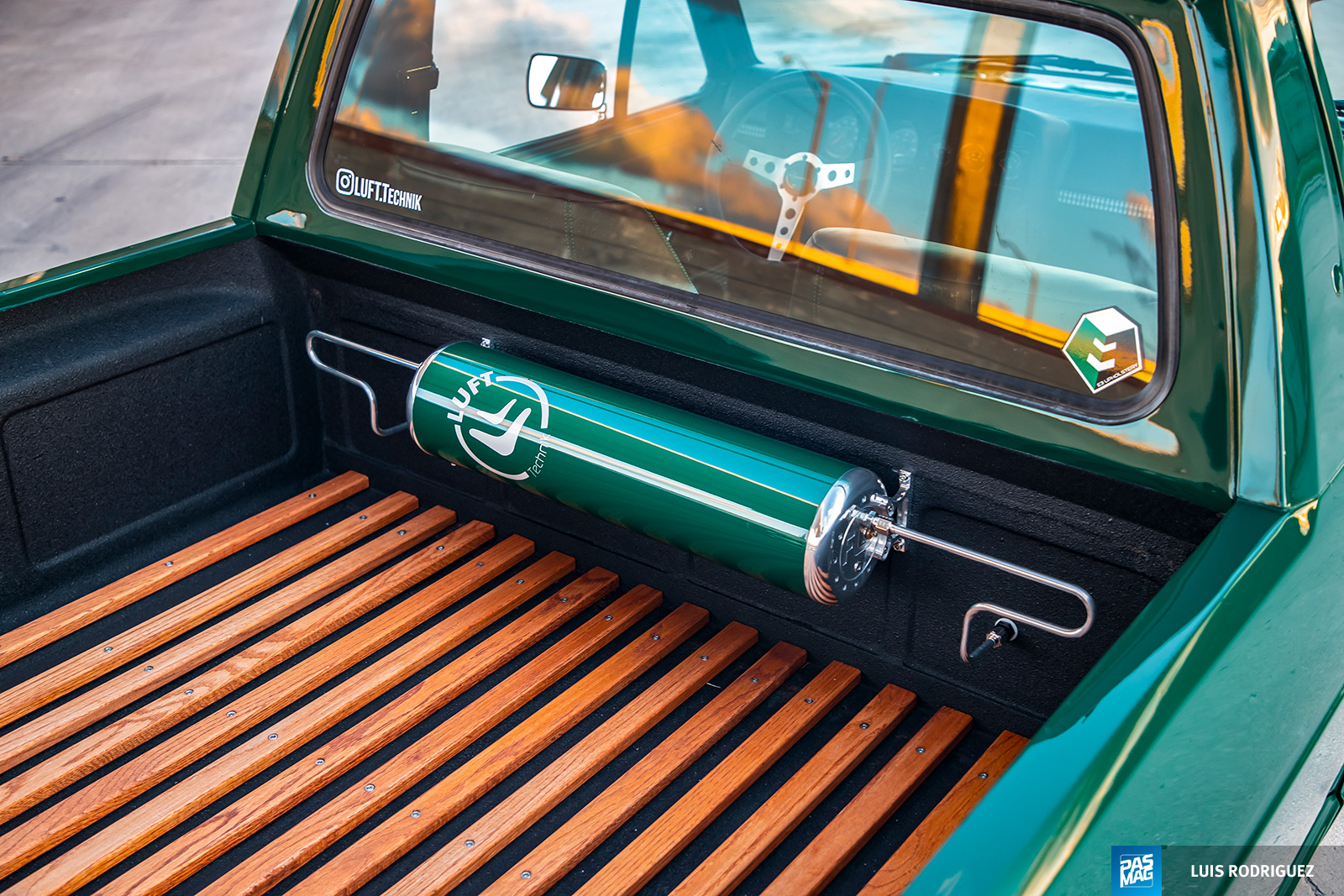 With plans to attend more shows later that year, Regusa disassembled his entire interior, and it over to E3 Customs to have them put together modified seats, a Renown steering wheel, custom dashboard and door panels, and a bed net to tie the whole look together. During that time, he took his engine and carburetors apart to polish them, revamp the cooling system, and shave the brake booster to clean up the engine bay for show-worthy status.
Once back on the show circuit later that year, he set sail for Stancenation. Much to his surprise, his custom Caddy took home the award for Best of Show! Since then, he has been trying to attend as many shows as possible, but more for the thrilled reactions of attendees than for the awards. For now, Ragusa says he has no plans to further modify the Caddy, but he also admits he doesn't really know what the future will bring for him.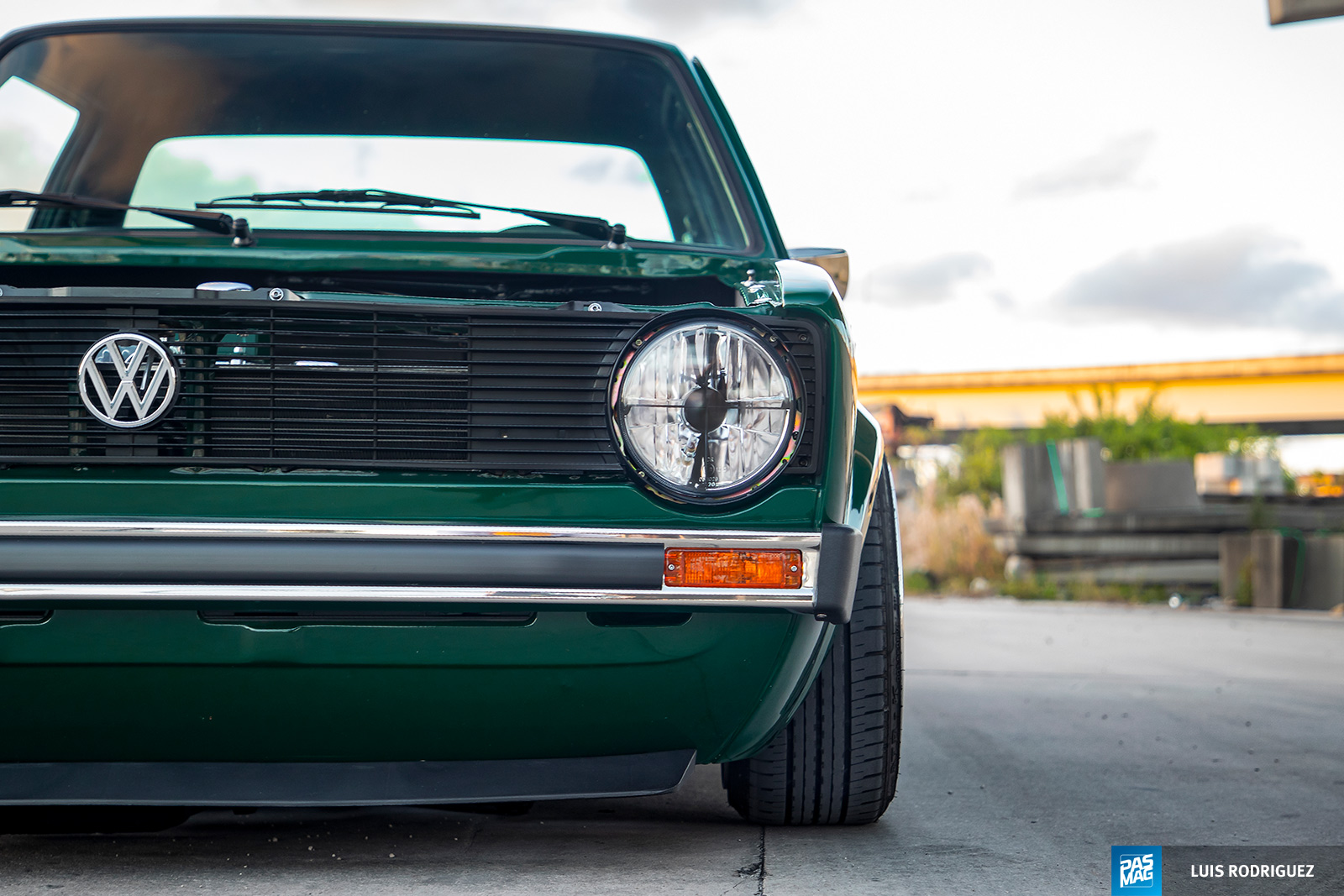 Photography by Luis Rodriguez (@lrodriguez_media)
---
ESSENTIALS
Owner: Juan Ragusa
Vehicle: 1982 Volkswagen Rabbit Pickup
Location: Coral Springs, FL
Engine: Volkswagen ABA 2.0L TDI I4
Horsepower: 140 (est.)
SOCIAL
Facebook: /juanmanuelragusa
Instagram: @jmragusa
ENGINE
270-degree cam
Dual DCOE 40 Weber carburetors
Rowland manifold
MSD 6AL ignition
EXHAUST
Custom headers
Techtonics Tuning exhaust
WHEELS / TIRES / BRAKES
Carline CM2 wheels - 15x8.5 +10 (f), +15 (r)
165/45/15 tires
Custom brake system
Brake booster delete
Wilwood (brake master cylinder, rear brake bias)
Stainless steel brake lines
Mk1 VW GTI vented rotors
Mk2 GTI rear disc brake conversion
Hawk Performance brake pads
CHASSIS / SUSPENSION
Air Lift Performance (air struts, 3H air suspension system management)
SCCH (tie rod flip kit, knuckle extenders)
Notched rails
Custom 4-link rear suspension
Flo AirRide air tank
EXTERIOR
Euro (front core support, front bumper, modified rear bumper, round lights)
Chrome (flat mirrors, door handles)
Custom (bed, bed net, license plate lights)
INTERIOR
Shaved dashboard
Custom (gauge panel, door cards)
Refinished Piano Black dashboard
VDO gauges
Renown steering wheel
BMW E60 custom modified seats
Air Lift Performance 3H (controller, custom hard line setup)
AUDIO / MOBILE ELECTRONICS
Hidden Bluetooth receiver
Pioneer speakers
Subwoofer hidden under dash
SPONSORS
PHOTO GALLERY