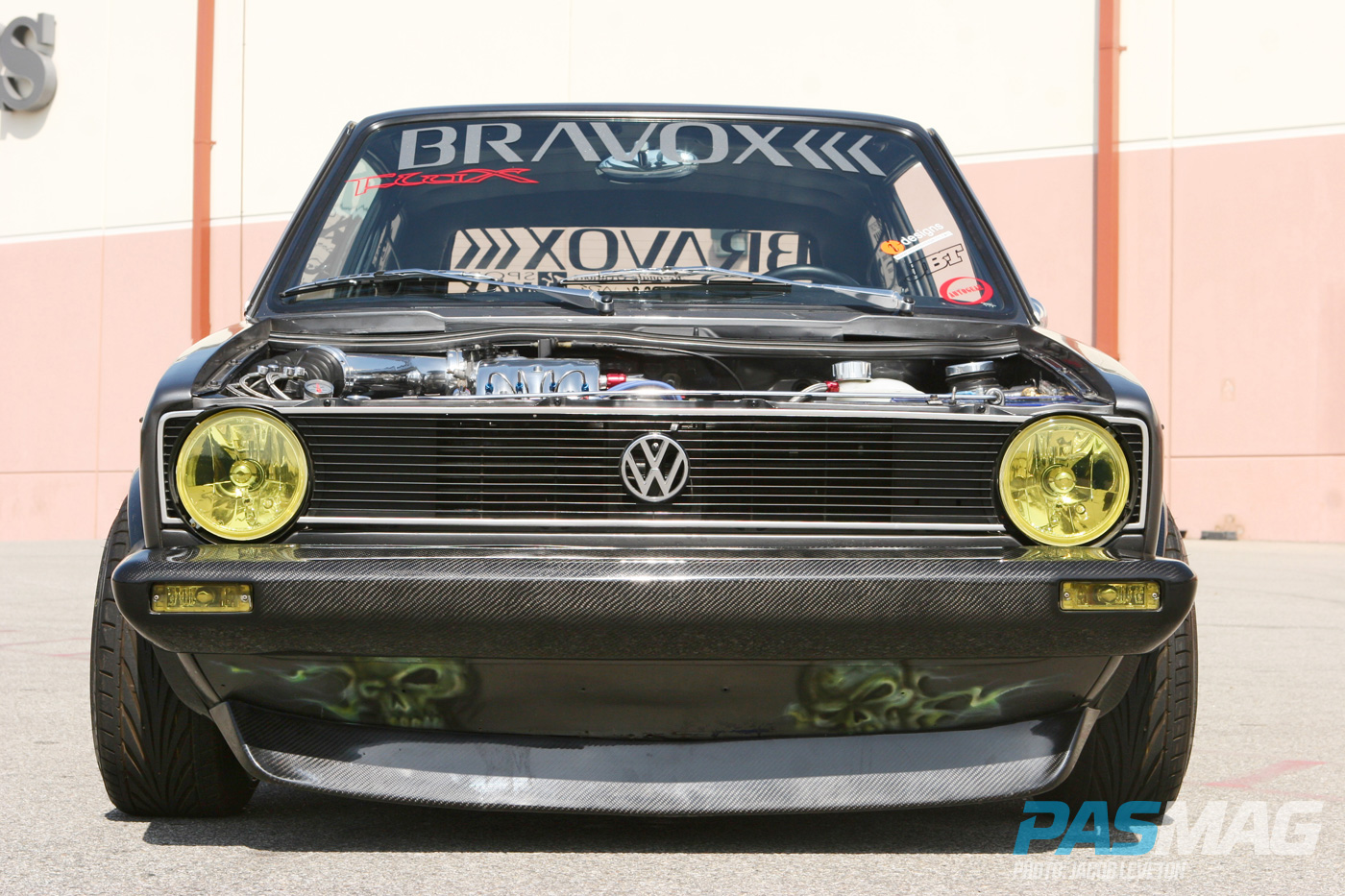 Text by Mike Semira. Photos by Jacob Leveton
Few would argue that having to push your dead car out of the way of traffic is one of the worst feelings a driver can experience. What was once a swift, 2,500lb piece of complex machinery suddenly transforms into a lifeless hunk of metal, which has more trouble getting off the road than a drunken frat-boy navigating a set of stairs. Having personally experienced this problem on more than one occasion, I luckily never had to push my car more than a few feet for safety. I can't even begin to imagine what was going through Mark Bailey's mind when his 1978 Volkswagen Rabbit died on him on a Southern California freeway and he had to push it over one mile for refuge. "I knew I had to start fresh – take it all apart and start new," recalls the Sylmar, CA resident. More than three years later, the same Rabbit is nothing like it was that fateful day, starring at events all over the West Coast on behalf of Bravox Audio.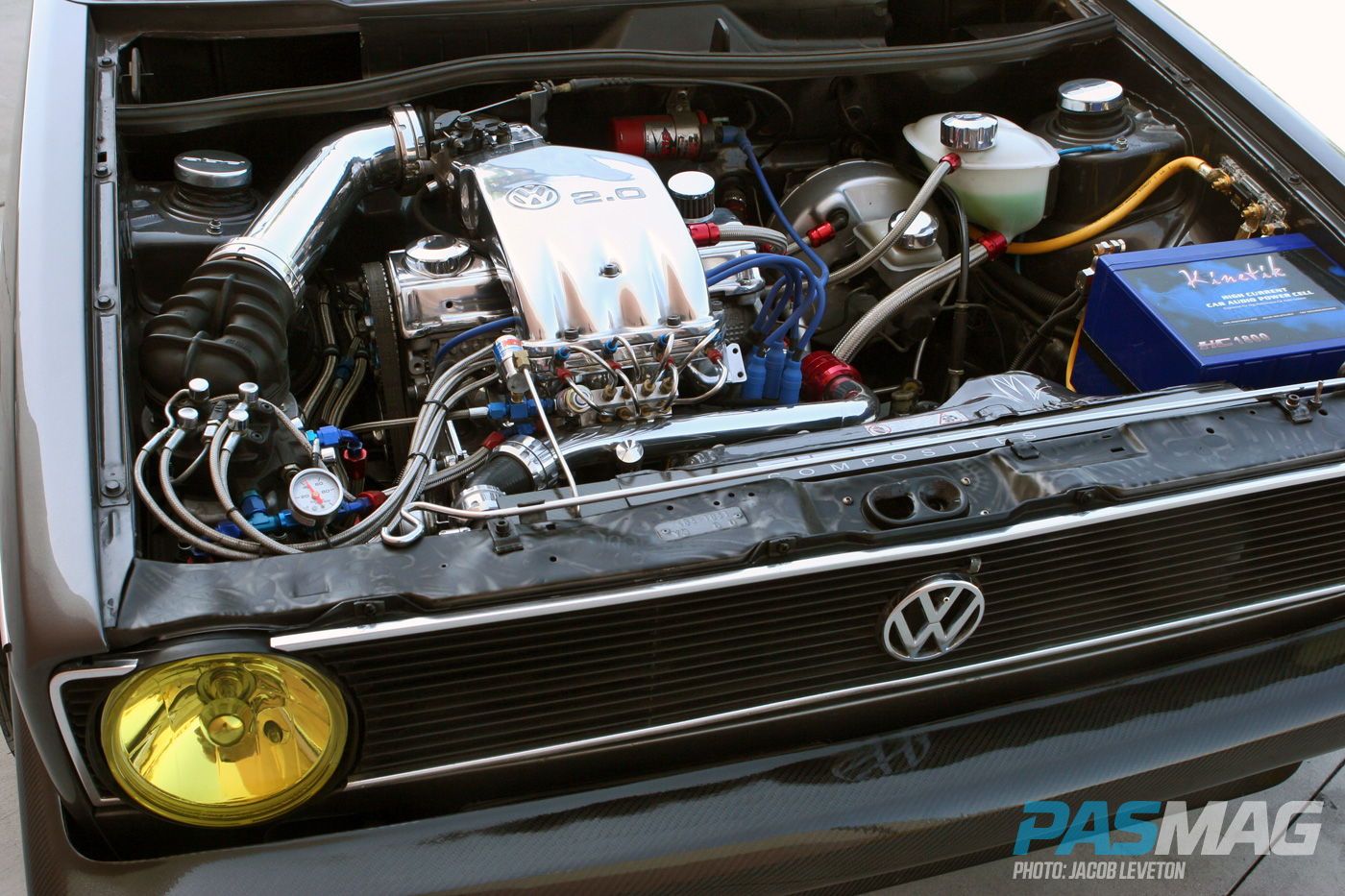 Partnering up with his good friend 'Painter Dave' of Corona, CA, Bailey first focused his efforts on the engine to ensure the aforementioned problem would not happen again. The 2.0L motor was pulled out and torn apart, providing the duo with a clean slate to start the build. The engine's hardware was upgraded, as a crosscut crank, custom rods, JE pistons and rings were stuffed into place.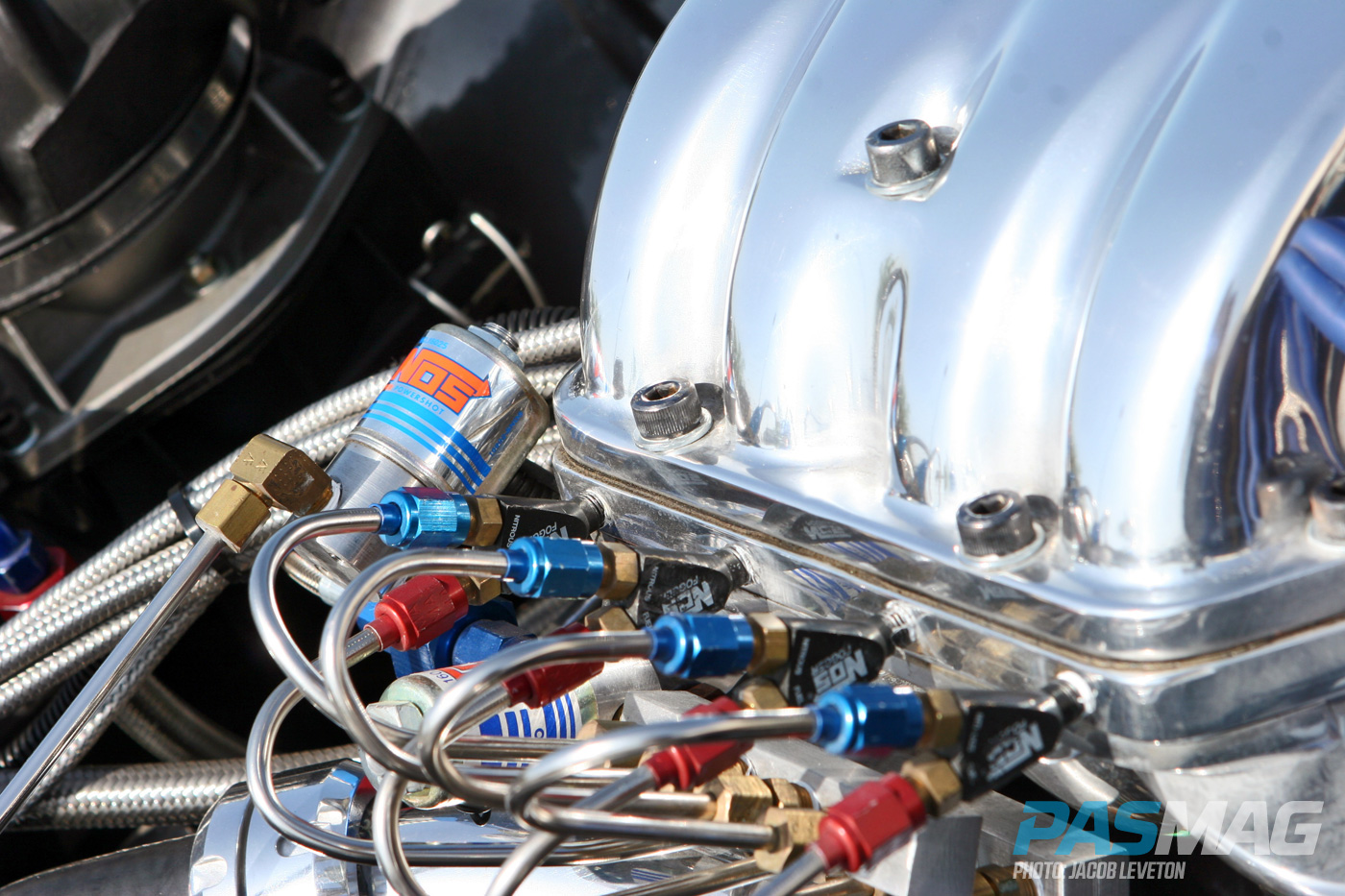 The engine was ported and polished, while a Schrick 268° camshaft and Autogear adjustable cam gear were slipped in up top. With a slew of additional mods in place, including an upgraded intake and exhaust aiding airflow, and a high-flow fuel pump and rail feeding the motor, Bailey's Rabbit is producing a reliable and dyno-proven 268 horses at the wheels.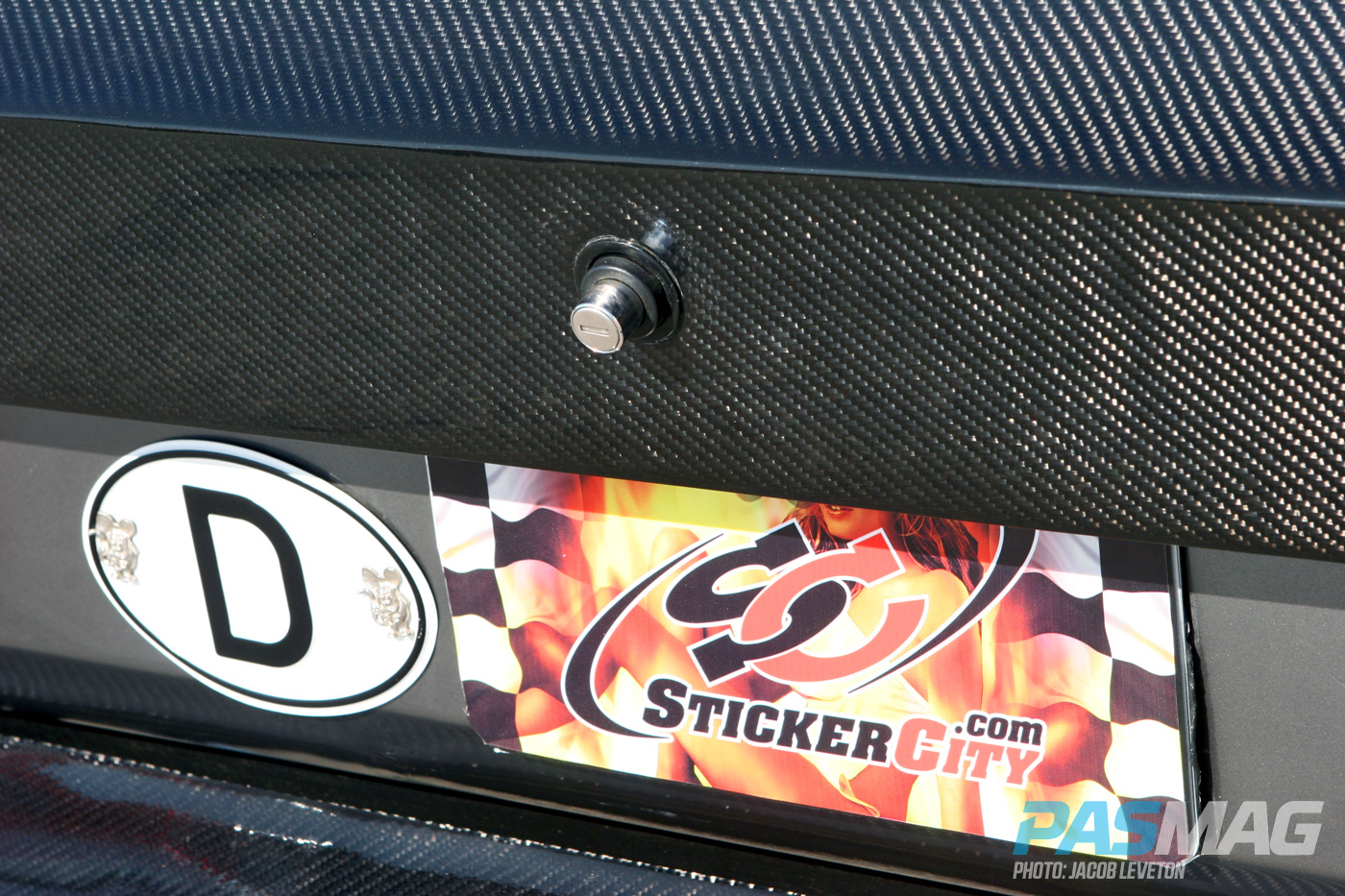 With its heart problems out of the way, it was time to nip-and-tuck Bailey's bad boy into shape. This came quite easy, thanks to Painter Dave's obvious skills and a heavy dose of carbon fiber.
What was once Bailey's hunk of primer and miss-matching body panels was treated to carbon fiber fender flares, new front and rear bumpers and several coats of PPG paint. A new set of headlights and taillights were added, along with a fresh set of window seals and a touch of custom airbrushing.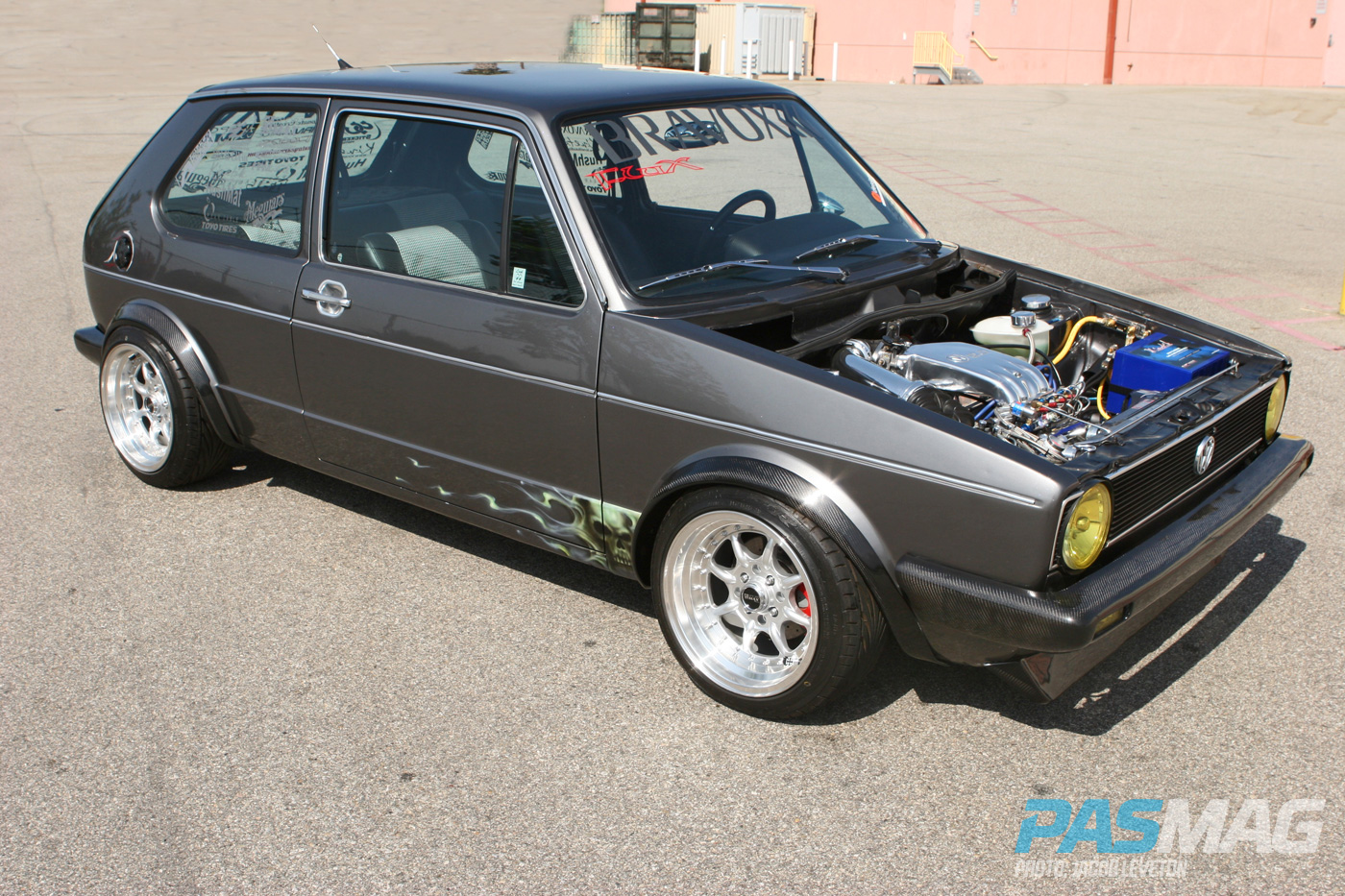 By the time Painter Dave's work was done, Bailey's Rabbit pulled a transformation the likes of which we haven't seen since Optimus Prime. Down below, this old school 'dub sits on a set of lightweight 15-inch SportMax rims wrapped in sticky Toyo rubber. Bringing the high-powered hatch to a halt is a complete JBT brake upgrade, as four-piston calipers, 11-inch rotors and braided lines have been installed at all four corners.
To add some new-school flavor, Bailey commissioned Painter Dave to fabricate its one-off air suspension system which features bags in front and struts in the rear. Various braces and bars from EuroSport fortify the chassis underneath, as does the set of polyurethane bushings that replaced the almost three-decade-old factory ones.
Inside, Bailey went the automotive-extreme-makeover route, updating the cabin with a MOMO tri-spoke wheel and shift knob. Following the car's exterior theme, the stock dash was wrapped in carbon fiber to help bring it back to life. An army of AutoMeter gauges helps Bailey keep tabs on his Cross Flow 2.0L motor setup, which are housed in a carbon fiber pod.
To help out on the acoustic side, Bailey contacted the good people at Bravox Audio for their support. A pair of Bravox BVX12d-4 12-inch subwoofers flanks the airbrushed NOS bottle that resides in the trunk. A set of three-way Bravox CS603CF component speakers can be found in the carbon fiber door panels, providing Bailey with crystal clear mids and highs.
Power comes via a pair of Arc Audio SE Series amplifiers, with a 2300 pushing the low-end and a 2150 handling the mids and highs. Comice goodies like silver interconnects, speaker and power cables from Pear Cable and Scosche distribution blocks and capacitor ensure that power flows freely throughout the system. A pair of Kinetik HC1400 batteries provides the juice for the entire setup, as one is kept under the hood and another sits in the trunk.
At an appearance at the 2007 CES event in Las Vegas for Bravox Audio, Bailey's VW Rabbit has been picking up awards at events like Hot Import Nights, NOPI, Dub Wars and other various shows in the Southern California area. Congrats go to the entire build team, including Bravox Audio, Vintage Rubber, Autogear, Toyo Tire, SportMax, JBT Brakes, EuroSport, Arc Audio, Pear Cable, StickerCity, Hushmat, Kinetik, Rods Custom, Ruiz Grafix and Firmware. A special thanks to Painter Dave for the countless hours he's contributed to the build. After three years of building, Bailey prepares to bid farewell to his Rabbit at the end of the season. Try to catch this vintage Rabbit before it's too late, as Bailey promises to be back with a bigger and better vehicle for 2008.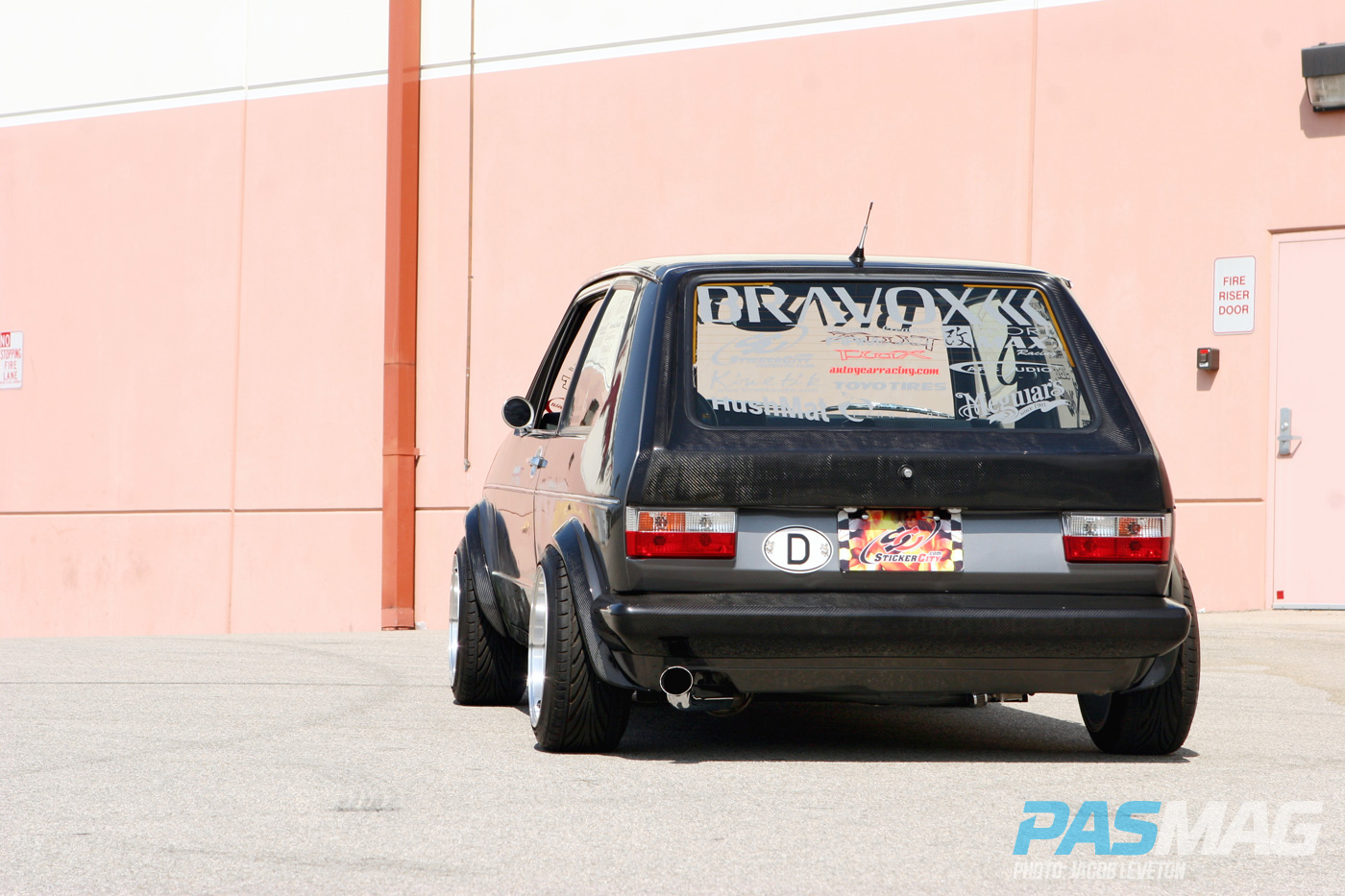 ESSENTIALS // Owner: Mark Bailey, Location: Sylmar, California, Vehicle: 1978 Volkswagen Rabbit
ENGINE & PERFORMANCE // 2.0L Cross Flow motor, Cross Flow Ported and Polished head, Crosscut crankshaft, Custom rods, JE pistons, JE piston rings, Custom head gasket, Schrick camshafts (268 degrees), Autogear adjustable cam gear, Custom piping, Canon air filter, Custom intake, C-Spring exhaust, Custom header, MSD coil and ignition, 8mm spark plug wires, High-pressure fuel rail and pump, 150-shot NOS nitrous system
EXTERIOR // Full carbon fiber fender flares, Carbon fiber Euro front and rear bumpers, Stalk single round grill, Yellow Euro headlights, Clear Euro taillights, Chrome door handles, Carbon fibre gas cap, Shaved marker lights, emblems, window valve and bottom chrome line, Skulls Bio-Mechanical airbrushing (PPG TT with Rainbow Pearl), Vintage Rubber window seals
WHEELS & TIRES // Sportmax 15x8 wheels and Toyo 195/45-15 tires (f/r)
SUSPENSION & BRAKES // JBT big brake upgrade, - Four-piston calipers (11-inch rotors), Braided lines, Custom air suspension by Painter Dave (custom air bag setup f/r, air strut setup (rear), air box bolted to sub-frame, single air pump toggle switches), Euro Sport sway bar, Polyurethane bushings, Lower 16-valve front strut bar, Euro Sport rear strut bar
INTERIOR // Factory dash wrapped in carbon fiber, Custom upholstery (Houndstooth, leather, carbon fiber), MOMO shift knob, MOMO Millennium tri-spoke steering wheel, Auto Meter gauges (oil temperature, water temperature, voltage, air / fuel ratio, tachometer), Custom carbon fiber gauge pod, VW GTI floor mats, Carbon fiber door panels
AUDIO / MULTIMEDIA // Bravox CS603CF 3-way component speakers, Bravox BVX12d-4 12-inch subwoofers (2), Arc Audio SE Series 2300 amplifier, Arc Audio SE Series 2150 amplifier, Audiovox DVD player, Pear Cable throughout (Comice silver interconnects, Comice speaker cable, Comice power cable), Kinetik HC1400 battery (under hood), Kinetik HC1400 battery (in hatch), Scosche distribution blocks Scosche capacitor