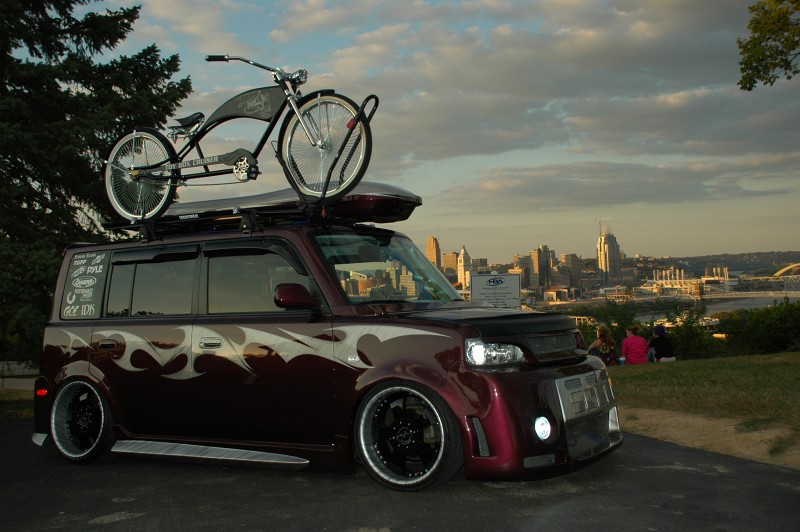 Location: Hebron, KY
Vehicle: 2005 Scion xB
Car Club Affiliation: Team EST, Club xB
Power: 153whp
Website(s): PAS NATION, Club xB, HFD (Hella Fass Dooo), Car Domain, Scion Life,
Facebook: Ben Causby
Myspace: enuf2spare35 / Ben Causby
PASNATION Username (http://pasnation.pasmag.com): enuf2spare35


Engine/Performance Info/Modifications:
Greddy Turbo Charger,
Greddy E-Manage
Greddy BOV,
Greddy Boost Controller.
Greddy Intercooler.
Polished aluminum intake manifold
Custom Ram Air Intake
Crower Rods
CP Pistons 9:5 to 1 Comp Ratio.
Catch Can by(PTM).
3 Angle valve job on head.
Ported and Polished head.
Engine Balanced and Blueprinted
TC Injectors
Koyo Radiator 
Transmission Oil Cooler.
Scion Pro Stanless Hood Panel, Engine Shroud and 3 piece header Panel.
Randode Engine Bay Light Kit. (White)
Magnaflow all Stainless Steel, Mandrel-Bent, Cat-Back Exhaust System with Polished Stainless Steel Tip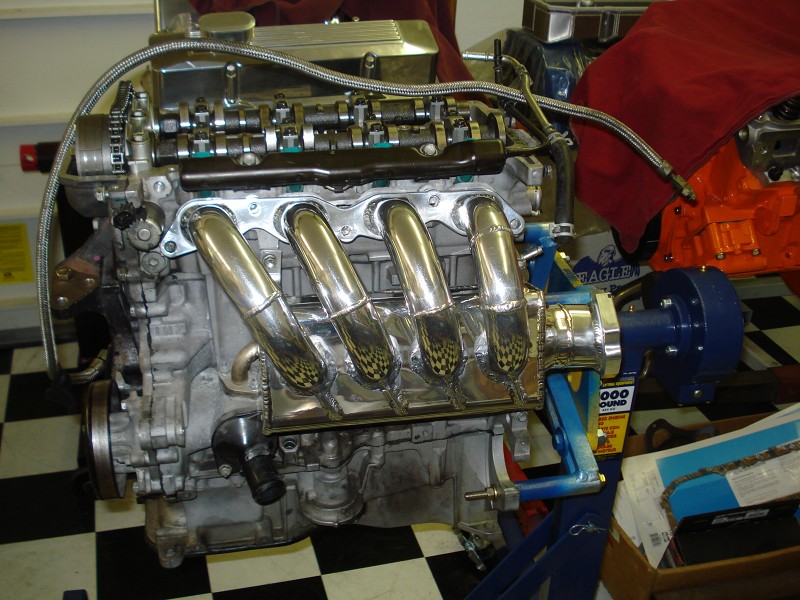 Wheels & Tires Info/Modifications:
Fabulous Profounds 8.5 x 18 Front  and 9.5 x 18 Rear all color matched to xB
Nexen 215/35 R18-Front and 225/35 R18-Rear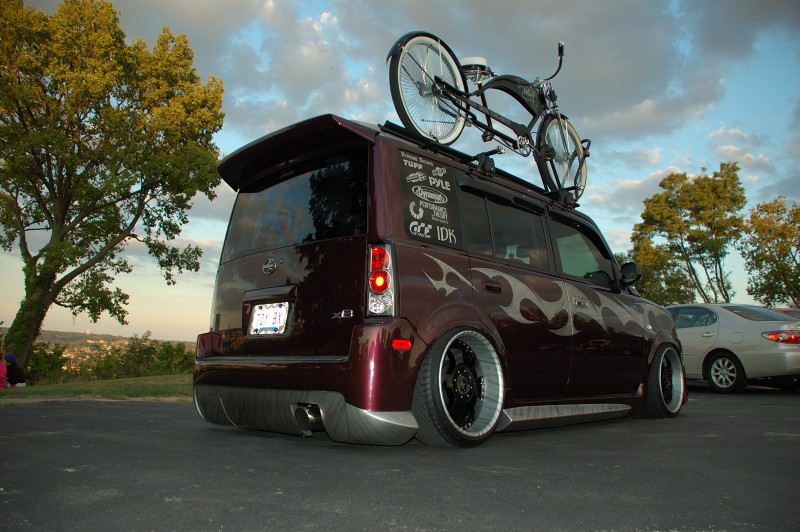 Suspension Info/Modifications:
EastStreet--Digital air management system by Airlift Company
Bagged not Dragged


Exterior Info/Modifications:
Krazy Kustomz Online Tarmac full body kit (one offed the front bumper)
GT Factory Lambo kit on front doors,
GT Factory Angel Door System on rear doors all set for 90 degrees.
Firesports front face finisher/grill
FAB hood bonnet
FAB Rear Spoiler
INNO/Kenstyle Cargo carrier
Yakima roof rack
Custom cut vents in factory hood
Angel Eye Styled projection headlights outlined with oznium side emitting LED lights
TYC upgraded Rear tail lights.
ESAM vent visors all windows,
Custom Rear Bumper Applique,
Window Tint.
The Neon Edge Underbody UFO lightkit
HFD sticker
Custom toast from Teresa/slothead from club xB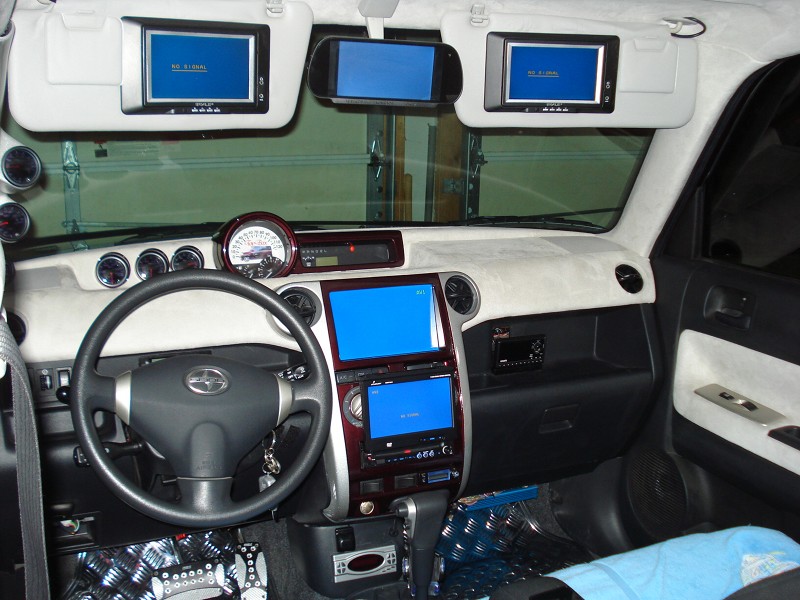 Interior Info/Modifications:
Custom Speedo Face with picture of xB
6 Glow shift gauges 3 in piller pod 3 in dash to the left of Speedo. 1-Boost 2-oil pressure 3-oil temp 4-water temp 5-EGT 6-Volt.
1 Scan gauge 2.
Chromed Carbon fiber styled Diamond plate floor mats
Center armrest,
Cell phone holder with Red leds and sensor for when phone rings,
Curise Control,
Ozinum Blue flexible LED strip interior lighting
Suede inserts on seats with Scion stitched in back rest
Sueded A,B, and C pillars
Sueded headliner
LED multicolor door locks



Audio/Multimedia Info/Modifications:
Pyle view Touch Screen  DVD Player AM/FM TV with Motorized 6.5 Wide TFT LCD Display
2- Pile view 7"Monitors in Sun Visors

1-Pile Rear view mirror monitor and backup camera

4-5.6 Lanzar monitors in front and rear headrests

Sirius Satellite Radio

1-IPOD Video

2-PlayStation2`s

2-16" Pyle view monitors between each set of seats

Pyle-PLVSC44---4 source input /4source selectable output.
Pyle-PLDVMP4--DVD player for rear passengers

Plye universal GPS navagation system

Lanzar mids and Highs

3-Lanzar OTPI 1232D4-12"subs

3-Lanzar OTPI2000D Amps
1-OTPI200X4 for mids and highs

1 Lanzar MODEL# OPTICAP1200
Optidrive 120 Farad 16 Volt Amplifier Style Hybrid Capacitor
DYNAMAT installed


Sponsors:

Dyanmat
The Best sound deadening material there is.
Pyle/Lanzar Audio - www.pyleaudio.com / www.lanzar.com
Great Audio/Video equipment and all around electronics
EazyStreet/AirLift Company
What can I say in a class of there own they'll let ya down Slow and Low
Killerglass
What you see is what you get lol
TUFF-- Hamilton, Oh
Custom Fabrication at it's best. Brandon Installed my Lambo Door Kit- It ain't for ME if it don't go NINTY
Lethal Injection Motorsports-- Alpharetta Ga.
Weapon R
Performance Theory Motorsports--Columbus Ohio
Cruisers Custom Rods, Middletown Ohio
IDK Customs-- Brandon Waddell Hamilton, Oh
Xtreme Sound --Cincinnati, Oh
Oznium.com
GT Factory
turbowax
Nexen Tires
PAS: Any Shout-outs?

I'd Like to give Special Thanks to:
My Beautiful wife who has to put up with me and has stuck by my side, oh and also lets me act like a fool spending money on my xB xoxoxo

I'd Like to take the time to also thank GOD, Family and Friends for helping me through some tough times. I was diagnosed with Prostate Cancer in 2007. I had Surgery in July of 07 and as of now I'm cancer free. When I say Family and Friends I'm including the Scion Community as well as the many Online Car sites I belong too.

I'd also like to thank PAS for taking an interest in doing a feature on my Scion it seens like it gets no respect from the car schene.

Thanks to everyone again from the bottom of my heart.
---
Owner: Sterling Garner
Location: Brantford, Ont.

PASNATION Username (http://pasnation.pasmag.com): WAGNBOI
Vehicle (Year Make Model): 2006 Dodge Chargum
Car Club Affiliation: Addictive Desires
Power: 325hp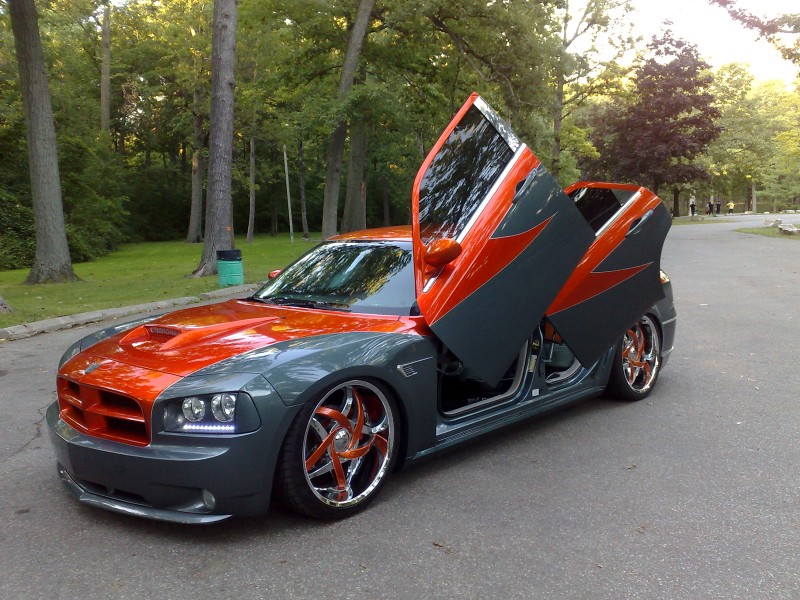 Engine/Performance Info/Modifications: Short Air Ram kit, True Dual Exhaust and Dressed up to finish.
Wheels & Tires Info/Modifications: 22" Colour matched Hipnotic Rims With Custom Pin Stripping.
Suspension Info/Modifications: I had Easy Street Air Ride Kit but just Sold it and bought 2" Lowering Eibach sport kit.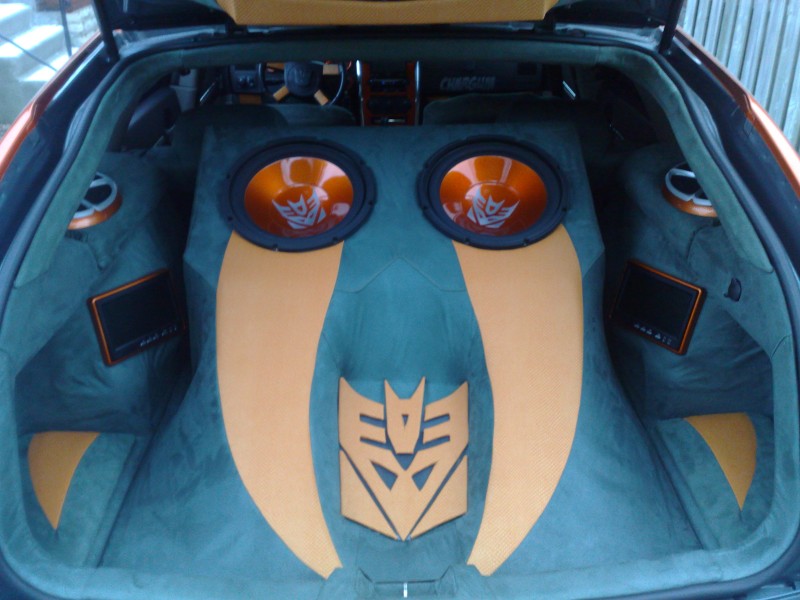 Exterior Info/Modifications: 2 Tone paint, with Candy Psycho Orange. Modified 2007 Dodge Charger Clip, Front air lip, Rear Lip, All 4 door Lambos, Tinted/ colour matched tailights, Colour Matched/ Audi L.E.D Headlights, Hood Scoop and Custom Air Brushing.
Interior Info/Modifications: Custom 2 tone seats and sub box with Green Suede and Orange Snake skin. Also painted Dash Trim.
Audio/Multimedia Info/Modifications: 7" Screen Panasonic Flip out Deck, 3.5" screen in Rearveiw Mirror, 10" Flip Down Screen in Headliner, 5 - 7" Screens n 19" Tv in the hatch.
Sponsors: None just my own pocket!!!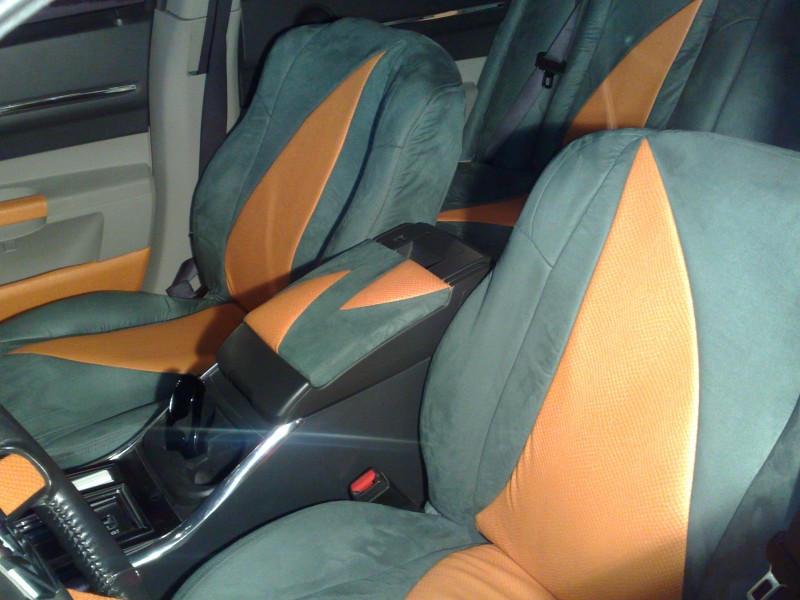 ---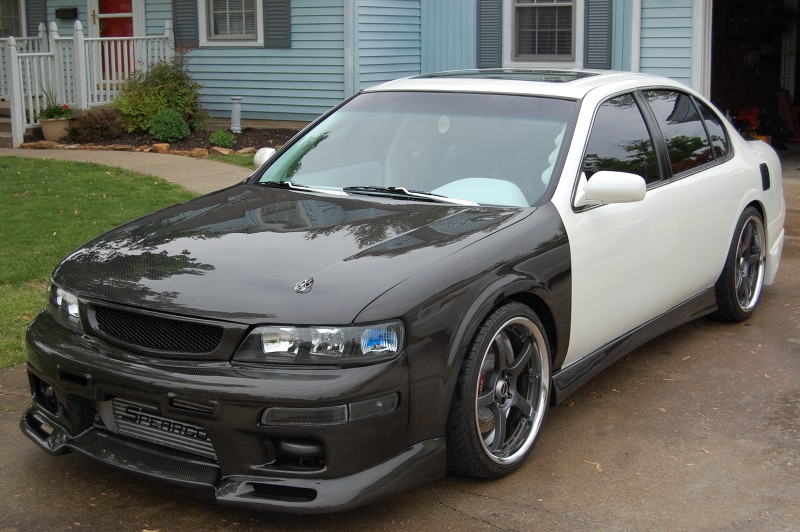 Owner: Brandon Brewer
Location: Madisonville KY

PASNATION Username (http://pasnation.pasmag.com): euromaxima
Vehicle: 1997 Nissan Maxima
Engine/Performance Info/Modifications:
Garrett T3/T04S 70 trim turbo, .82 A/R
Spearco Intercooler (26"x8.5"x3")
Custom turbo and intercooler piping
Nitrous Express single fogger wet nitrous kit.
Greddy boost controller
Tial 38mm wastegate
Greddy Type S BOV (custom painted)
Golden Eagle CNC'd vacuum distribution block
Earl's and Aeroquip SS oil feed and return lines
SARD FPR
Deatschworks 660cc fuel injectors
Custom 3" mandrel bent exhaust. .
3" test pipe
Greddy e-manage w/ injector harness
Pivot "baby" turbo timer
Nitrous Express Purge kit
dynomax superturbo muffler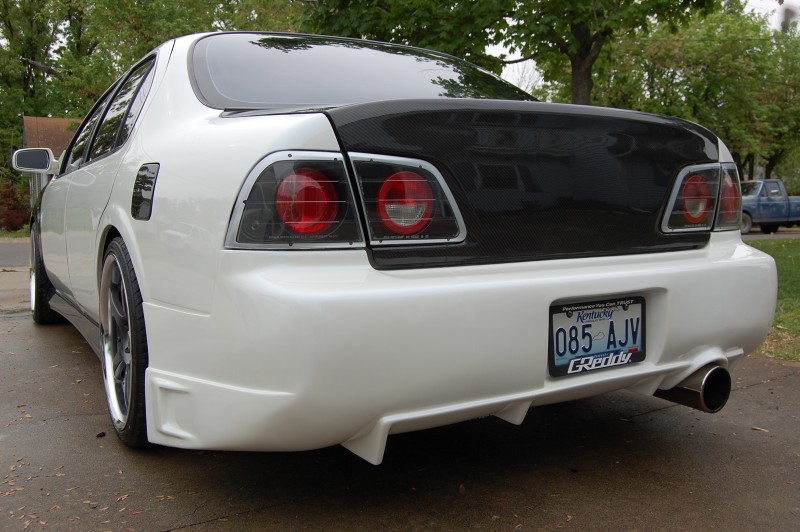 Wheels & Tires Info/Modifications:
G-Games 2 Piece wheels
Nankang 235/35/19 tires
Suspension Info/Modifications:
Ksport coilovers
Strut bar
Exterior Info/Modifications:
Paint Custom White with blue pearl
Carbon fiber Hood with hood pins
Carbon fiber Trunk lid
Shaved door handles and side molding
Carbon fiber skyline front bumper
Skyline rear bumper
Carbon fiber Ionic sideskirts
Flat black Altezza taillights
Diamond Clear bumper lights
Diamond Clear Corners
Carbon fiber wipers
carbon fiber Sarona Grill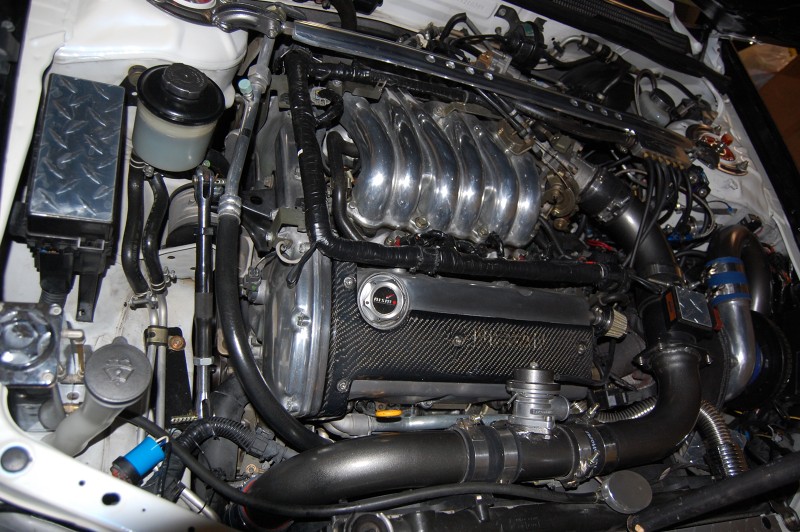 Interior Info/Modifications:
Tekniqauto steering wheel
Pearl white painted dash
Blue and black carbonfiber dash kit
Diamond plate floormats, doorsills, door panels
Kenwood HU
Microvision Screen
Kicker Comp 12
Kicker Amp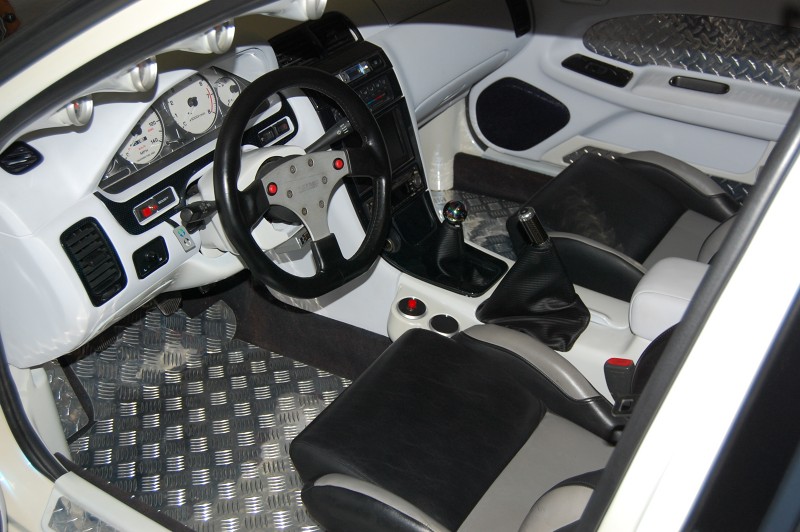 Audio/Multimedia Info/Modifications: Kenwood hu, 7in screen, kicker comp 12
Sponsors: Ionicdynamics.com