Armando Villarreal had already built hisfair share of cars before wining the #TBGLIVE competition at HIN Dallas. Among the extensive list, some highlights would have to be his Eclipse with air suspension and "several audio setups," a motor-swapped Del Sol, a stanced 350Z, and a "Hawkeye" WRX STI.
"I typically get bored of my cars once they look the way I want and seek another project," explains Villarreal. "Hence the reason I've gone through a few cars in the last 10 years"
The build we're here for today is his most recent and one of his most successful: the 2013 Subaru Impreza WRX STI equipped with the Vollkommen widebody kit.
"It was between this body STI or an Evo X," he says. "I went with the STI because the exterior was a bit more aggressive than the Evo, the interior was more tolerable, and I missed my '07 Hawkeye a bit. Once I saw the Vollkommen kit, I knew it had potential and knew I could use it to create the look I wanted."
There was also something else leading his decision to go widebody, or perhaps we should say someone else: RWB's Akira Nakai.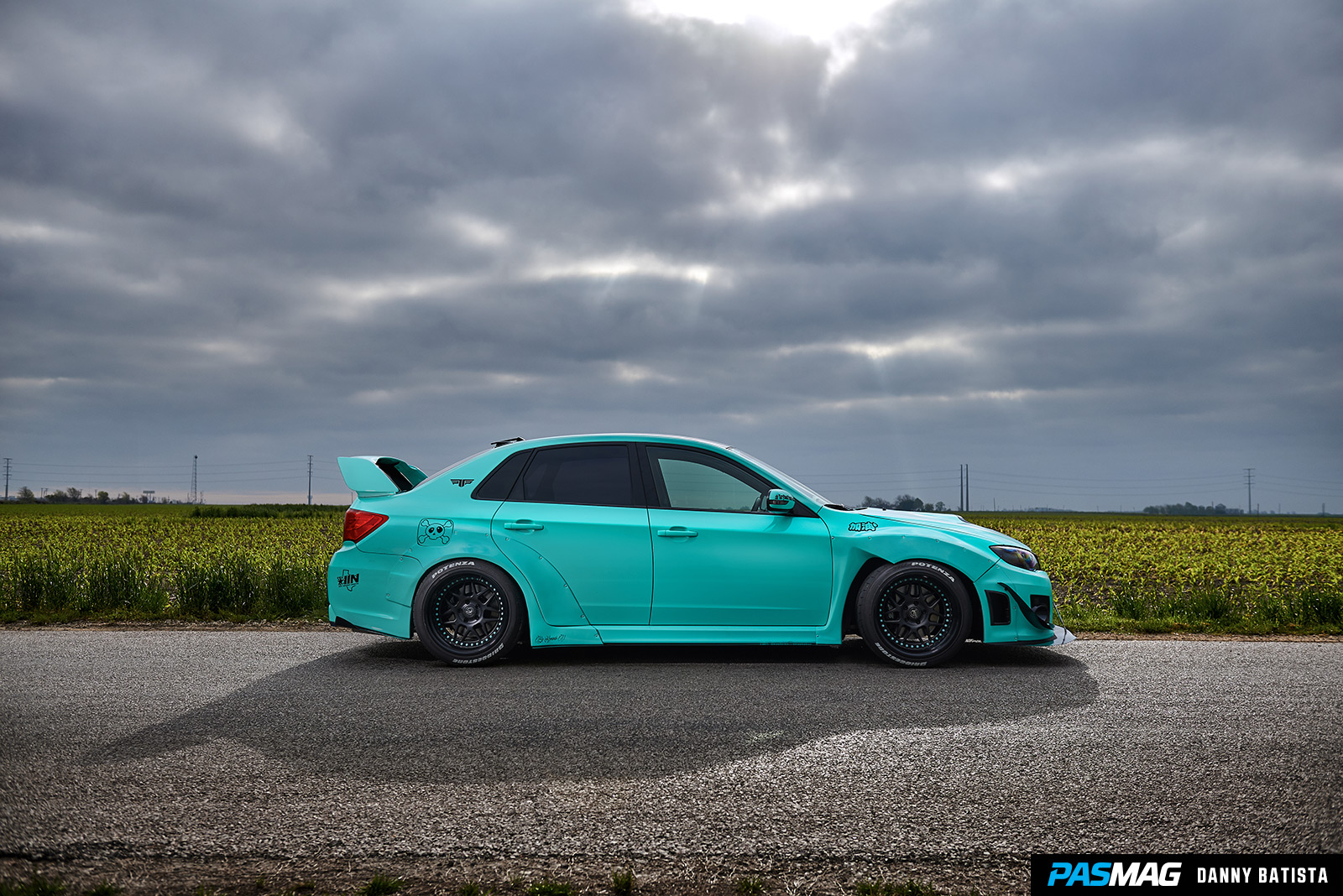 "I've watched him build widebody Porsches on his own and this was my chance to do the same," Villarreal says. "It may not be a Porsche, but I can say I did all of the work. It's something I'm really proud of."
Villarreal has had quite a bit of success with his previous builds, but that doesn't mean he's immune from challenges. The installation of his Vollkommen widebody kit required tons of research, hours of Japanese YouTube videos and picking the brains of several body shop employees. Another challenge was the Tiffany blue wrap, which almost didn't happen due to low stock.
"The morning I was about to order a different color wrap I received emails from the manufacturer and a vendor," Villareal recalls. "This color was meant to happen. Everything seemed to fall in place at just the right time."
Funny enough, his two favorite aspects of the build (the widebody and the wrap) were often the most disputed amongst those around him. That didn't stray him off course though.
"Many people told me not to wrap an entire car in this color," he says. "I also had several people tell me not to go widebody, but it didn't matter what others told me not to do. I built what I wanted."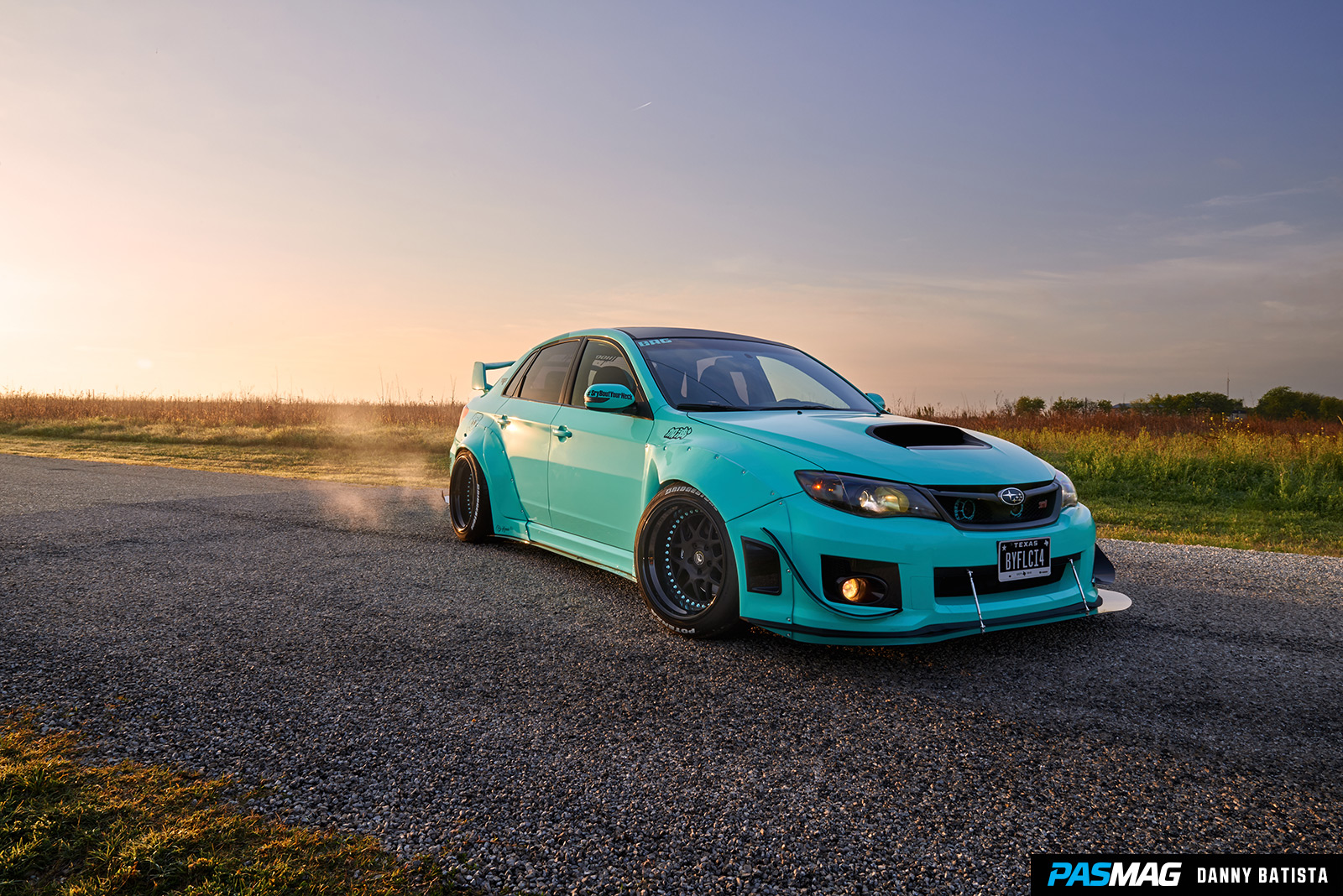 Photography by Danny Batista
---
ESSENTIALS
OWNER: Armando Villarreal
VEHICLE: 2013 Subaru Impreza WRX STI
LOCATION: Hutto, TX
ENGINE: Subaru EJ257 2.5L H-4
HORSEPOWER: 300 hp (estimated)
CLUB: Bone Out Racing Group
#TBGLIVE WINNER | HOT IMPORT NIGHTS (DALLAS, TX)
72% OF THE POPULAR VOTE
http://tunerbattlegrounds.com/standings/2016-hot-import-nights-dallas-texas-standings
@tunerbattlegrounds
@hotimportnights
SOCIAL MEDIA
Instagram: @daku_saido
Photographer: dannybatista
ENGINE & PERFORMANCE
Perrin cold air intake
Forge Motorsports blow-off valve
Cobb Tuning Accessport
PTP Lava T25/T28 turbo blanket
EXHAUST

Invidia (N1 dual cat-back exhaust system, cat-less down-pipe)
WHEELS/TIRES/BRAKES

Forgestar M14.2 - 18x12 (f/r)
Bridgestone Potenza - 295/35 R18 (f/r)
CHASSIS & SUSPENSION

BC Racing coilovers - 16k (f), 14k (r)
EXTERIOR

Vollkommen Design widebody kit
Aeroflow Dynamics (splitter, canards, spats, side extensions)
Tiffany blue vehicle wrap
Custom painted headlights
INTERIOR

AUDIO & MULTIMEDIA

Pioneer AVH04800BS head unit
JL Audio (10-inch W6 subwoofer, sealed enclosure, 500-watt mono amplifier)
---
PHOTO GALLERY