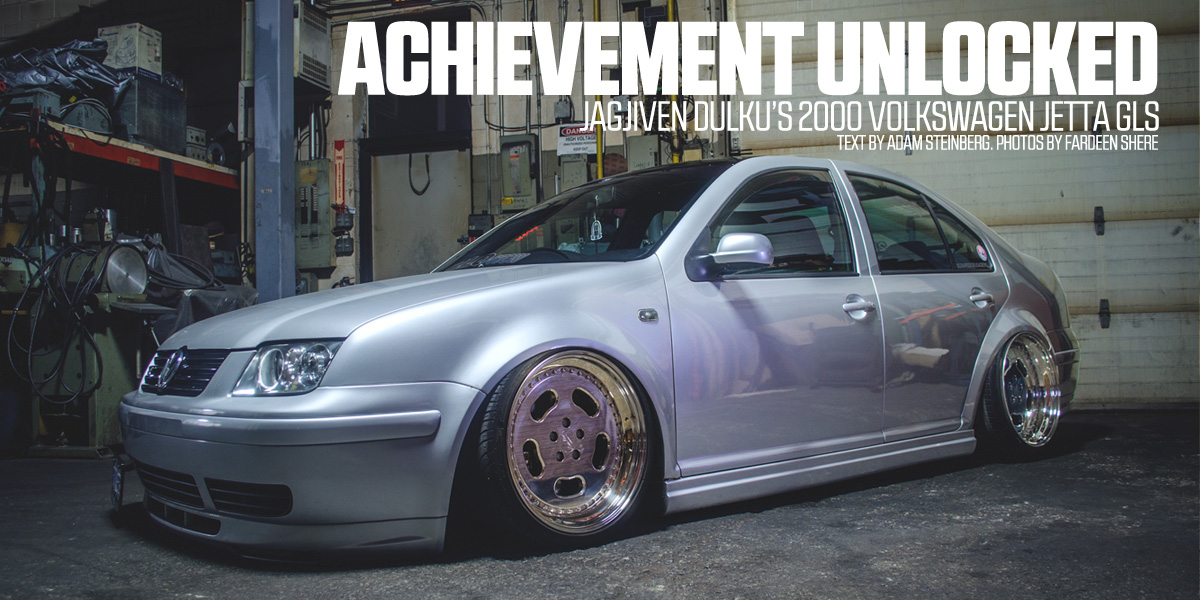 Often times when a person reaches the finish line, achieving a goal they've set out for themselves years in the past, it becomes undoubtedly clear that the path they've taken was not the one originally laid out. No example of this lesson can be more clear than with Jagjiven Dulku and his 2000 Volkswagen Jetta GLS.
Winning nearly a dozen awards, essentially landing in the top three each time, most people would conclude the Jetta was intended to be a show car, but as Dulku explains, that wasn't always the case. It began, simply enough, with a new set of headlights and some fresh taillights, with the real game changer coming in 2011, four years after the initial purchase.
"That September, I left for H2oi in Ocean City, Maryland, with my 2LO Crew," Dulku recalls. "We worked on my car from 10 a.m. until about 11 p.m., went home, showered and then left for Ocean City. It was the craziest road trip! No sleep, exhaustion, but we came back with hardware. I placed at my first official show [with] second Place Jetta Mild."
The 2LO Crew is based in Montreal, Canada, and has helped Dulku with his initial build. This simple bond between car enthusiasts living in neighboring provinces eventually formed into the birth of an Ontario Chapter — known today as Krazyhaus — whose co-founder and co-president is the man you are reading about today.
"The two biggest influences would definitely be Kurt from Krazyhaus and Jujhar from RedBubble Designs. Kurt has helped me push the bar as to what is possible... inspired me to look beyond the typical tuner world and toward the guys who have been doing this far longer than us, such as the hot rod, muscle car and mini truck worlds."
Much of the build has remained OEM at Dulku's desire to preserve the tailored look and feel of the Jetta. He, of course, has made some additional purchases for performance and style, like a Ride Tech E3 Pro air management system and limited edition Carline CM2 wheels.
"The build has always been important, but the motor that has kept me going has been the life lessons and friendships that I have developed along the way," Dulku concludes. "My car clubs have become more than just a group of friends hanging out on a Friday night; they have become the family I chose to have in my life."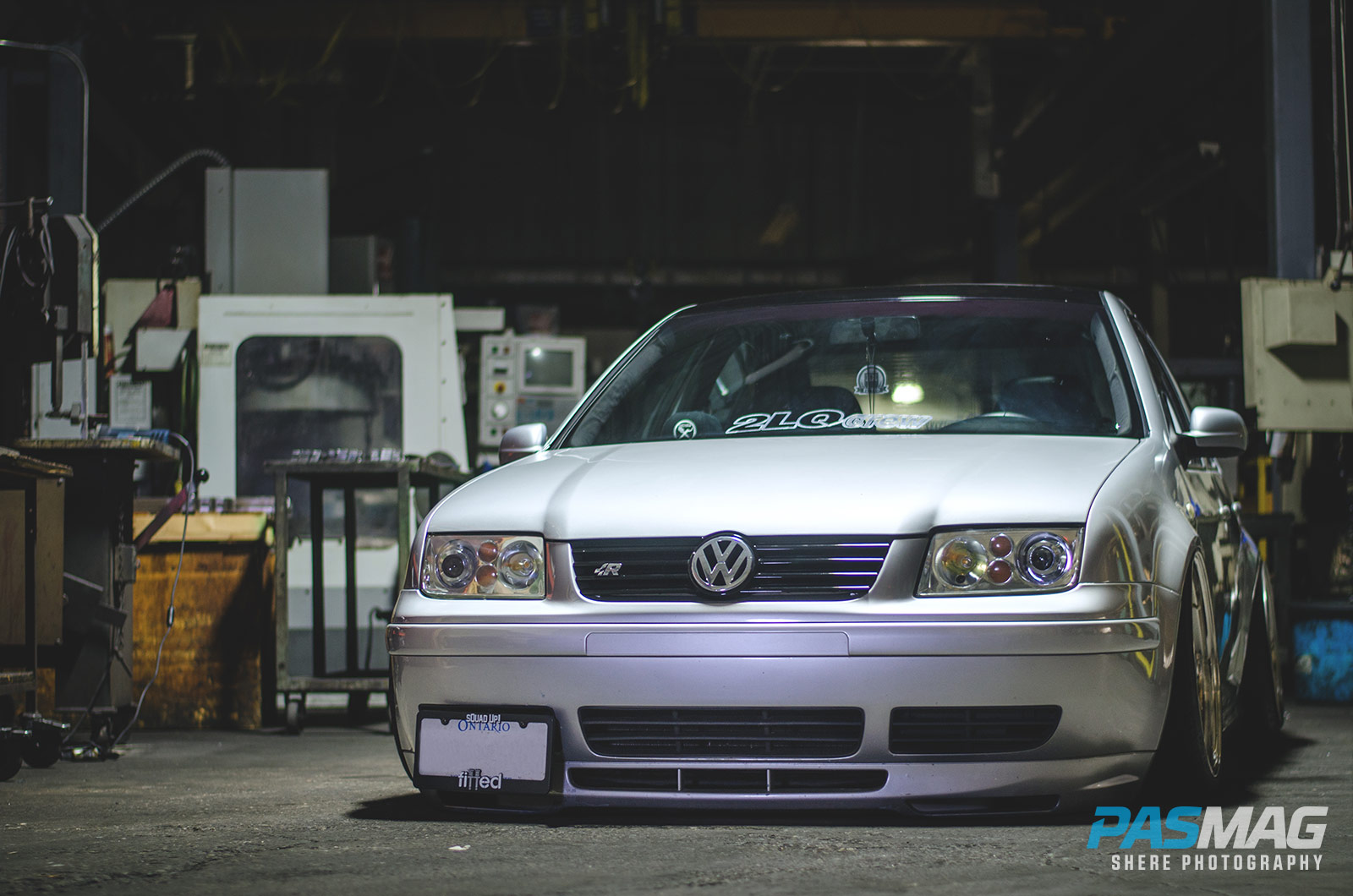 #TBGLIVE WINNER | FITTED LIFESTYLE: OTTAWA, ON
61% OF THE POPULAR VOTE
@tunerbattlegrounds
@fittedlifestyle
ESSENTIALS
LOCATION: Mississauga, Ontario, Canada
CAR CLUB: 2LO Crew/Krazyhaus
ENGINE: Volkswagen VR6 3.2L 24V V6
HORSEPOWER: 250 HP
SOCIAL MEDIA
Owner: @jivendulku
Photographer: @datkidfromto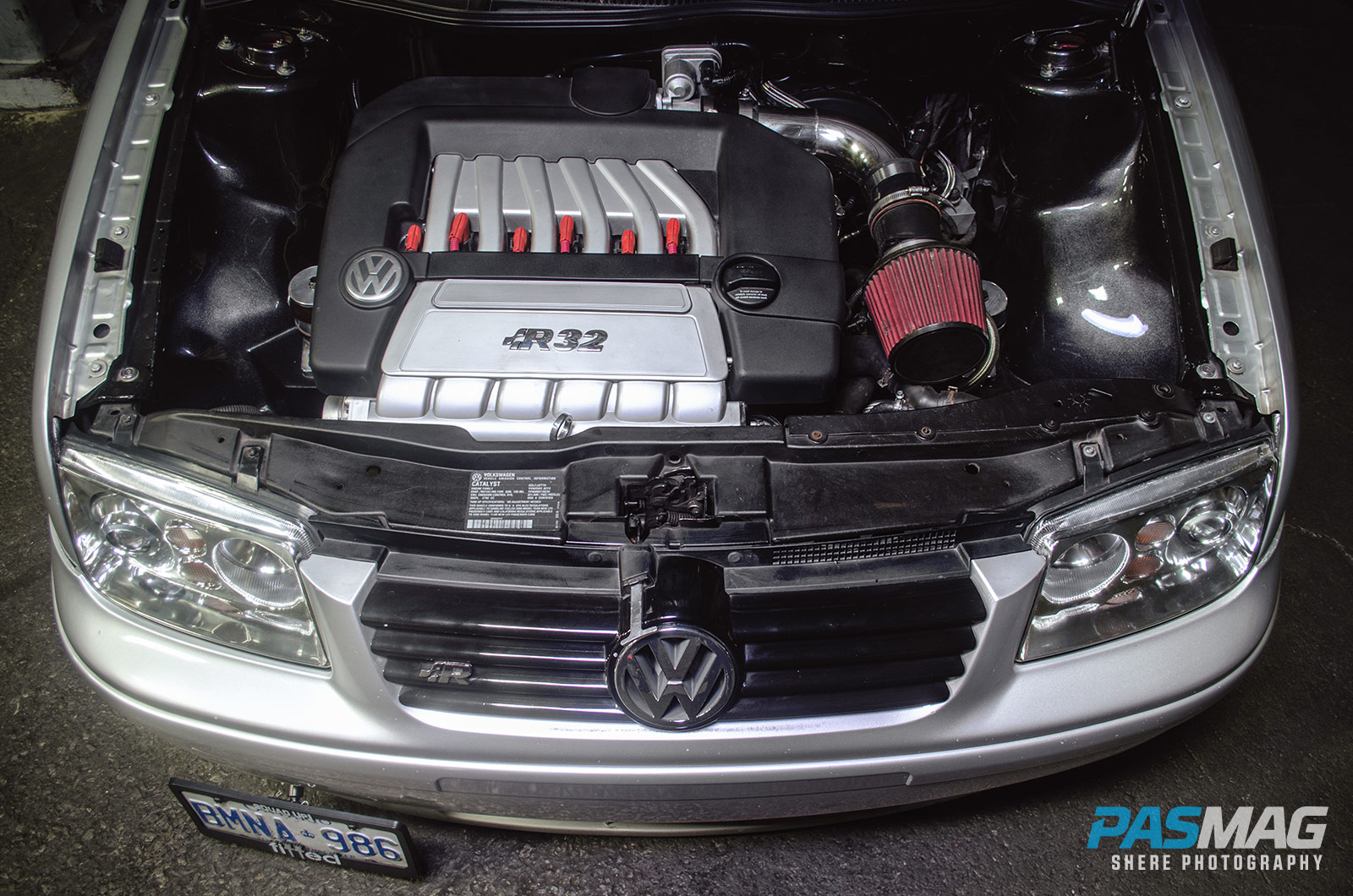 ENGINE
Volswagen 2004 R32 VR6 motor swap
Shaved bay
INA (machined billet water pump pulley, AN heater core conversion fittings)
A/C delete w/ Continental belt
Russell AN fuel and coolant line conversion
Custom (firewall bulkhead plate, intake pipe)
Haggard Fab custom (coolant overflow tank w/ AN ports, brake reservoir tank)
VF-Engineering (polished engine mounts, black bushings)
Gruven Parts oil dipstick
K&N air filter
United Motorsports
Performance swap file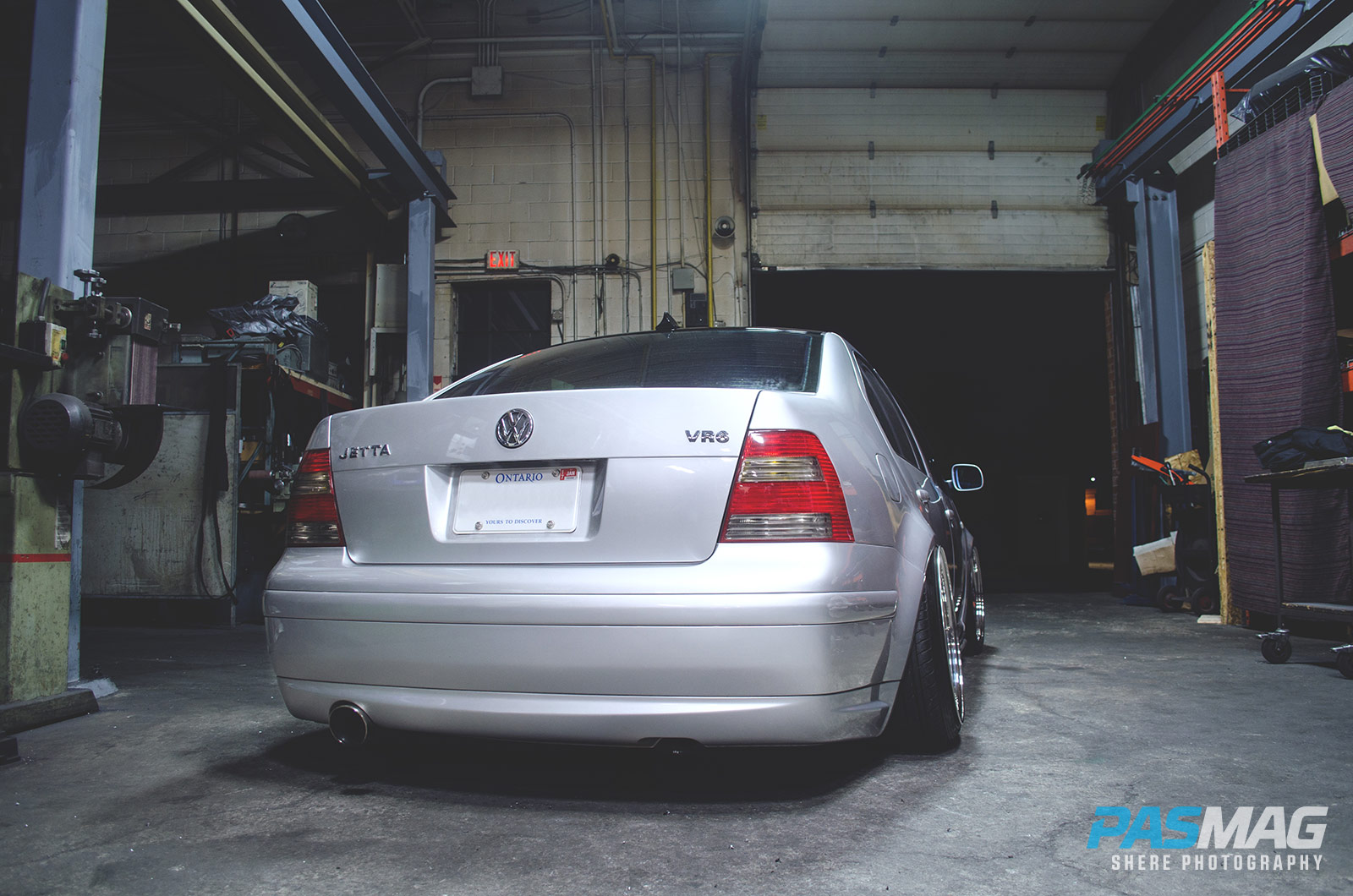 EXHAUST
Techtonics 24V down-pipe
Vibrant high-flow catalytic converter mid-pipe
MagnaFlow (2.5-in. cat-back, single 4-in. polished tip)
DRIVETRAIN
6-speed O2M 24V transmission swap
Quaife limited slip differential
6-puck hybrid ceramic clutch
B&M short shifter
Diesel Geek short shift linkage (polished)
Raxles driveshaft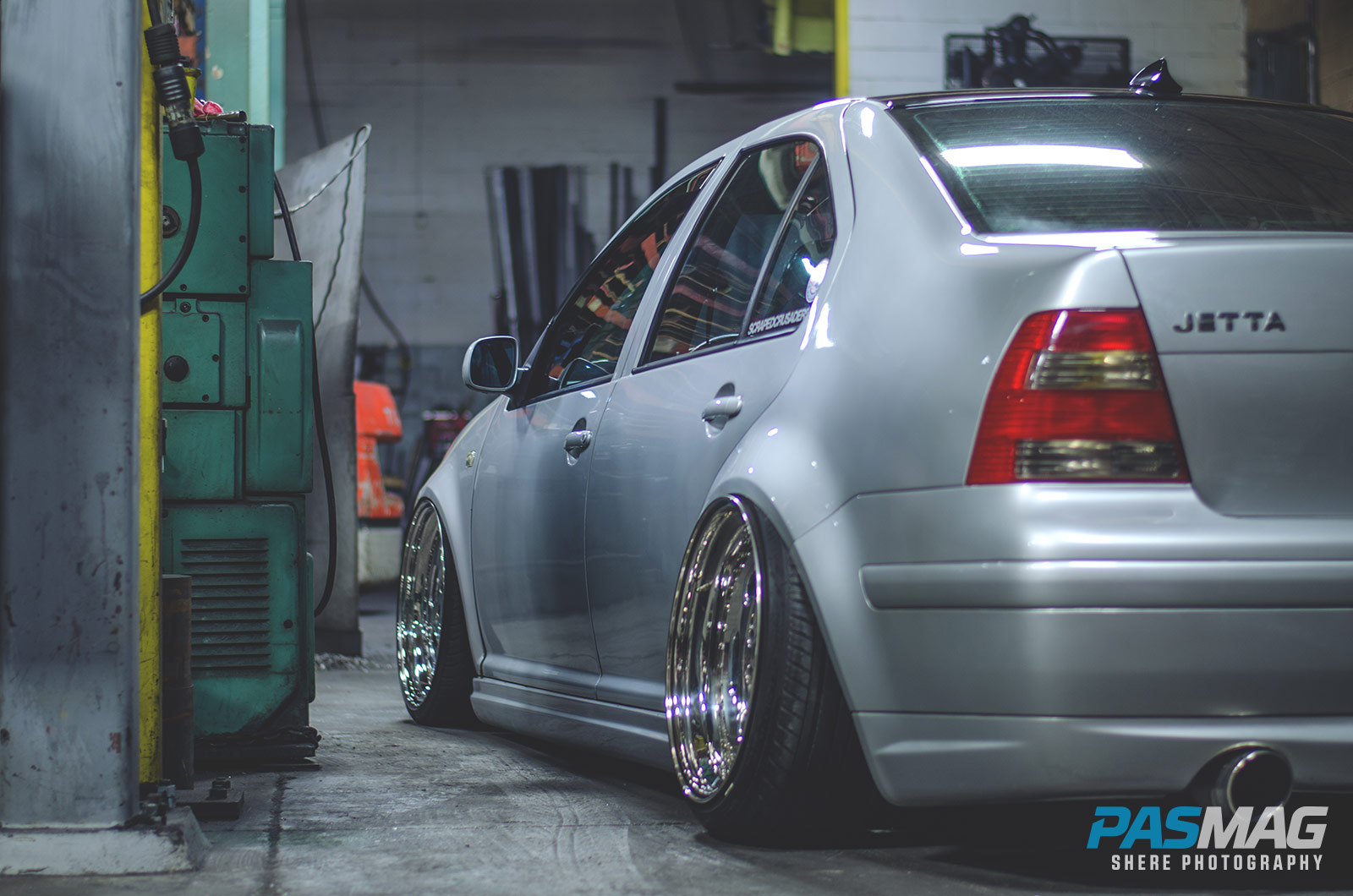 WHEELS / TIRES / BRAKES
Carline CM2 Wheels (mirror polished) - 18x8.5 (f), 18x10 (f)
Nankang NS20 Tires - 215/35-18 (f), 215/40R-18 (r)
RedBubble Designs custom center caps
Radinox stainless steel wheel lips w/ plexi & functional fill valve
Stripping Technologies powder-coated black barrels
Stainless Steel wheel hardware
Schmidt stubby valve stems
Audi TT brake upgrade
Adam's Rotors slotted rotors
ECS stainless brake lines
Hawk Performance brake pads
Custom camber and tow rear correction plates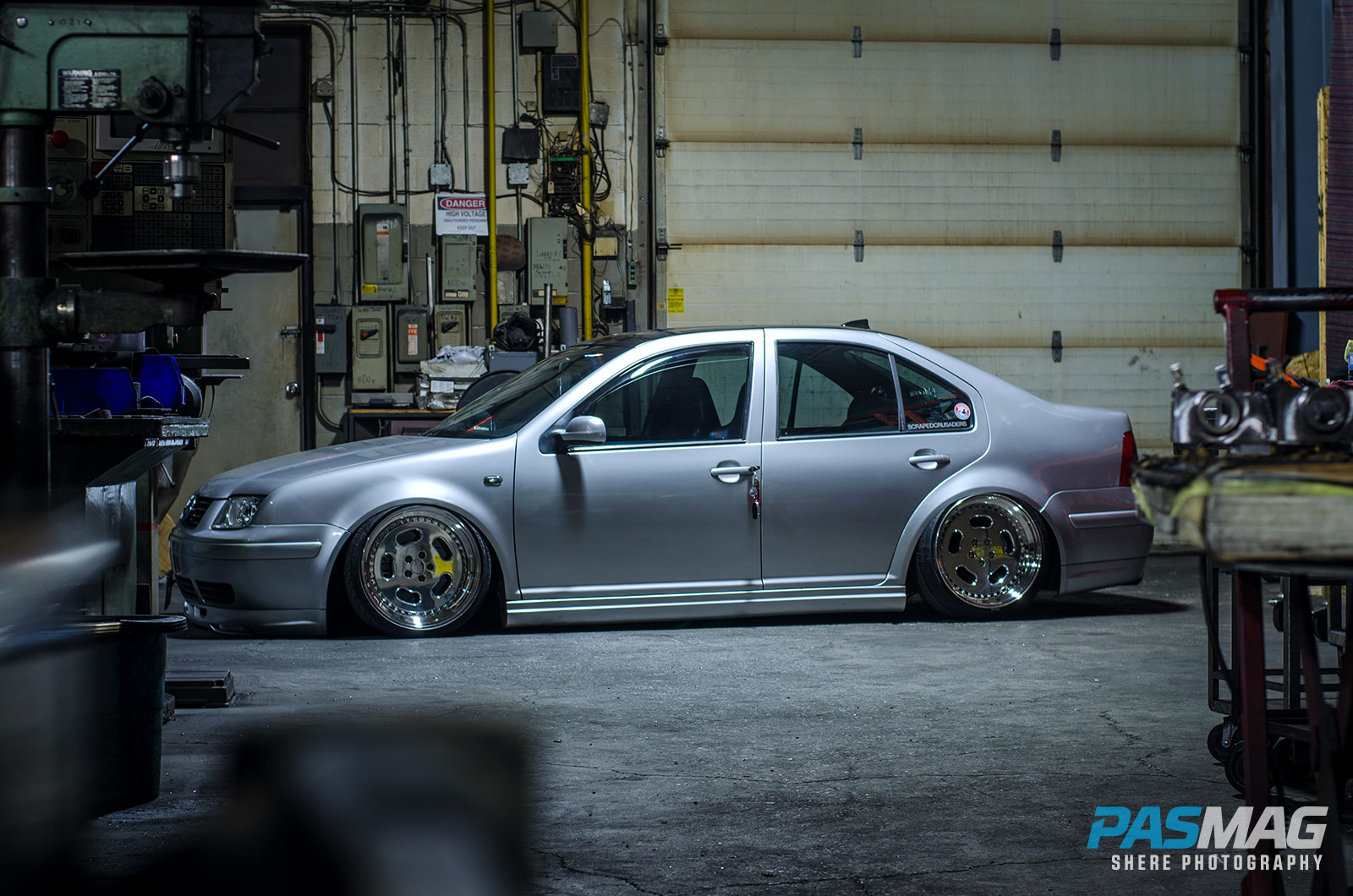 CHASSIS / SUSPENSION
RidePro E3 Management w/ level sensors
Air Zenith OB2 compressor
4-gallon seamless tank (2)
Stainless hardlines
Russell AN (braided airlines, hardline fittings)
AirLift Performance (air struts, camber plates)
Firestone (sleeve bags, AAC brackets)
Koni Yellow sport shocks
IDF tubular control arms
ECS beam relocation plates
Audi TT drop spindles
Frame C-notch
LED accent lights in the trunk
Custom C-pillar bar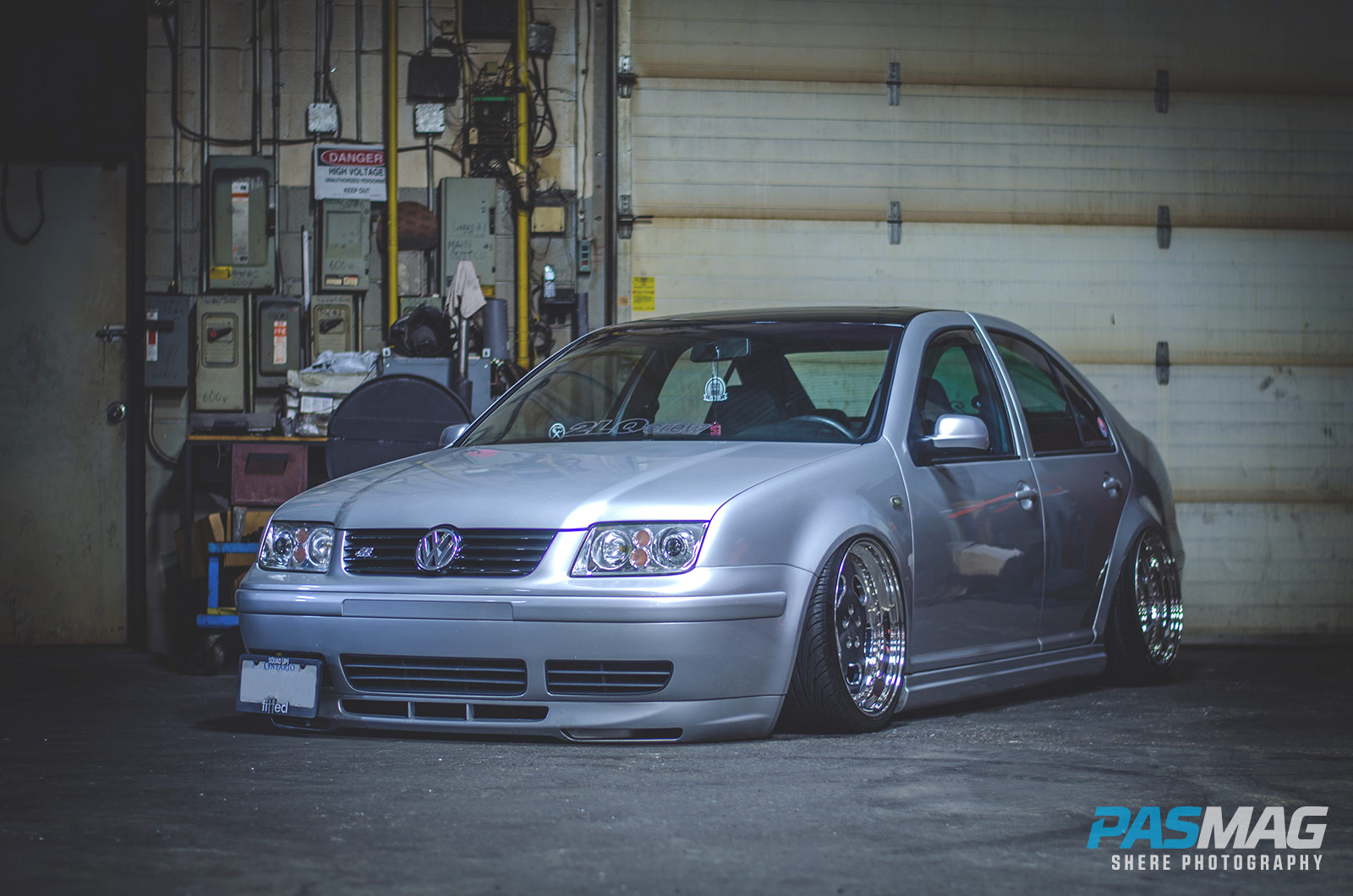 EXTERIOR
Volkswagen (GLI front lip, GLI side skirts, GLI rear valence, polished trunk gas struts, Euro rub strip, black grille, R32 polished hood gas strut)
R/S/R/S taillights
Lexan headlight covers
Smoked crystal headlight markers
Power Japan Bora stubbies
Volx Tuning OE replica glass lens headlights
Morimoto D2S HID system
Shaved and filled door strips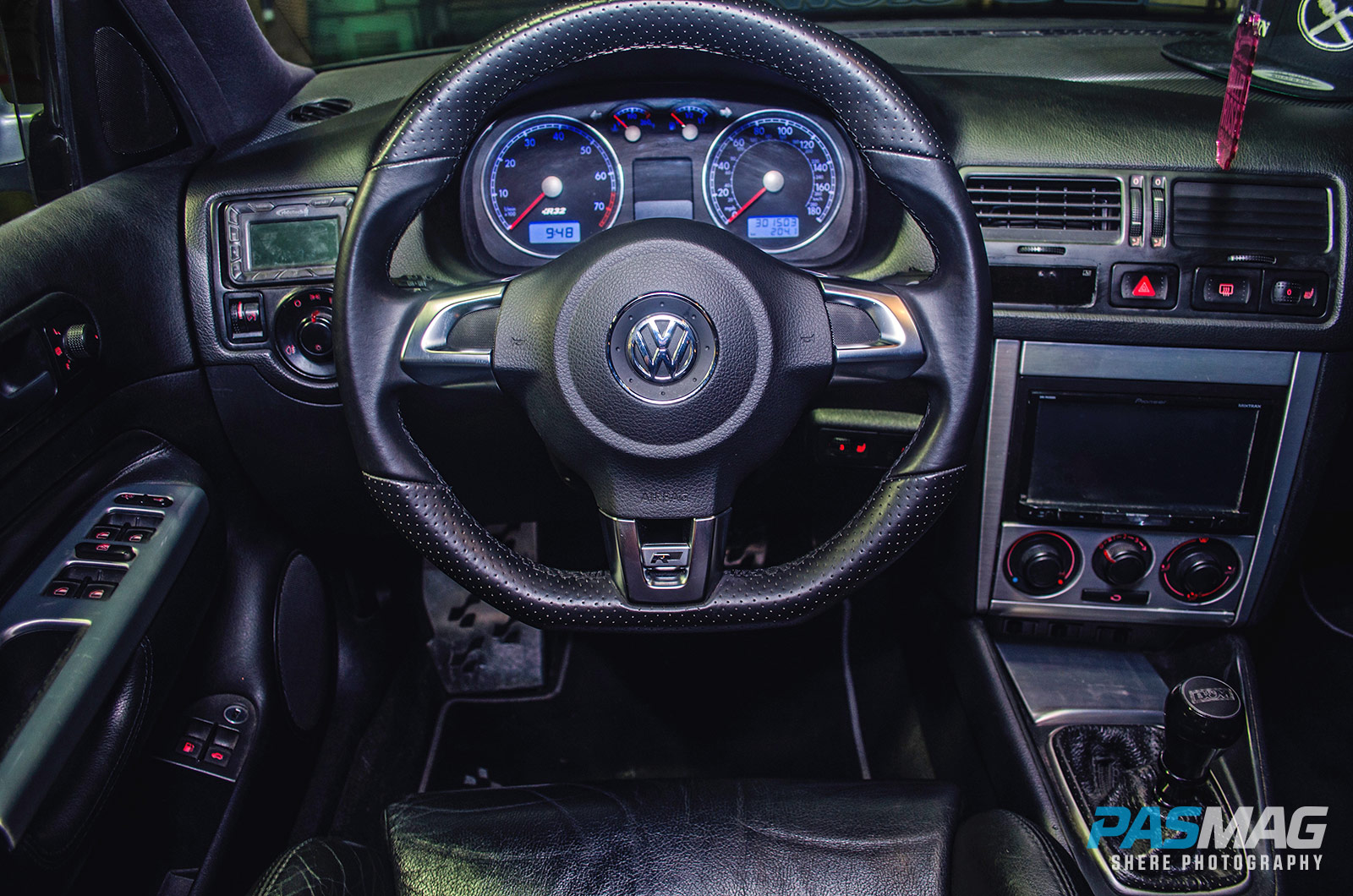 INTERIOR
Volkswagen (GLI headliner, brushed aluminum trim, cup holder delete, center console, Mk6 Euro non-multifunction steering wheel, button relocation kick panel, R32 leather seats, R32 cluster, R-line OEM+ pedal set, R-line carpet mats, VW Anniversary Edition shift boot)
B&M shift knob
Air ride controller vent pod
P3Cars integrated digital interface
Seat Skoda (headlight switch, HVAC controls)
Custom Pearl Black w/ Silver Grain wood floor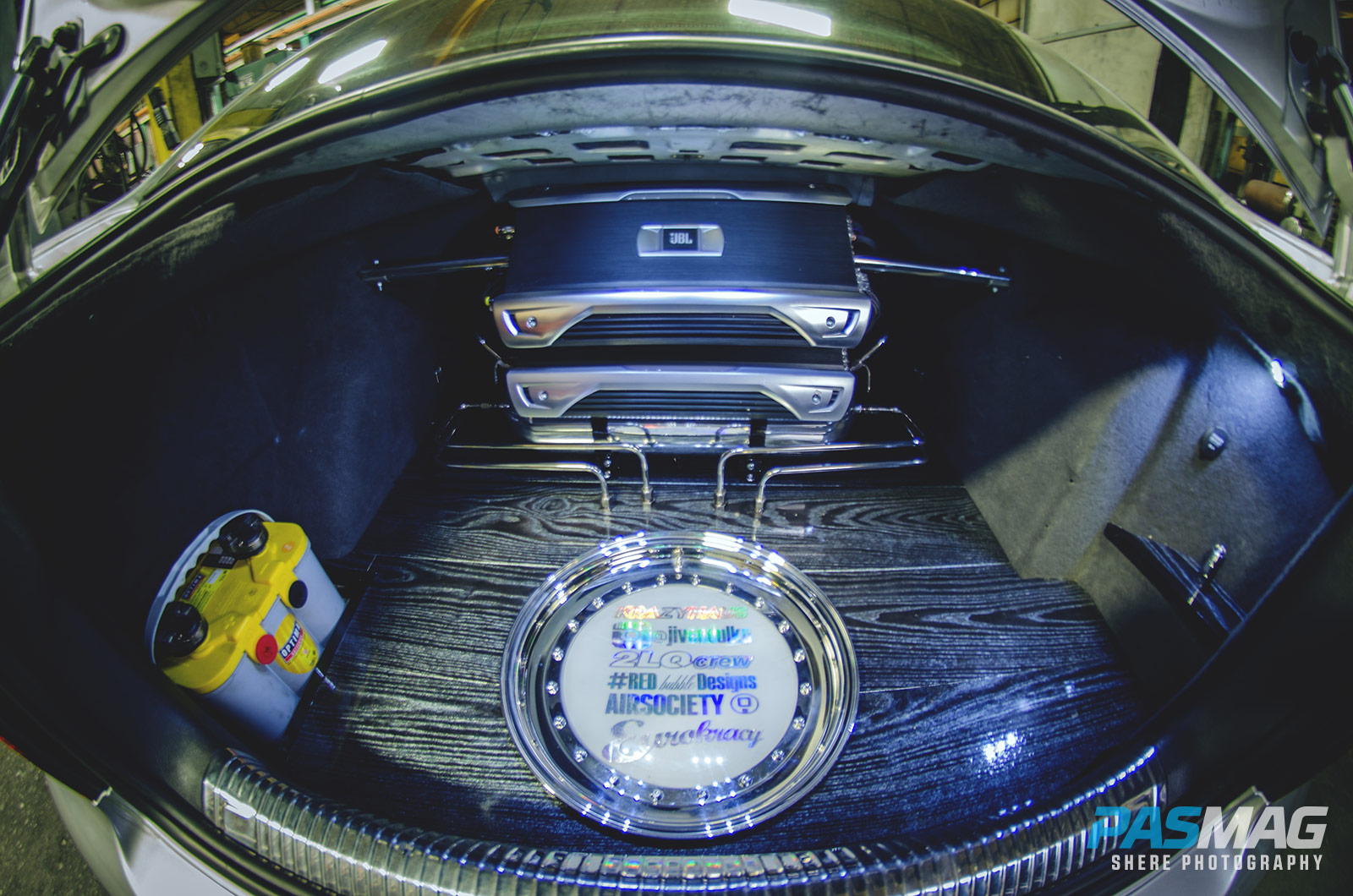 AUDIO / MULTIMEDIA
Pioneer AVH-P8400BH head unit
JBL (1004 4-ch. amp, 14001 mono amp, P660i component speakers (f/r))
Custom-polished tie-bar amp rack
0-gauge wiring
Custom digital coax signal wires
14-gauge speaker wire
Dynamat sound deadening
Viper 5902 alarm
Pioneer slim-line subwoofer
Optima Yellow Top battery
JL Audio battery terminals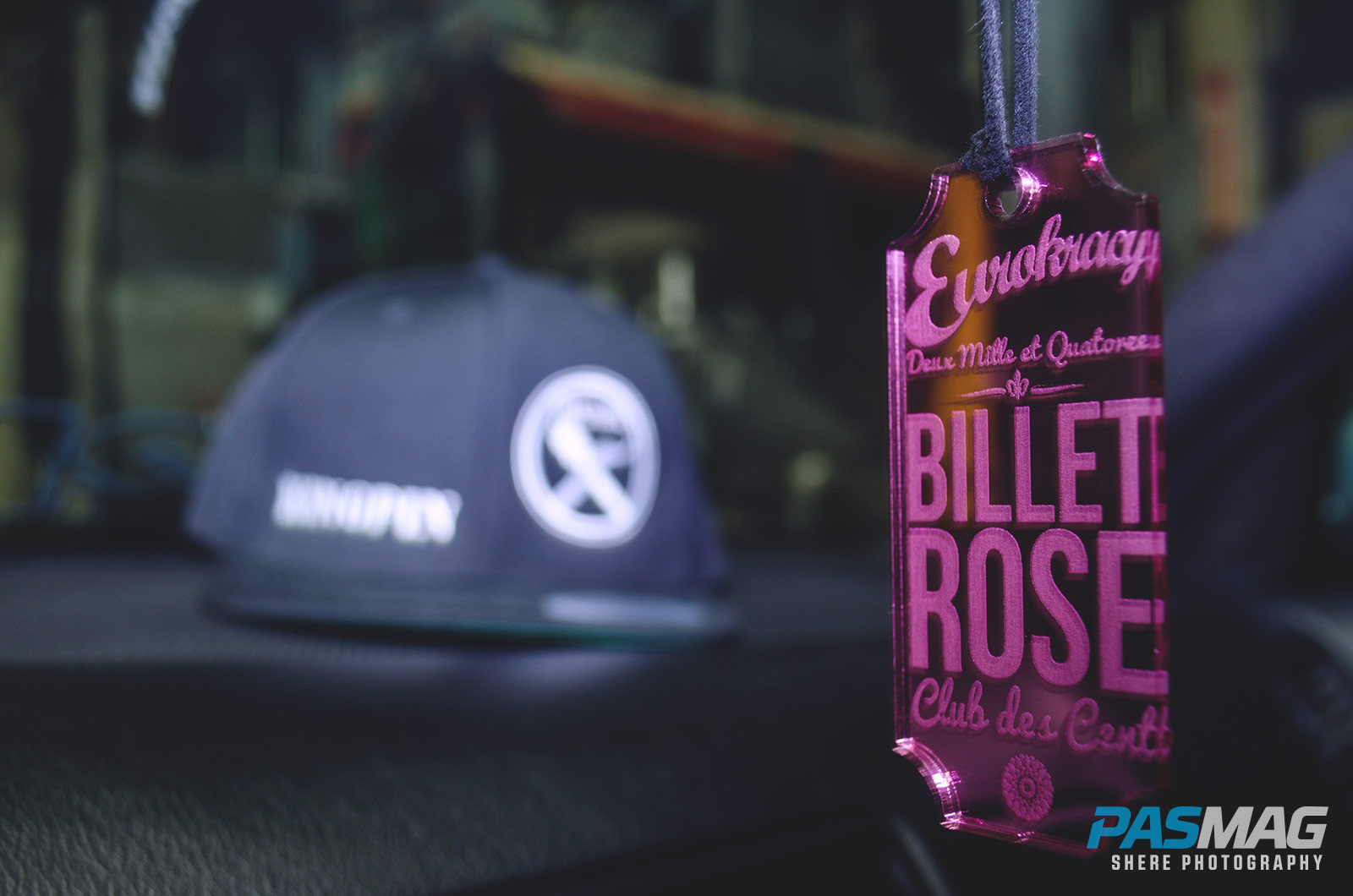 SPONSORS
Krazyhaus
Trackwerks
AirAssisted
Auto Haas
Strasse Autowerks
RedBubble Designs
Big Red Customs
Stance Dubs
Humberview Volkswagen