Photography by Armando Perez
---
A year-long story of disappointment, perseverance and redemption.
Texas resident and nurse, Alma Molina, experienced what could only be described as a genuine automotive nightmare when building her former dream car for SEMA 2014. After working all year and saving up little by little, she purchased a 2014 Chevrolet Silverado. As soon as she signed the papers, the race was on to complete a bonafide show truck for the 2014 SEMA show. Renderings were drafted and sent o to RevTek, and in less than two months the truck began to resemble the vision her and her husband, Carlos, had in mind.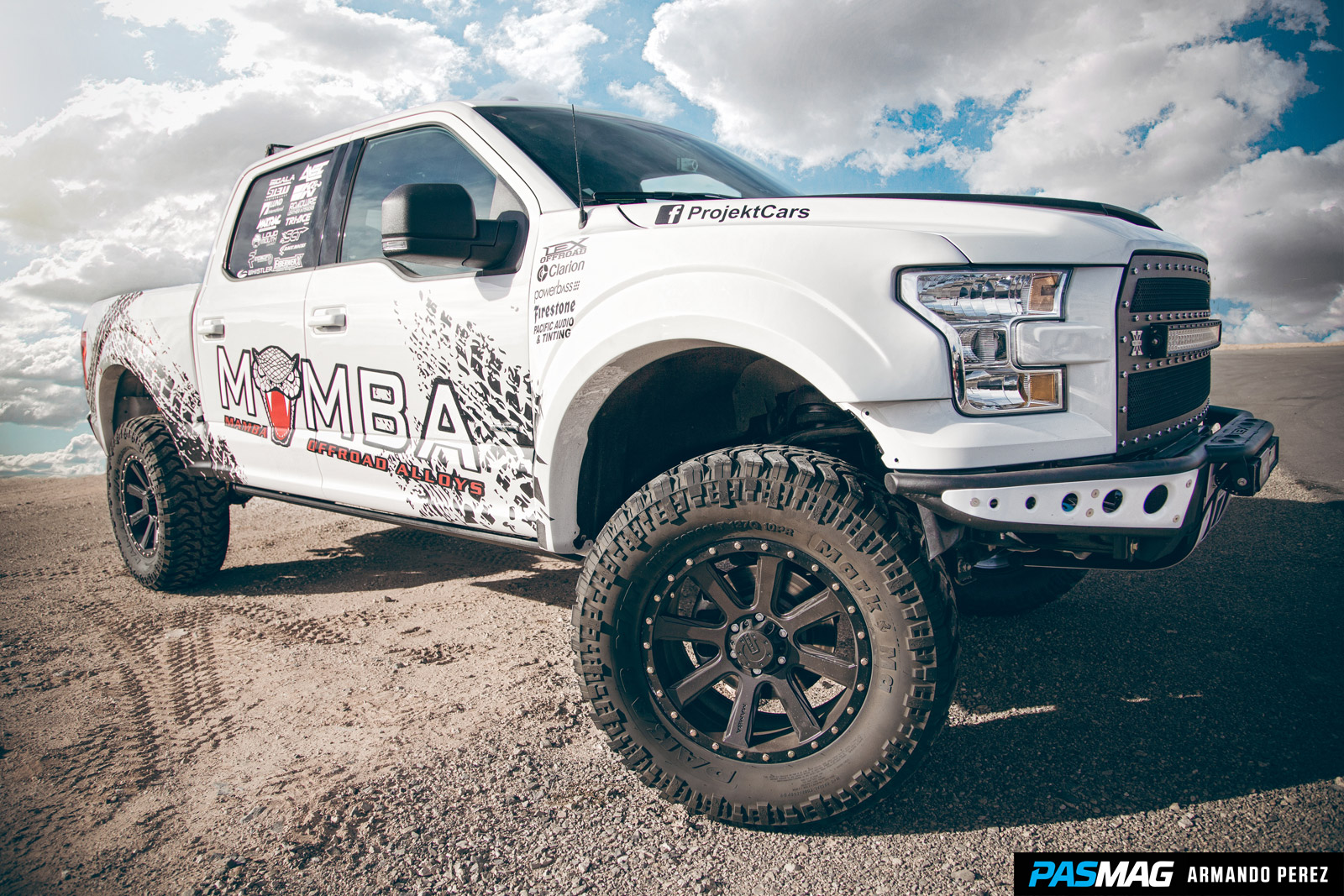 Fiberwerx, an aftermarket innovator out of California, stepped up to the plate with the first ever Baja-styled kit for the new F-150 body, which consisted of a full front fender replacement and bed extensions, drastically changing the truck's profile.
SVT Raptors helped continue the theme with Baja-style front and rear bumpers from LEX Offroad, as well as a custom made bed organizer made to hold two spare 37-inch tires. Air Design USA's tailgate spoiler, applique and hood scoop in combination with AVS' hood shield and lowpro vent visors add some aero aesthetics to the build, while AMP Research lends some practical accessibility to the skyward truck with a bed-step out back and powersteps along the sides. Completing the off-road runner look is a black T-Rex Torch series grille with an integrated LED light bar.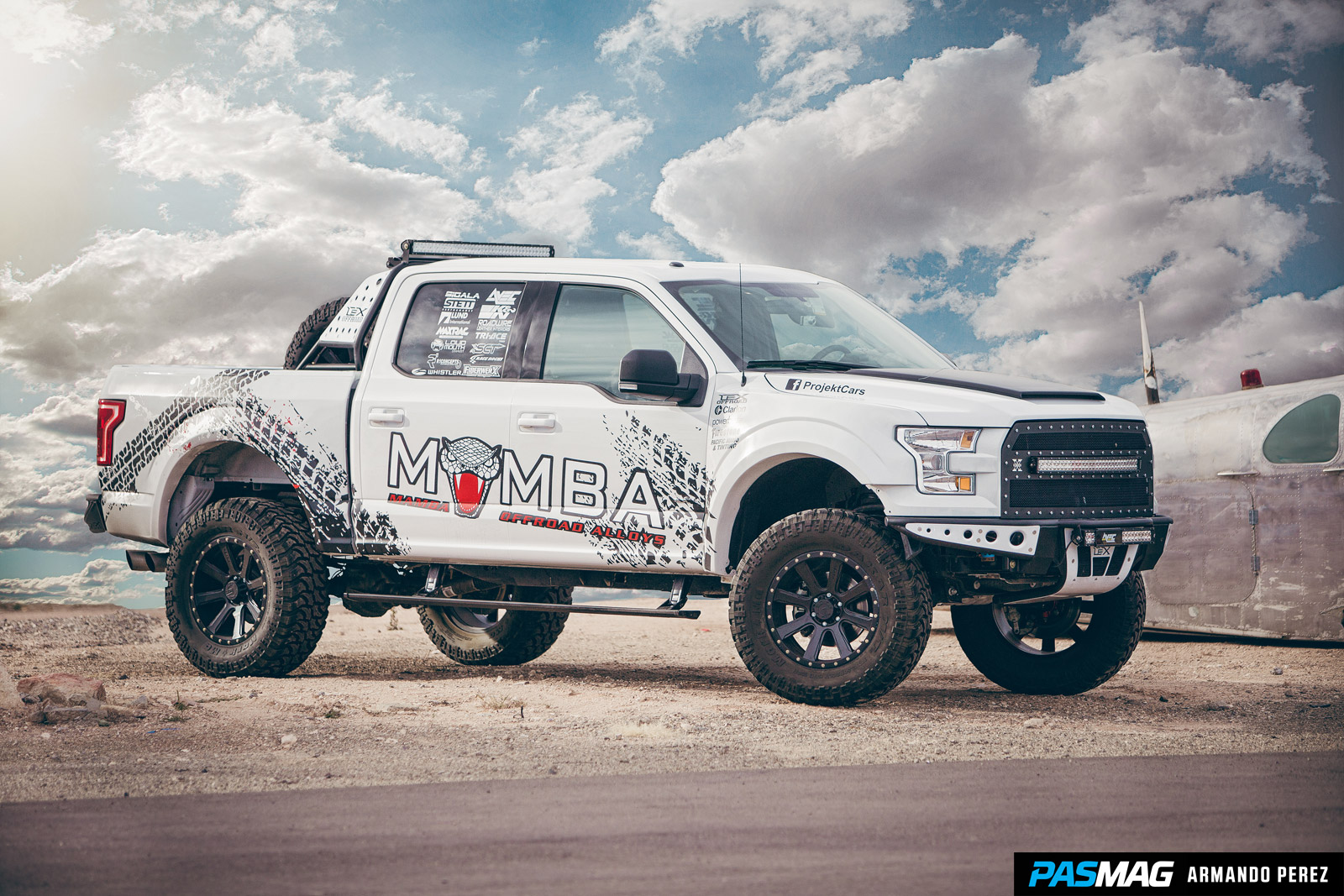 Those 37-inch tires from Tri-Ace are wrapped around an aggressive and purpose-built set of matte black 20-inch Mamba M16 wheels, which hide R1 Concepts brake kits behind them. Of course, fi tting tires as big as those requires some height adjustments as well. Enter MaxTrac suspension, which provides the F-150 with an additional 7.5-inches of lift using only the spindles. To tie the whole look together, Caliber Collision in El Paso was commissioned to give Alma's truck a one-of-a-kind look, complete with tire tracks, Mamba's signature snake head and the Mamba brand name after painting and fitting the new body pieces.
Being a full-blown show truck destined for the SEMA floor, the cabin could not be left alone any more than the exterior could.
Alma intended to continue driving the truck for daily usage once the show was over, so practicality and comfort were important factors in outfitting the interior. Roadwire seats, a popular and comfortable choice for aftermarket truck interiors, were picked out in a beautiful black leather with red accents.
The outfitted Loudmouth exhaust coming from the Stett Performance downpipe may be loud, but the sound system is louder. In order to achieve a ground-pounding, hair-raising volume, the folks at PowerBass USA hooked up enough gear to supply music for an entire festival. Three 12-inch subwoofers, three sets of component/door speakers, and four separate amps are all easily controlled by a touchscreen DVD/navigation head unit supplied by Clarion, complete with back-up camera integration – a perfect choice for the future daily commuter truck.
One year from the devastating decision to end the Silverado project, Alma's F-150 brought her and the Projekt Cars team to the SEMA floor in the Mamba wheels booth, fulfilling her dream and giving her and the builders behind the truck the recognition they undoubtedly deserved. "SEMA 2015 was just the beginning for Projekt Nurse, and we will soon see more upgrades as the industry begins to provide more products for the new F-150 platform," Carlos and Alma write to us, hinting at further development in the near future. Stories like this just go to show that a little perseverance, even under the worst circumstances, can pay off.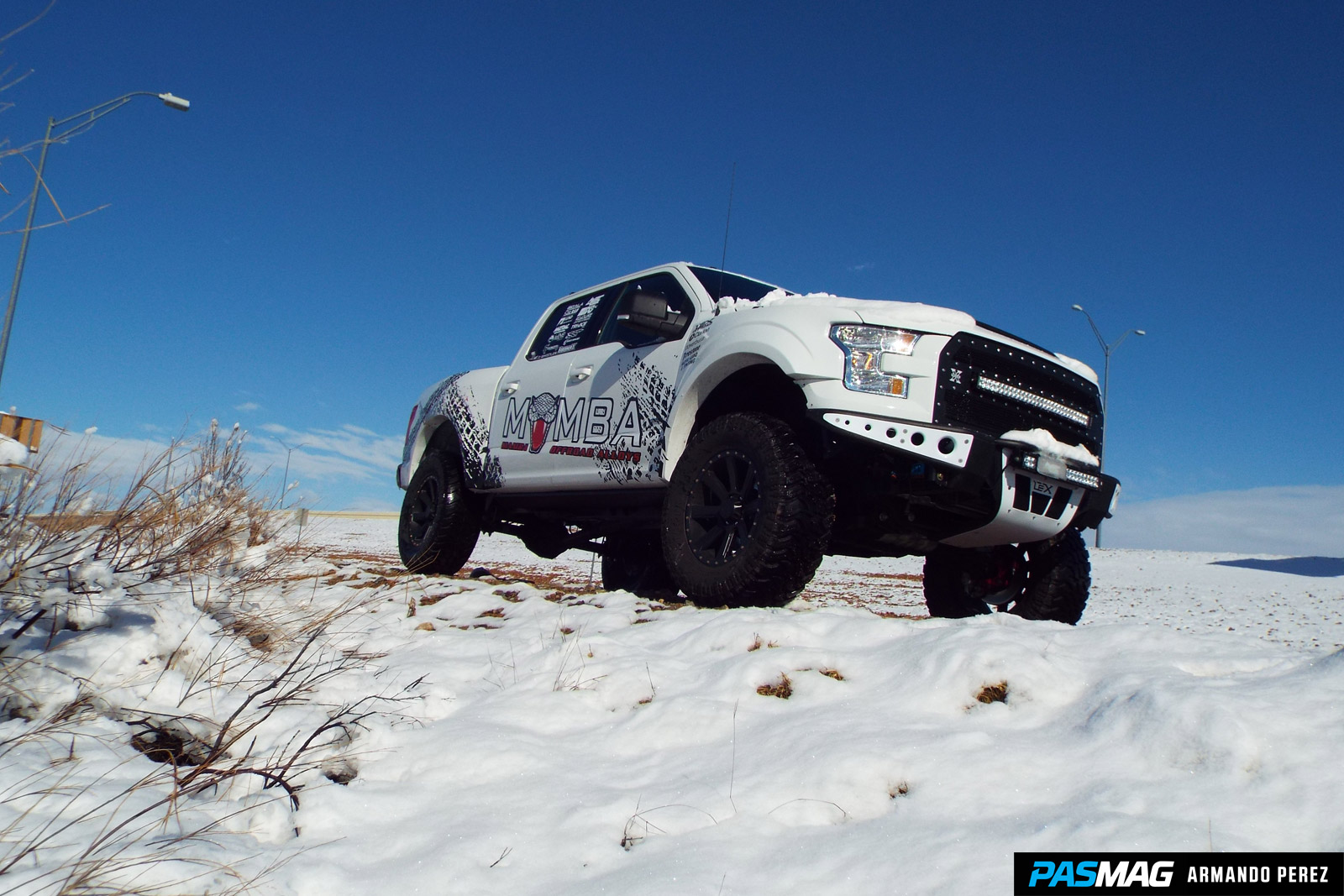 ---
ESSENTIALS
VEHICLE: 2015 Ford F-150 EcoBoost
OWNER: Alma Molina
LOCATION: El Paso, TX, USA
ENGINE: Ford 3.5L EcoBoost Twin-Turbo V6
ENGINE
AEM intake
Stett Performance (downpipe, front-mount intercooler)
EXHAUST
PERFORMANCE ELECTRONICS
WHEELS/TIRES/BRAKES
Mamba wheels – 20-Inch
R1 Concepts (performance rotors, pads)
CHASSIS/SUSPENSION
EXTERIOR
T-Rex grille w/ integrated LED bar
AMP Research (BedStep 2, power steps)
AVS (Aeroskin hood shield, low profile vent visors)
Air Design USA (hood scoop, tailgate spoiler, tailgate applique)
LEX (gen 2 rear bumper, front bumper w/ 30-inch LEDs, Raptor utility bumper, Raptor chase rack)
AVEC (2x 40-inch LEDS, 30-inch LED, 4x LED cubes)
Rugged Ridge winch
Fiberwerx (4.5-inch wide front fenders, 4.5-inch bulge bedsides)
INTERIOR
Roadwire leather and suede seats
Air Design USA floor mats
AUDIO/MOBILE ELECTRONICS
Powerbass (12-inch subwoofers (3), 6-inch component speaker sets (3), monoblock amp, 4-channel amp)
Clarion touchscreen DVD/Navigation system
SPONSORS
K&N Engineering, PowerBass USA, Clarion, Extreme Dimensions, Konig, Lund International, R1 Concepts, Race Ramps, SCT, Stett Performance, Loudmouth, Fiberwerx, LEX, Tri-Ace Wheel & Tire, Air Design USA
---
PHOTO GALLERY