Photos by Brandon Burrell
---
A chocolate Tundra with some cool accessories.
Building wild trucks in a short timeline for SEMA is no foreign subject to Brandon Burrell, and that's exactly the kind of project he embarked on with his 2015 Toyota Tundra. After picking up the truck in April of 2015, he had a window of six months to put together a show-stopping final product for SEMA 2015 that would out-do his last one.
After selling my SEMA 2014 build (a 2014 Silverado lifted 15 inches), I knew I wanted to step up the level of build and do something never done before", Brandon writes. "I had never seen this color Tundra built before, nor had I ever seen a Tundra built to this level, so I wanted to be a first for both." Stepping up the level of the build is exactly what he did.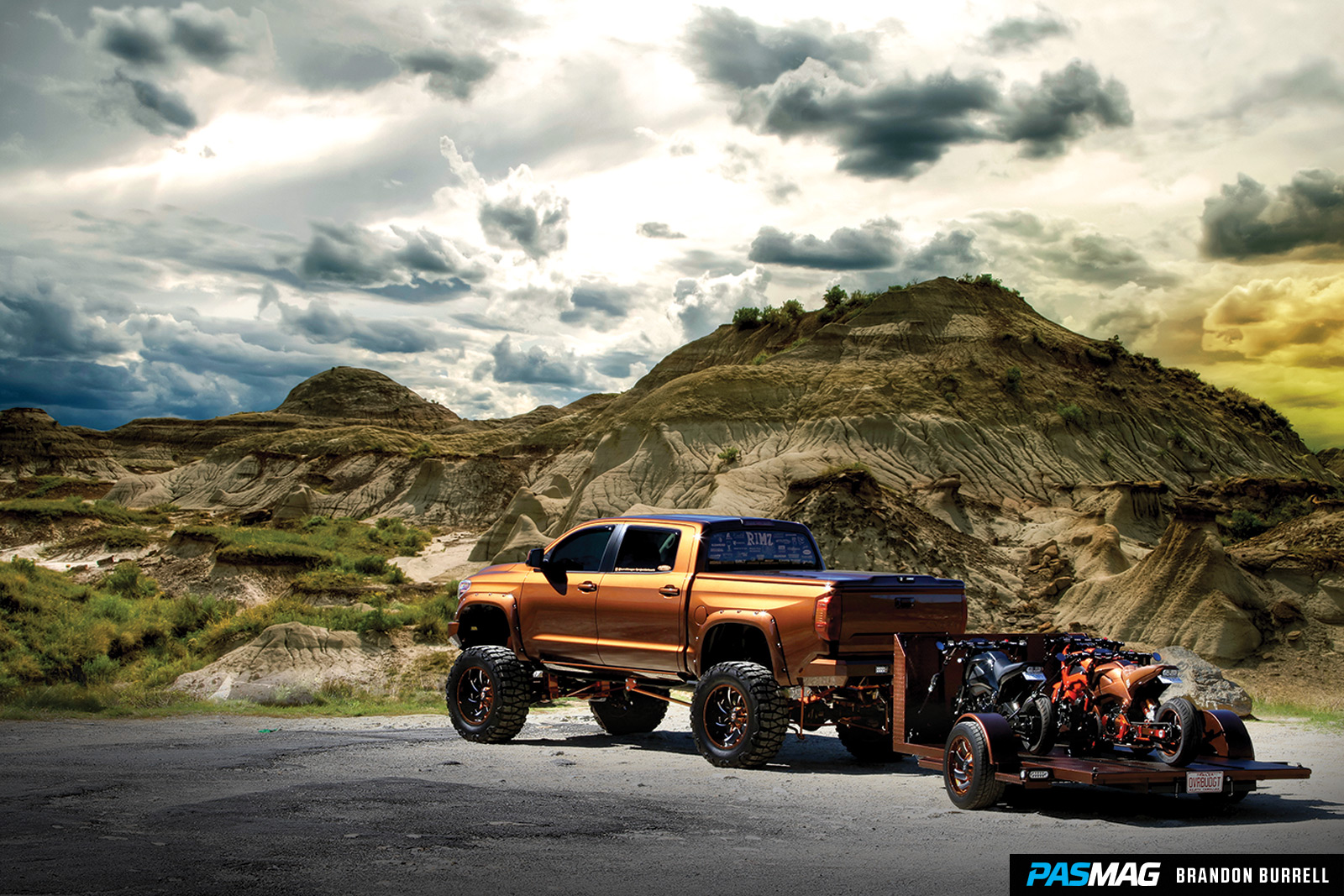 Going into the build with a well-rounded history of building both cars and trucks, as well as a respectable knowledge of the craft and valuable partnerships, Brandon was able to pull off one of SEMA's most admired truck builds. Of course, builds like this are often the work of many hands and minds. Brandon extends heartfelt thanks to partner and sponsor Rimz One in Mooresville, NC for the work on the exterior, suspension and performance improvements, as well as Ultimate Audio in Lexington, SC for the custom interior work.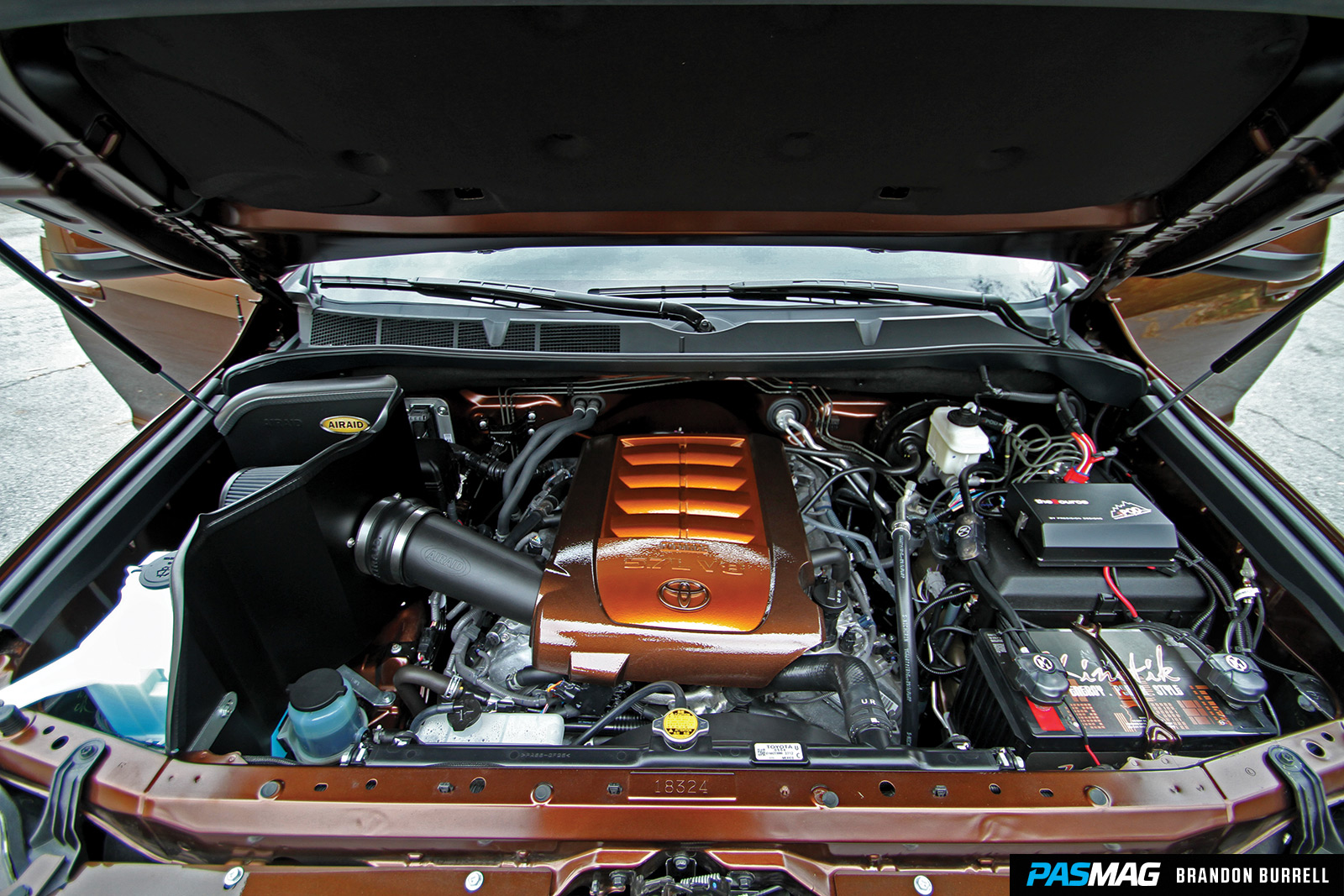 Extra power under the hood comes courtesy of an Airaid intake and shorty headers from Doug Thorley, but the real draw to this truck is in its custom style touches. The Sunset Bronze Mica and copper color scheme, which remains congruent through the Fuel wheels, lights and interior, carries a similar allure to expensive chocolate in ornate, decorative packaging. Even the truck's underside shines with a gorgeous paint job. All suspension, axle and differential components were either color-matched to the truck's body paint or powder-coated copper.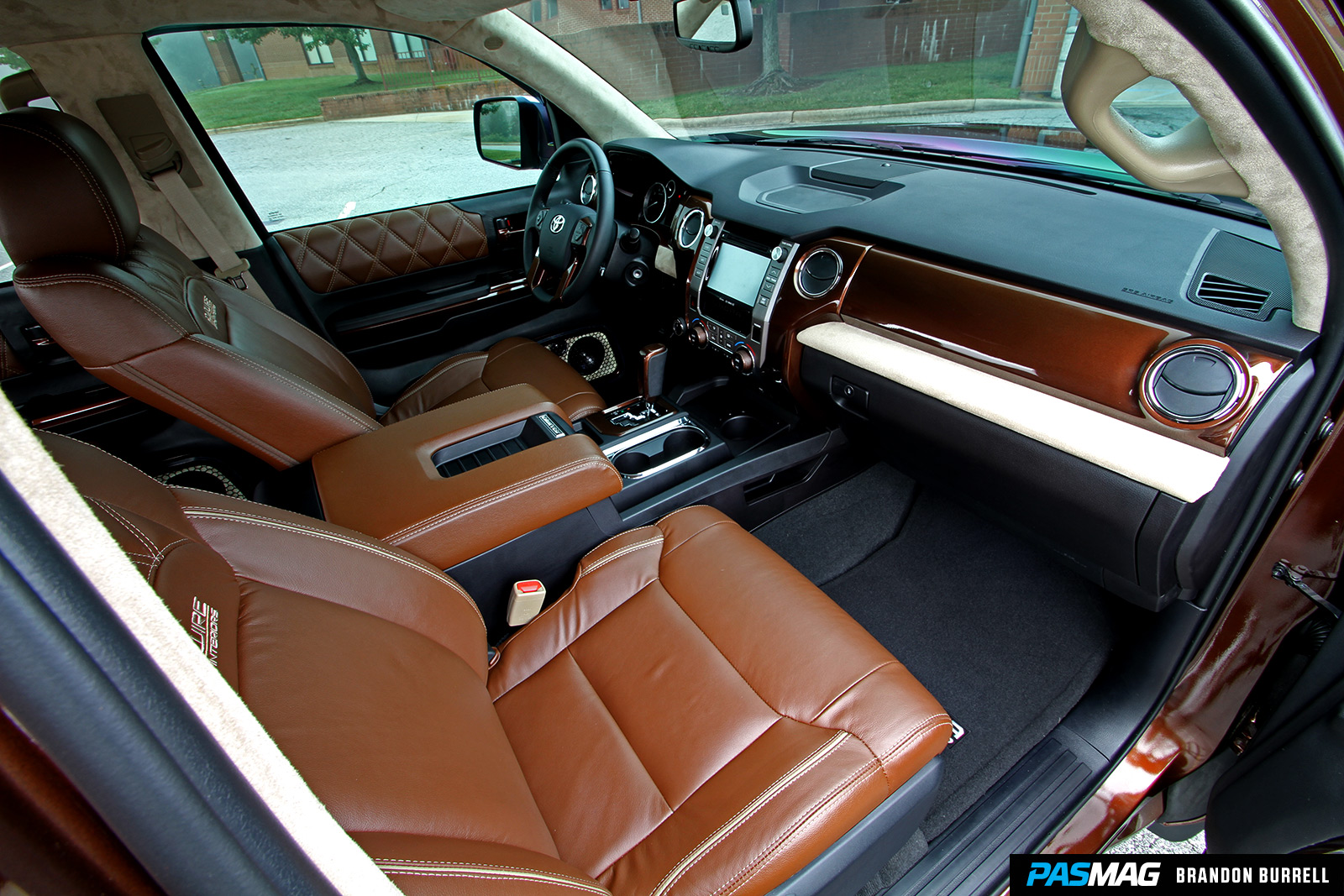 The "Dark Earth" theme continues inside with beautiful brown leather and suede upholstery from Roadwire, accented with diamond stitching, decorating the cockpit. Color-matched dash panels, door panels and trim around all of the Memphis Audio M-Class sound system's components really drives the theme home and gives the rugged looking truck a surprisingly luxurious feel.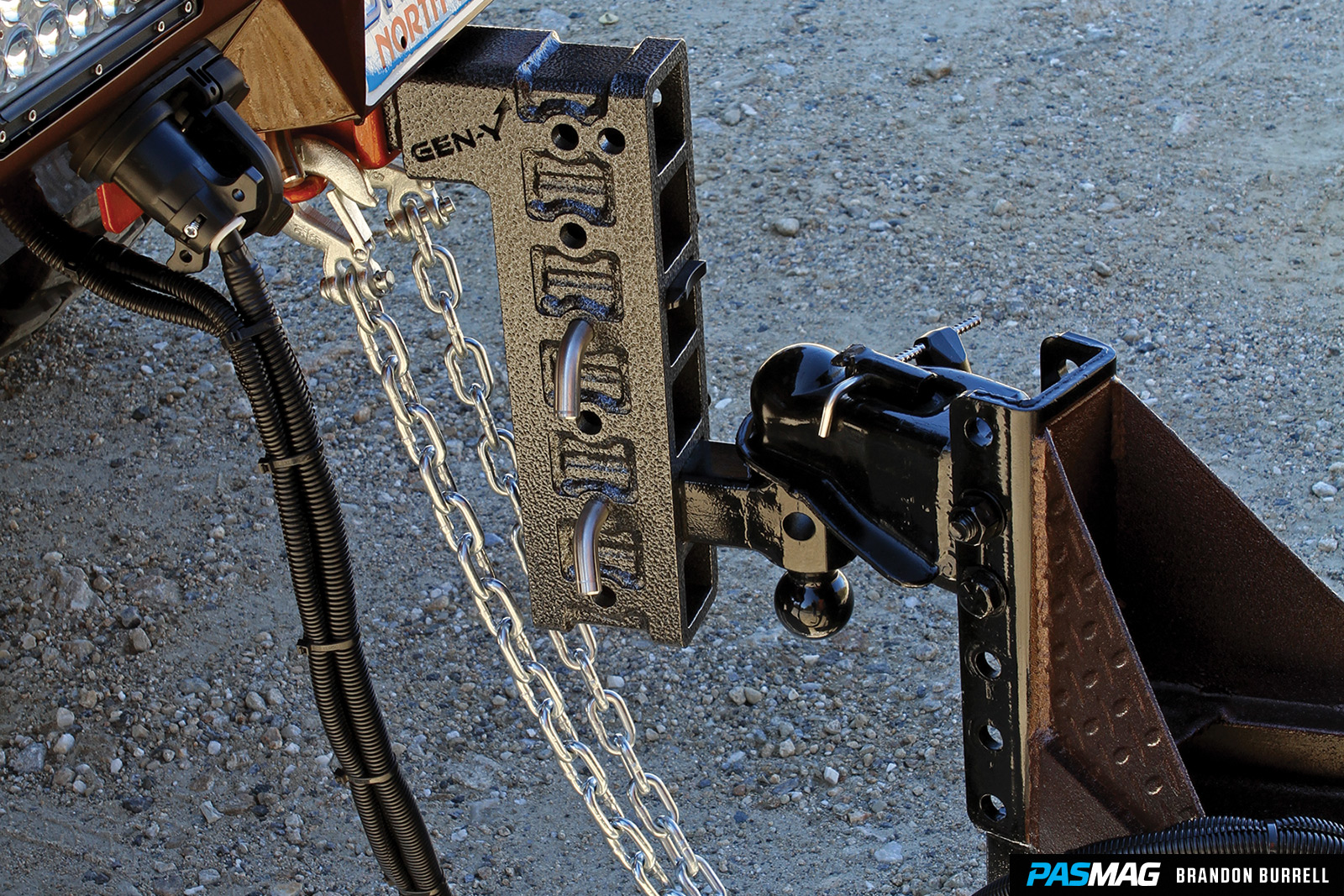 As expected, the truck was a hit for SEMA, pleasing crowds and sponsors alike. Being a well-rounded builder, however, usually means that no project is ever truly "complete." One year after purchasing the car, and six months after stealing the show at SEMA, Brandon decided it was time to go the distance and turn this build into a diff erent kind of spectacle in April of 2016. Already happy with the way the truck itself was looking, Burrell took an unconventional approach to revamping his show truck by way of a custom-built, theme-matched trailer (thanks to Rhino Linings of WNC) made to carry three custom Honda Groms.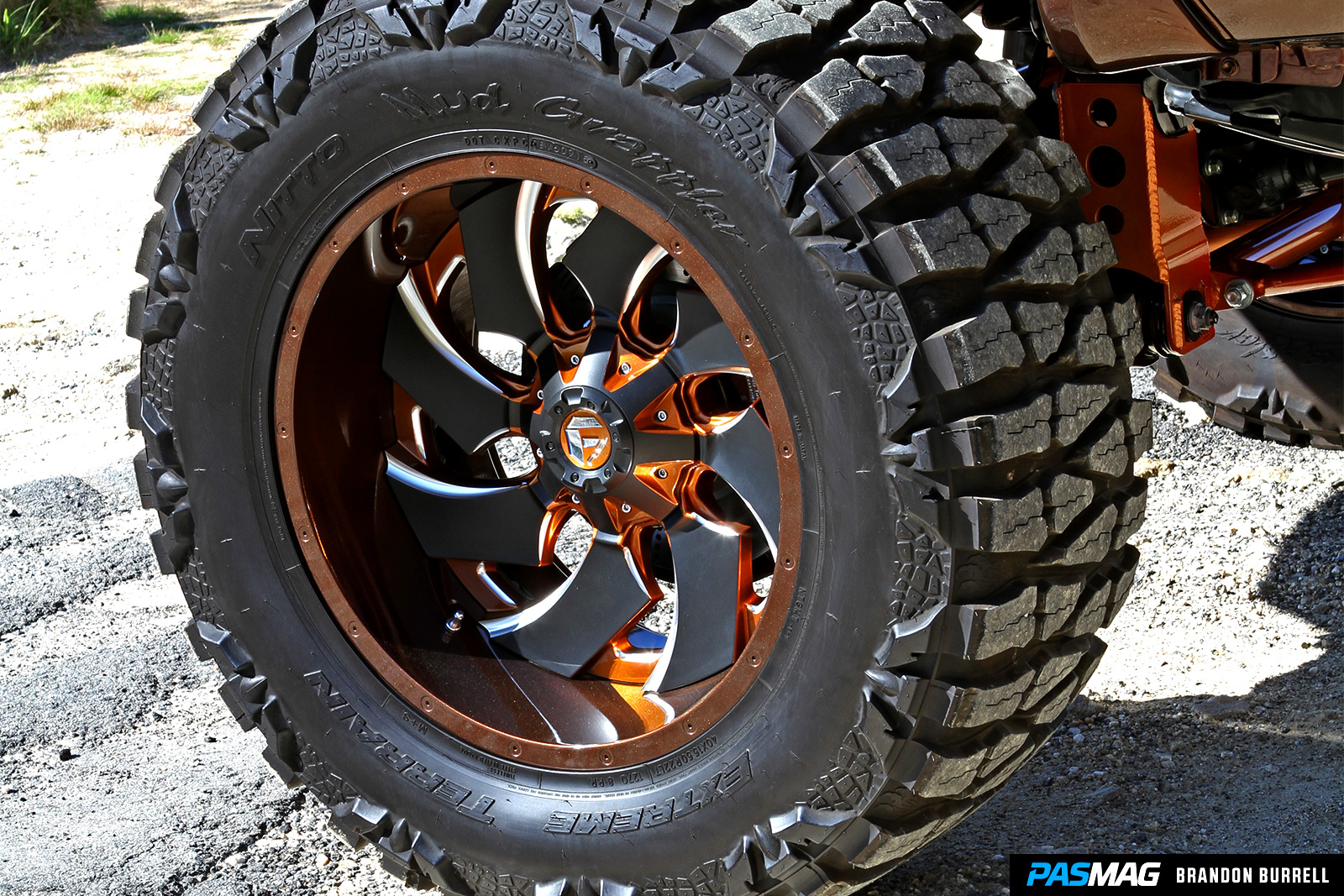 Even down to the wheels, a 17-inch variation of the 2-piece Fuel Cleavers equipped on the truck, the theme of the truck carries on to the custom-built 6x12 trailer with 3-foot stone guard. Even the Memphis Audio system continues out back, with two MXA62TS marine speakers (which are also color-matched, naturally) and the SA2100 amp tied into the truck's system. A 12.5-inch drop hitch from Geny Hitch helps accommodate connection between the trailer and the Tundra's skyscraping lifted height.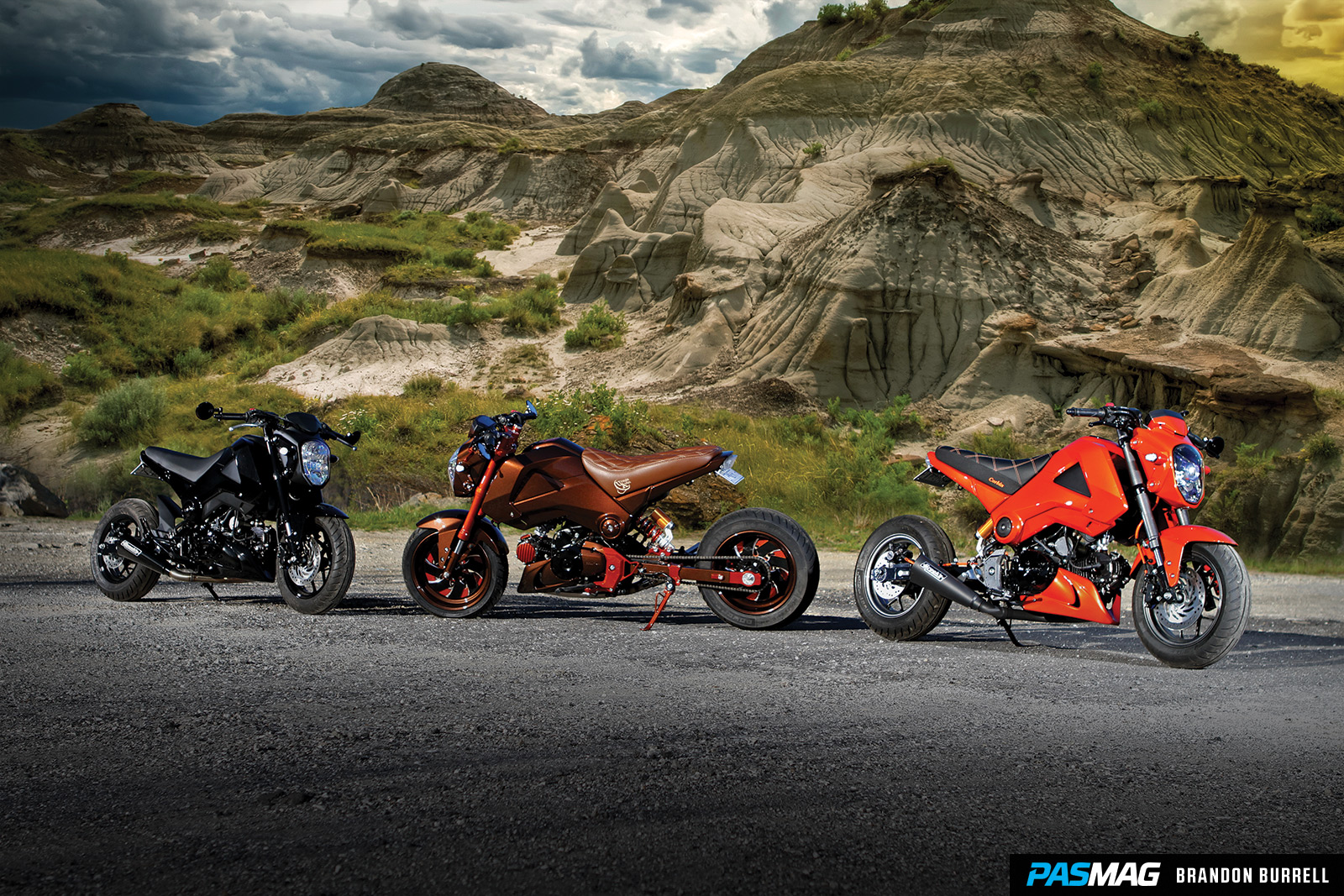 The Honda Groms on the back are cool showpieces as well. Each one custom painted in different colors by Mike Hensley in Fletcher, NC, the bikes all feature the same 6-inch stretch, a ComposiMo-assisted drop, race bars, Tyga belly pans, and a Brocks Performance exhaust. From there, each one is unique in its own special way. The black bike belongs to Brandon's girlfriend, Kristin Justus, while the orange bike belongs to Chris Tryon. As you may expect, the Sunset Bronze Mica one is the theme-matching pride and joy of the trailer, even going so far as to be outfi tted with custom one-off 13-inch, 3-piece wheels to match the truck and trailer, designed and built by ComposiMo in Hendersonville, NC.
As if the Tundra wasn't already a crowd-pleaser, it certainly garners a fair share of attention in its new form. Truck lovers, Grom fans and awestruck spectators alike frequently stop and ask Brandon all about it, which he welcomes with open arms. "I love the fact that no matter where I go, whether it's to a show or just to the local grocery store, I get stopped by people taking photos and asking questions", says Brandon, recalling the countless times he's been approached by curious onlookers.
"I always say even though this is 'my' truck, it's not about me. It's about showcasing those that built it and the companies that support my builds. Answering questions about parts or the process at shows is awesome to me."
Brandon's truck is certainly one of a kind, just like Brandon himself. Despite being the orchestrator of the build, he knows that he couldn't be where he is today without the help and support of his friends and family. He concludes with widespread thanks and appreciation. "I know that without the support of my girlfriend, Kristin Justus, having this build wouldn't be possible. She has supported my dreams from day one and is always there when things stress me out. My daughter, Sarena, also keeps me excited about building something cool because I see how much it teaches her about following your dreams. Making friends throughout the process and turning those friends into family has made this build something that will always stay with me." He goes on to extend further thanks to Mike Mashburn, Trevor Lucia, Chris Tryon, Shawn Arnold, Jonathan Blankenship, Alex Leonard, Austin Brigmon, Dustin Maybin, and anyone else who helped along the way.
With another year in motion and SEMA on approach, one can only speculate as to what Brandon will build next, if anything. Whatever he chooses, you can be sure that it will receive the utmost attention to detail, as all of his projects do. Until then, residents of North Carolina and the surrounding area can catch him rolling around in the Dark Earth Tundra. Don't be afraid to stop and ask him about it, or just to pay him some compliments. We're sure he won't mind.