Photography by Salinas Photography
---
Doubling down for game over.
You can count cards if you want to, but "Blackjack" is key. Holding an Ace and 10 value card in your hand during a game guarantees you your win, no matter which strategies have been put into play by other players. Over at Tweety's Tire in Midland, Texas, owner Cesar Olivas has cast his hand down and declared "game over." With a completely custom tow rig and a standout SEMA truck, we're inclined to believe him. Let's examine his hand, shall we?
The aforementioned tow rig just has to be the only one of its kind in the world. The amount of custom work that has gone into this F-350 is absolutely insane, though it makes sense if you know something about Olivas' history in truck modification and fabrication.
"Ever since I was young I've loved working on trucks - lowering them and lifting them," he reflects. "I was a welder for a good four or five years and learned how to fabricate and build a lot of stuff. Eventually, I started my own custom shop, doing short bed conversions, lift kits, drops, pretty much anything."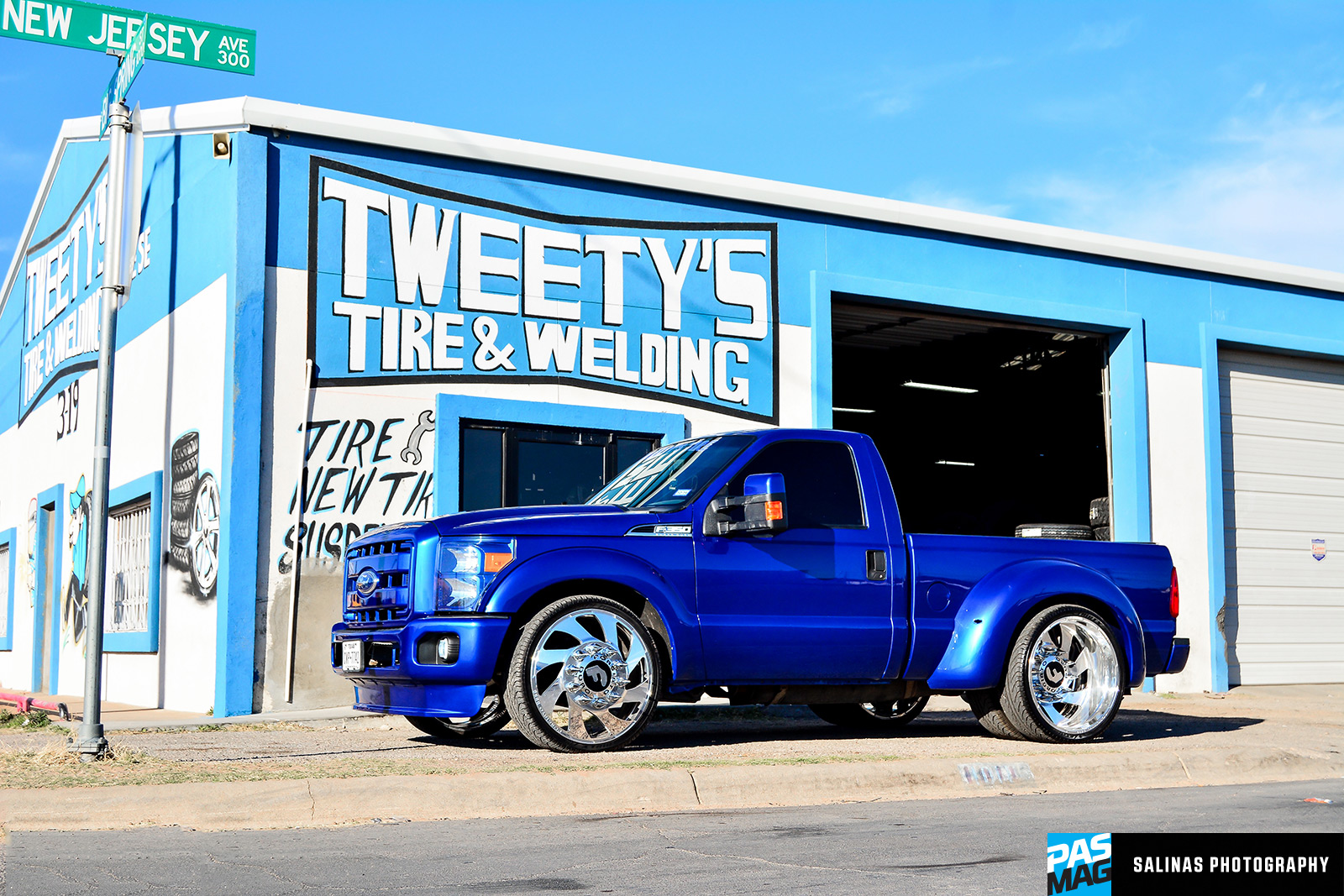 Now that we're all caught up, we can dive into what's going on with this Ford hauler. First off, the model year is 1999, which totally doesn't match up with what you're seeing here. That front end is off of a 2016 F-series, as is the Platinum trim tailgate at the rear. The plastic surgery aside, the rest of the Ford doesn't look representative of a Super Duty pickup either. A short-box, single-cab dually? Your eyes don't deceive you, and this wasn't some special dealer request. When Olivas got the F350 in '99, it was a completely different truck.
"That short-bed dually was a four-door," Olivas reveals. "We cut it down to a single cab, put on the short bed, and even converted it to a dually. The frame was cut down, and then braced with fish plates and boxed on the inside. Once it was boxed on the inside, it's stronger than the original frame. On the back, it's got a flip kit with the original leaf springs."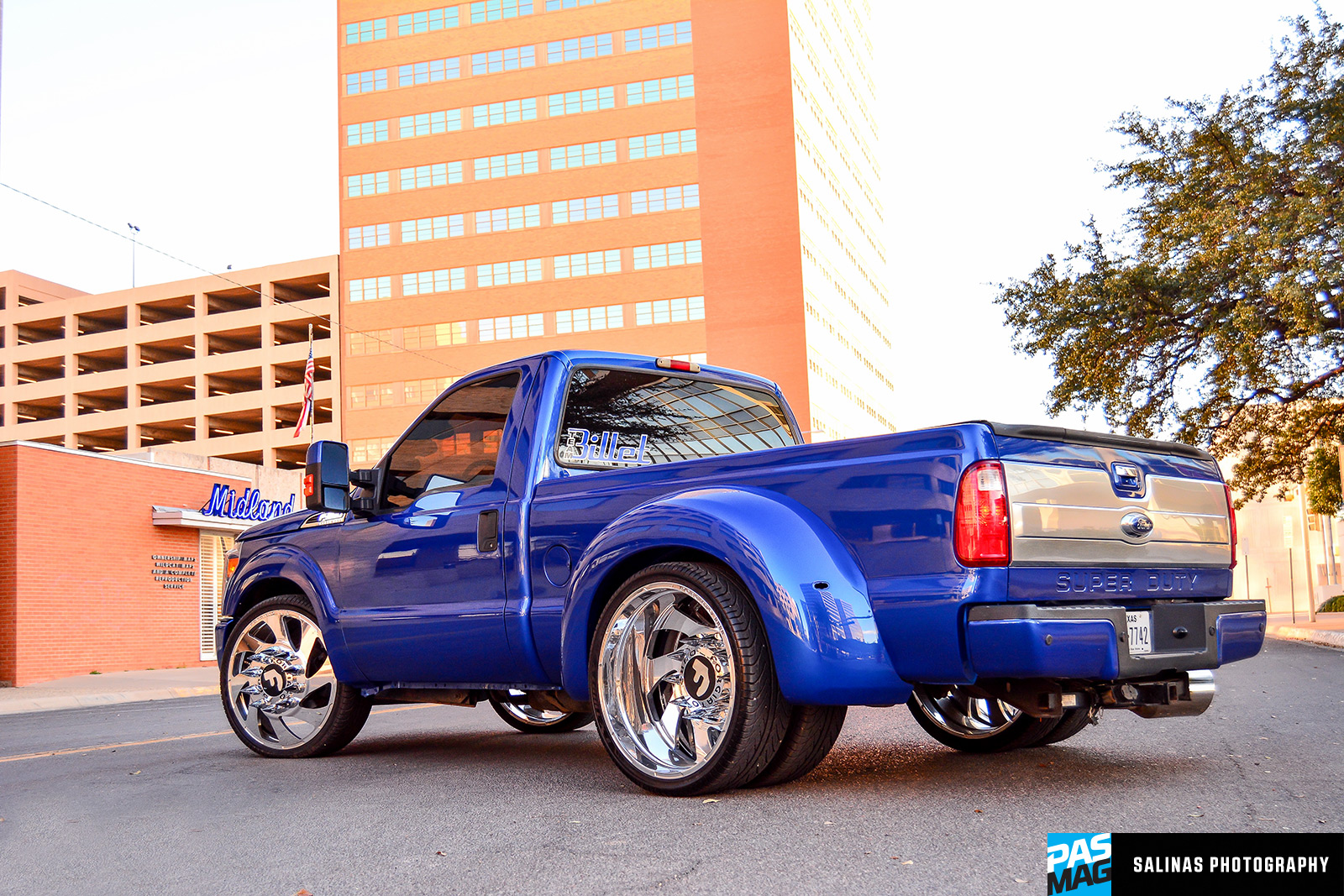 Playing in tandem with the OE springs is a DJM lowering kit and airbag system to adjust the ride height even further. The F-350 squats over some seriously huge 26-inch Forgiato Indurire wheels as well. Some of you may be doubting the towing ability of something so low to the ground, but between the electric valve system that allows the truck to hit any height for any load, and the 7.3-liter Power Stroke turbo-diesel, this little truck can tackle just about any tow any other truck can. There are some future plans to modify the interior to match the exterior and upgrade everything inside with 2016-spec Super Duty bits. For now though, the F-350 does what it's good at: looking great and towing Tweey's Tire's showstopper.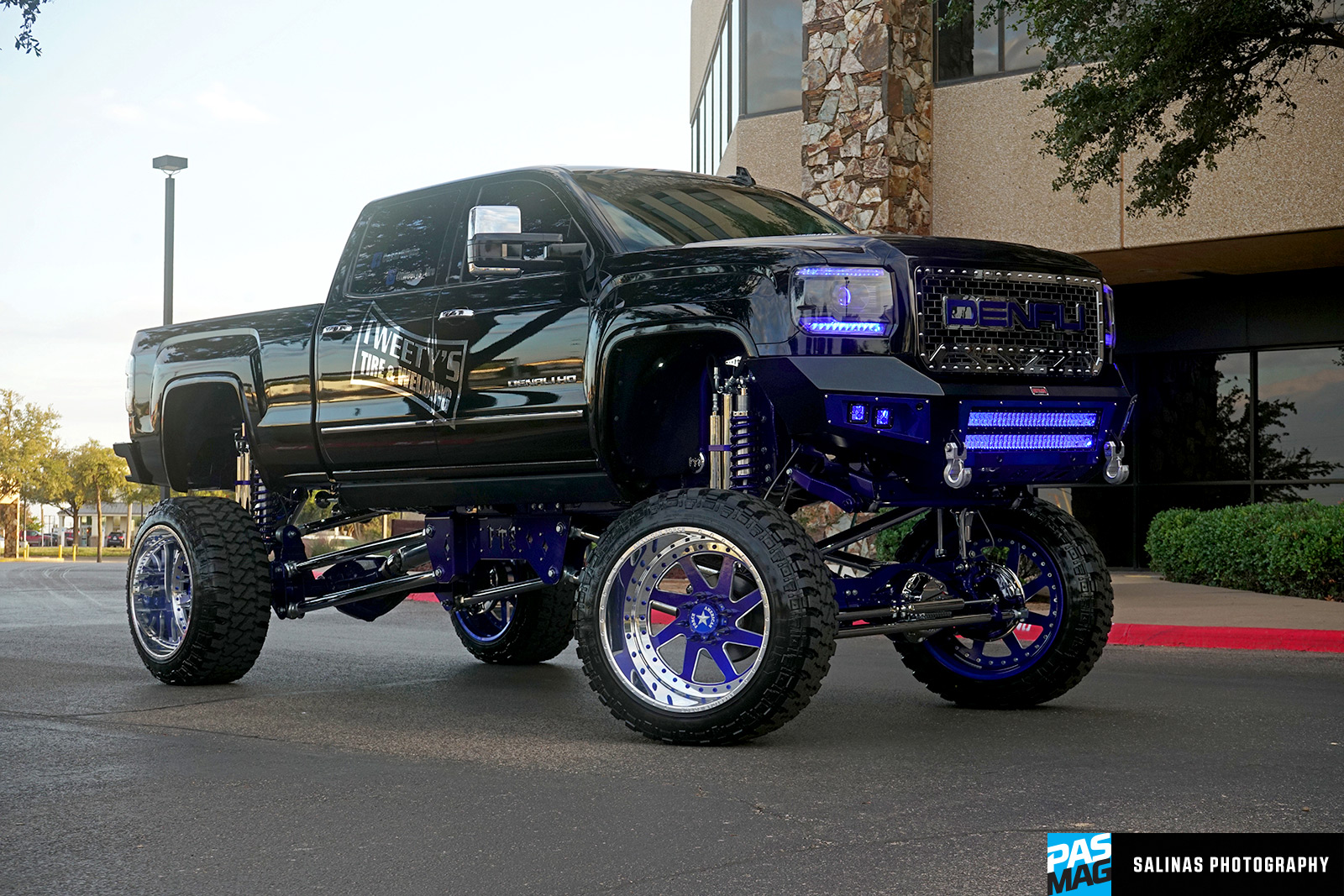 Speaking of which, the Sierra Denali that Olivas and crew created for the big show in Vegas is a magnificent monstrosity. Unlike the F-350, the Denali isn't vertically challenged whatsoever with its, so far, one-of-a-kind Full Throttle lift kit. The kit allows for a lift on coilovers between 18- and 22-inches, and Olivas settled on a nice 20-inch middle ground. The height, however, isn't what makes the kit so unique.
"It has a pretty big conversion that not a lot of guys have out there," explains Olivas. "It's a solid axle on the front. It's an F-250 axle. It's actually the only truck in the world to have that Full Throttle lift on it."
Full Throttle totally makes other solid axle kits, but this one has a front driveshaft, and the hinges that hold the control arms to the axle are about half the size of the usual kits. On top of that, Tweety's has applied their very own coating of vibrant purple, as well as some brightly chromed components.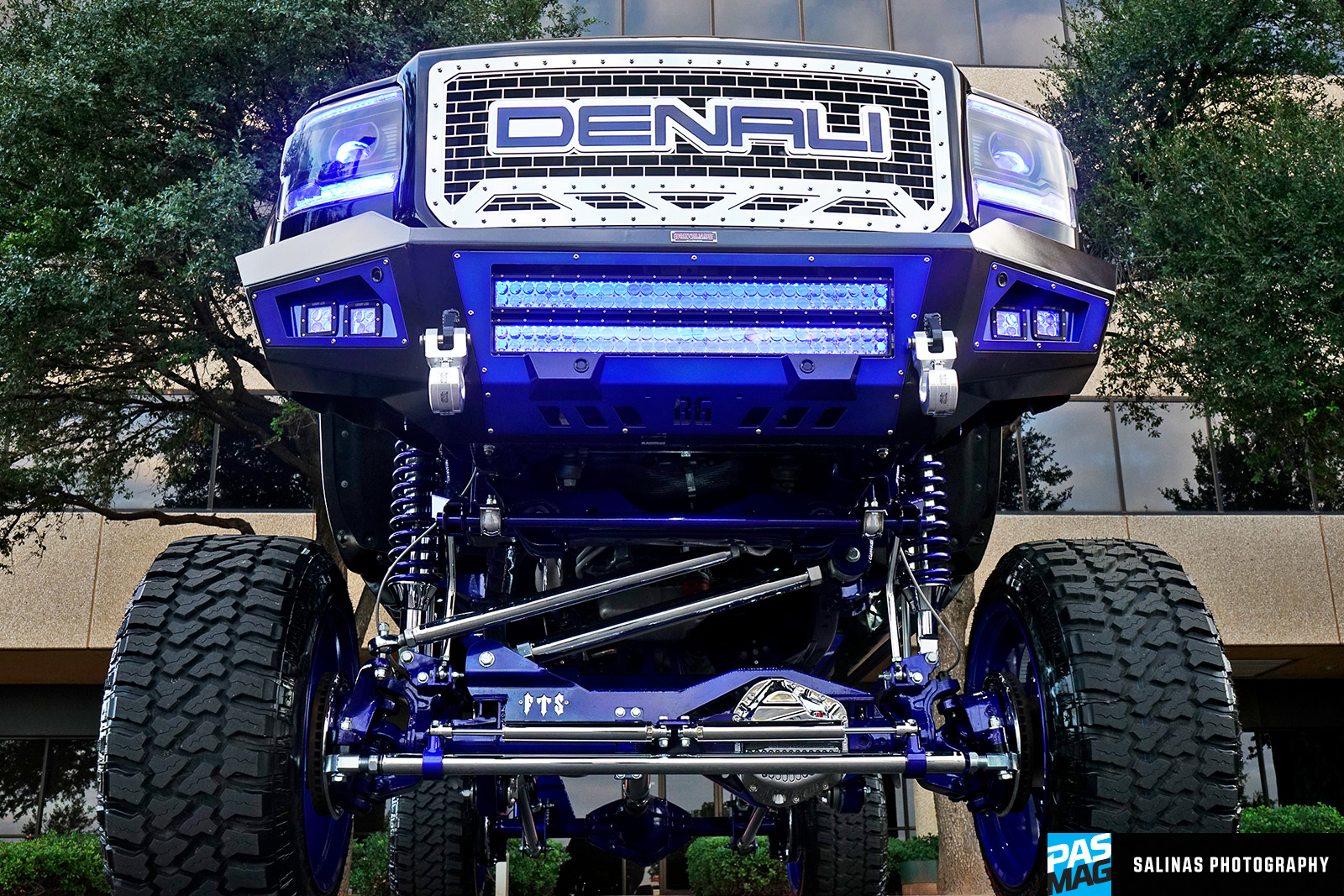 Olivas and the team at Tweety's have been involved in SEMA builds before, sourcing wheels and tires, and coating select parts in color and chrome, but they've never tackled a full-on build for themselves. For 2016, in their first year ever building a SEMA truck, Tweety's knocked it out of the park. Holding down a spot at the American Force outdoor booth, the Denali both fit in with the other spot holders, yet stuck out as its own black and purple mobile tower. Sitting on some gorgeous 26x16 American Force Spartan MP8 multi-piece wheels, also carrying the theme of purple and chrome, definitely lends a hand to the Sierra's show-stopping ability.
The truck gets more compliments from the custom "DENALI" grille made by Gravel Empire Grilles and some homemade headlights from the minds at Tweety's. The Denali also has bolstered performance by way of an EFI Live tuned by Kory Willis of PPEI and a full four-inch exhaust. A Horn Blasters train horn was also installed, just in case you really don't notice this behemoth.
So, is Olivas right in saying that this pair is game over? We're going to unanimously agree on yes – he has Blackjack after all. The only thing left to decide is which truck is the Ace and which is the 10 value, and we still can't pick a favorite.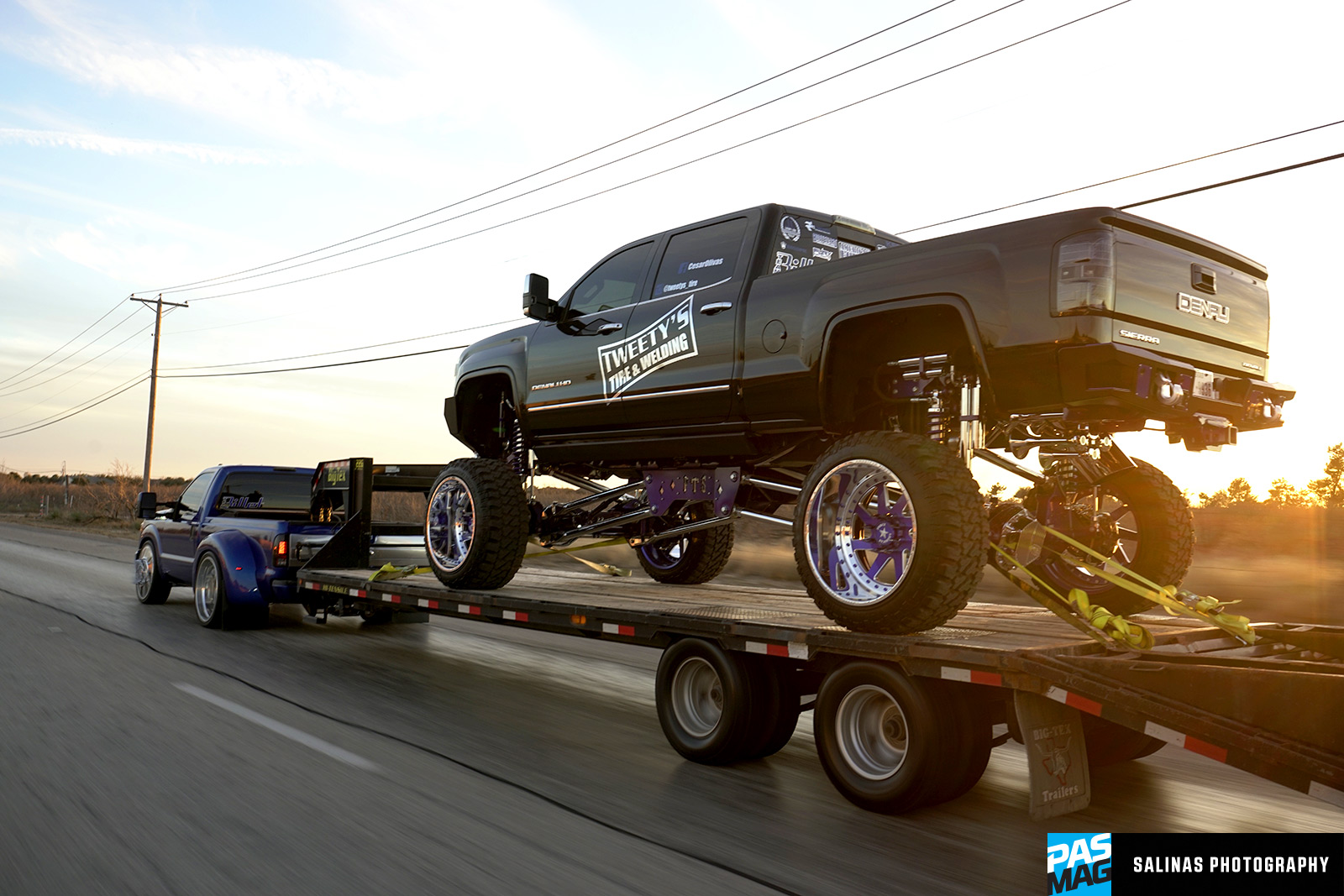 ESSENTIALS
Vehicle: 1999 Ford F-350
Owner: Cesar Olivas
Location: Midland, TX
Built By: Tweety's Tire
Engine: Ford 7.3L Power Stroke V8 turbo-diesel Bullydog tuner
K&N intake
EXHAUST
Custom 5-inch exhaust system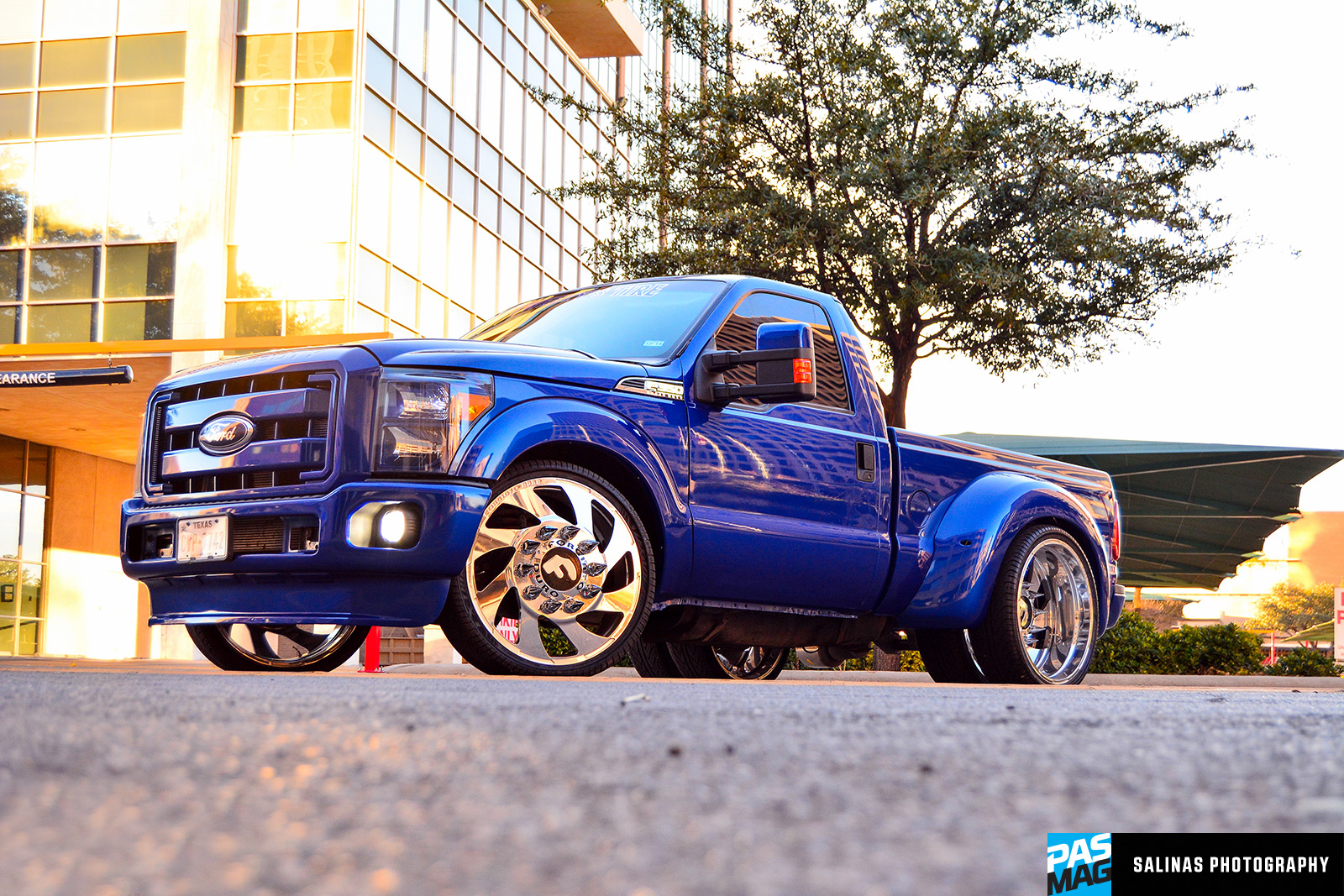 WHEELS
Forgiato Indurire wheels – 26-inch (f/r)
Dually rear conversion
CHASSIS / SUSPENSION
DJM lowering kit
Air suspension system
Leaf spring flip kit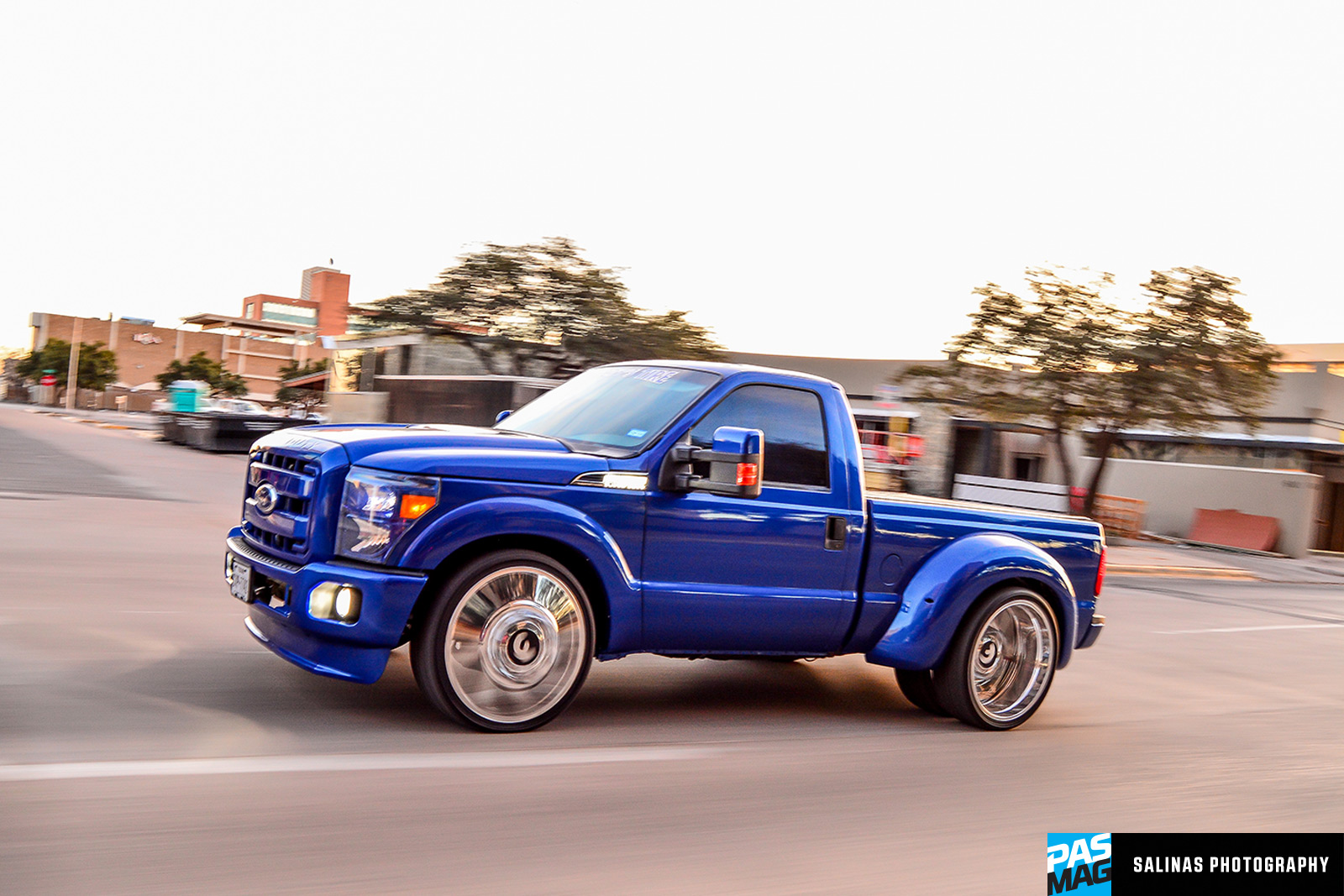 EXTERIOR
Ford 2016 F-350 conversion (front end, tailgate)
Single cab conversion
Short bed conversion
Custom headlights
BMW tow hitch
SPONSORS
Tweety's Tire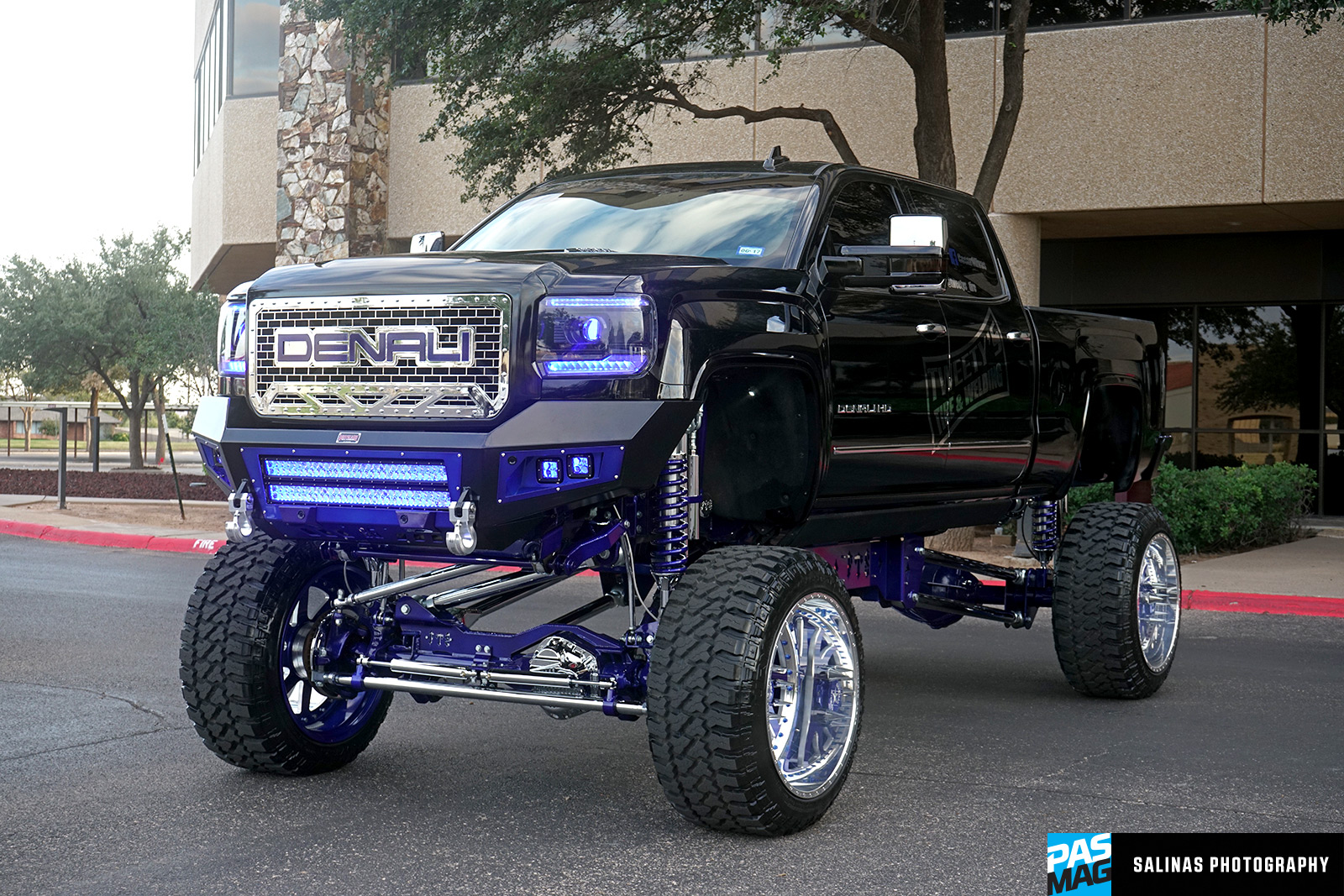 ESSENTIALS
Vehicle: 2016 GMC Sierra Denali HD
Owner: Cesar Olivas
Location: Midland, TX
Built By: Tweety's Tire
Engine: Chevrolet 6.6L Duramax V8 turbo-diesel
ENGINE
EFI Live tuned by Kory Willis of PPEI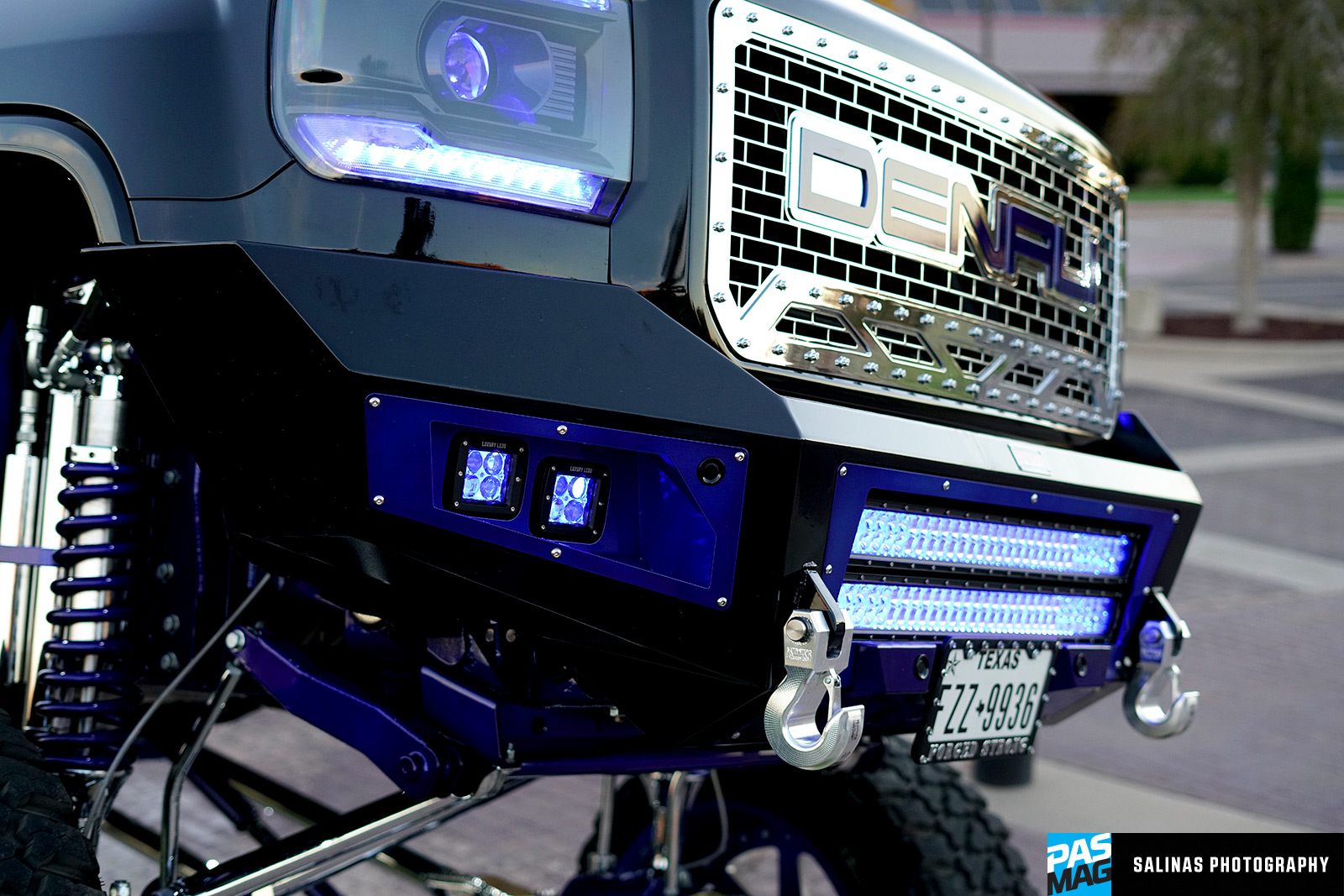 EXHAUST
Custom 4-inch chrome exhaust system
DRIVETRAIN
G2 differential covers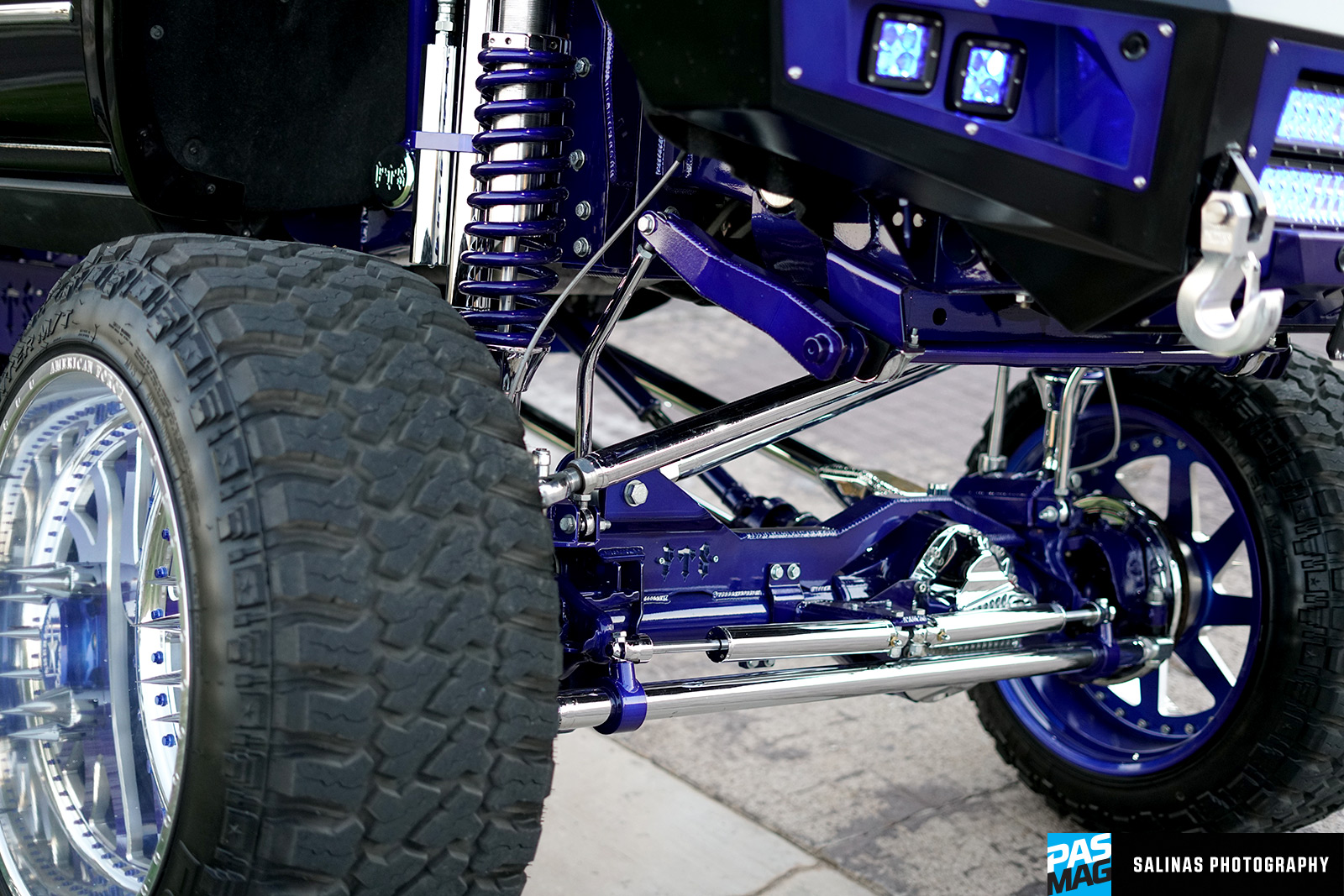 CHASSIS / SUSPENSION
Full Throttle Suspension 22-inch lift kit
Ford F-250 solid axle conversion
Tweety's Tire custom powdercoating & chrome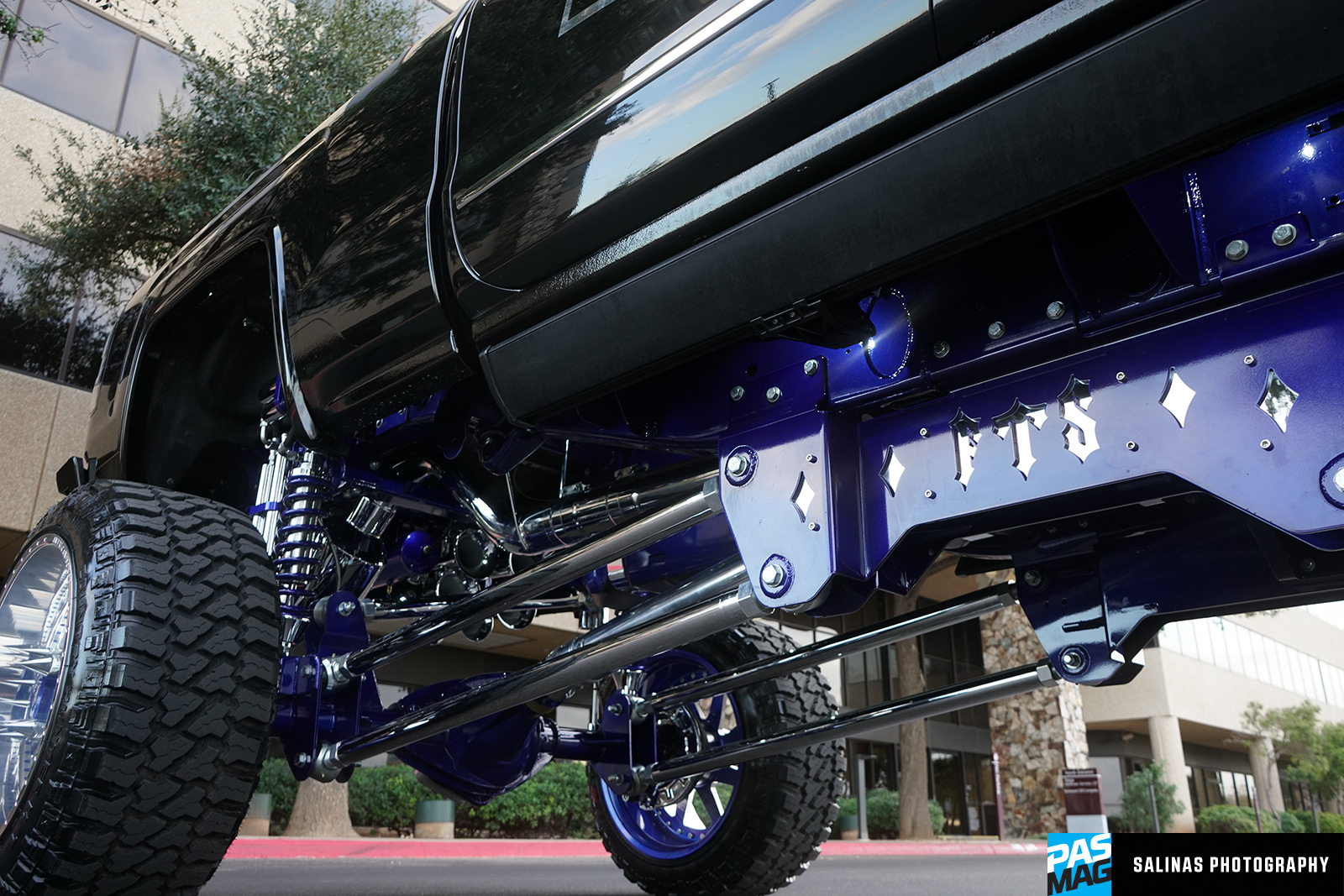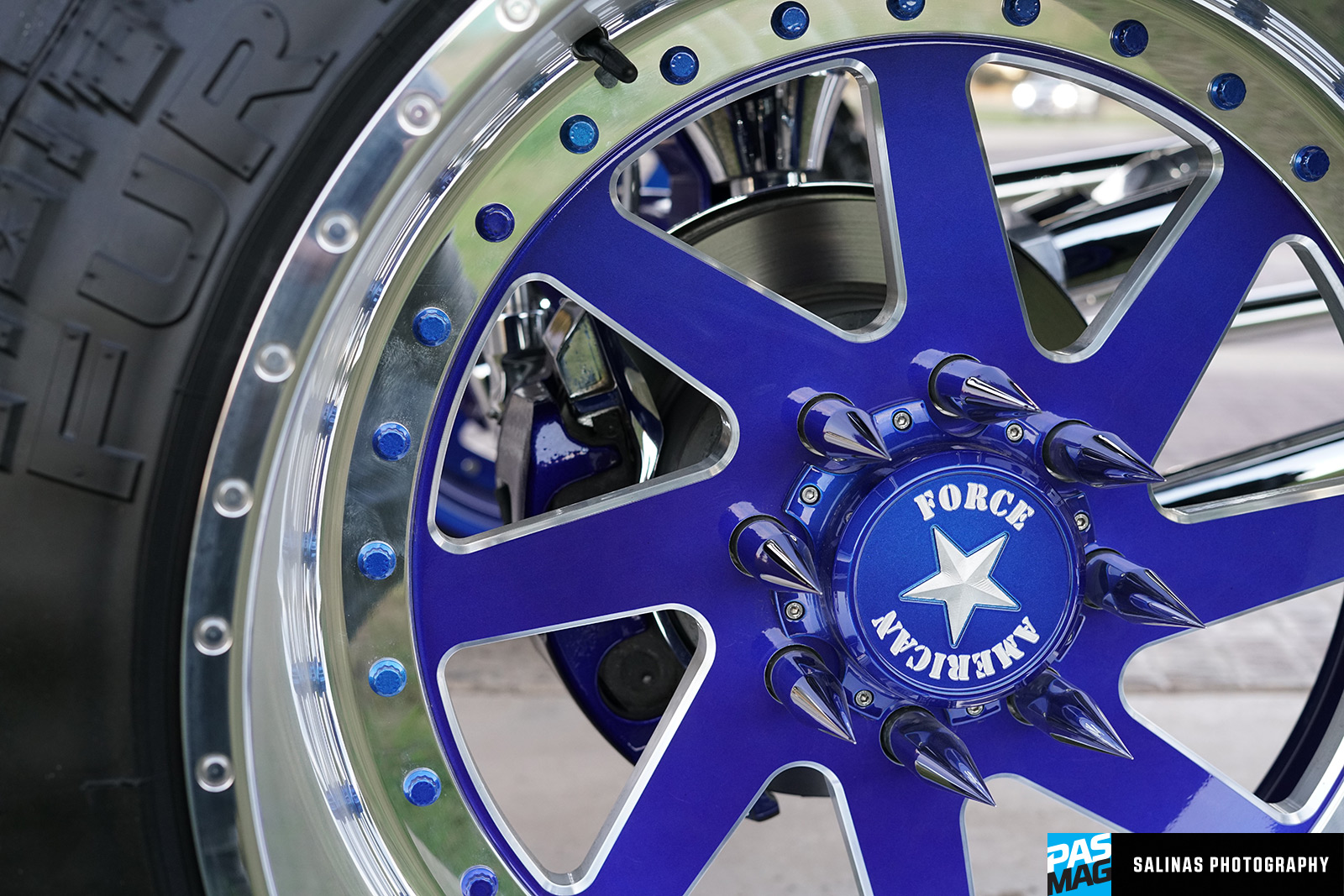 WHEELS / TIRES / BRAKES
American Force Spartan MP8 wheels – 26x16 (f/r)
Fury Off-Road tires – 40x15.5 R26 (f/r)
R1 Concepts (brake rotors, brake pads)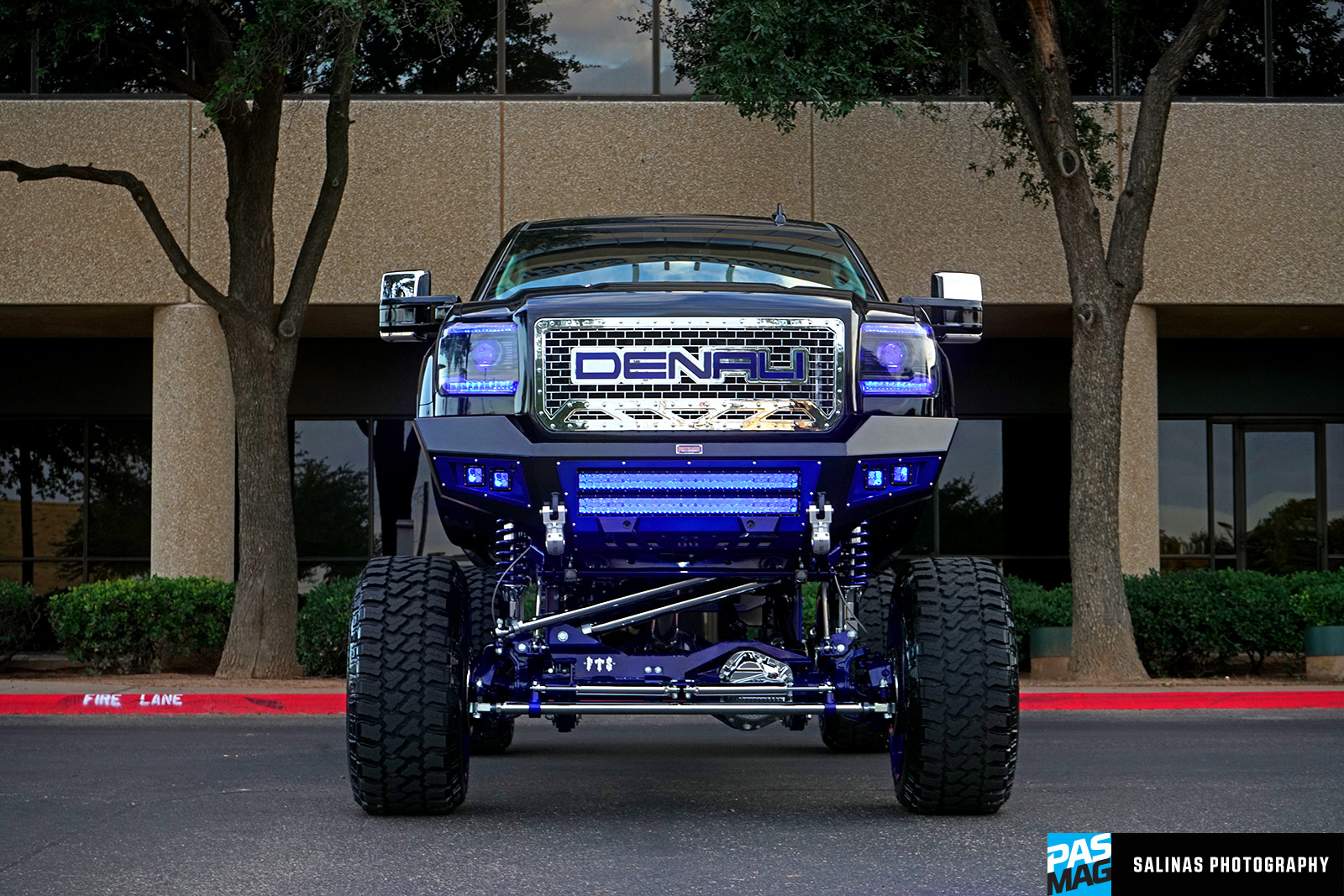 EXTERIOR
Gravel Empire Grilles custom grille
Bodyguard bumpers
Luxury LEDs
Horn Blasters train horn
AMP electric steps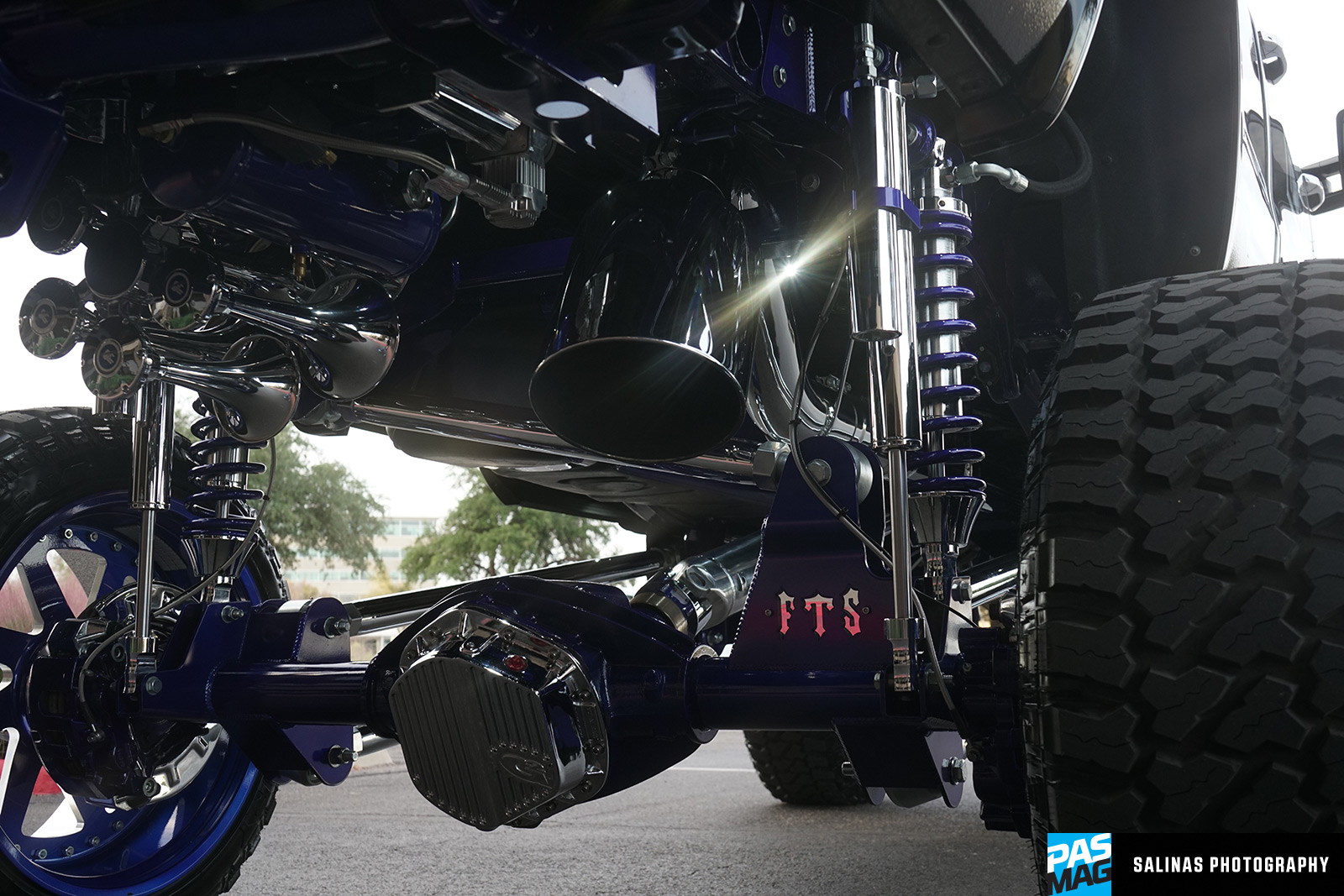 SPONSORS
Full Throttle Suspension, American Force Wheels, Fury Off-Road Tires, Bodyguard Bumpers, Luxury LEDs, Gravel Empire Grilles, HornBlasters, R1 Concepts, Tweety's Tire
Contributor: Salinas Photography