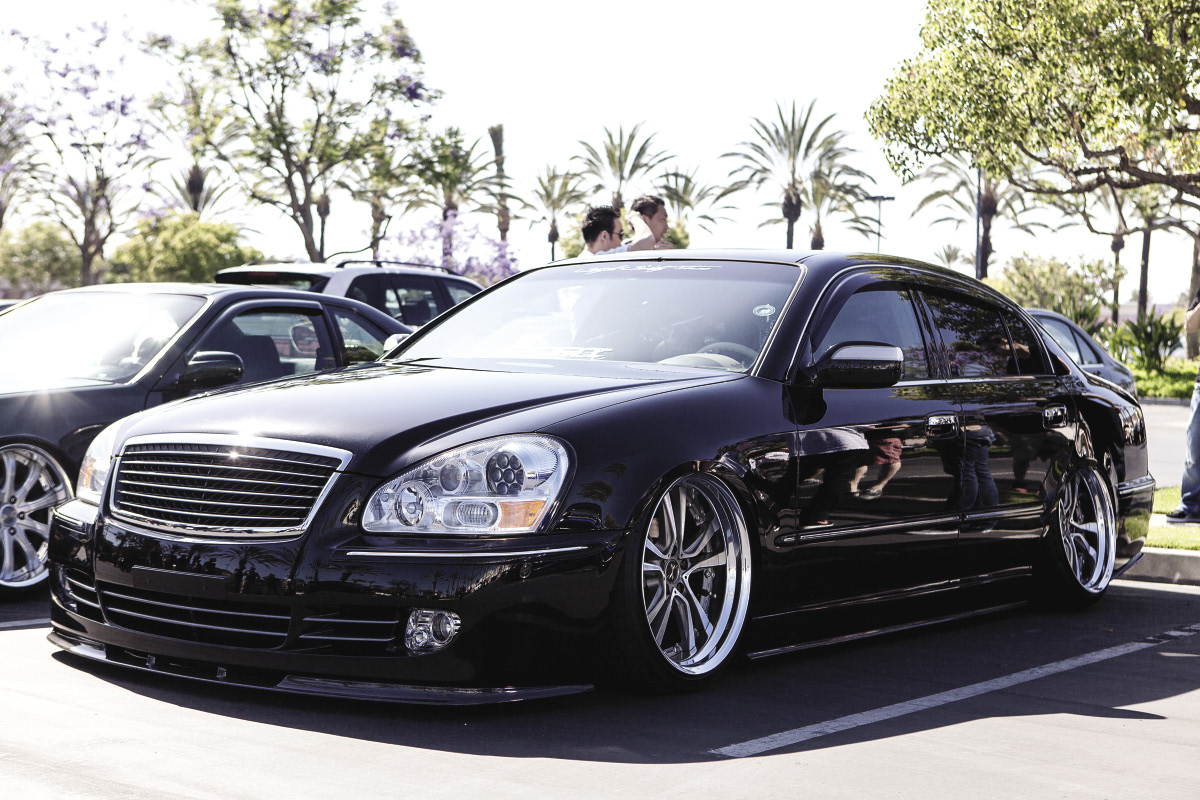 I have been asked several times over the years, "What makes a car a VIP CAR?" That's when I reply, "It all depends on what part of the world we are standing in."
It's very simple and something we tend not to make overly complicated, pronouncing it "vip" or "bippu," not "vee-eye-pee." In essence, saying it as one word and not spelling out each letter.
It all starts with the platform though. Fortunately in Japan, where this trend originated, they are blessed with a large variety of luxury sedans from its domestic automakers. A VIP Car starts with that foundation, the car itself. Nissan brings a fleet of sedans to the VIP party: the President, Cima, Gloria, Cedric and the Q45. Toyotas fleet includes the Century, Celsior, Aristo, Crown and Majesta. Take one of these platforms and begin the modifications of your choice.
Let's start with the suspension. Air suspensions are extremely popular for the fact you can drive as low as you want and provide the clearance when needed. Coil-overs can also be used. The main thing is to bring the car down as low as possible. Next, we add low offset wheels. The rim is pretty much kissing the fender, or barely clearing it, when tucking into them. From there a body kit as installed, making the car seem even more massive than it already is and even closer to the ground. These are the building blocks of a modified VIP Car.
Here is where a VIP Style Car comes in. You would take these same types of modifications and put them on cars that are not considered a VIP Car platform. A very popular trend is to use a van (Honda Odyssey, Toyota Previa and Sienna and the Nissan High-Ace), box (Scion xB and Nissan Cube) and other sedans (Infiniti G35s, Lexus IS300s, Nissan Maximas and Honda Accords). Outfit any of these cars with the same styling cues and/or vendors that a VIP Car would use, and that is what I like to define as a VIP Style Car.
In North America, we aren't as fortunate to have the large selection of true VIP Car platforms that other countries do. Though the trend is still in the infancy stages here, some U.S.-based companies have tried to sell European sedan offerings as VIP Cars. But, while those can belong in the VIP Car category, there is a large sense of pride within the Japanese modding community in its own luxury sedans. That said, within the past couple of years, we are starting to see a lot of the usual VIP Car suspects beginning to add their touches to the Mercedes S-Class, Rolls-Royce Phantom and other Euro luxury sedans.
We tend to adapt styling cues seen in Japanese VIP Cars to the platforms we have available to us. It isn't our choice that we don't have a Toyota Century or a Nissan President here. And, there is nothing wrong with starting on a Honda Accord or a Toyota Avalon as long as you can distinguish that a VIP Car starts at the foundation of the car itself.
VIP Style Cars simply take the styling cues of a modified VIP Car and adapts them to a non-traditional platform. A great example of this is Performance Auto and Sound's own Honda Accord; it takes many VIP Car mods and then applies them to the Accord to achieve that all-important VIP Style. Several U.S. companies like VIP Modular Wheels and VIP'd Out tables provided custom-built parts just for the project.
I hope you enjoy this VIP-themed issue. Here you'll be able to see many different genres of VIP.