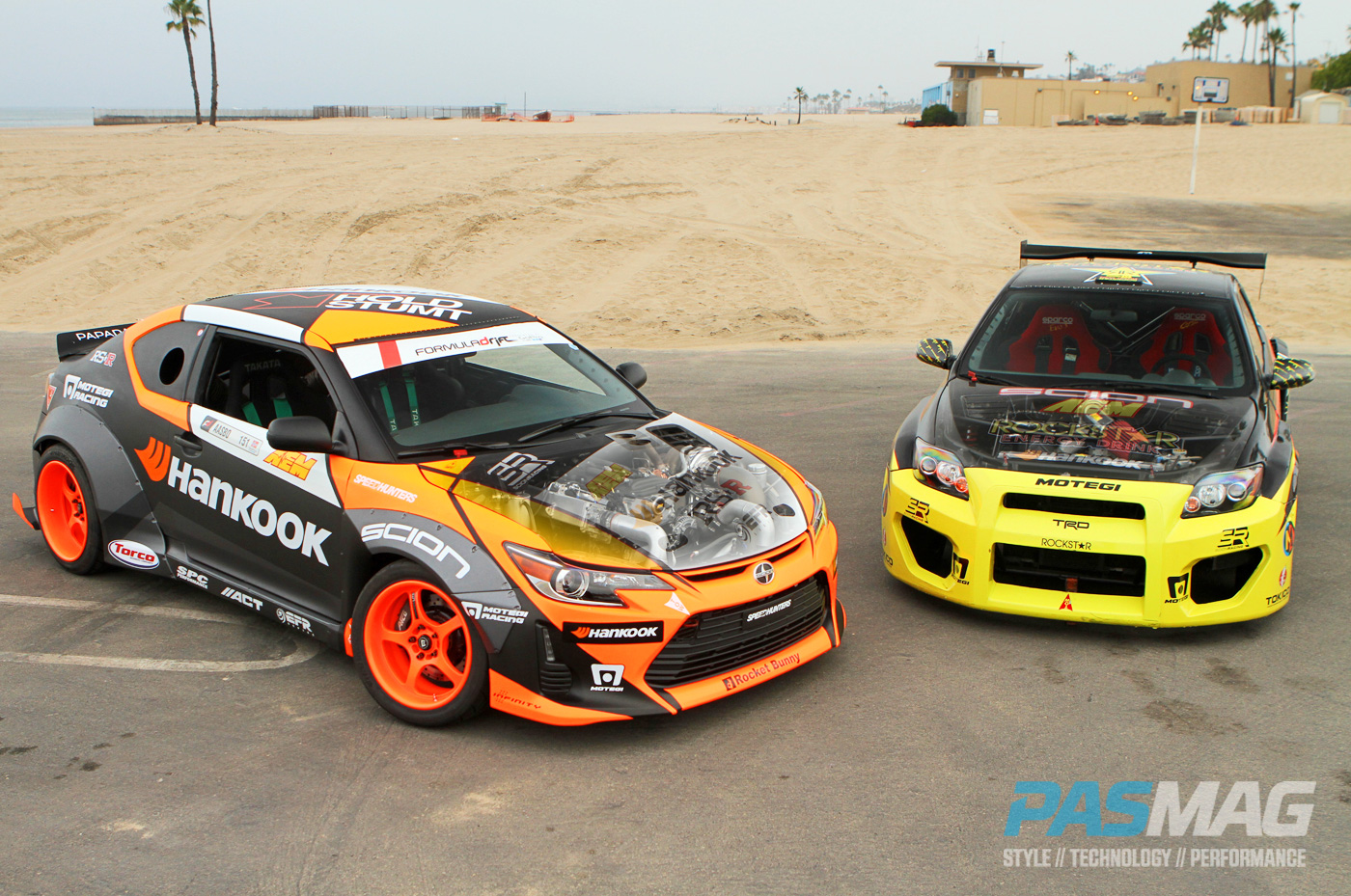 Written by Jacob Leveton (with notes from Jen Horsey)
Over the years, Papadakis Racing has become synonymous with motorsport innovation. After transitioning to drifting from a successful run in sport compact drag racing, the team has scored two championships, eight event wins and 25 podium results to fill out the team's trophy case.
This pair of Scion tCs represents the fourth and fifth competitive drift cars built by Papadakis Racing, each one showcasing some of the most innovative technologies in competitive drifting. PASMAG insiders pulled some strings to get both cars in one location for a first-time-ever photo shoot showcasing both builds at once.
After winning back-to-back Formula Drift championships in a 350Z, Papadakis Racing was looking for a new challenge to start the 2009 season. At the time, several teams had experimented with V8 engine motor swaps into non-traditional cars, but none had explored the potential of an authentic NASCAR V8 motor. Teaming up with Toyota Motor Manufacturing Company and Scion USA, a vision came together to use one of the Phase 9 TRD motors from Toyota's NASCAR truck series in a drift car.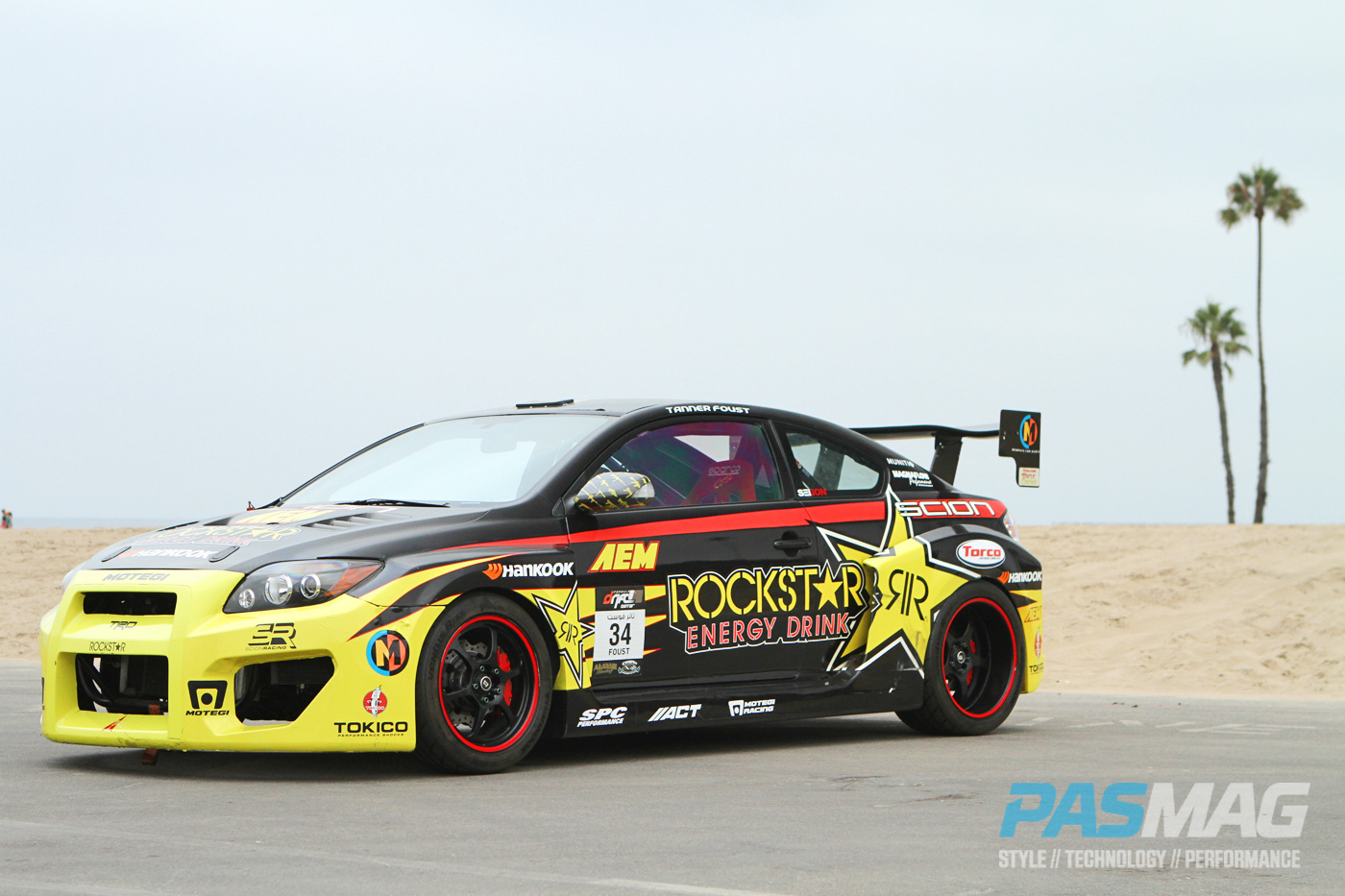 "When we first had the concept of using the tC, it was a time when drifting was an open book and anything you dreamed up, you could put on the track," says Tanner Foust, then the team's driver. "So, when Stephan said I could drive any car as long as it was a Scion tC, I said, 'Okay, let's get a NASCAR V8 from TRD and throw that in there!'"
The planets aligned. Due to a regulation change for the coming 2009 season, Toyota's NASCAR division had a handful of Phase 9 motors sitting in a warehouse that they couldn't use in competition. One of those was earmarked for the drift program.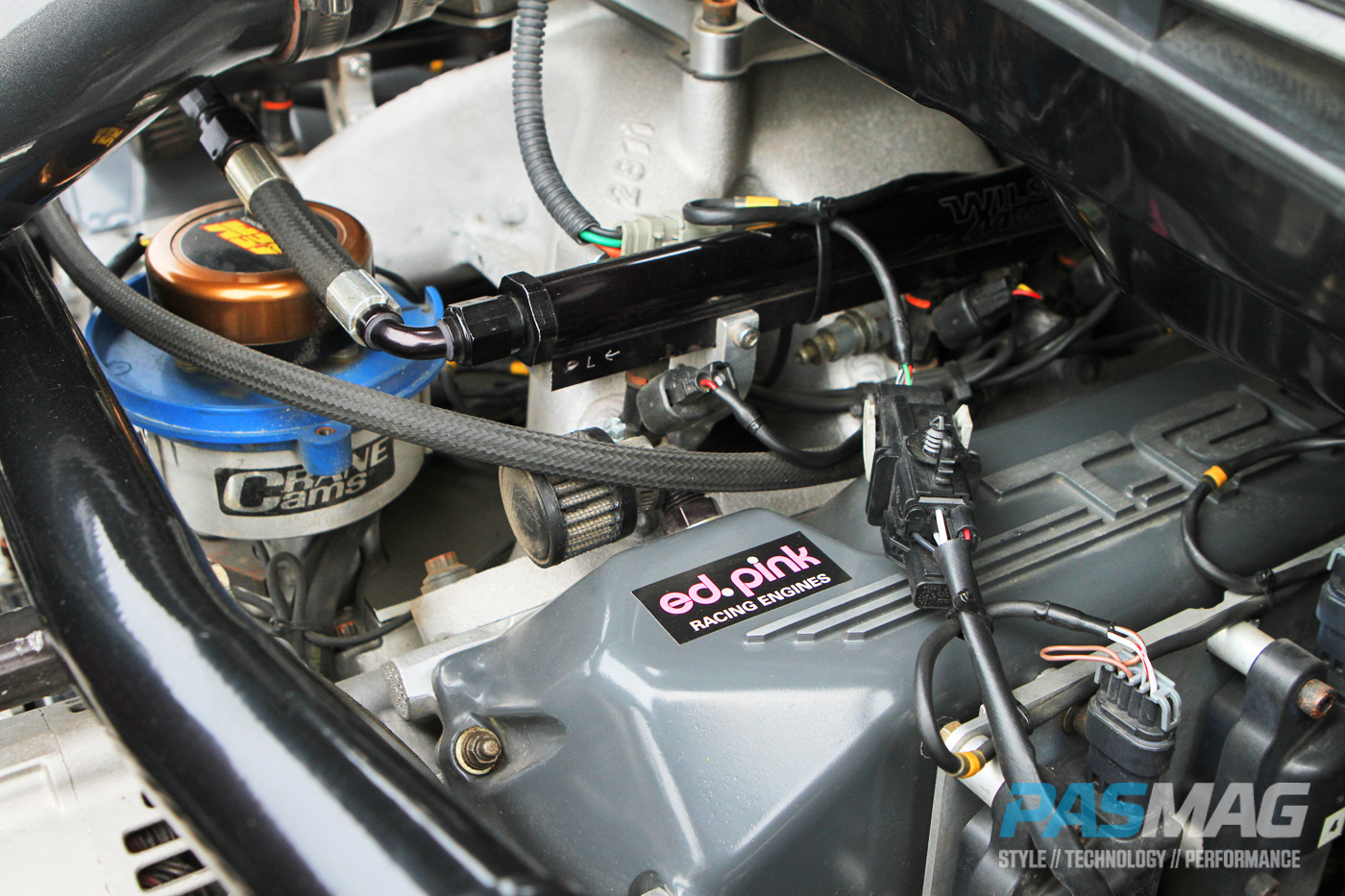 But the engine package was only part of the puzzle. The front-wheel drive Scion tC platform had to be converted to rear-wheel drive for drifting. Under a Formula Drift rule allowing the change (if a front-wheel or all-wheel drive model was available on the same chassis internationally), the series deemed the conversion legal for drifting competition based on the JDM Toyota Avensis, which comes in a 4WD model in Japan.
It's safe to say there was no prior blueprint to building the car, considering how out-of-the-box the build was at the time. For Papadakis Racing, the project was a major mission that occupied them completely in the off-season between 2008 and 2009.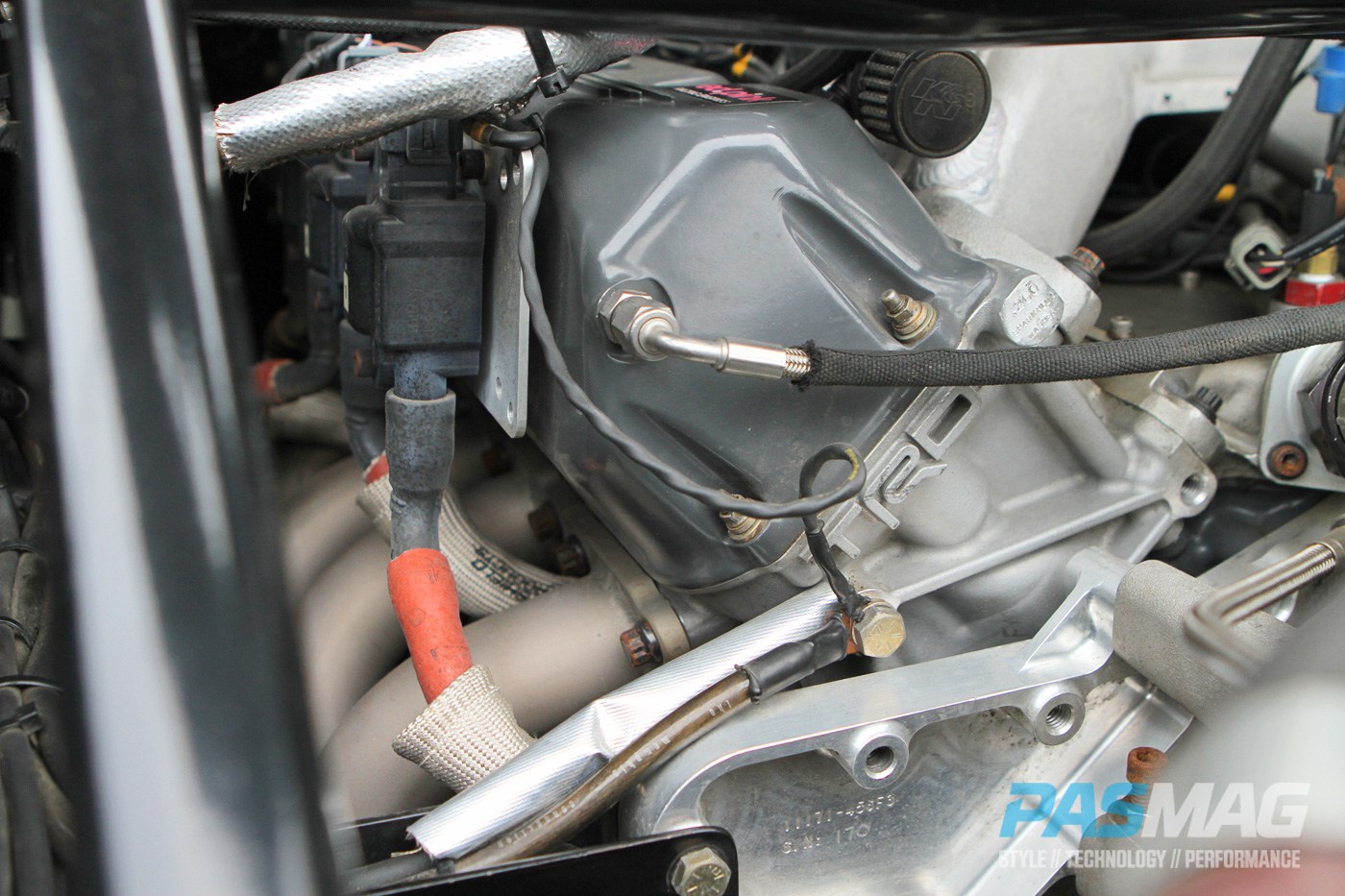 "The one thing we did for four months straight was just build that car," recalls team owner Stephan Papadakis. "It was a huge undertaking because we were doing something that nobody had done before. There was nobody to call and ask their opinion or videos to look up on YouTube or anything. We built it all from our ideas."
Fabrication started with a cut in the firewall to set the motor as far back in the engine bay as possible. A custom mounting plate was fabricated and the rest of the engine bay was built around the engine. "We were at the point where we cut out so much of the car that we were worried it wouldn't be legal," says Papadakis. "We ran two approvals of the firewall design past officials at Formula Drift to get the car accepted for competition."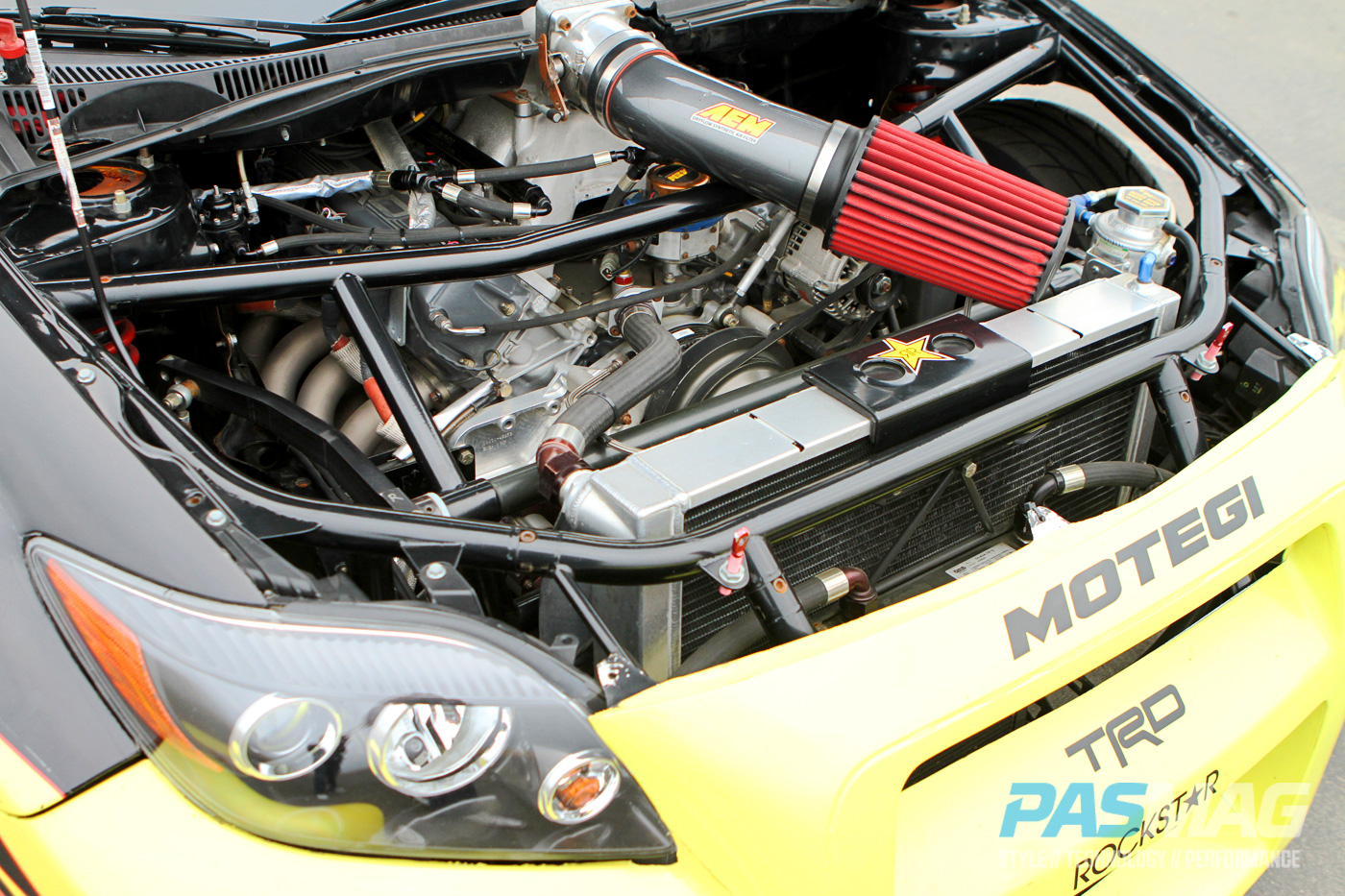 The motor presented its own set of dilemmas. A NASCAR team needs to achieve a different kind of performance than a drift team does, and considerable effort went into making the TRD V8 work for its new motorsport. "When we first got the engine in the car, it was actually very disappointing to drive because it had no torque or horsepower under 7,000 rpm," Foust recalls. "But then Steph went to work with Ed Pink and they reworked the engine to have a thicker torque band and still make power through 8,200 rpm."
Ed Pink Racing Engines facilitated the conversion from carbureted NASCAR specification to AEM-managed fuel injection – years before the rest of the NASCAR field was required to make a similar switch. Combined with a four-speed G-force dog-box transmission mated to an ACT clutch, the engine package was one of the most progressive setups at the time, pushing out well over 600 crank horsepower through Motegi Tracklite wheels and Hankook Ventus R-S3 tires, which are stopped by Wilwood brakes.
Initially, the Rockstar tC1 was built with Mk4 Supra rear suspension geometry and upgraded Tokico shocks, but the car was later converted to standard tC suspension to meet a rulebook change for the 2010 season. The rest of the car was standard for its era, with a custom Rob Miller Race Cars roll cage, full array of Sparco safety equipment, AEM gauges and an AIM dash display. Save for a firewalled fuel cell and a relocated sealed battery, most of the trunk area has been cut out, which is legal per the rulebook.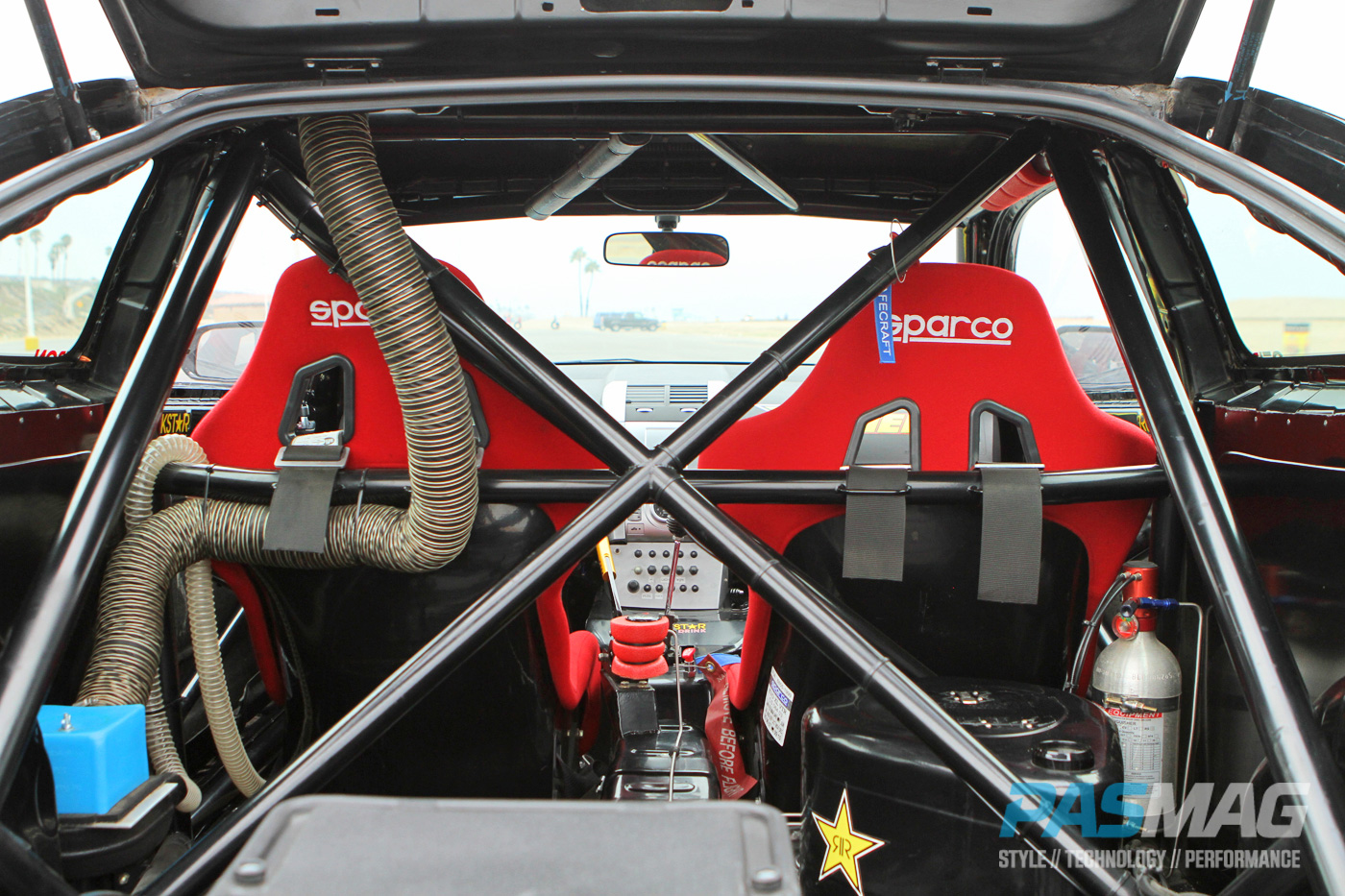 For the exterior, a custom Scion Racing widebody kit was spaced out additionally in the rear by the Papadakis crew to allow for extra wheel clearance, and a Seibon Carbon hood, trunk and doors replace the OEM pieces.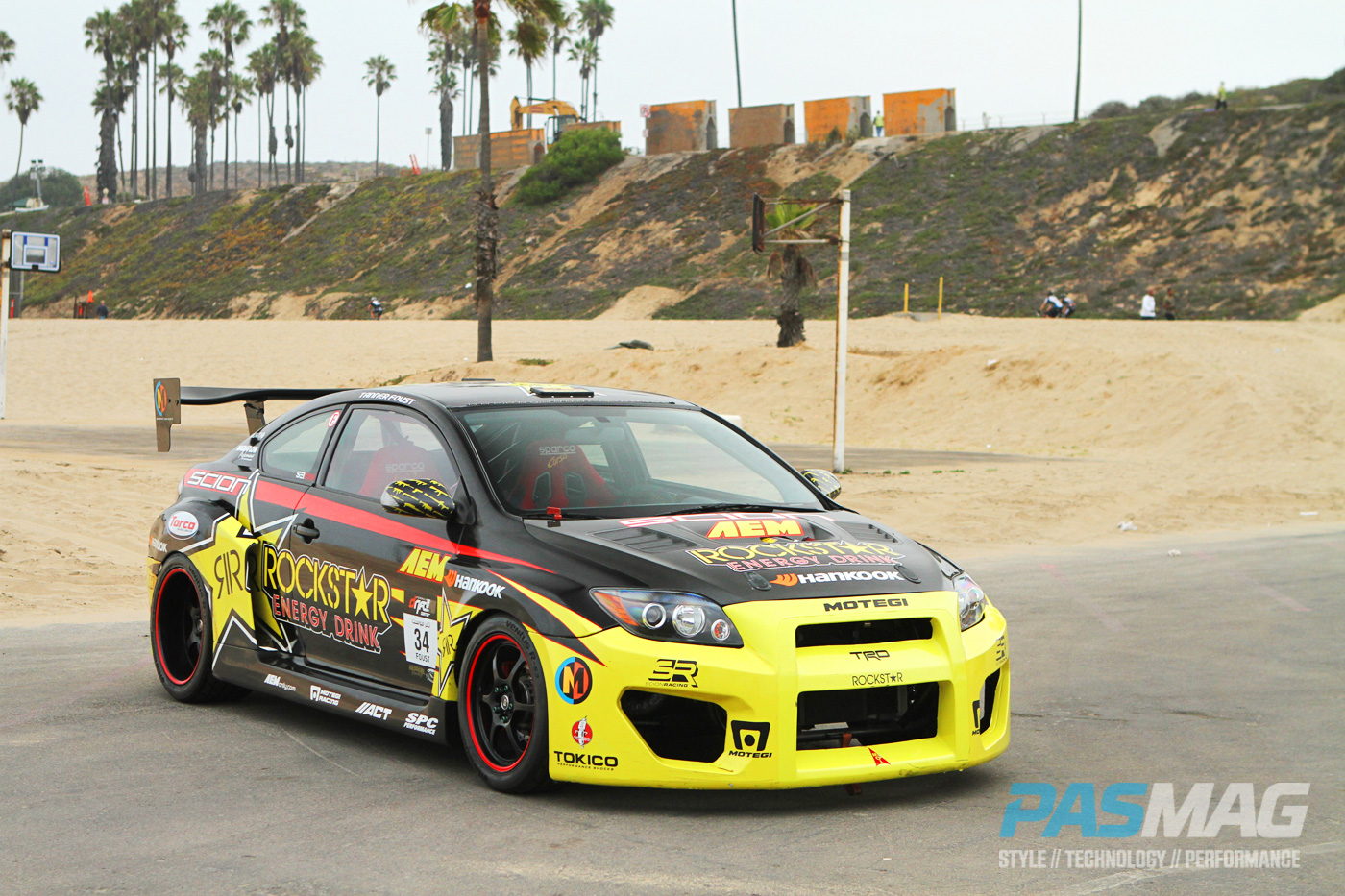 "We definitely put a lot of unconventional elements into that build, but we were used to that because that's what we were doing back in our front-wheel drive drag racing, too," says Papadakis. "We were the ones at the leading edge of the technology."
While the tC1 only competed for two full seasons in 2009 and 2010, the car picked up three event wins, eight total podium finishes and two top qualifier efforts. It is still the winningest Scion chassis to date, thanks in large part to the reliability and consistency of the build.
"The philosophy on that car was very much about creating rear grip so that it would essentially do a wheelie around the track," says Foust. "It didn't have much steering angle and it had skinny little tires in the front, but as long as your foot was on the floor it would squat and pull itself out of a drift. It was a car that required full commitment to drive. I could run most of the tracks in FD in one gear and once you're doing that, what more do you need?"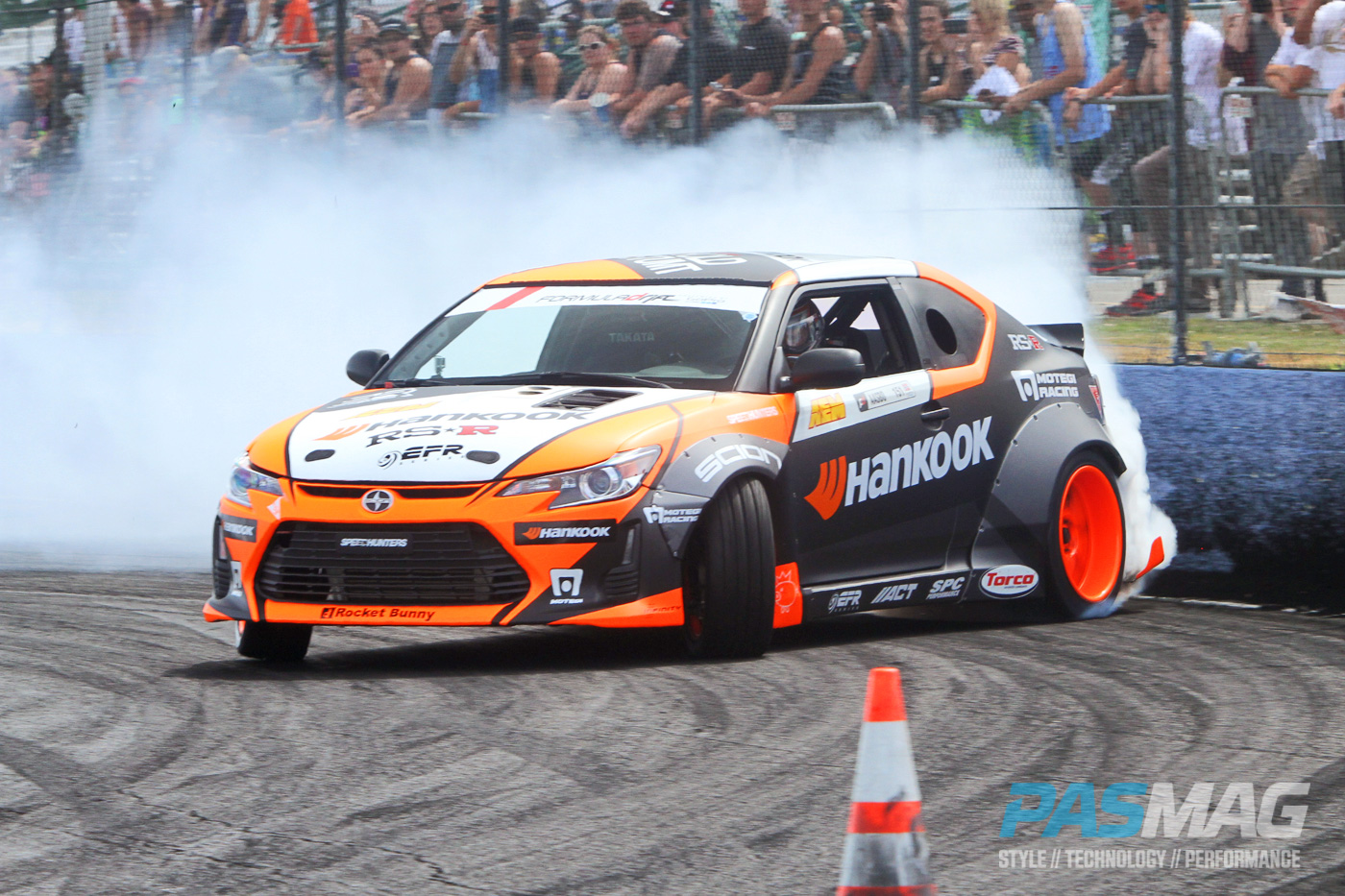 Between the 2010 and 2011 seasons, Foust announced he would step away from drifting to pursue his rallycross and television careers, thus giving the Papadakis team an opportunity to bring in a new driver in Fredric Aasbo, as well as a new car.
After discussions with Scion Racing, the team decided to move to the tC2 chassis and switch back to the four-cylinder 2AR engine and turbocharged roots that Papadakis Racing showed back in the days of import drag racing. "We wanted this car to be more authentic to the production model, with the four-cylinder engine," Papadakis says.
Even so, the team's drive for innovation is unstoppable, and the tC2 is the product of a shop that thrives on the challenge of progressive vehicle development.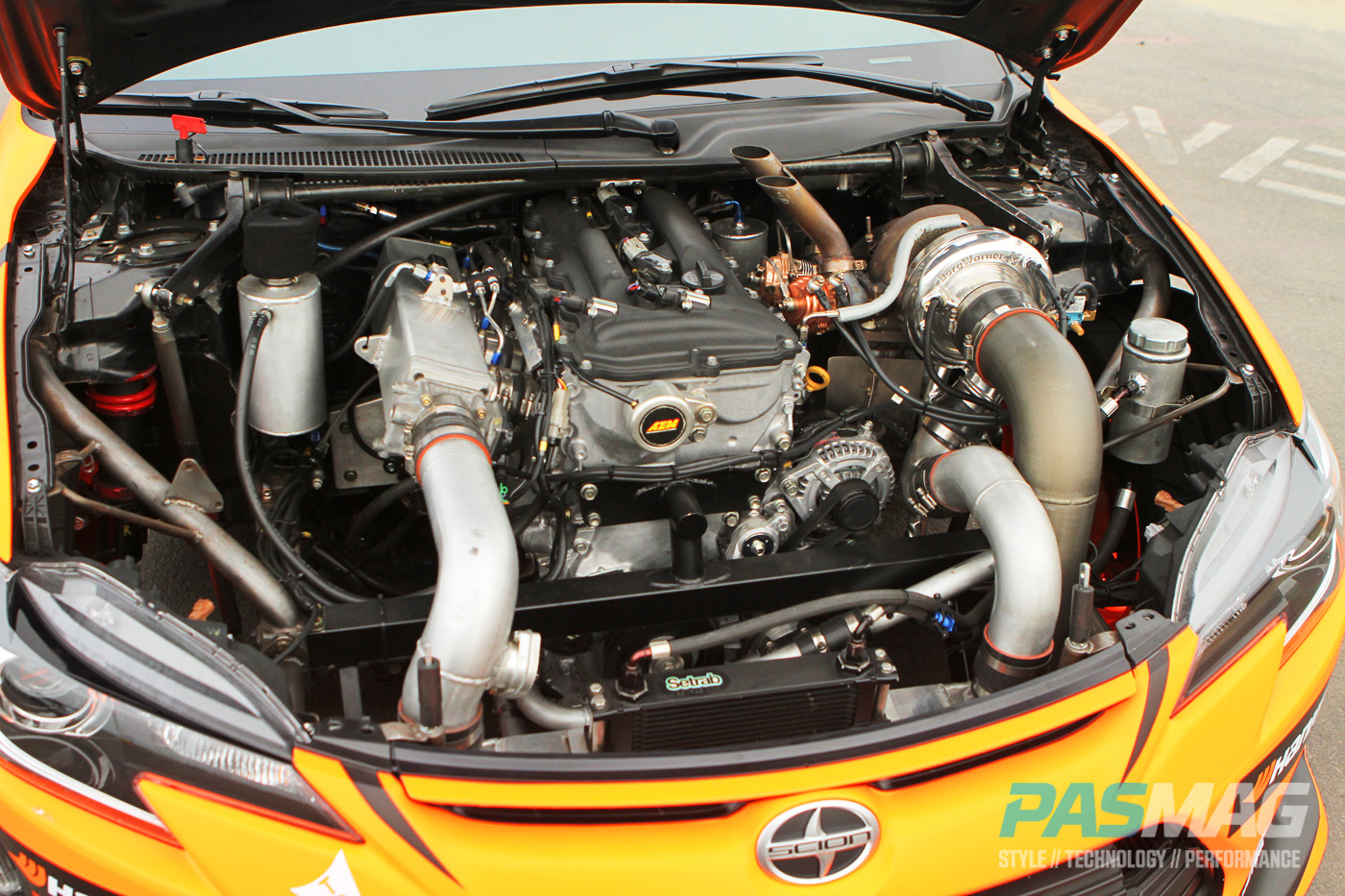 In the fourth season of campaigning the tC2 in Formula Drift, it became the most powerful four-cylinder in the series and one of the most competitive four-cylinder drift cars of all time. The team reports that its current 2.7L stroked motor configuration pushes out over 800 horsepower and 700 lb-ft of torque – although some mumblings in the pits suggest it may be pushing much closer to 1,000 horsepower at full throttle. It is mounted longitudinally, a configuration requiring the team to fabricate a crossbeam between the frame rails to hold a custom engine mount. Beyond that, the engine bay is surprisingly open, thanks in large part to the trunk-relocated radiator and minimal intercooler piping.The Borg Warner EFR 8374 turbo features an internal blow-off valve to further help consolidate the piping required.
"Years ago, when I first started getting into the car scene, what attracted me was you could modify these cars to show some of your personality," says Papadakis. "After years of learning how to build racecars, I think my personality is more than a body kit and decals. It's about fundamentally changing the car to make it the best expression of what a drift car should be."
This isn't an average 2AR motor underneath the valve covers. JE Pistons 10.5:1 compression pistons, Carrillo rods and a Supertech valvetrain replace the OEM parts. Port Flow Design performed the head work, with final assembly happening at Papadakis Racing HQ. Your average 2AR motor sits at 2.5L of displacement, but by using a 1AR crank from a Toyota Sienna, the displacement has been increased to 2.7L. Shockingly enough, the stock 2AR oiling system is still there, filled with Torco SR-5 5W-40 motor oil.
"The fact we are beating 1,000-plus horsepower, full-fledged V8 super sports cars on track says it all," Aasbo says. "This tC is pushing the bar big-time when it comes to four-cylinder tuning and going against the stream in today's competitive drifting scene."
Inside, a custom sheet metal center console houses a set of AEM gauges and various switches. An AIM MXL dash is fed information by the AEM Infinity EMS. Takata seats and harnesses hide the major difference between the tC1 and the tC2: a very large bottle of nitrous. Showcasing the capabilities of the AEM EMS, Papadakis has programmed the ECU to use nitrous oxide to help spool the turbo, being used only at certain thresholds of throttle and boost. This allows for much quicker turbo spooling without the engine strain of having nitrous spraying full-time.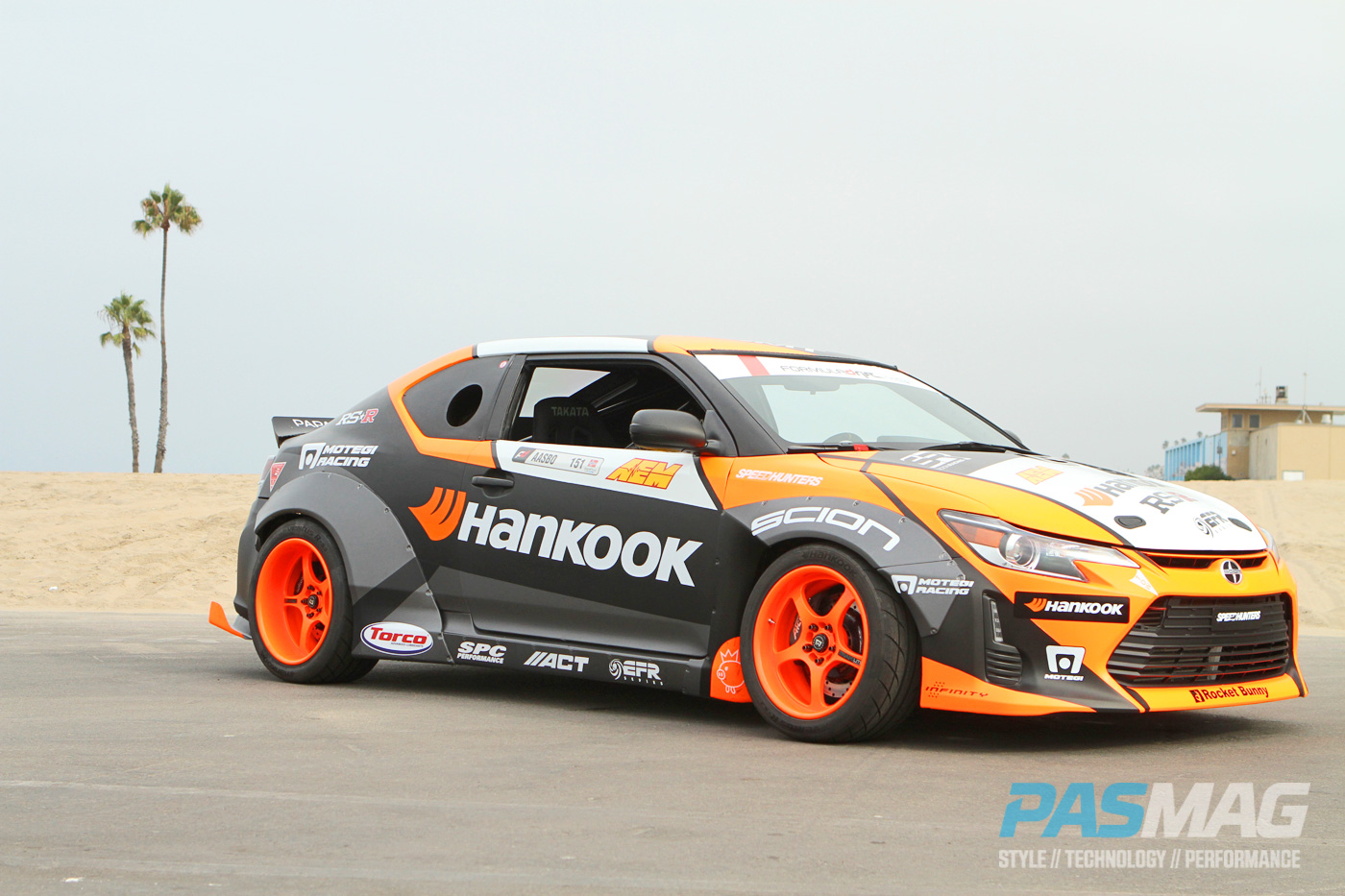 Outwardly, the car boasts the very first Rocket Bunny kit designed for the 2014 Scion tC. The suspension has undergone a considerable evolution with improvements in geometry. Suspension is controlled by custom RS-R coilovers with dialed-in SPC adjustable arms. The Motegi Traklite wheels and Hankook R-S3 tires make a triumphant return. Braking is also handled by Wilwood calipers, including a second rear caliper for the hydraulic e-brake.
"My favorite thing about driving the Papadakis Racing / Hankook Tire Scion Racing tC is that it feels like nothing else," says Aasbo. "It's such a unique, crazy contraption and there's actually no other car like it."
Not even the tC1, which Papadakis admits he still has a soft spot for.
"The tC1 is the best sounding drift car out there," he says. "The tC2 is better in every other way: it handles better, it makes more power, it gets more speed. But the tC1… that sound is amazing."
But for all its growling fury, power output remains the biggest evolution between the tC1 and the tC2. The newer car has as much as 150 percent more power.
To date, the tC2 chassis has one FD event win, five podium finishes and a pair of top qualifying honors. As of press time, Frederic Aasbo sits second in points in a battle of epic proportions in the 2014 Formula Drift Championship.
Although Papadakis Racing has won the Formula Drift championship twice now, a potential third championship with the current tC2 chassis would be even more satisfying, as it would mark the first-ever Formula D championship for both the Scion brand, and a four-cylinder car.
For more information on Papadakis Racing visit: http://papadakisracing.com.