Photography by Adam Gordon, Brian Fox, Michael Nardi
---
As much as vinyl wrap companies and enthusiasts will hashtag #PaintIsDead in their social media posts, the vast majority of the industry recognizes the fact that paint will never die. As stunning and intricate as some vinyl wraps may be, no vinyl will ever compare to the shine and lustre of a fresh paint job, with depth you could get lost in for hours. While some enthusiasts may scoff at the often more costly paint process, there are just as many who know that a proper paint job is worth it.
With paint, the possibilities are endless, but how exactly does the process differ for different paint finishes? What makes a matte paint stay that way? How does a satin finish blend the best of both matte and glossy finishes? How does a single stage paint differ from a four-stage paint? We sat down with BASF, one of the best paint companies in the world, to see exactly how different paint finishes come together.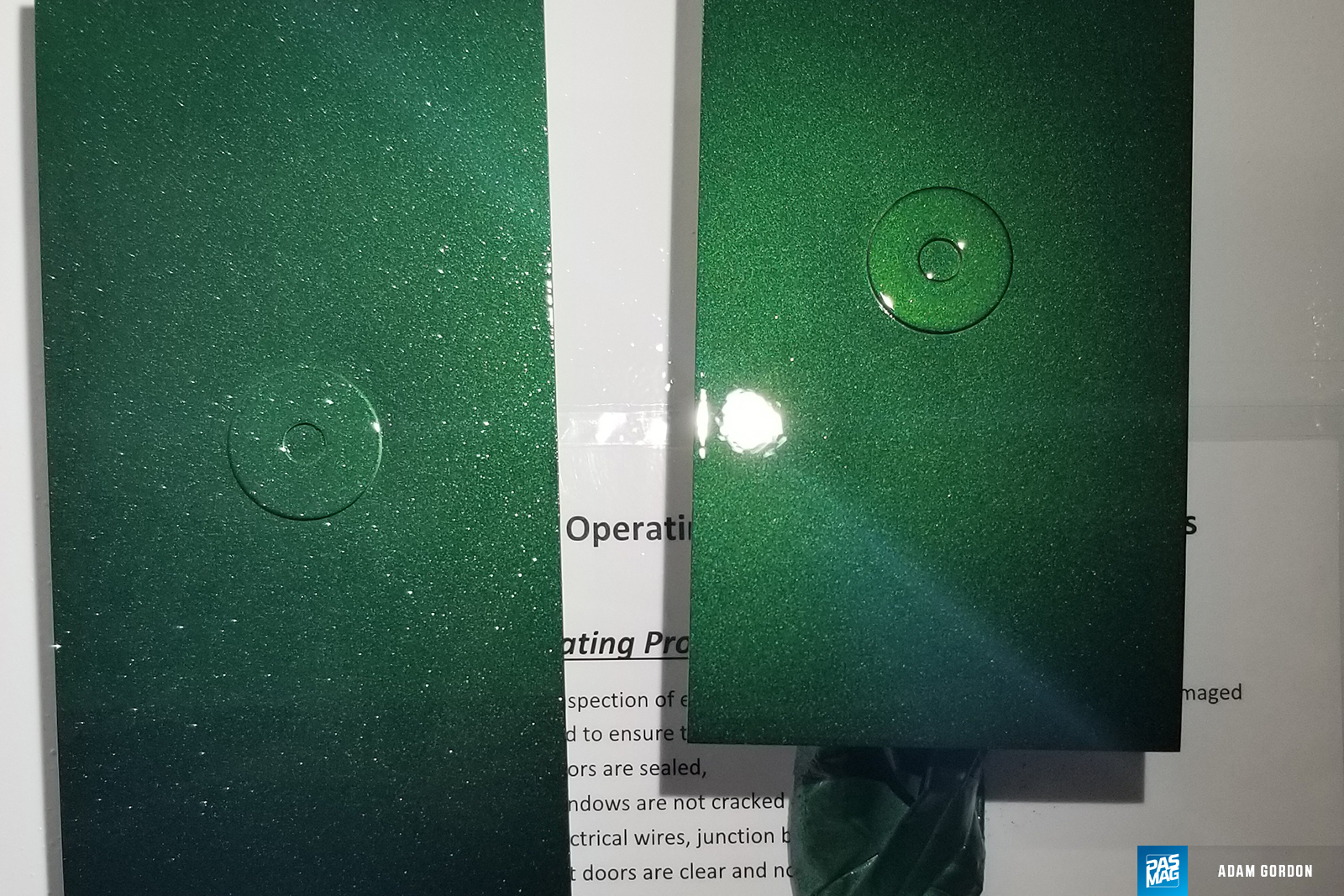 The first step to any paint job is preparation. To ensure a proper job, the car, truck, bike, or whatever you have to paint has to be prepped for the entire process. We asked BASF what the most important parts of prep are:
"The first step in prepping a car for refinish is cleaning. All panels to be refinished require thorough and proper cleaning, using both water-based and solvent-borne cleaners. After the parts are clean and dry, the preparation is solely dependent on the substrate. Substrates include raw plastic, primed plastic, aluminum, steel, galvanized steel, E-coat, old OEM paint work, as well as old aftermarket paintwork. In any case, after cleaning the next step is almost always sanding. The sanding grits used are chosen depending on what coating is being applied first - for example, spray filler, primer, sealer, basecoat/clearcoat or single stage paint. All paint manufacturers produce technical data sheets, and these contain all of the information needed on how to prepare a substrate for a particular coating."
With the car cleaned, sanded, and ready for paint, it is then time to make a move towards the actual painting process. As you may imagine, it's not always as simple as just spraying paint on the prepared car and rolling it out of the booth - but it can be. We mentioned single stage paint, two-stage, three-stage, and four-stage paint above, so what do those "stages" mean? I'll let BASF explain:
"Single stage paint is color and clear coat in one. They do not do well in outside high-UV environments, unless they are protected by an additional clearcoat. Two-stage is base coat and clear coat, which is what 98% of the manufacturers use today. It simply means there is a color applied (stage 1), then a clear coat (stage 2) to give protection, shine and color clarity. Three-stage in general are pearl whites, however there are some other colors that are three stage, or "tri-coats." This process utilizes a solid ground coat (stage 1), followed by a pearl coat (stage 2), and then lastly a clear coat (stage 3). Four-stage, or "quad-coats," are becoming more popular. It is similar to a three-stage, but a lot more complex. Lexus Structural Blue is a good example. First a solid color is sprayed (stage 1), followed by a metallic or pearl color (stage 2), then a candy or very transparent solid color (stage 3), and then lastly the clear coat (stage 4)."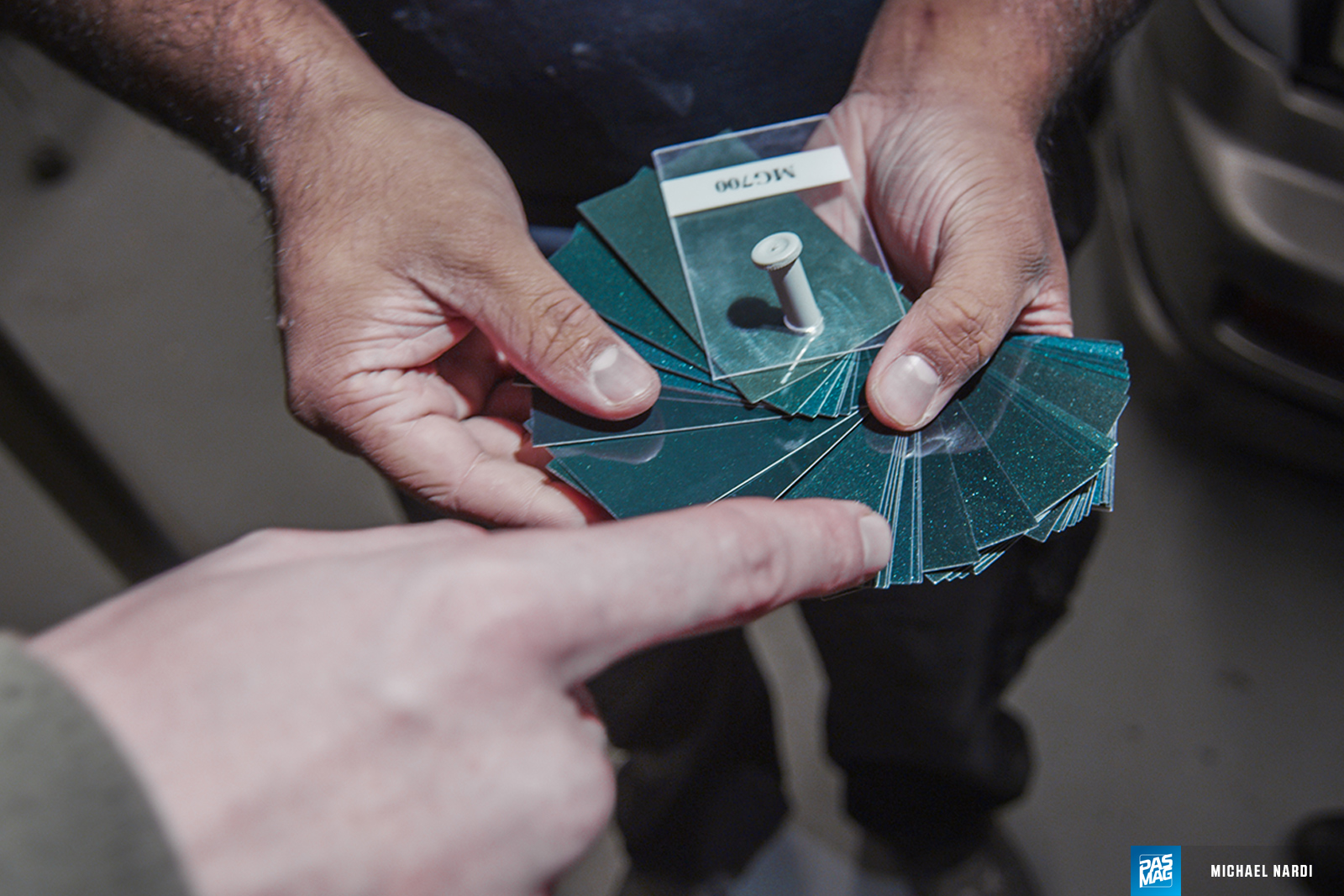 So where exactly does the finish of the paint come into play? Glossy, matte, and satin finish paints are all drastically different in appearance. How exactly does each one get sprayed? Let's let BASF break it down.
Gloss Finish:
"After the application of the color coat - either base coat or single stage - then clear coat is applied. For a standard OEM repair, the base coat will have two full coats of clear coat applied, with a small dry time in between coats. In the industry, we call the time between coats "flash" time. This designates how much time is required starting at coat one, and moving to subsequent coats. The more coats, the longer the flash. After the clear coat is applied, the vehicle is allowed to air dry, or it is baked, depending on the environment. After the paint is cured, small imperfections are sanded out with a fine grit of paper, and then the vehicle is polished by machine to generate a high gloss."
Matte/Satin Finish:
"The preparation is the same for all paint work. Cleaning and sanding are required for 99% of paint operations done today. The key difference is that you are using a matte clear coat. To clarify, a regular clear coat is 100% glossy in appearance. We put a flatting agent into the clear coat, and that knocks down the gloss level to about 50%. This gives the appearance of a matte/satin finish (satin is no different than matte, with the exception of a 20% higher sheen). Just remember it cannot be sanded and polished when finished. Cleaning and preparation is critical for the success of a matte paint job, as any dirt inclusions will be visible after the paint work is complete."
Still curious about the paint process and materials? So were we, so we held a brief impromptu interview to make sure we covered all of the bases about paint techniques for you guys!
How do things like pearls and flakes find their way into a paint? Does that process change depending on the paint finish?
"When we match paint, we mix color from a formula. We add the pearls or metal flakes into the color when we mix a specific formula. Every color is different, so every mix is different. The manufacturers dictate colors, and then we must match them in the field using many types of toners. All colors are sprayed about the same, with minor adjustments being made on metallics and pearls."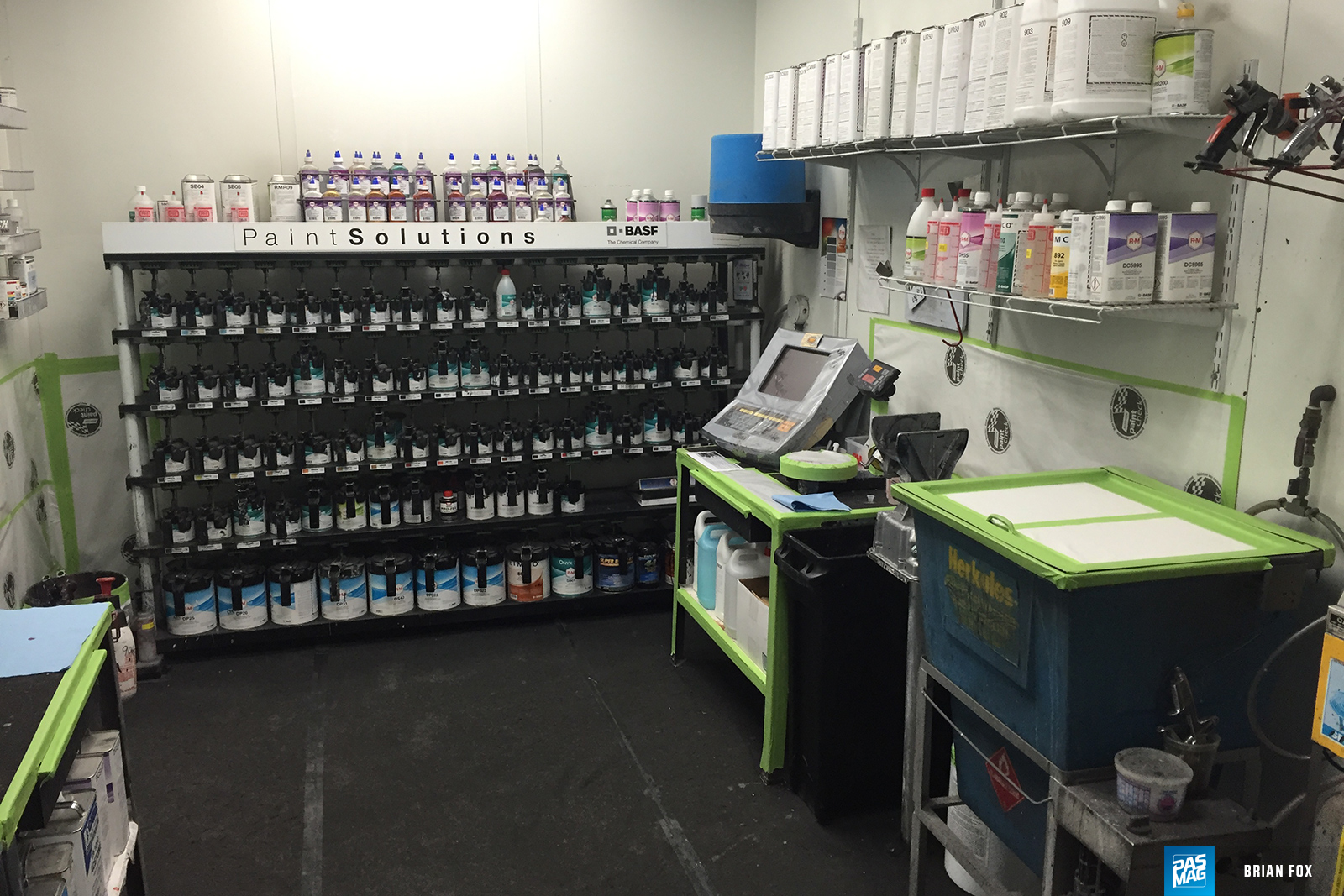 What is something people often get wrong about maintaining their fresh paint job?
"Brush style car washes are the worst. Brushless is way better, as it is not putting micro-scratches into the clear coat. All vehicles should be waxed at a minimum of twice per year, always using a clay bar prior to waxing. Fresh paint needs to be cured for about 60 days before applying wax because it needs to breathe. The wax can stop that process, and cause premature paint failure."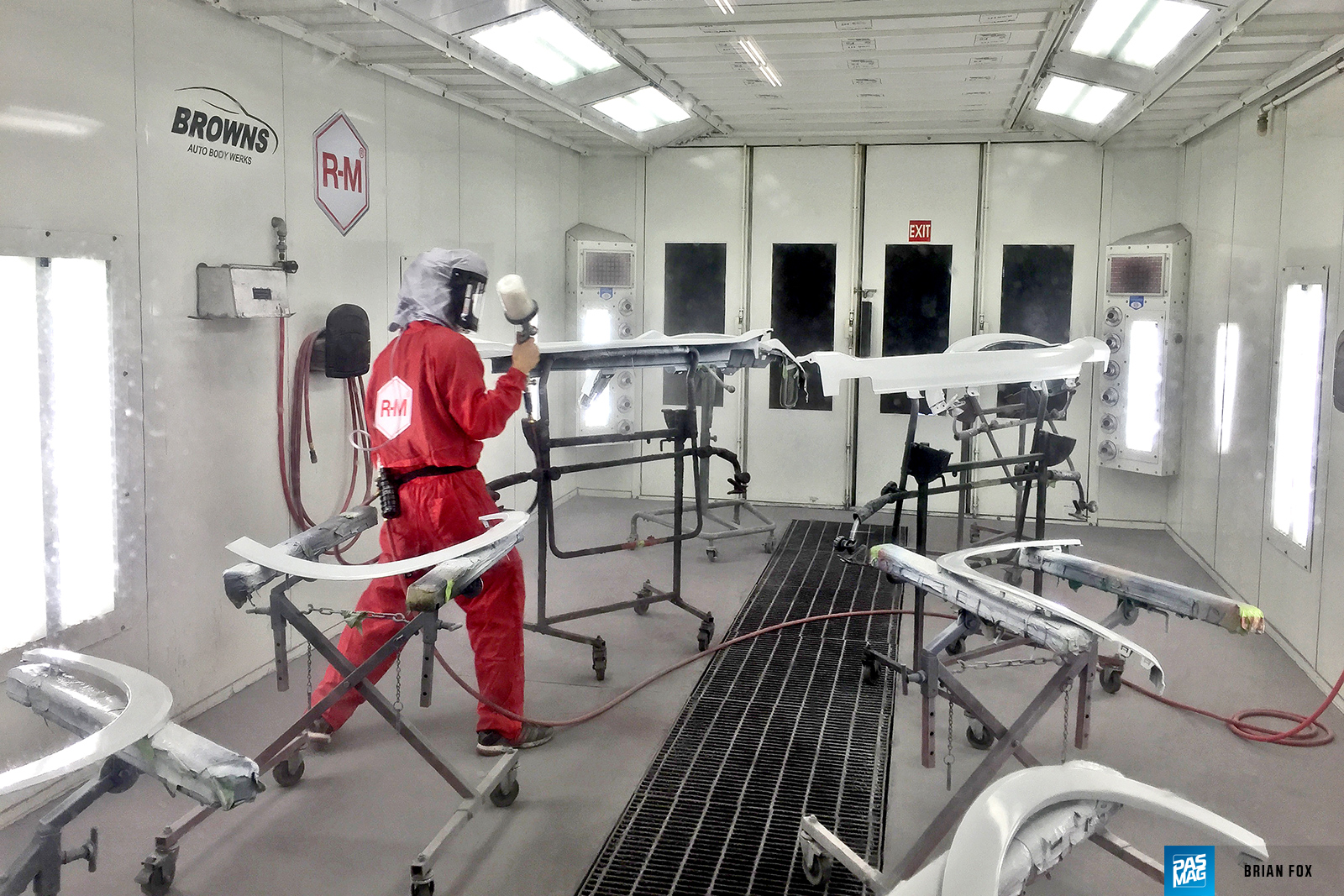 Can you briefly describe the difference between a cheap paint job and a professional-grade good paint job?
"The two biggest areas are preparation and material type. A cheap paint job involves poor preparation, like not taking the car apart and/or poor sanding techniques. A good job will go through a full disassembly, followed by very stringent and thorough prep work. The second factor is the type of paint - they are not all created equal! There are clear coats that are $75/gallon and clear coats that are $500/gallon, and you are absolutely getting what you pay for. In general, the higher the coat, the better the UV protection, gloss, and longevity. Additionally, a $500/gallon clear coat will carry a lifetime warranty, and the $75/gallon will have none at all. Always go with the best material that you can afford, as it is absolutely worth it in the long run."
For more information on BASF, go to www.basf.com.