When you start building your car stereo system, the very first thought in your head is "Boy, I wanna get good wire!" said not nearly enough people.
It's a universal truth: wiring is as underappreciated as it is vital. Get lower quality wire, and the system suffers; as the amps get starved for current, they get hotter and don't deliver the power you paid for. They may even start shutting down. And yes, poor power wire may even be a potential fire hazard.
The difference isn't easy to spot. Big wire looks like - well - big wire. What you don't see is how much actual wire is in the cable itself, or how many strands are in the cable, as opposed to a bunch of jacketing with an anemic amount of metal inside. Is it cheaper? Of course. Is it safer, or more flexible for easier installation? Probably not.
For more than two decades, KnuKonceptz has concentrated on engineering power wire, and the connections that ultimately deliver power to your system. As one of the few companies that specialize in this particular science, President Bill Greenberg appreciates the importance of a solid, reliable connection.
"Let's get our customer the best bang for their buck. Let's make the wire bigger while staying in the same wire gauge. Going direct to the consumer, giving them a better product, and let the public decide. We were one of the first to embrace CCA (Copper-Clad Aluminum). If you oversize the aluminum, you can get close to the conductivity [of Oxygen-Free Copper]. It's a good value."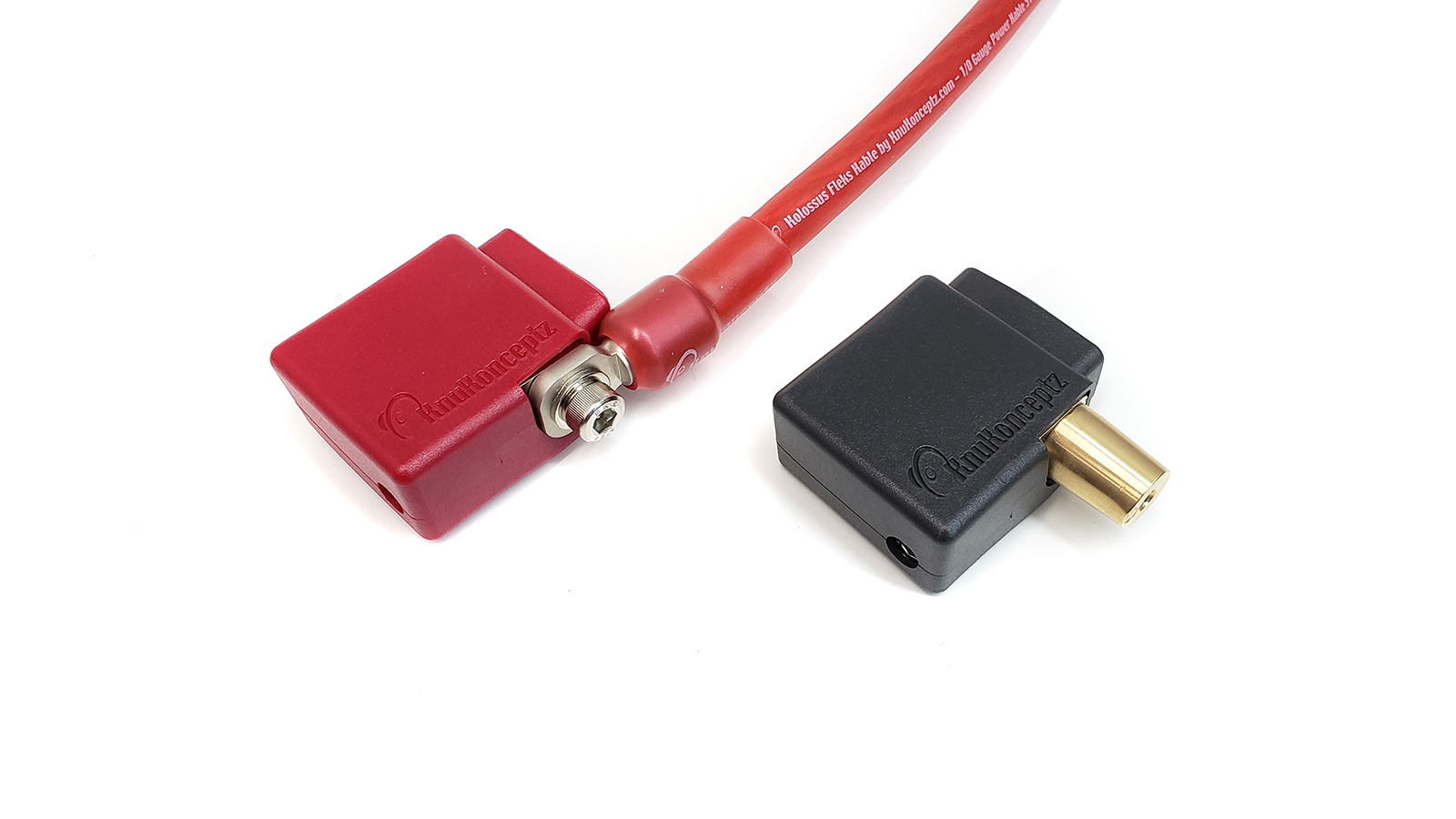 In addition to wire, KnuKonceptz also engineers custom terminals and distribution blocks. One of their most innovative - and popular - is their Ultimate Battery Terminal. The manufacturer listened to their customers during the development of the terminal, paying special attention to those who wanted to add power wire while avoiding the removal of the factory battery terminal. "Say you are adding a 1/0-gauge wire, but don't want to destroy the OEM connection. We make a top post adapter that screws into it horizontally," explain Greenberg. "You can then connect the factory terminal there. Then add whatever terminals you want to the connectors with zero modifications to the vehicle." The terminal uses a zinc alloy, which has the same conductivity as brass but is more affordable.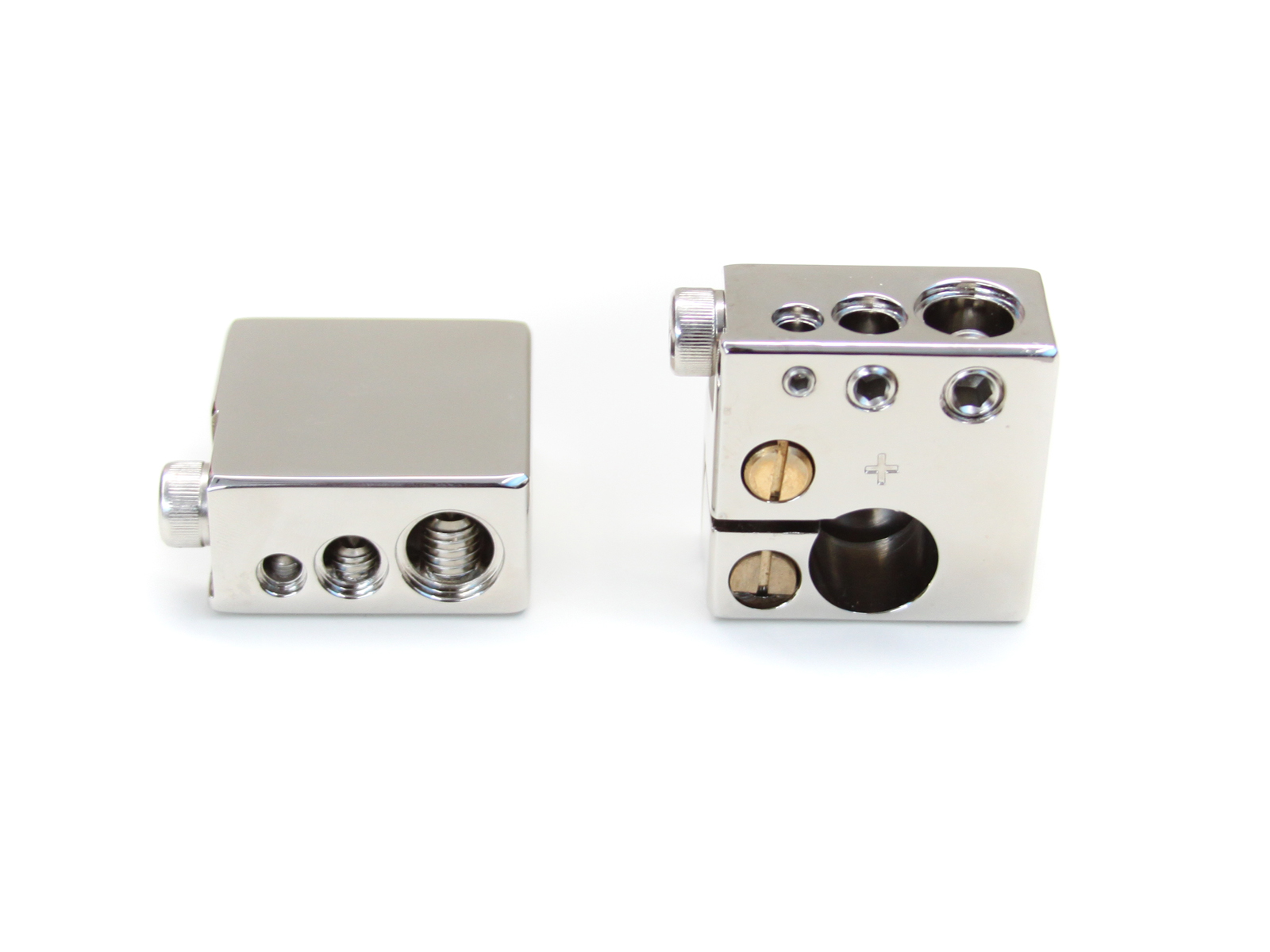 The KNF power distribution block is another example of approaching power distribution from an unconventional angle. The block has multiple configurations, allowing the user to potentially serve as both a power and ground block. The block can facilitate fused power for as many as four amplifiers, or the block can be altered in multiple configurations to accommodate power and ground in a single frame by moving hardware around internally. "It can do the functions of multiple blocks," Greenberg said. "The goal was to save space, and ultimately some of the budget."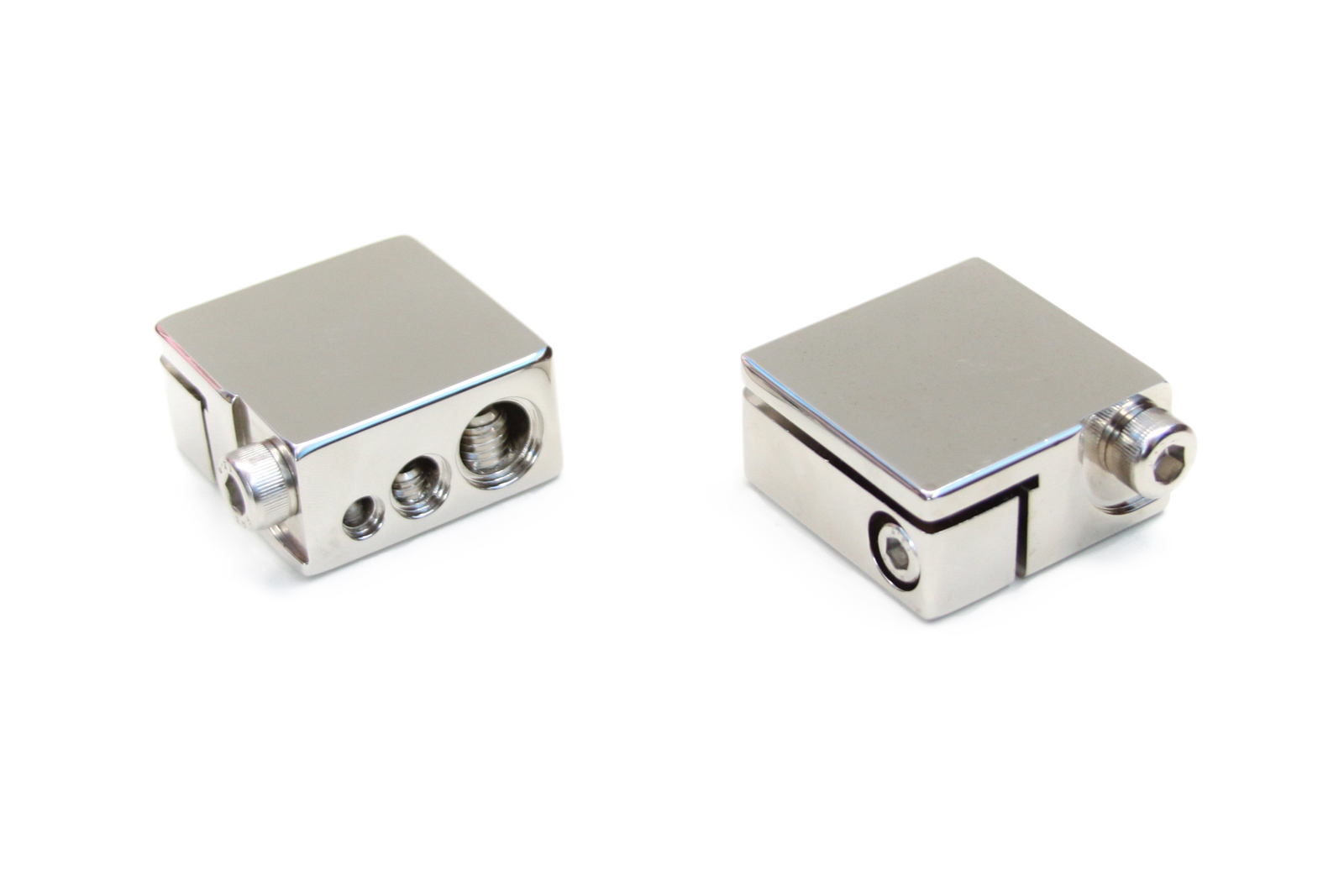 Greenberg also voiced his priority on education, and truth in advertising. Look on their eBay or Amazon pages. You'll see the type of wire and maximum amperage is plainly stated. "We have a scale on our eBay and Amazon pages to help," said Greenberg. "It shows you the wattage the cable is rated for, it shows you the gauge and the materials the cable is made out of."
Wiring is an especially difficult facet of car audio to explain to the uninitiated. To help an aspiring DIY-er, KnuKonceptz added several educational articles to their online Support section, with more on the way. The company also decided to be a sponsor of www.caraudiofabrication.com, a site dedicated to car audio education.
As the car audio hardcore will tell you, this is a vital part of a "Big Three" upgrade: battery and alternator being the other two. With a little research, your sound system can play hard, sound great, and last for years.
For more information, visit www.knukonceptz.com.