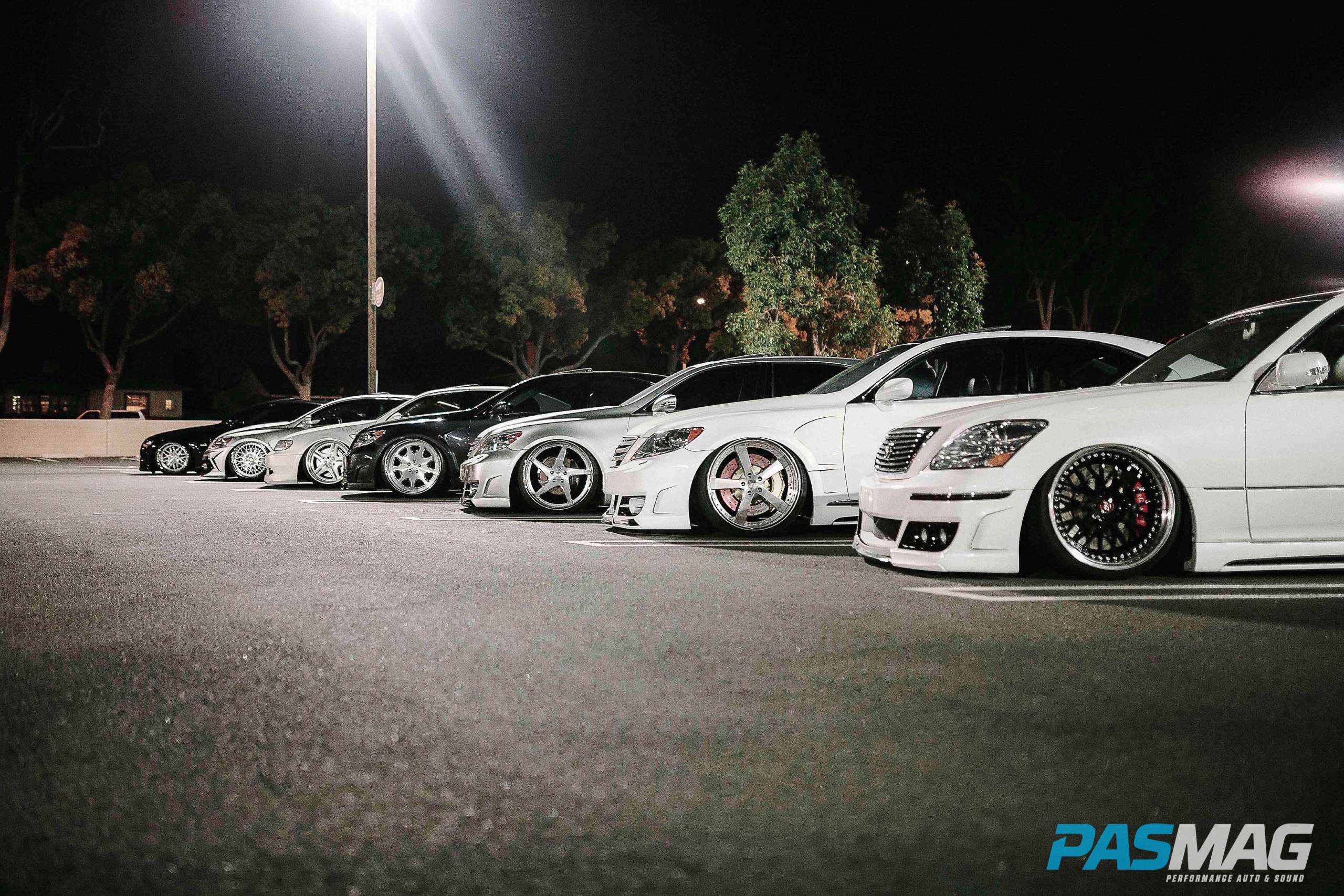 Written by John Liwanag. Photography by Phillip Awad
One definition of a car club reads like this: a group of people who share a common interest in motor vehicles. There are others, but I'd say that one sums it up the best.
Car clubs have been around for many years, and no matter the type of car or the modifications you favor, there's likely a car club to match your ride and interests.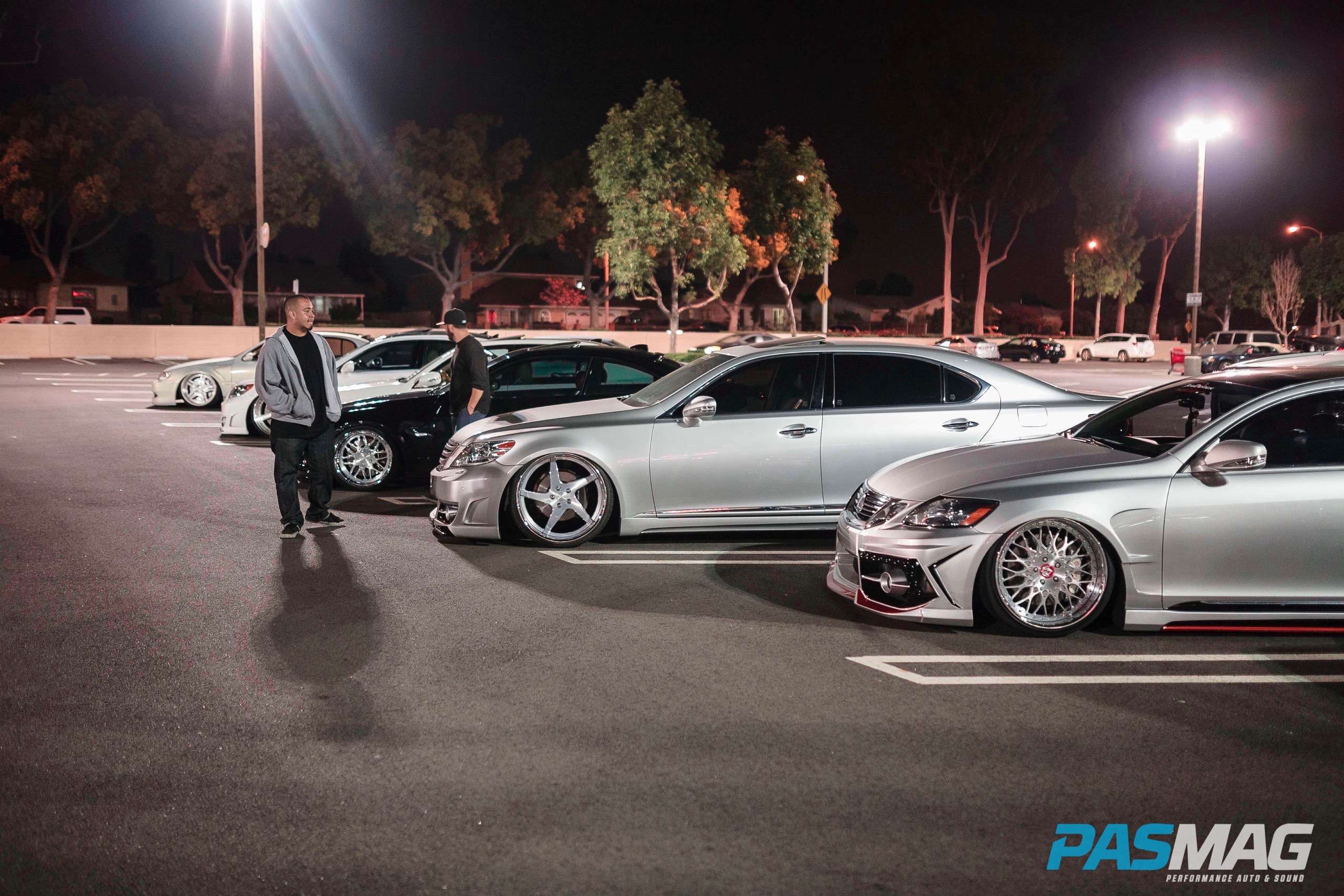 Clubs always revolve around a membership. In some cases, to become a member of a club, you'll need to enter what is known as prospect status. As a prospect, you'll meet current members and demonstrate how you fit in with that club's mantra. You'll also take part in many tasks to help benefit club, like assisting in vehicle preparation and helping work on cars going to events. Once you complete your time as a prospect you are awarded full membership. This is usually signified with a special decal for your car and/or a particular piece of clothing that bears the club's name. A majority of clubs are highly-organized and run much like a business. While some are formed from the love of attending car shows or drifting events, other clubs are formed because of a shop or vendor. Clubs that promote shops or vendors were very controversial when the practice first began a few years back, but in time they began to form within the rough definition of a car club. In these clubs you are able to secure sponsorship for your car, whether it's something as small as decals or as large as a full set of tires. Some clubs may also require a membership fee, which goes to help fund the club and its activities.
| | |
| --- | --- |
| | |
These are just some small perks to belonging to a club. What is most important in determining the right club is finding one that feels like family to you. A lot of times my club gets together or stages meets just to talk cars, upcoming events, or grab a bite to eat, which is a perfect time to talk business.
Clubs often get together at their favorite restaurant to eat and talk about their builds and any information pertinent to the crew. Or, they'll meet at a specific garage equipped with their tools, ready to tackle whatever needs to be done. It might be to help a fellow member perform the latest modification, or just maintenance to keep their cars running at an optimal state. When you have a lot of members, it's nice to know that no matter how tough the install is, a teammate is always there to help you out.
Having a solid membership gives you the opportunity to enjoy your car, learn something new and build lifelong friendships in the process.
Platinum VIP is major crew from Southern California that started within the body shop of the same name in Irwindale. Kennedy Nguyen started the shop in 2007 and formed the club along with his closest friends, employees and clients, using the cars they built themselves. Today, the shop works on everything from Chrysler 300s to the Scion FR-S, but the club is recognized primarily for its work on luxury Japanese marques such as Lexus and Infiniti. Each car is created and maintained within the shop walls with perfection as the end goal.
As a crew, Platinum VIP attends many events throughout California. Each member shares a common passion for the VIP cars they own, including Lexus LS 430s, LS 460s, GS 450s and even a Euro(!) BMW E92. When Platinum VIP got a booth at SEMA to promote its relationship with Job Design Japan, the entire crew was there to see the show go off without a hitch.
Car clubs bring together people from all walks of life. Lowriders and hot-rodders defined this in the early days, but now there is a massive range of clubs to be a part of. Whether they're laid back or run like a business, car clubs are a major part of our industry. So find one that suits your needs, your personality and of course, your car, and see what it's all about.


Crew Love Roll Call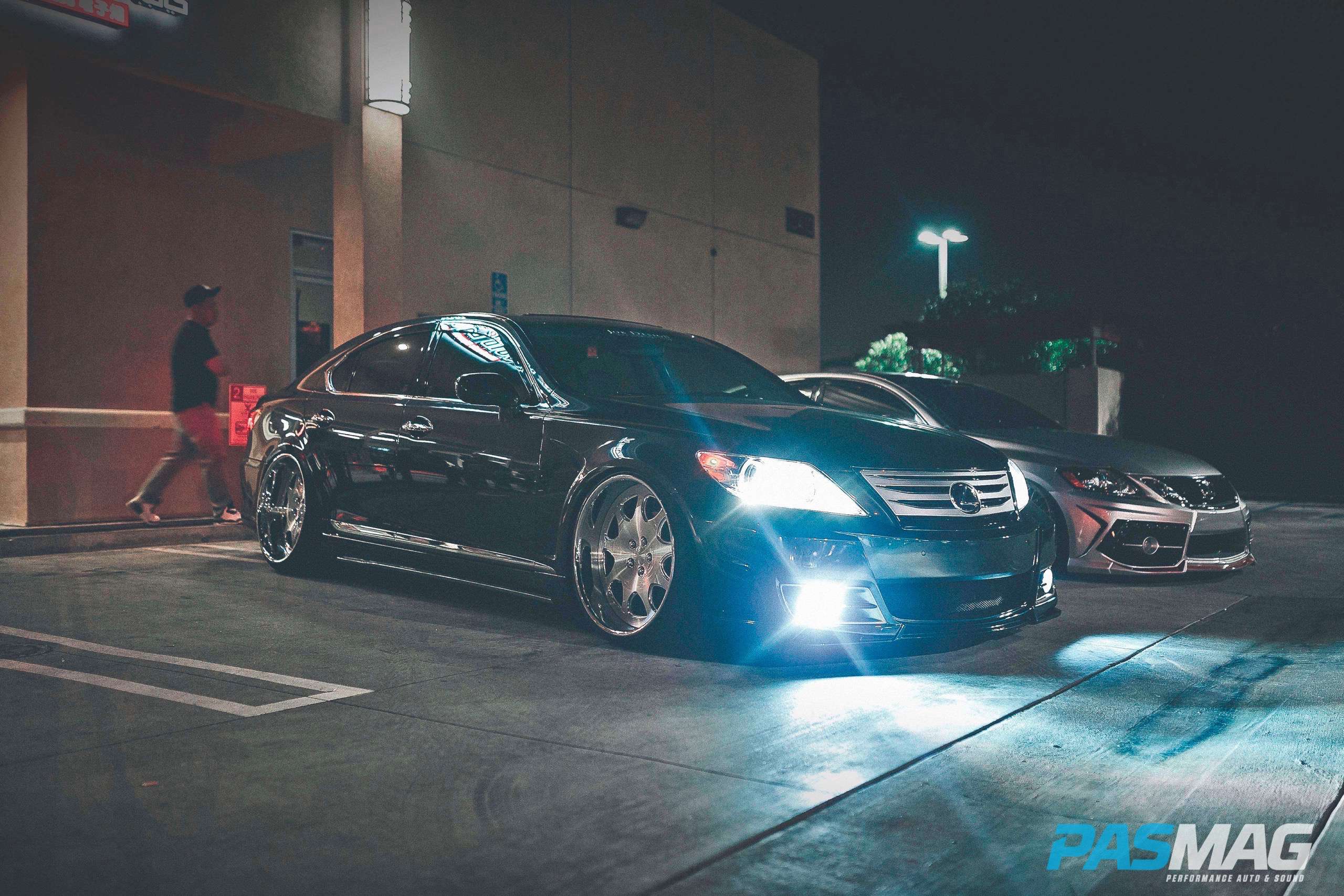 ESSENTIALS // Vehicle: 2008 Lexus LS 460, Owner: Charlie Huynh, Club: Platinum VIP
ENGINE // 1UR-FSE 4.6 L - AEM custom (air filter, one-off air intake)
EXHAUST SYSTEM // Magnaflow exhaust - Job Design Hyper Cutter Billet aluminum exhaust tip
CHASSIS/ SUSPENSION // Platinum VIP custom (BC Racing coil-overs, Phantom cup kit bagless air suspension) - Swift springs (f/r) - Tom's Underbrace (f/r) - Accuair Switchspeed controller
WHEELS/ TIRES/ BRAKES // Platinum VIP Forged Series 7 wheels – 22x10.5 (f), 22x11.5 (r) - Hankook Ventus V12 tires – 235/30 R22 (f), 255/30 R22 (r)
EXTERIOR // Job Design World Premium 8 body kit - After MC (Lexus 600H grill, headlight conversion, taillight conversion - Platinum VIP (custom fenders, custom widebody)
AUDIO/ MOBILE ELECTRONICS // Audio Control (equalizers, processors) - Morel Audio (mid-range speakers (4), tweeters (4)) - ARC Audio (mid-range amps, subwoofer amps) - Image Dynamic Max subwoofers (2) - Prestigious Society iPod Integration - Optima YELLOW TOP battery - Kinetik batteries (2) - KnuKonceptz (front fuse holder, main power wire, distribution blocks, Ported subwoofer enclosure - Custom trunk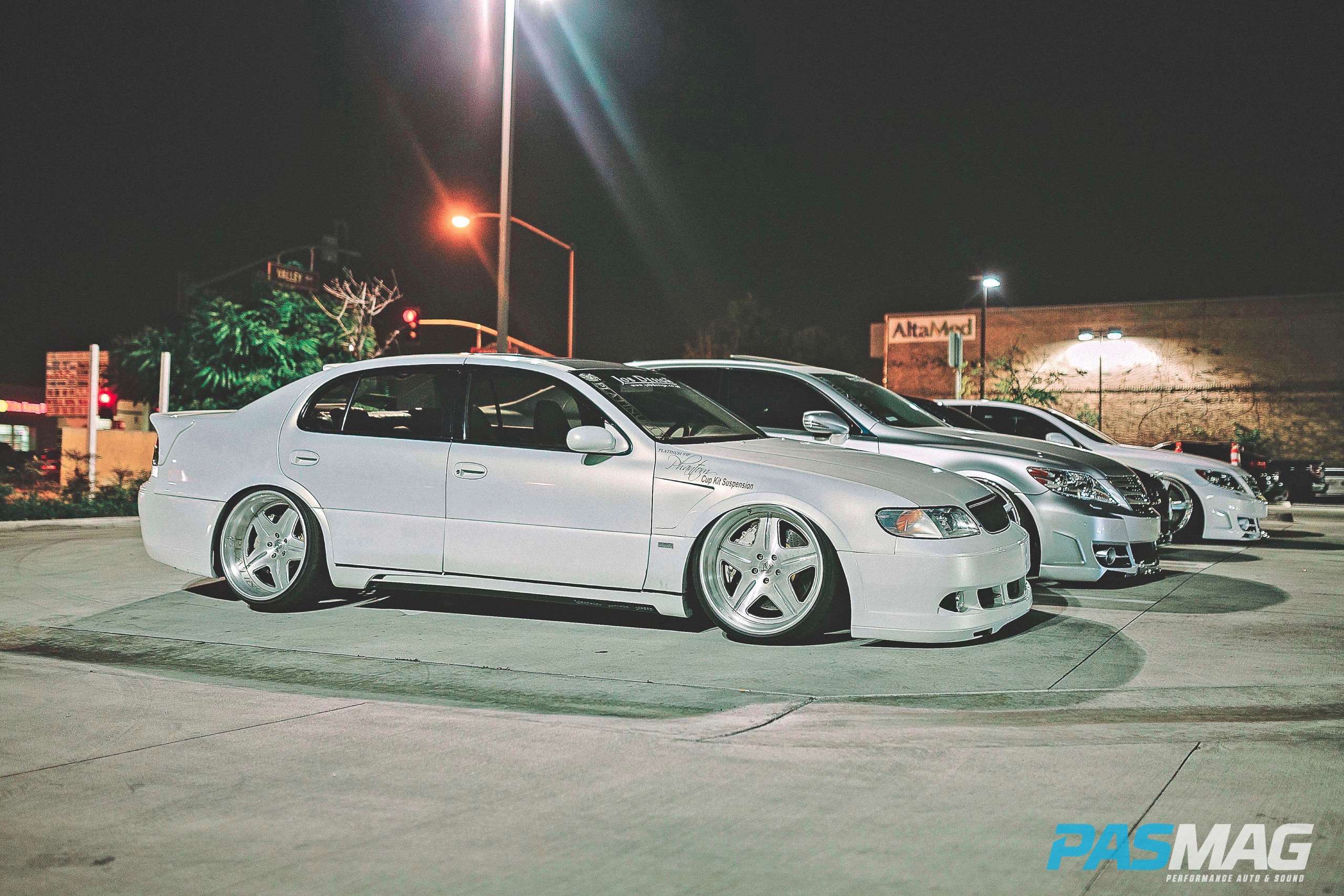 ESSENTIALS // Vehicle: 1998 Lexus GS 300, Owner: Kennedy Nguyen, Club: Platinum VIP, Engine: Toyota 2JZ GTE 3.0L
ENGINE MODIFICATIONS // Turbonetics (GT-K 650 turbocharger, Evolution wastegate) - Spearco intercooler - Unorthodox 2JZ-GTE hose kit - Blitz (DD blow-off valve, fuel pressure regulator, timing control, SBC-I boost controller) - Platinum VIP (custom 4-in. intake, power steering cooler) - GReddy (intake manifold, fuel rail) - Sard 650 cc fuel injectors - Sun Auto Hyper ground system - B&M (oil cooler, oil cooler relocation kit) - HKS Fuel Cut Defencer
EXHAUST // Platinum VIP (custom header, custom down-pipe) - JIC (titanium exhaust, exhaust tip)
DRIVETRAIN // KAAZ Full Time LSD - B&M transmission cooler
CHASSIS/ SUSPENSION // JIC (custom coilovers, urethane bushings) - Platinum VIP Phantom cup bagless air suspension kit - Toyota JDM Aristo front strut bar
WHEELS/ TIRES/ BRAKES // Platinum VIP Forged Series 5 wheels – 21x10.5 (f), 21x11.5 (r) - Continental tires – 255/35 R21 (f), 275/35 R21 (r)
JBT brake kit – 8-piston calipers, 400 mm 2-pc. drilled/slotted rotors (f), 6-piston calipers, 375 mm 2-pc. drilled/slotted rotors (r) - Braided brake lines
EXTERIOR // Job Design Hybrid body kit - Platinum VIP (custom grille, custom widebody fenders, marbleized hood) - Toyota JDM Aristo (spoiler, headlights, taillights, corner lights, fog lights, window visors)
INTERIOR // NRG (short hub, quick release) - MOMO steering wheel - Sparco racing seats - APEXi Rev Spee Meter - Autometer gauges - AEM Wideband UEGO
MOBILE ELECTRONICS // Pioneer AVIC-N1 head unit, Optima Red Top battery, Rockford Fosgate (front fuse holder, main power wire, distribution blocks)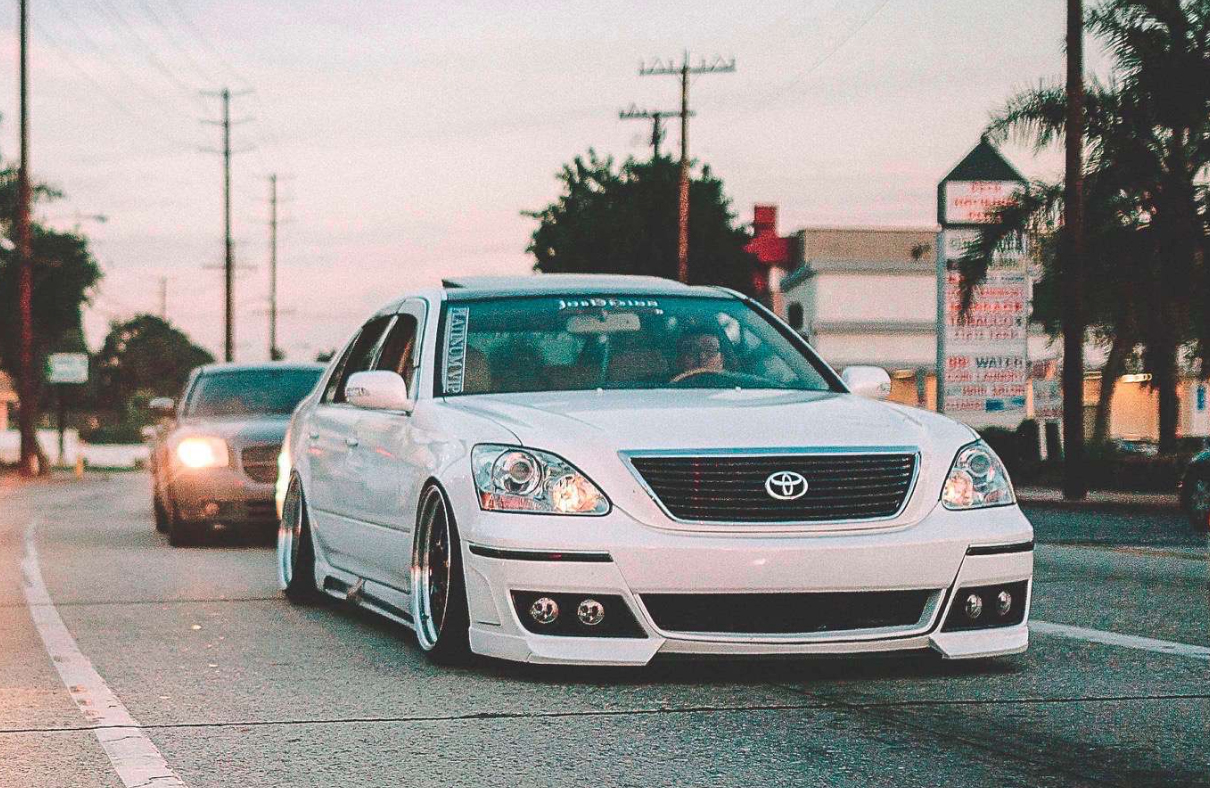 ESSENTIALS // Vehicles: 2005 Lexus LS 430, Owner: Brian Kato, Club: Platinum VIP, Engine: 3UZ-FE 4.3L
EXHAUST // Job Design Hyper Cutter billet aluminum exhaust tips
CHASSIS/ SUSPENSION // Platinum VIP (custom BC Racing struts, Phantom cup bagless air suspension kit) - Swift springs - Accuair Switchspeed air management
WHEELS/ TIRES/ BRAKES // Work Zistance wheels – 20x9.5 (f), 20x10.5 (r) - Hankook Ventus V12 tires – 235/30 R20 (f), 245/30 R20 (r) - Job Design CSD big brake kit – 8-piston calipers, 380 mm 2-pc. drilled/slotted rotors (f), 6-piston calipers, 375 mm 2-pc. drilled/slotted rotors (r) - Braided brake lines
EXTERIOR // Job Design World Premium 8 body kit - Platinum VIP custom painted grille
ELECTRONICS // Pioneer (5600BT head unit, crossovers, mid-range amps, subwoofers (2), mid-range speakers (4), tweeters (4)) - Beatsonic OEM navigation screen adapter - KnuKonceptz (front fuse holder, main power wire, distribution blocks) - Rockford Fosgate 2-Farad capacitor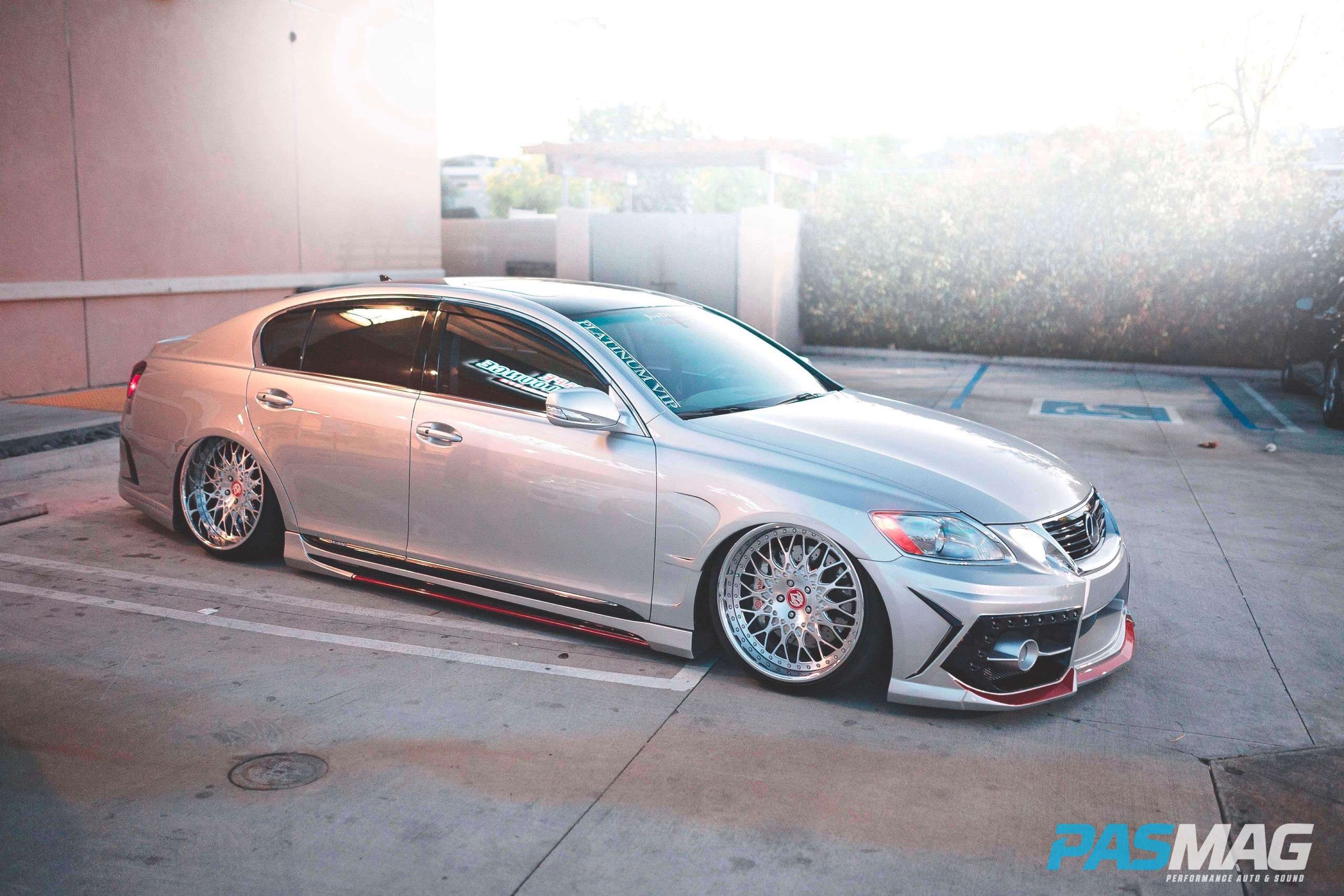 ESSENTIALS // Owner: Yanwar Hsu. Club: Platinum VIP, Engine: 1UR-FSE 4.6L
EXHAUST // Job Design Hyper Cutter billet aluminum exhaust tips
CHASSIS / SUSPENSION // Megan Racing struts UAS custom air bag setup - Accuair E-Level Air management
WHEELS/ TIRES/ BRAKES // VIP MODULAR VSX110 - 20-IN. (F/R) - HANKOOK Tires - Brembo Lexus IS F brakes – 6-piston calipers, 360 mm 2-pc. drilled rotors (f), 4-piston calipers, 340 mm 2-pc. drilled rotors (r)
EXTERIOR // Job Design World Premium 10-PC. body kit - Platinum VIP (custom wide body fenders, Chasing LED DRLs, LED turn signals)
ELECTRONICS // Optima YELLOW TOP battery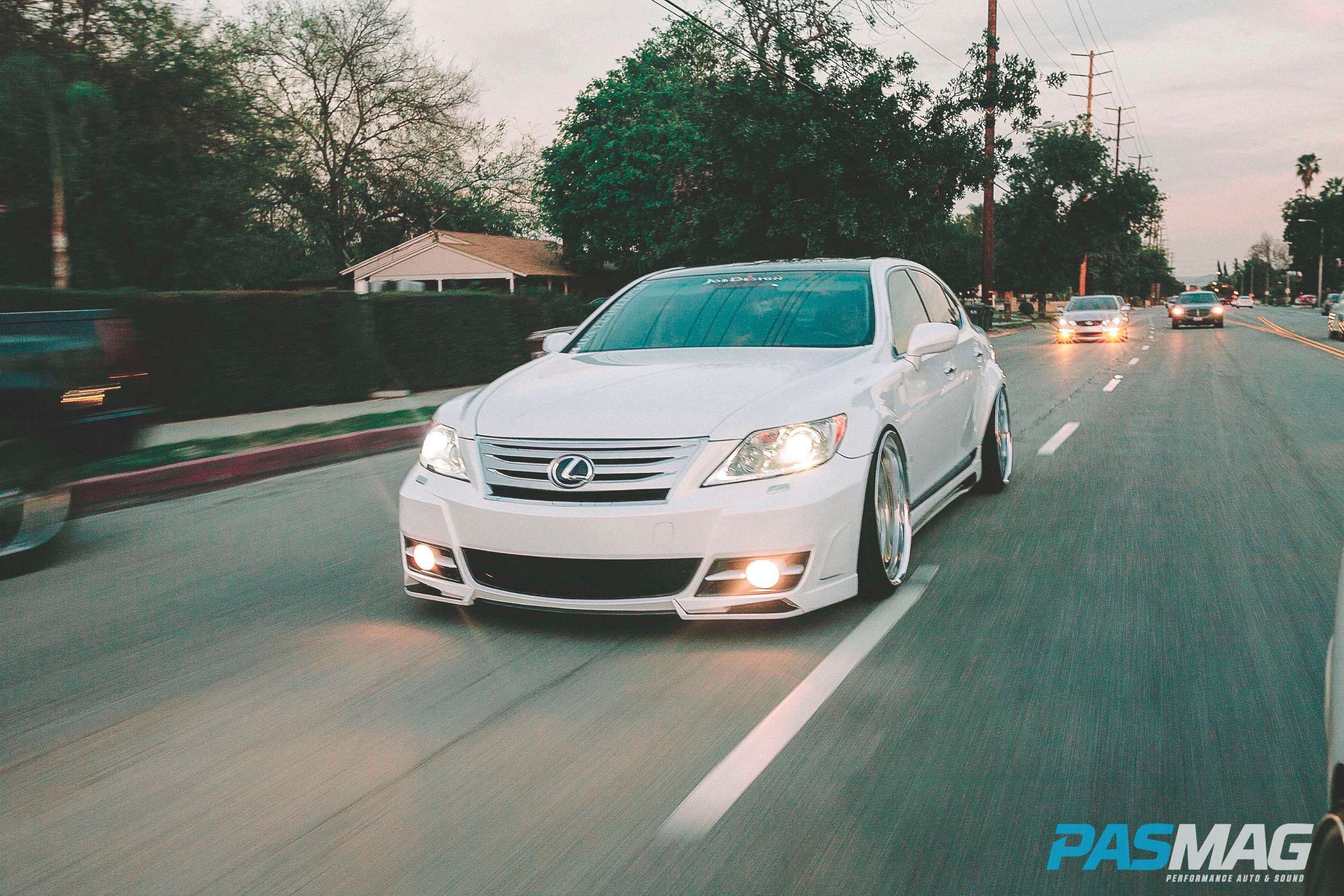 ESSENTIALS // Vehicle: 2007 Lexus LS 460, Owner: Kennedy NGuyen, Club: Platinum VIP, Engine: 1UR-FSE 4.6 L
ENGINE MODIFICATIONS // AEM custom (air filter, one-off air intake)
EXHAUST SYSTEM // Magnaflow exhaust - Job Design Hyper Cutter Billet aluminum exhaust tip
CHASSIS/ SUSPENSION // Platinum VIP custom (BC Racing coil-overs, Phantom cup kit bagless air suspension) - Swift springs (f/r) - Accuair Switchspeed controller
WHEELS/ TIRES/ BRAKES // Work EQUIP E05 - 22x10, 22x12.5 - Toyo Invo Tires - 265/35 R22 (f), 285/35 R22 (R) - R1 Concepts Big Brake Kit - 8-piston CALIPERS, 390 mm 2-pc. ROTORS (f), 6-piston CALIPERS, 365 mm 2-pc. ROTORS (r) - Braided Lines
EXTERIOR // Job Design World Premium 8 body kit - After MC (Lexus 600H grill) - Platinum VIP (custom fenders, custom wide body)
AUDIO / MOBILE ELECTRONICS // Optima YELLOWTOP battery - Custom built trunk for air ride