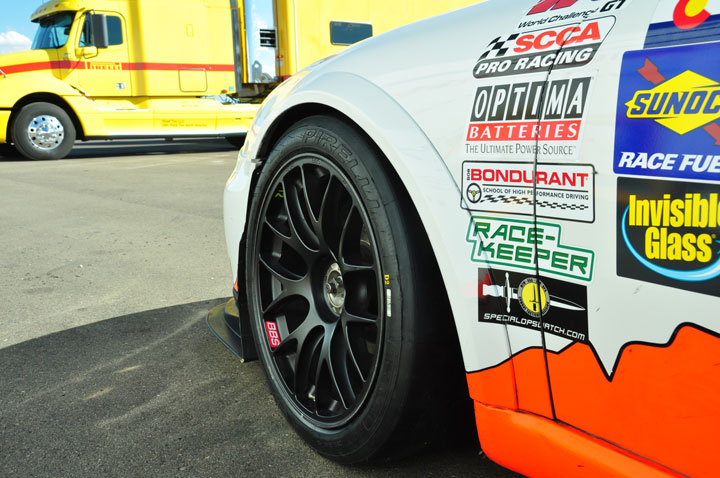 TOPEKA, Kan. (October 12, 2010) - On October 6, 10 World Challenge teams were invited to High Plains Raceway in Colorado to begin testing of the new Pirelli P Zero Racing Slick, the official tire of World Challenge starting in 2011. World Challenge and Pirelli recently signed a five-year partnership.
Teams and drivers, representing the GT, GTS and Touring Car classes, came away from the test with grins ear to ear. The move from a street-legal tire to the P Zero racing slick enable World Challenge competitors to experience marked improvements in grip and speed. Teams participating in the test included 2010 Team Champions K-PAX Racing and RealTime Racing. World Challenge teams were realizing three to four second improvements over base tire comparisons. Drivers noted the ability to drive hard, yet feel controlled at the limit.
The excitement displayed by teams and drivers was palpable.
"I wasn't sure I was coming back next year, but this tire just made my decision," Jason Daskalos, Team Owner and Driver of the No. 5 Daskalos/Roberts Racing Dodge Viper, said. "They are such a thrill to drive on, I want to go racing right now."
Randy Pobst, who piloted the No. 6 K-PAX Racing Volvo S60 to the 2010 GT Drivers' Championship, is among those who had asked the series to move to a race slick from the traditional street-based, race compound tire.
"These Pirelli P Zero racing slicks are a terrific and appropriate match for the high power and weight of our World Challenge GT cars," Pobst told officials at the test, referencing the new tires as a significant draw for teams and drivers to join the series.
With the tire test, the World Challenge Championships have turned an eye to the 2011 season, after a 2010 season that crowned a Drivers' Champion and a coveted Manufacturers' Championship in each of three classes during the 12-race season, the largest in Series history.
For more information on the series, go to www.world-challenge.com