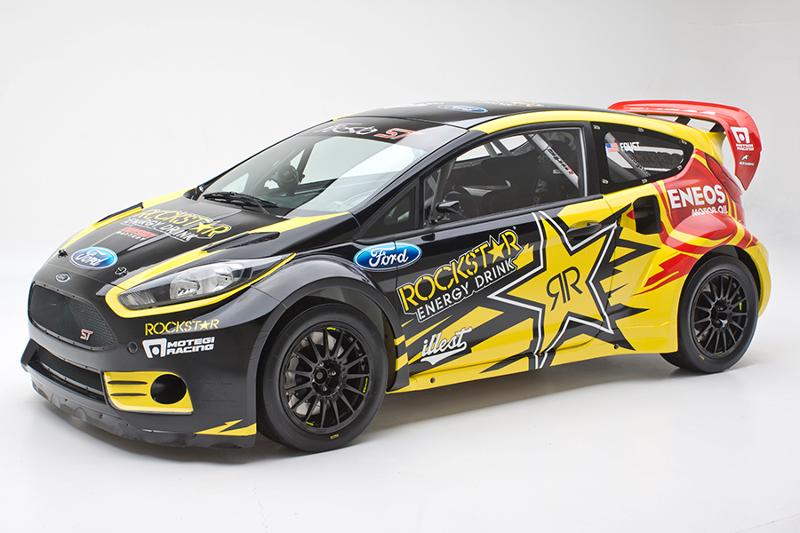 Tanner Foust today officially unveils the 2013 Rockstar Energy Drink Ford Fiesta ST rallycross car he debuted for fans during a sneak preview at Bristol Motor Speedway this weekend.
"Our focus for 2013 is pure rallycross, with X Games, the Global Rallycross Championship and the European Rallycross Championship on the calendar," said Foust, who was in Tennessee this weekend to support the Global Rallycross Championship series as they announced their July 20 Bristol Motor Speedway stop.
It was the first public appearance for Foust's 2013 Ford Fiesta ST, and the driver revealed a new red and orange splash on the familiar black and yellow paint scheme. ENEOS Motor Oil joins Rockstar Energy Drink and Ford as a key partner this season.
"Following our very successful inaugural season in Global Rallycross, ENEOS Motor Oil is very proud to be supporting Tanner Foust, the 2012 champion, on his quest to reign supreme once again this year," said Tim Wang, senior marketing manager for ENEOS.
The driver will compete in an expanded X Games schedule that adds three international stops to the traditional summer event in Los Angeles. The first rallycross competition in the marquee, invitation-only action sport contest takes place April 21 in Foz do Iguaçu, Brazil, followed by rounds in Spain in May and Germany in June. X Games Rallycross returns to Los Angeles in August.
But Foust's 2013 competition season opener is less than two weeks away. He travels to the Lydden Hill Race Circuit, in southeast England, for the first round of this year's European Rallycross Championship, March 31 and April 1. Foust is expected to take part in select rounds of the European Rallycross Championship in 2013.
Also joining Foust for this busy 2013 schedule is new sponsor ODYSSEY battery. ODYSSEY batteries are manufactured by EnerSys, a global leader in stored energy solutions.
Illest is a new apparel partner, while Horizon Hobbies will produce a new line of Tanner Foust edition R/C cars. In addition, Foust recently announced that automotive engineering company COBB Tuning will power the Tanner Foust Edition Ford Focus ST that will go on sale to the public this year.