Delson, QC – Directed Electronics Canada, the leader in vehicle security and remote start, is proud to introduce the Viper SmartStart™, which allows users to start their car with the push of a button from their iPhone, iPod® touch or BlackBerry®.  Users simply download the free Viper SmartStart™ app
from the Apple® or BlackBerry®, have Viper SmartStart™ professionally installed on their vehicle, and then activate their account to start experiencing the year-round comfort and convenience of Viper SmartStart™.
Particularly popular in cold weather climates, remote start allows users to start their vehicle by remote control to defrost the windows and pre-warm the cabin, so they get into a warm car that's ready to drive. Remote start can also be used to pre-cool the vehicle in hot weather by activating the air conditioning.  Most remote start systems use a small remote control on the user's keychain to activate remote start, but these "keyfobs" typically have limited range. Viper SmartStart™ has virtually unlimited range. If the iPhone® or BlackBerry® and the vehicle have signal, then Viper SmartStart™ starts the car with the press of a button.  Viper SmartStart™ has many other capabilities beyond remote start as well. Depending on the installation, users can also lock and unlock the doors, pop the trunk, find their car in a parking lot, or arm their security system. Users can even control multiple cars from one iPhone® or BlackBerry®.
"The growth and popularity of the iPhone® and BlackBerry® has opened the door for a whole new category of products in our business," said Julien Joly, President of Directed Electronics Canada. "Our customers have consistently told us that the two most important features in a remote starter are range and user interface. We developed the Viper SmartStart™ in response; range is virtually unlimited, and iPhone® and BlackBerry® owners can use the elegant touch-screen interface they already carry in their pocket."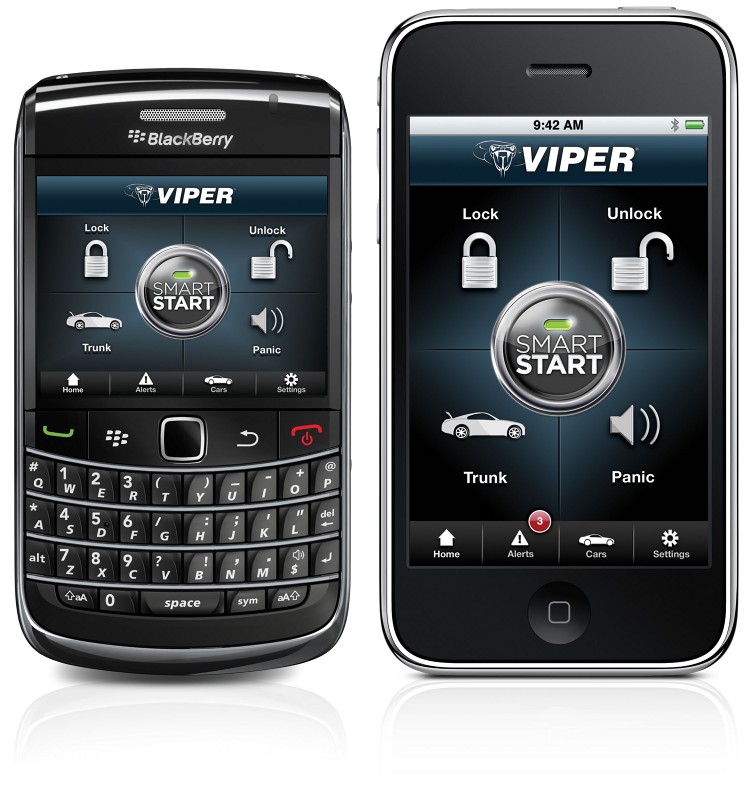 "We think customers will find all sorts of unique and personal value in Viper SmartStart™," said Alex Rinaldoni, Vice President Marketing. "Whether helping out her husband who's locked his keys in the car, or securely locking her keys and purse in the car while she takes a jog with some music on her iPhone® or BlackBerry®, we expect to hear about some uses we never anticipated."
Two Viper SmartStart™ models are available. Users who don't have remote start can purchase the Viper SmartStart™ System (MSRP: $499) while those who already have a compatible Viper system can purchase just the Viper SmartStart™ Module (MSRP: $349).

For more information and to locate the nearest authorized dealer, please visit http://viper.com/SmartStart/iPhone/Canada or call toll free 1-800-361-7271.
* Apple, the Apple logo, iPhone, iPod, iPod touch, and iTunes are trademarks of Apple Inc., registered in Canada and other countries.  App Store is a service mark of Apple Inc.  BlackBerry is a trademark of RIM.
* Other trademarks, service marks and trade names appearing in this release are the property of their respective owners
SOURCE:
Directed Electronics Canada
www.directed.com