Each and every year, PAS Editors Dave Pankew and PASMAG STAFF round up a list of their favorite sites on the web. In 2010 we have a great mix of enthusiast forums, event coverage sites, social networking and streaming media sites. We aimed to have a solid cross section of different geographical locations and multiple platforms. Without further delay here are the top websites with some of the largest member bases and traffic around:
---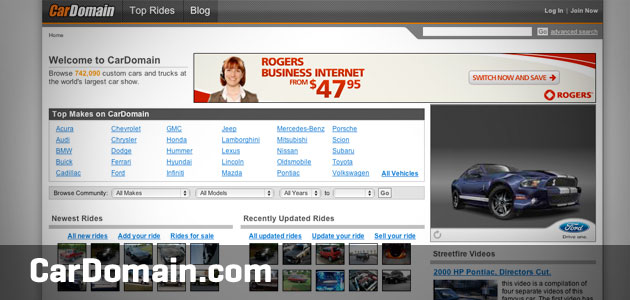 Established: 2000
Members: 1.3 million
Member Profile: For the person who likes cars and has a beginner to intermediate amount of knowledge. Not for those interested in tech discussions, for those who want to feast on pictures of many makes and models, make comments and interact with other users.
Quick Facts: The largest online-car community is like the MySpace for cars!
The Goods: Cardomain.com is the definitive source for social networking in the automotive culture. Each user creases a customized page and is able to upload photos, videos and specifications of their pride and joy parked in the driveway. Other users are able to view and comment on the vehicle and the owner is given an opportunity to respond. Think of it as an online car meet or car show where even some top cars are awarded prizes by way of an online voting system. However, CarDomain.com isn't just the "MySpace" of the car world… it is a full fledged media outlet e-zine as well! The Car Domain crew, led by Editor-in-Chief Robert Einaudi scours the globe for coverage of leading events and hot rides. Beyond the usual content by Car Domain staffers and freelancers, you'll find some cool industry blogs on the site by industry heavyweights like Ben Schaffer of Bulletproof Automotive to name drop.
---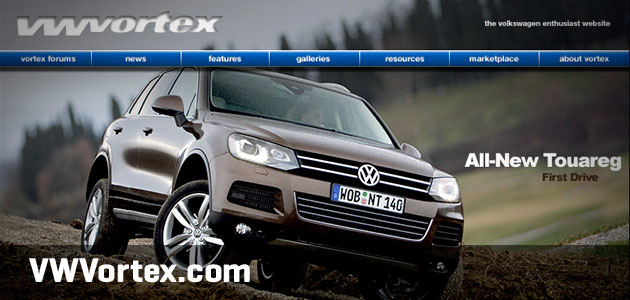 Established: 1997
Members: 600,000+
Member Profile: Members here are die hard German car fans, who are not super interested in other makes. Most users have sound knowledge of VW and Audi products as well as a good understanding of other makes and models making for some great discussions.
Quick Facts: The largest one-make specific enthusiast website covers everything under the VW umbrella.
The Goods: When it comes to one-make enthusiast websites, VWVortex.com is the hands-down winner. The site gets 120 million hits each month from 600,000 unique users! With the success of cars like the: New Beetle, Passatt, Jetta, Golf, GTI and R32 plus Audi's A4, S4 and TT, Volkswagen and Audi guys come here to get their fix. Since 1997 the VWVortex.com World Wide Website has been the definitive and progressive online source for the latest information on Volkswagen brands. VW Vortex bills themselves as being devoted to all enthusiasts of Volkswagen and their brands: Audi, Lamborghini, Bentley, Seat and Skoda. But for the most part it is all about the tuner friendly Golf and Jetta. There is a load of solid technical information here and users can learn a lot by using the search function. Additionally, they have a killer classified section that is so massive that its fierce competition drives prices down. Factory alloys can be had for as little as $20 each and trim panels can be as low as $5 bucks! If you love all things VW AG, then this is the place to be and they also feature a frequently updated splash page with news items and articles. When huge Vee-Dub events like Waterfest and H2O come around each year, the Vortex serves as central command with all kinds of convoys, planning and special promotions going on.
---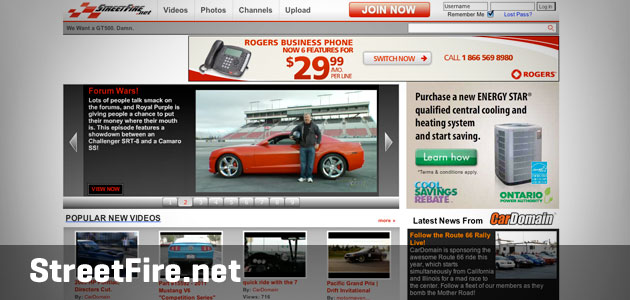 Established: 2002
Quick Facts: With the management of Car Domain and the staff of Super Street teaming up this automotive video site is the benchmark on the internet.
The Goods: Streetfire was long the place to be if you wanted to see everything from underground racing and stunting videos all the way to professional motorsports. Their video upload tools were popular even before YouTube. When the Car Domain group purchased the company, they promptly brought on the staff who used to run Super Street magazine and althought they are no longer there, the influence lives on. The dream combination has made Streetfire.net not just a place for amateur video but now for a unique flavor of video'zine not found that covers the market like nowhere else. It's where we get our fix and highly recommend it.
---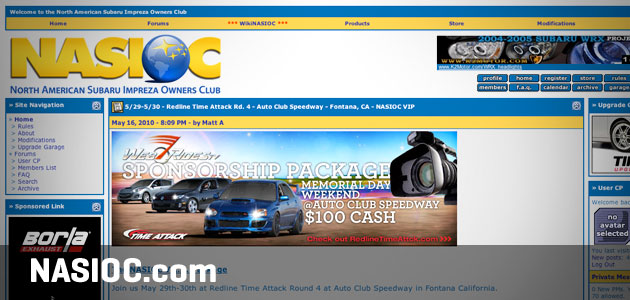 (North America Subaru Impreza Owners Club)
Established: 1999
Members: 238,466
Member Profile: Many members are fairly new to the Subaru platform because the WRX & STi came so late to the Import party. Practical owners that want to drive their Subaru all year round, go fast without all of the extra weight of appearance upgrades or audio.
Quick Facts: Although the WRX and STi are the most popular Subaru models, NASIOC is home to all shapes and sizes of Subaru performance.
The Goods: As one of the newer enthusiast sites on our list, NASIOC.com (North America Subaru Impreza Owners Club) was born from one single car, the Subaru Impreza 2.5RS and quickly shifted gears for the WRX soon after. Sure other owners were interested and had related websites, but when this site stormed on the scene it was mostly about WRX owners tackling the world. Today, Subaru has many exciting models that congregate at NASIOC.com such as the: WRX265, STi, Legacy GT and Forester GT. There are some serious enthusiasts here bent on making their Subarus faster than anything out on the road including their rivals, the Mitsubishi Evo. Once focused mainly on the forums themselves, NASIOC has branched out to include content such as photos and videos of events, new test drives and product reviews. It is the destination for Subaru owners' period and works closely with print publication SubieSport from time to time. When it comes to technical knowledge and informed debates, the members here offer great discussion. Naturally when it comes to classified and discounts from sponsors, it pays to be a member. Members also benefit from items like the Wikipedia-structured Wiki NASIOC area that features key information on every Subaru make, model and detailed history info. Another extremely innovative area of the site is the PRoN link that offers a video recap of things going on at the site – it is addictive!
---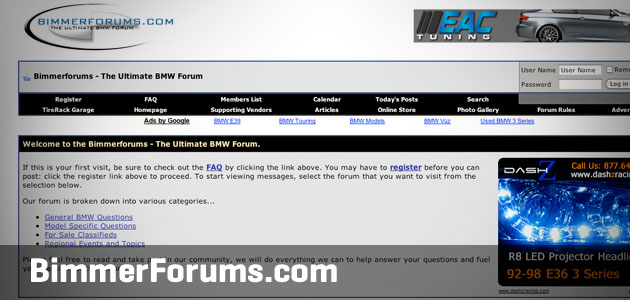 Established: 2000
Members: 215,783
Member Profile: Many upscale members who are both educated and affluent. Some members are modding older models on a budget but many of them are into the latest models with the latest technology without the cheap knock-off parts.
Quick Facts: For fans of the roundel, this is the place for some of the best information, classifieds and news.
The Goods: As the definitive source for all things BMW, BimmerForums.com has carved its way to a very high ranking position worldwide. With 215,783 members, the site has a cult-like following amongst fans of the German-made brand. The amount of information contained in various posts is staggering, with over a million threads on some categories like M-cars. Even platforms categories such as the 7-series, which is dead on other BMW forums is booming at BimmerForums with around a quarter million posts! Self-described as "The Ultimate BMW Forum," the community truly covers the entire gamut of owning the Ultimate Driving Machine. From technical discussions to tips on how to care for interior and exterior, there is a boatload of advice on nearly any subject. Then there is its classified section divided up into several sub-sections that total over 1-million posts. Whether you seek troubleshooting tips, BMW parts and accessories or even an entire vehicle, this is the place to be.