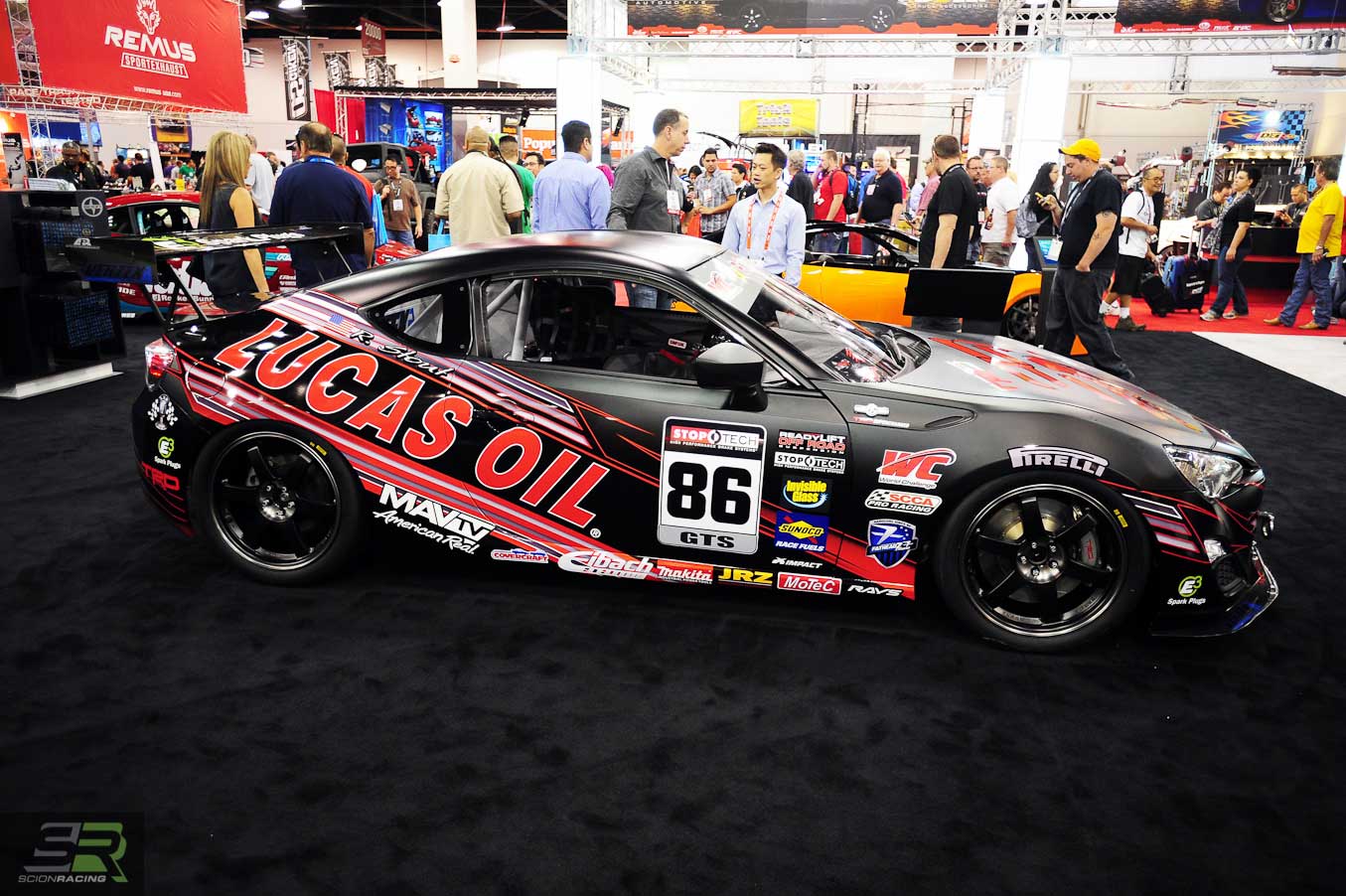 Ken Stout Racing Inc. (KSR) today announced plans to have its Scion FR-S on display at the Indianapolis Motorsports Trade Show, running December 6-8. The FR-S will be on display at the Lucas Oil booth and will be part of a special "Lunch with Lucas" press conference scheduled for Friday, December 7th. Lucas Oil will be announcing its expanded 2013 commitment to American Motorsports – the company is a main partner to the Ken Stout Racing program.
The KSR Scion was recently unveiled to a throng of media, partners and enthusiasts at the Specialty Equipment Market Association (SEMA) show in November. KSR will race the FR-S in the Pirelli World Challenge GTS class in 2013 with Robert Stout, the 2010 Pirelli World Challenge Touring Car Champion, behind the wheel.
KSR's FR-S will feature the FA-20 boxer power plant paired with a TRD supercharger to boost horsepower to the 325 level for competition in GTS. A number of partners have come to the table with components for the car including Rays Wheels, TRD Brake Kit, Eibach Suspension, JE Pistons, E3 Sparkplugs, MoTeC, Electron Speed and Pirelli. KSR with their TRD Supercharged Scion FR-S will compete against Chevrolet Camaros, Ford Mustangs, Acura TSXs and Porsche Cayman in the Pirelli World Challenge GTS class.
"We are honored to have Lucas Oil as our long-standing partner and to have our FR-S in their booth," said Team Principal Ken Stout. "They have supported our race program from day one and their commitment to motorsports is tremendous."
Organized under the leadership of Ken Stout, award-winning motorsports commentator and automotive enthusiast, KSR has competed for seven years in various levels of motorsports and will make its sports car racing pro level debut in 2013 in Pirelli World Challenge. Since 2011, Robert Stout has been competing in GT, GS and ST classes in Grand Am. During his first year in Grand Am, Stout led numerous races and qualified as high as 2nd while earning five top 10's and one top five in 10 GS races.
In 2013, Stout will return to Pirelli World Challenge where he had a stellar 2010 season piloting a Scion tC in Touring Car. Stout took home the Drivers' Championship, Rookie of the Year and Sunoco Hard Charger Awards in his rookie season in Pirelli World Challenge on the strength of five wins, nine podium finishes, 11 top five results in 12 starts and one pole. Stout's performance also led Scion to their first ever Touring Car Manufacturers' Championship beating out Honda, Mazda and VW for the title. Stout became the youngest winner and Champion in World Challenge history at 18 years old, as well as winning the most prestigious street race in the US, the Toyota Grand Prix of Long Beach.
About Ken Stout Racing (KSR) Inc.: Ken Stout Racing, based out of Brownsburg, IN, is a factory-supported partnership with Scion/TRD. Led by Ken Stout, award-winning motorsports commentator and automotive enthusiast, the team will debut the Scion FR-S in sports car racing in the Pirelli World Challenge GTS class in 2013. Former 2010 Pirelli World Challenge Touring Car Drivers' Champion Robert Stout will pilot the car.
Ken Stout Racing acknowledges its tremendous partners:
About Scion: Scion, from Toyota Motor Sales (TMS), U.S.A., Inc., was developed with a new generation of youthful buyers in mind. Scion's mission is to provide distinctive products, the opportunity to personalize, and an innovative, consumer-driven process at the retail level. The brand features five groundbreaking models with a wide array of standard features: the xD urban subcompact five-door, the iconic xB urban utility vehicle, the tC sports coupe, the premium micro-subcompact iQ and the FR-S rear-wheel drive sports car. The Scion brand often applies new practices in all aspects of its business and pushes the creativity envelope with non-traditional advertising and marketing to engage young consumers. Scion also supports originality through its programs in the artistic community. For more information, visit www.scion.com.