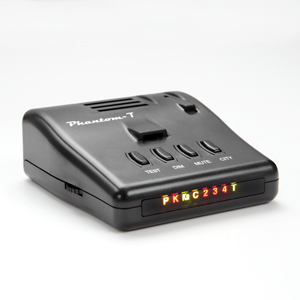 The new Phantom-T incorporates a Monolithic Microwave Integrated Circuit  (MMIC) that totally blocks any internal signals from leaking out the antenna. While this technology was attempted before it was very expensive and unreliable. After years of working with suppliers, Rocky Mountain Radar was able to design the latest MMIC into an affordable design for the Trucker.
With the introduction of the RMR-C450 a few years ago, Rocky Mountain Radar redefined the detector market with great range, no false alarms and radar/laser protection from readings. The police quickly responded with a new design Spectre-IV that was able to detect the C450 in limited circumstances. Shifting frequencies only led to another design for the Spectre models. So, Rocky Mountain Radar set out to perfect an affordable design that addressed this concern.
The new Phantom-T eliminates X-Band detection thus virtually eliminating detection of all door openers that have been the bane of radar detectors. The MMIC also reduced leakage to 1/1,000,000 (one millionth) of previous levels making the unit totally undetectable with little chance of the police obtaining a new design.  You can't detect what's not there!  As a bonus, the sensitivity is increased on K and Ka Bands extending the range to as far as 5 miles, while eliminating false alarms.
We also got rid of voice and use tone alarms which most truckers told us they preferred. While we were redesigning we added a larger scrambler antenna for twice the power and additional laser jammer LEDs for 50% more power there as well. Even with all this technology Rocky Mountain Radar was able to keep the retail price at $349.95.
Rocky Mountain Radar announced MAP pricing for its newest models including the Phantom-T and is limiting production to just 1,000 units per month. "Quality and performance are much more important than volume" said Michael Churchman, President. "We are tracking every serial number and will deliver units that meet the high standards Rocky Mountain Radar has always held. We will decide at a later date if production will be increased."