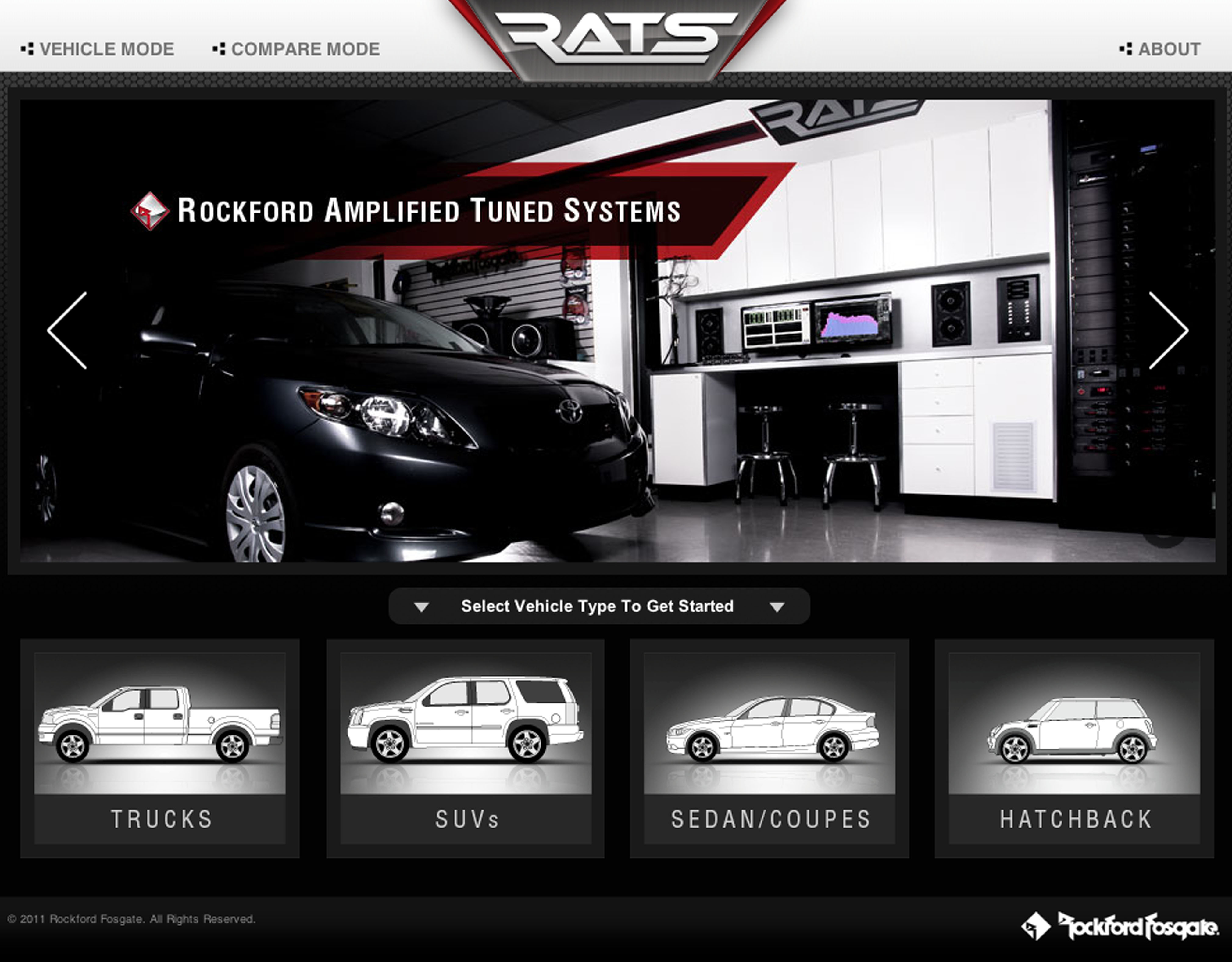 Now Live, the Power Behind RATS is Real-World Analysis; the
RATS Comparison Engine Illustrates Detailed Fre­quency Responses
and SPL Measurements of up to Four Possible Configurations
---
Rockford Fosgate, the industry leader in high-performance car audio systems, is proud to announce that it has launched the Rockford Amplified Tuned System (RATS) online and smartphone installation and sales tool. Now live (http://rats.rockfordfosgate.com), RATS takes the hard work out of system design via Rockford Fosgate's installation and testing of pre-configured components in real vehicles, allowing an installer to easily determine which components best complement each other in a specific vehicle prior to installation.
"RATS displays the frequency response of a common factory sound system within a customer's vehicle type, such as a truck, SUV, hatchback, or sedan," explained Mark Lowe, Rockford director of RTTI. "Then, RATS allows you the ability to choose which Rockford Fosgate subwoofer and amplifier you'd like to try within that environment. Simply compare your se­lections to see which one will sound the best and play the loudest in your ve­hicle. Through our painstaking research in real ve­hicles, you'll easily be able to determine which Rock­ford Fosgate products best complement each other."
The RATS "Compare Engine" allows the evaluation of up to four sub­woofer configurations at once. By displaying the Frequency Re­sponse and SPL (Sound Pres­sure Level) for each design, you can see how the same system performs in different vehicle types. You can also compare a PRIME, PUNCH and POWER system against each other or calculate the SPL difference between a sealed, vented and high-output enclosure. The "Compare Engine" can also be used on the car audio sales floor by being run on tablet devices, such as the iPad®. This allows associates to walk a customer through amp and subwoofer combinations, thus helping them select the right products for their type of vehicle.
The power behind RATS is real-world analysis. RATS takes the guesswork out of knowing exactly what the customer wants. Retailers can now accurately demonstrate how a premium RF subwoofer install will upgrade the customer's sound system. Ever wonder what your car would sound like if you added a subwoofer to it? Would extra bass improve how your music sounds? RATS provides the answers those questions.
"Use the RATS system designs to see what configurations best fit in a particular vehicle type," added Lowe. "The SPL measurements will help both the retailer and customer determine which amplifier is best for the amount of money the customer wants to spend versus the performance they will gain. Either way, the retailer and customer will both benefit by building upon our tested configurations to help design a car audio system that any fanatic would be proud to own."
System requirements:
Windows XP or newer

Adobe Flash Player 9.0+

Firefox 4.0+

Google Chrome 12.0+

Internet Explorer 6.0+

Macintosh OS X 10.5 or newer

Adobe Flash Player 9.0+

Safari 5.0+

Firefox 4.0+

Google Chrome 12.0+

Mobile Devices

Internet Access

SVG Supported Web Browser
For more information on Rockford Corporation, please visit www.rockfordcorp.com.