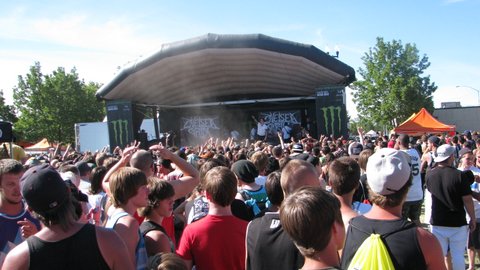 Rockford Fosgate Sound Lab brings Car Audio experience to young consumers at Salt Lake City edition of Vans Warped Tour
---
Rockford Fosgate kicked off the first concert of the Vans Warped Tour 2012 in Salt Lake City, UT on Saturday, June 16, 2012. With over 15,000 concert goers through the gate, the Sound Lab was packed all day long bringing the car audio experience to young consumers.
"We chose to sponsor the Vans Warped Tour because it's all about enjoying music" said Theresa Hephner, Rockford's senior director of product development and marketing. "This gives us the chance to show Rockford Fosgate, and a great car audio experience, to over 600,000 people in our core demographic. It's those 15 year old to 30 year old consumers who have the buying power to keep our industry healthy. That's why we're making the investment to connect them with our specialty dealers around the US."
Across the 39 US cities where the Vans Warped Tour stops, dealers are participating with Rockford Fosgate by promoting via in-store signs, web banners, and Facebook contests that are all provided by Rockford. They are also featured on Fosgate's dedicated consumer tour web page www.rockfordfosgate.com/vwt. This page promotes each dealer's store location, web page, Facebook page and also encourages concert goers to visit a retail store for a chance to win up to $25,000 in cash.

Dean Magnesen, owner of Sound Warehouse, commented in an e-mail to Rockford his thoughts about Saturdays' event. "THANK YOU VERY MUCH, for involving Sound Warehouse in the Warped Tour. My perception is, that it KICKED ASS!  We had fantastic traffic, we gave away virtually all of our special flyers, totally wiped out our "Sound Warehouse Club" sign-up forms and spread the SW-RF gospel for about 10 hours, WOW!"
For more information please visit www.rockfordfosgate.com/vwt or www.vanswarpedtour.com
For more information on Rockford Corporation, please visit www.rockfordcorp.com.