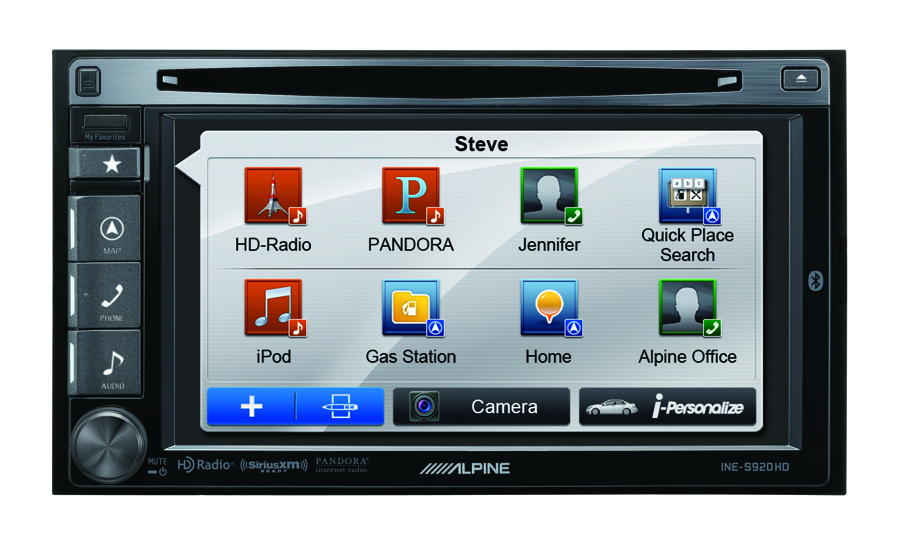 Alpine Electronics of America, Inc. has announced the shipping of the INE-S920HD Audio/Video/Navigation (AVN) system.  This new AVN system features a 6.1-inch WVGA screen and built-in Bluetooth® wireless technology.

"We know that consumers have been waiting for this AVN system," said Steve Crawford, vice president and general manager, aftermarket business unit, Alpine Electronics of America, Inc.  "We're excited to launch this product which introduces some new and unique features to the AVN market."

Audio Features
The INE-S920HD has a full slate of audio sources including:
· A built-in HD Radio™  tuner to access over 2,000 AM and FM stations broadcasting with HD Radio Technology
· Pandora® internet radio control from Android™, BlackBerry™ and iPhone® smartphones, allowing users to create new Pandora stations, rate songs with a thumbs up or down, and bookmark songs.
· SiriusXM satellite radio compatibility, using the SXV200 Vehicle Connect Tuner (tuner and XM subscription required, sold separately).
· iPod® and iPhone compatibility, which meet the "Made for iPod and iPhone" specifications

Navigation Platform
An enhanced navigation platform debuts on the INE-S920HD and includes a 3D view that depicts major landmarks, buildings, and terrain details in main metropolitan areas in 3D.  The Auto Zoom feature delivers proximity zooming as the next driving maneuver is approached.  The Highway Services list displays the services available at each exit (gas, food, ATMs, etc.), to help users make decisions during their routes.  Also new is the Freeform Search function, which allows users to type in the first few letters of the destination using the formal name (ex: Alpine) or the category name (ex: Electronics company).

Bluetooth® Wireless Technology
The INE-S920HD uses BT Plus advanced Bluetooth® wireless technology which includes secure simple pairing (SSP), call waiting, and icons for phone battery, cellular signal level and received messages.  Sound quality features include a digital sound processor (DSP) for a better audio streaming experience.

"My Favorites" Screen
The "My Favorites" screen lets users add, delete, drag and re-arrange up to eight shortcut keys for their most-used features, such as Audio Sources, Phone Settings, and Navigation Commands.  The settings are kept as a personal profile linked to the user's phone via Bluetooth® wireless technology, so that the shortcuts can be accessed on the INE-S920HD.

iPersonalize Sound Settings
The vehicle's sound field settings can be adjusted through the INE-S920HD's built-in iPersonalize program.  Users indicate their vehicle type (Sedan, SUV, etc.), upholstery type (Leather, Fabric, etc.), number of speakers and speaker locations, and the INE-S920HD calculates and applies the optimal sound field settings to the vehicle.

Availability
The INE-S920HD is available now for $999.95 MAP at authorized Alpine retailers.