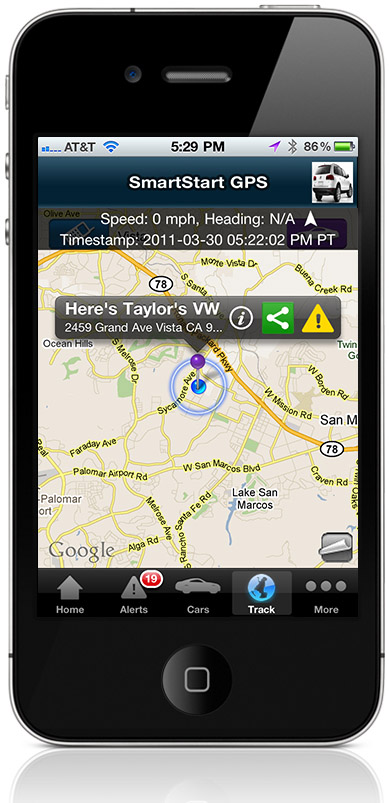 Viper SmartStart GPS offers family-friendly vehicle tracking on the smartphone, with unique social networking features
Directed Electronics, maker of the award-winning Viper SmartStart, is pleased to announce the immediate availability of Viper SmartStart GPS, announced at the 2011 Consumer Electronics Show.
According to Kevin Duffy, President of Directed Electronics, "Viper SmartStart enables you to start your car from virtually anywhere with your smartphone. With Viper SmartStart GPS, we've added a host of great new features previously unavailable in any single app. For families with younger drivers, Viper SmartStart GPS now offers the ability to monitor their safety and security with unprecedented ease and affordability, while enjoying fun and interactive features such as one-touch Facebook integration."
Available starting today at thousands of authorized Viper retailers in the U.S. and Canada, Viper SmartStart GPS (model number VSM250) has a suggested retail price of $299.99 and is compatible with virtually all vehicle security and remote start systems from Directed Electronics, including Viper, Clifford, Python and Avital.
Viper SmartStart GPS can be installed as a stand-alone system, allowing users to enjoy the following location based features on their smartphone using the Viper SmartStart app:
VEHICLE LOCATOR: Press a button on your smartphone and receive vehicle's current location, speed and direction
SOCIAL CHECK-IN: Text or e-mail your car's location with one-touch, or check-in to update your social network
SPEED ALERT: Request a notification when a family vehicle exceeds your specified setting
LOCKDOWN ALERT: Receive a notification if your vehicle is moved without your OK
All four of the above features are included in the SmartStart GPS Secure Service Plan starting at just $5 a month. Other features can be accessed with the Premium Secure Service Plan, starting at under $6 a month, including:
SMART FENCE: Creates a secure zone around your vehicle so you'll be alerted if your vehicle leaves the zone
HOTSPOT: Adds a virtual Do Not Enter zone around a location so you'll be alerted if your vehicle goes there
SCHEDULING: Schedule time frames and curfews for notifications
In the attached video, a HotSpot alert allows the mom to be notified automatically when her daughter arrives home from school. Integrating Viper SmartStart GPS with a compatible Viper security or remote start system enables the complete Viper SmartStart feature set depending on system features and installation, allowing users to:
•    Start their engine to control their cabin temperature
•    Lock and unlock their doors from anywhere
•    Pop the trunk
•    Control the horn or siren as a panic alert or car finder
•    Receive security alerts pushed to their smartphone
Users will also be able to take advantage of the useful SmartPark feature, which remembers where the car is parked each time the user locks the car using their smartphone, as well as Viper Motor Club roadside assistance, which is available at no additional charge with all Secure Service Plans.
In addition to Viper SmartStart GPS, a major update to the free Viper SmartStart app now allows users to arm and disarm their home security system using their smartphone. A quick flip of the wrist toggles between the car control and home control screens in the Viper SmartStart app. To enable smartphone control of an Alarm.com-enabled home security system, please visit
www.alarm.com
to find an authorized dealer.
Viper SmartStart is currently available on the iPhone, BlackBerry and Android platforms. Viper SmartStart GPS is available initially for iOS devices as an update (v2.2) to the Viper SmartStart app at the iTunes App Store (
http://itunes.apple.com/app/viper-smartstart/id333400981?mt=8
) and at
www.viper.com/smartstart
. Viper SmartStart GPS will be available soon for Android smartphones. Store locator to find a local retailer is online at
www.viper.com