New Multimedia Unit Offers Dual Mirror™, UltraMotion Display with Customizable Menu and Interactive Graphics Showcased at 2013 International CES
Dual Electronics Corporation announced today a 21 SKU expansion of the Axxera-branded product line including the industry's first multimedia receiver with tablet-like UltraMotion display technology and Dual Mirror™ connectivity. The expanded product line also features a CD receiver with 3" scrolling LCD, Pandora connectivity, and new for Axxera Class D digital amplifiers and speakers with True In-Phase technology. Shipping in Q1 of 2013, the new products, 6 new head units, 11 speakers, 3 amplifiers and 1 passive crossover will be on display during the 2013 International CES in booth 914 in the North Hall of the Las Vegas Convention Center.
The Head Units
The new DVD Multimedia Receiver, the AXV3D (MSRP $349), features a 6.2" high-definition, digital LCD with UltraMotion technology and interactive, 3D-like menu graphics. The display allows you to swipe, flick, drag and drop objects, and to rearrange the menu icons for customized layout. The display technology is powered by Dual's 3D graphics engine featuring an ARM Cortex TM-A8 single core 1GHz CPU. The receiver is also Bluetooth-ready, and its SD and USB inputs support 1080p playback.
The AXV3D is also Dual Mirror™ ready for Apple and Android smartphones, allowing the head unit to mirror what's on the screen of a smartphone hooked up with a Dual Mirror cable connector. This feature is particularly useful for navigation and music streaming, where the user can view the smartphone's screen significantly enlarged, and positioned safely within the driver's view. Two types of the Dual Mirror cable will be available for purchase: one for Apple and one for Android smartphones.
Three of the new head units feature large, 3" QVGA TFT multi-line full-color LCDs (320 x 240) with attractive graphics. These displays show album art and artist/song information, and are available on the flagship AXD530 CD receiver (MSRP $139), the AXD430 CD receiver (MSRP $119) and the AXM230 mechless digital media receiver (MSRP $99). The AXD530 model also features built-in Bluetooth Wireless Technology with support for hands-free calling, audio streaming and music control.
Five models can control the Pandora Internet Radio app on the iPhone connected via USB input on the front of the receiver. The head units will display artist, album, song information, station list, and will also allow for thumbs up and down navigation and bookmarking for songs/artists. The Pandora control feature is available on the AXV3D multimedia unit, the AXM230, and the AXD430, AXD330 (MSRP $99) and AXD530 CD receivers.
"With the introduction of these units here at CES, Dual is celebrating second anniversary of the Axxera line and affirms our commitment to the 12V industry," said Jim Braun, President and CEO, Dual Electronics Corp. "We continue to focus on innovation, and the new multimedia receiver with UltraMotion display technology is an example of this effort."
The first offerings of amplifiers and speakers under the Axxera brand include three amplifiers, 11 speakers, and one passive crossover.
The Amplifiers
The three amplifiers feature performance-matched output transistors for maximum power transfer and black anodized extruded aluminum heat sinks for dissipating the heat. Direct-wire inputs eliminate the need for extra terminals while ensuring a more positive connection through increased wire contact. Also, thermal overload and low-impedance circuits provide protection for even the most demanding applications.
• The Mono Class-D Digital amp (AXA10D, MSRP $199) is rated at 350 Watts at 4-ohms RMS, 630 Watts at 2-ohms RMS and has a maximum rating of 800 Watts.
• The 4-channel Class-D Digital amp (AXA40D, MSRP $199) is rated at 100 Watts per channel x 4 at 4-ohms RMS, 150 Watts per channel x 4 at 2-ohms RMS, and 260 Watts per channel x 2 bridged with a maximum power rating of 600 Watts.
• The 2-channel amp (AXA20, MSRP $99) is rated at 80 Watts per channel x 2 at 4-ohms RMS, 120 Watts per channel x 2 at 2-ohms RMS, and 280 Watts bridged with a maximum power rating of 400 Watts.
The 2- and 4- channel amps feature variable 12 dB/octave high-pass and low-pass frequency filters, while the Mono offers an adjustable 12 dB/octave low-pass filter as well as a variable sub sonic filter specifically for subwoofer use.
The Speakers
The new speaker lineup includes three Axis Series coax speakers, two tweeters, four midrange drivers and two subwoofers.
The Axxera AXiS Series speakers feature True In-Phase technology to provide the most realistic reproduction of music in a car. The speakers' unique acoustical design positions the tweeter directly behind the woofer. The tweeter is also horn-loaded through the woofer voice coil so that the two can work perfectly in phase at all angles. This unique alignment allows the speakers to produce the most natural, studio-like sound reproduction, regardless of where you sit in a vehicle.
The AXiS Series speakers also feature external 6dB high-pass filters with integrated tweeter protection, horn-loaded PEI compression tweeters, 4-ohm impedance, coated cloth surrounds, treated paper cones for softer, more accurate and natural sounding audio reproduction and 1" Polymer voice coils.
The tweeters, crossover and midrange drivers have been developed for the custom specialist market and are focused on capitalizing on the high SPL market trend. The 1" phenolic bullet tweeter with its high 106dB efficiency is one of the cleanest and most efficient models on the market, while the 1" silk ring tweeter is a unique addition to mobile audio typically found in high-end home speakers. The midrange drivers offer 4-ohm models, as well as dual 4-ohm DVCs (patent pending), which allow unlimited installation options. The 4th order tweeter crossover completes the line featuring a 24dB/octave roll-off at 4 kHz and built-in tweeter protection.
The 11 new speakers include:
• (3) 2-way Axxera AXiS Series speakers: 5 ¼" AXS514 (MSRP $69), 6 ½" AXS612 (MSRP $79) and 6" x 9" AXS609 (MSRP $99)
• (1) ring tweeter: AXT25R (MSRP $129/pair)
• (1) bullet tweeter: AXT25B (MSRP $79 ea.)
• (1) crossover: AXT4C (MSRP $99)
• (2) 6 ½" midrange speakers: AXM654 (MSRP $79 ea.) and AXM654DVC (MSRP $99 ea.)
• (2) 8" midrange speakers: AXM804 (MSRP $89 ea.) and AXM804DVC (MSRP $109 ea.)
• (1) 10" subwoofer: AXB10DVC (MSRP $89)
• (1) 12" subwoofer: AXB12DVC (MSRP $99)
All Axxera receivers are backed by a 2-year manufacturer warranty on parts and labor if purchased and professionally installed by an authorized Axxera dealer. For more information on the complete product
lineup, visit www.axxeraaudio.com.
Additional information on the products:
AXV3D DVD Multimedia Receiver with UltraMotion Display Technology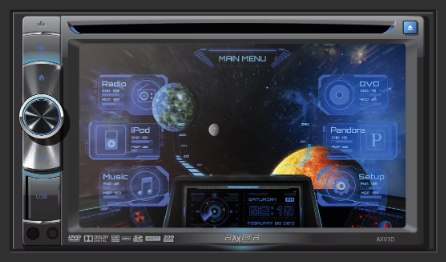 Key Features:
• 6.2" high-definition, digital LCD (1.15 Megapixels)
• UltraMotion Display technology – swipe, flick, drag-and-drop menu objects
• Dual Mirror™ Ready for Android and Apple Smartphones (requires Dual Morro connector, sold separately)
• Bluetooth® Ready (requires BTM100, sold separately)
• SiriusXM Ready (requires SiriusXM Vehicle Tuner kit, sold separately)
• Control for Pandora Internet Radio app for the iPhone connected via USB
• Direct USB control for most iPod and iPhone devices
• Supports iPod/iPhone video playback (IPV40 iPod video cable included)
• Front panel USB, SD card and 3.5mm A/V inputs
• 24-Bit audio D/A converter
• 240 Watts total power (60 x 4) MOSFET
• 3 Pairs of 4-Volt RCA preamp outputs (F/R/S)
• 1 Rear RCA audio/video input
• 1 Rear USB 2.0 input and 2 Composite video RCA outputs
• 1 Rear camera RCA input
• Steering wheel interface input (requires PAC SWI-PS adapter, sold separately)
• MSRP: $349
AXD530 – Multi-Format CD Receiver with 3" QVGA LCD

Key Features:
• 3" QVGA, multi-line, full-color LCD with 3D-like background graphics (320x240)
• Built-in Bluetooth Wireless Technology with support for hands-free calling (HFP), audio streaming (A2DP) and player control (AVRCP)
• Direct USB control for most iPod and iPhone devices
• Control for Pandora Internet Radio app via front panel USB input for iPhone
• Pandora Internet radio control for Android and Blackberry devices via Bluetooth
• Front panel USB and 3.5mm auxiliary inputs
• 240 Watts total power (60 x 4) MOSFET
• 3 Pairs of 4-Volt RCA preamp outputs (F/R/S)
• Steering wheel interface input (requires PAC SWI-PS adapter, sold separately)
• MSRP: $139

AXD430 – Multi-Format CD Receiver with 3" QVGA LCD Display

Key Features:

• 3" QVGA, multi-line, full-color LCD with 3D-like background graphics (320x240)
• Direct USB control for most iPod and iPhone devices
• Control for Pandora Internet Radio app via front panel USB input for iPhone
• Front panel USB and 3.5mm auxiliary inputs
• 240 Watts total power (60 x 4) MOSFET
• 2 Pairs of 4-Volt RCA preamp outputs (F+R/S selectable)
• Steering wheel interface input (requires PAC SWI-PS adapter, sold separately)
• MSRP: $119
AXD330 – Multi-Format CD Receiver with Full-Graphic LCD Display

Key Features:

• Full-graphic LCD display featuring RGB custom colors
• Direct USB control for most iPod and iPhone devices
• Control for Pandora Internet Radio app via front panel USB input for iPhone
• Front panel USB and 3.5mm auxiliary inputs
• 240 Watts total power (60 x 4) MOSFET
• 2 Pairs of 4-Volt RCA preamp outputs (F+R/S selectable)
• Steering wheel interface input (requires PAC SWI-PS adapter, sold separately)
• MSRP: $99 AXM230 – Mechless Digital Media Receiver with 3" QVGA LCD Display
AXM230 – Mechless Digital Media Receiver with 3" QVGA LCD Display

Key Features:

• 3" QVGA, multi-line, full-color LCD with 3D-like background graphics (320x240)
• Direct USB control for most iPod and iPhone devices
• Control for Pandora Internet Radio app via front panel USB input for iPhone
• Front panel USB and 3.5mm auxiliary inputs
• 240 Watts total power (60 x 4) MOSFET
• 2 Pairs of 4-Volt RCA preamp outputs (F+R/S selectable)
• Steering wheel interface input (requires PAC SWI-PS adapter, sold separately)
• MSRP: $99
AXD130 – CD Receiver with 12-Character LCD

Key Features:

• Front panel USB and 3.5mm auxiliary inputs
• MP3/WMA Playback
• 240 Watts total power (60 x 4) MOSFET
• 1 Pair of RCA preamp outputs (R/S)
• MSRP: 69