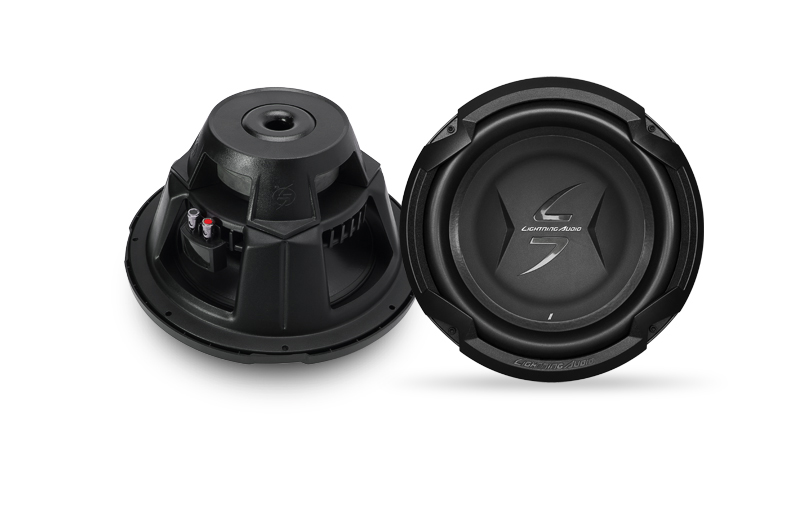 Lightning Audio announced that it debuted the LA-TWO subwoofer series during MERA KnowledgeFest, held from August 18 – 21 at the Gaylord Texan Hotel & Convention Center in Grapevine, Texas. The LA-TWO Series 10- and 12-inch, 500 Watt, 2 & 4 Ohm, DVC subwoofers will begin shipping in the fourth quarter of 2012.
"The new LA-TWO series of Lightning Audio subs include four different models, allowing the customer to select the perfect size and power for nearly any installation," said Jake Braaten, director of product development. "To get that renowned Lightning Audio sonic reproduction, a customer can use a single LA-TWO sub with a LA-2100 amplifier for a good bass upgrade, or power a pair of LA-TWO subs with the LA1000MDMINI for really BIG bass."
The LA-TWO (L2-D210; L2-D410; L2-D212; L2-D412) include both 10- and 12-inch models, as well as stitched tinsel leads to reduce mass, stress, and strain over a greater area, and a 2-inch voice coil venting to help eliminate thermal issues and increase power handling. Its 16 gauge compound steel basket provides added rigidity and structural integrity, as well as reduced distortion and increased accuracy. The high-density poly-foam surround provides proper stiffness and thickness for optimum performance. Its anodized aluminum voice coil former with spun laced Nomex collar provides superior heat dissipation (including up to 100 degrees F cooler at full power levels), and its hard anodized finish increases former strength. The LA-TWO also incorporates nickel-plated spring loaded terminals for easy installation and enhanced conductivity.
Additional Lightning Audio LA-TWO Specs & US Pricing:
Model Size Voice Coil Power Handling (Peak/RMS) Nominal Impedance Sensitivity (1W / 1M) Mounting Depth MAP
L2-D210 10 inch 2.0 inch 500/250 Watts Dual 2 Ohm 84dB 5.16 inches $129.95
L2-D410 10 inch 2.0 inch 500/250 Watts Dual 4 Ohm 84dB 5.16 inches $129.95
L2-D212 12 inch 2.0 inch 500/250 Watts Dual 2 Ohm 84dB 5.83 inches $139.95
L2-D412 12 inch 2.0 inch 500/250 Watts Dual 4 Ohm 84dB 5.83 inches $139.95
Specifications and prices subject to change without notice.
For more information on Rockford Corporation, please visit www.rockfordcorp.com.
For more information on Lightning Audio, please visit www.lightningaudio.com.