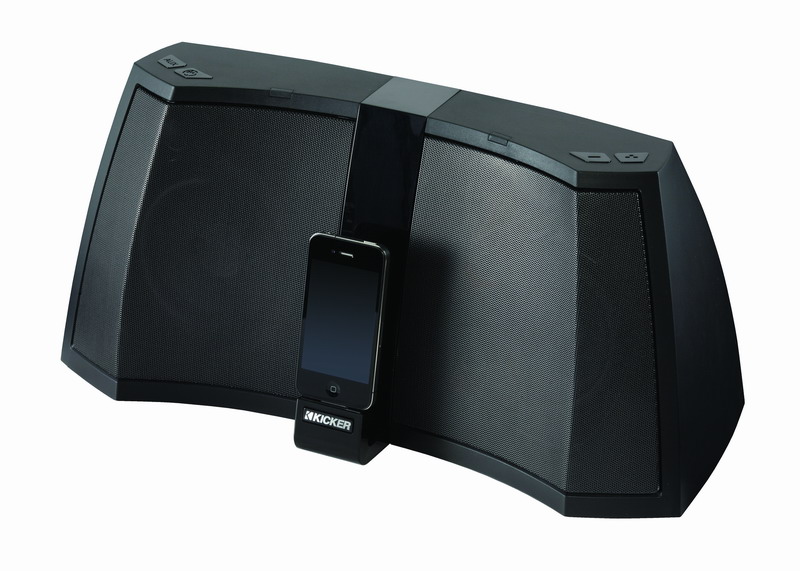 Utilizing their immense knowledge of elite audio design and technology, KICKER® engineers from its Home and Personal Audio division raised the bar yet again with the acoustically vibrant Amphitheater™ High-Performance Audio System. The Amphitheater will be available beginning in September at shop.kicker.com, www.samsclub.com, www.costco.com, and various Costco Roadshow events.
The Amphitheater's overall sound is the result of four years of precise tuning in KICKER's acoustic labs on its critically acclaimed predecessor, the iKick501 Docking System, which earned the accolade "Best iPhone/iPod Speaker Dock" in About.com's 2012 Readers' Choice Awards.
Features:
- Great for the shop or garage!
- KICKER's first High-Performance Speaker System made to dock iPod®, iPhone® and iPad®
- Signature-Square, Reflex Subwoofer and DSP Amp for Deep, Legendary KICKER Bass™
- 5" Mid-Bass Speakers and ¾" Silk-Dome Tweeters Bring Music to Life
- Ergonomic Remote Control for Complete iPod Navigation, Including Bass and Treble Functions
- USB Port for Charging External Devices / Auxiliary-Input for Universal Media Connection
- Free iTunes® App Available for 8-Band Audio EQ and Customization
App Features:
1. 8-Band EQ for Full-Audio Customization
2. Spatialization Option
3. Load and Save Sound Presets
4. Share Music with Facebook Friends with Social Media Integration
5. Wake to Music with Integrated Alarm
6. Night Mode keeps volume down when rest is a priority
7. Allows to Update Firmware for Compatibility with New iOS Versions