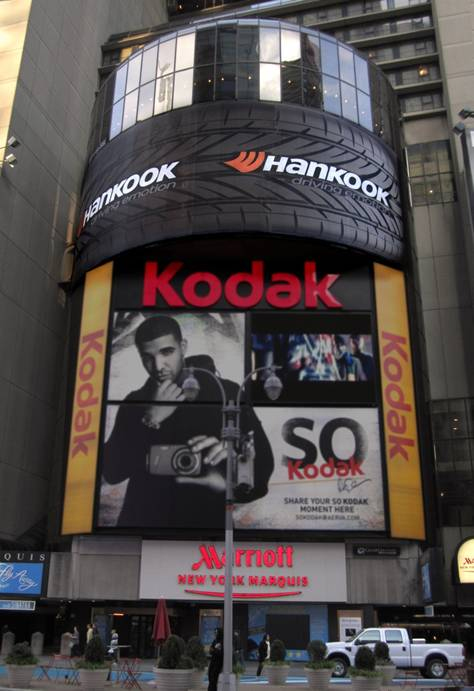 BRAMPTON, ON
(October 18, 2010) – Hankook Tire (
www.hankooktire.com
) the seventh largest and one of the fastest growing tire manufactures in the world, unveiled a giant tire-shaped building wrap in the vibrant centre of the world-famous Times Square. This dynamic billboard promotion is yet another demonstration of Hankook's growing stance in North America and its innovative approach to reaching consumers.
The massive 31-by-98-foot image is installed on the New York Marriott Marquis hotel, and replicates the tread of Hankook's highly acclaimed ultra-high performance tire – the Ventus V12 evo.
Advertising placement another symbol of Hankook Tire's growing focus on North American market
Hankook Tire takes a perfect opportunity to reach millions of consumers in a unique and dynamic approach
By placing this billboard in the heart of Times Square, Hankook is positioning itself among the world's leading consumer brands. As the most visited tourist destination in the world, Times Square attracts a diverse range of more than 35 million people each year, making it an iconic advertising location. The brightly lit intersection is a signature place for marquee brands to establish their presence. Brands like Coca-Cola have had a presence in this billboard capital since the 1930s.
"This is another example of our commitment to raise the profile of the Hankook brand in North America," said Bill Hume, Vice President, Hankook Canada.  "As the quality and performance of Hankook tires continues to be the foundation of our sales success, we are intensifying our effort to attract even more consumers to the Hankook brand. We've undertaken similar endeavors here in Canada with our sponsorship of Hockey Canada in 2010 and 2011. We will continue to leverage that relationship in this market as the official tire of Hockey Canada." Mr. Hume added.
Hankook provides original equipment tires for many vehicle makers and models sold in Canada including Ford, Lincoln, Dodge, Hyundai, Kia and Volkswagen. In 2009, the company posted a North America sales increase of 8 per cent to a record $840-plus million, including unit sales gains in the ultra-high performance and touring passenger categories, along with light truck and heavy duty truck tire categories. In 2010, the sales growth trend continues as the company reported first half sales were up 21 per cent over the same six month period last year.
# # #
About Hankook Tire Co., Ltd
Hankook Tire (Vice Chairman & CEO: Seung Hwa Suh) is the seventh largest and one of the fastest growing tire manufacturers in the world. It produces innovative, superior quality, and high performance radial tires for passenger cars, 4x4s, SUVs, light trucks, campers, trucks, buses and motor sports. It invests approximately five per cent of its revenue in research and development and develops cutting-edge technologies through its five global R&D Centers, meeting regional customer demands and enhancing customer satisfaction. Selling in over 180 countries around the world, the company has more than 14,000 employees. Approximately 70 percent of its revenue comes from growing sales overseas.
For more information, please visit Hankook Tire's global web site at http://www.hankooktire.com
About Hankook Tire Canada Corp.
Headquartered in Brampton, Ontario, Hankook Tire Canada Corporation is a technology-focused, customer-oriented company that markets and distributes a complete line of high performance and ultra-high performance passenger tires, light truck and SUV tires, winter tires and medium truck and bus tires in Canada.  With quality-proven products, Hankook Tire Canada is rapidly growing to become an industry leader in Canada. As the National Partner and the Official Tire of Hockey Canada, Hankook Tire Canada actively supports grassroots sports and contributes back to local communities.  Visit www.hankooktire.ca for more details.