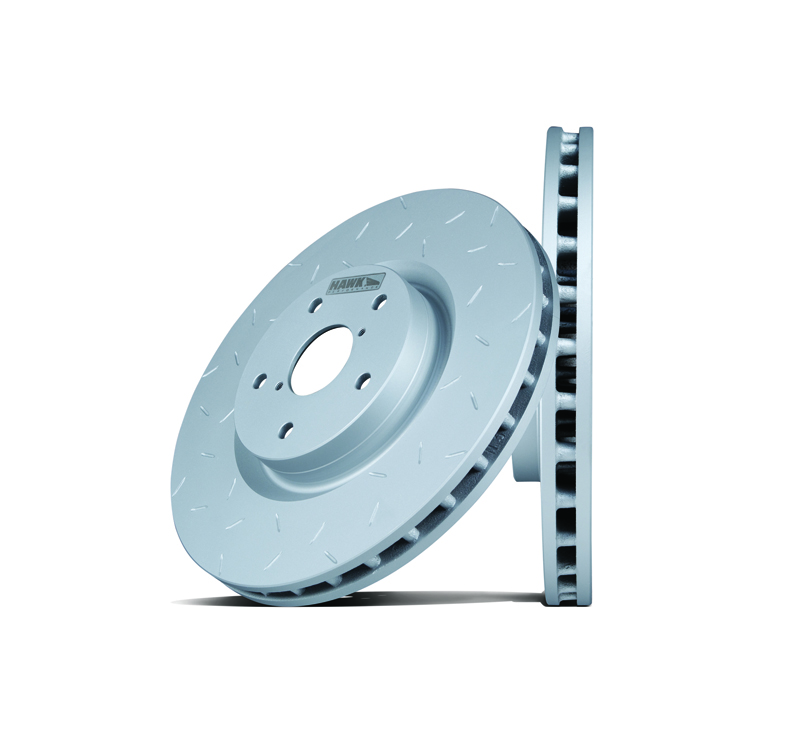 Hawk Performance®, the global leader in disc brake friction technology, is proud to announce the all-new Quiet Slot™ rotor.  Quiet Slot™ rotors are engineered specifically for automotive car and truck enthusiasts looking for high performance braking without the noise, dust and reliability issues commonly seen in heavily slotted, dimpled or cross-drilled aftermarket rotors.

Some of the key features of the all-new Quiet Slot™ rotors are the advanced metallurgy, surface finish, and progressive structural & aerodynamic design. "Our goal was simple, retain the stopping power and appearance of a performance rotor, but improve the weaknesses experienced with today's aftermarket rotors. Common issues include thermal cracking, structural distortion, dust output and brake noise", stated Carl Harbert (Director of Marketing).  "We truly achieved all of our objectives with the Quiet Slot™ rotor.  It's an exceptional product and we expect the performance street market to respond quickly."

The Quiet Slot™ rotor program also addresses the needs of the automotive distributor and installer.  "Our new rotor line is a direct bolt-on replacement for OE rotors and manufactured in ISO Certified facilities", said Jerry DeMarino (Director of Performance Products).  "Additionally, the unidirectional vane and slot design eliminates the need to stock left hand and right hand rotors."  This feature presents an immediate financial impact to distributors that currently inventory directional rotors.  Imagine operating with half of the inventory investment and maintaining current fulfillment and response times!

Hawk Performance® has also taken measures to decrease the impact of automotive products on the environment.  All Quiet Slot rotors are finished with a GEOMET® coating that protects both the internal and external surfaces from rust and corrosion. GEOMET® is a proprietary water-based coating dispersion containing metal oxides, metallic zinc and aluminum flakes. The zinc and aluminum platelets align in multiple layers forming a metallic silver-gray coating. Applied as a liquid, the coating becomes totally inorganic after curing at 575-600° F (300-315°C).

ENVIRONMENTAL BENEFITS:
CHROMIUM-FREE- Does not contain any chromium (NO HEXAVALENT and NO TRIVALENT).
NO TOXIC METALS- Free from nickel, cadmium, lead, barium, and mercury.

GEOMET® meets the following regulations:
• Environmental Protection Agency (EPA)
• Occupational Safety and Health Administration (OSHA)
• General Motors® GMW 3059
• EU Directive on End of Life Vehicles
• DaimlerChrysler® CS-9003
• Ford® WSS-M99P9999-A1 (Hex 9)

Hawk Performance® will officially introduce the Quiet Slot™ rotor line at the 2010 SEMA show (booth #23261). Advanced orders will be accepted with initial product shipments commencing January 4th 2011.

For more information about Hawk Performance's complete line of Quiet Slot™ rotors for your Car, Truck, or SUV visit www.hawkperformance.com

About Hawk Performance®
Hawk Performance is the aftermarket performance products division of Wellman Products Group. Wellman Products Group is an original equipment and aftermarket manufacturer of advance friction components for brake, clutch, transmission and motion control systems. Wellman's served markets include Aerospace, Automotive, Agriculture, Alternate Energy, Construction, Industrial Equipment, Military, Mining, Motorsports, Powersports, Heavy Truck and Commercial Fleets.