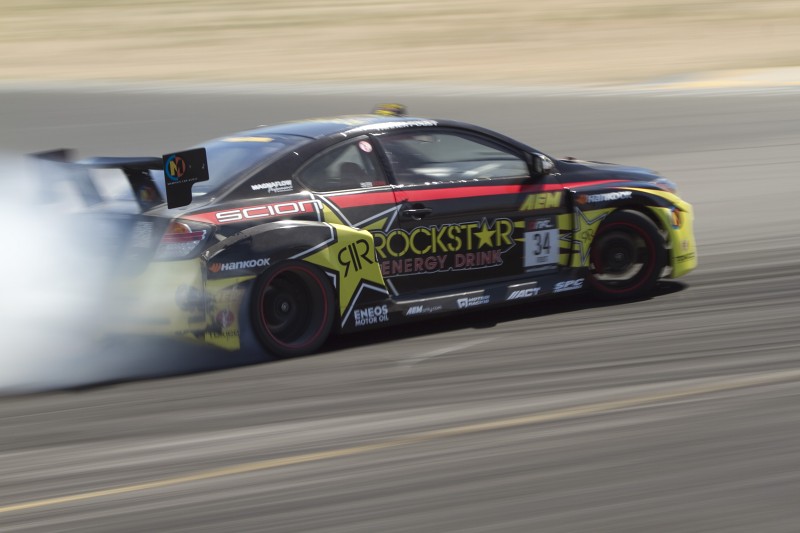 WAYNE, N.J., Sept. 16, 2010 –Tanner Foust chalked up yet another Formula DRIFT podium finish in his Rockstar Energy Drink Scion tC this weekend at the Infineon Raceway in Sonoma, Calif.
It was the fourth podium for the team in six rounds of competition this season. With just one round remaining in the 2010 championship, Foust ranks third place overall.
Packed grandstands greeted competitors at sunny Infineon Raceway for Round 6: Point of Impact. The challenging, high-speed course offered plenty of excitement for fans, including tight tandem battles, big braking into the first turn, speeds topping 90 miles per hour and a high risk of impact.
"Every battle of this competition was heated," said Foust. "The car and the team performed flawlessly all weekend and the Hankook tires really proved their grip on this fast course."
Foust put in a consistently strong performance throughout the competition, working his way past the number one qualifier and a former series champion before taking the third place spot in one of the most exciting head-to-head heats of the weekend.
"We are thrilled that Hankook tires helped pilot Tanner and his team into the final round in third place," said Bill Bainbridge, director of brand communications for Hankook Tire America Corp. "The performance of our tires in Formula DRIFT competition not only showcases our commitment to getting drivers on podiums, but also demonstrates our technical prowess to these young enthusiasts."
Foust, a two-time Formula DRIFT champion, is campaigning the series for a second year in the V8-powered Rockstar Energy Drink SCION tC.  The team has been in contention for the championship title since the first round of the 2010 series, with four podiums in six starts and Foust taking his first victory of the season at Washington's Evergreen Speedway in July.
Drifting is a high-skill, high-powered motorsport with an emphasis on car control skill. Drivers compete in knockout heats on a closed course, sliding sideways in trials judged for speed and style. With origins in Japan, it is the fastest growing form of motorsport.
Hankook supports motorsports enthusiasts and racers at all levels. This year, Hankook is offering amateur and professional racing enthusiasts the chance to earn dollars off Hankook's Ventus R-S3 or Ventus Z214 R Compound tires based on their performance in specific racing circuits in the U.S. Racers have an opportunity to earn incentives during each individual competition event. Interested competitors can learn more about this grassroots program at www.hankooktireusa.com
Foust and the Rockstar Energy Drink Scion tC return to Formula DRIFT competition for the final round of the championship at Toyota Speedway in Irwindale, Calif. Oct. 8 and 9.