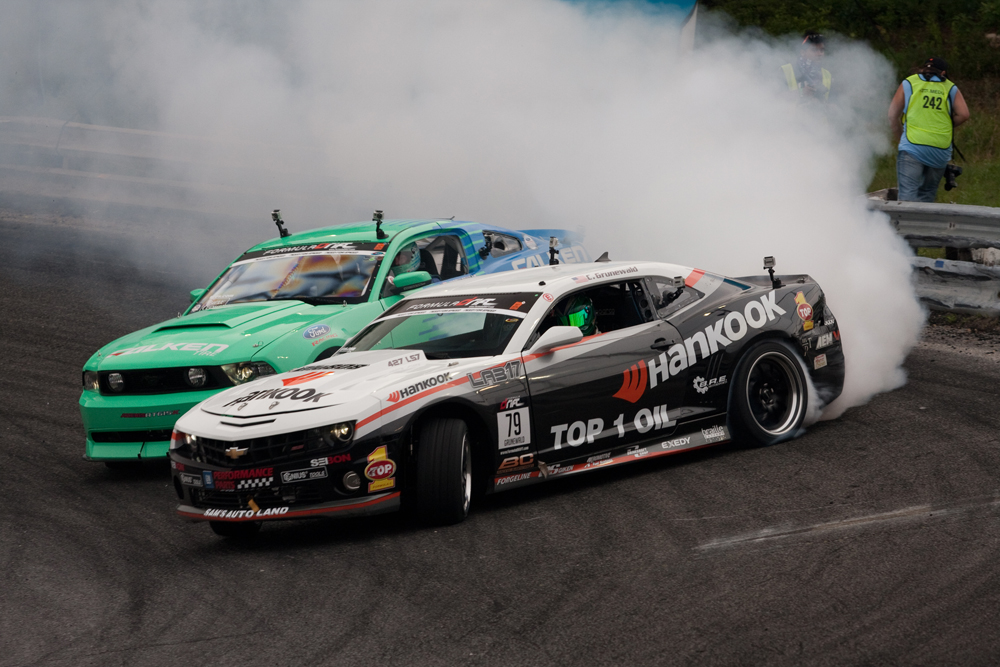 Formula DRIFT announces the 2011 television program schedule on the VERSUS network. Premiere episode to air on August 14 at 5 PM (EST).

For the third consecutive year, Formula DRIFT will air the television program titled, "Formula DRIFT," on the VERSUS network. The 14 half-hour long episodes will run for 14 consecutive weeks on Sundays at 5 PM (EST) beginning on August 14, 2011 with re-airs showing on Fridays at 5:30 PM (EST) beginning on August 19, 2011.

"We are delighted to be back on VERSUS, the home of such properties like UFC, Tour de France, IndyCar and NHL. It will be interesting to be part of the Comcast/NBC merger and the positive implications of VERSUS becoming part of the NBC Sports family. As our relationship with VERSUS has grown, so have the ratings of the Formula DRIFT programming," said Ryan Sage, vice president and co-founder of Formula DRIFT. "VERSUS's 75+ million households combined with an additional 300 million household distribution internationally, we are glad to continue to not only be the leader in drifting programming, but a real force in motorsports and entertainment."

The episodes will document all 7 Championship rounds and 1 invitational competition that took place in Qatar. The programs will be hosted by Formula DRIFT co-founder, Ryan Sage along with Formula DRIFT announcer, Jarod deAnda.

The Formula DRIFT program is scheduled for national and international distribution.

Formula DRIFT International Television Distribution to include:
BAND SPORTS
Brazil

SPEED CHANNEL
Mexico, Costa Rica, Panama, Guatemala, Belize, Honduras, Nicaragua, El Salvadore, Brazil, Columbia, Argentina, Columbia, Venezuela, Chile, Paraguay, Uruguay, Bolivia, and Peru.

MOTORS TV
United Kingdom, France, Czech Republic, Holland, Estonia, Germany, Macedonia, Serbia, Russia, Portugal, Latvia, Greece, Slovenia, Romania, Cyprus, Belgium, Ukraine, Spain, Malta, Hungary, Iceland, Sweden, Albania, Austria, Bulgaria, Denmark, and Switzerland.

SPORT TV
Portugal

AUTO TV RUSSIA
Russia

In addition to the TV programming, Formula DRIFT can be also seen streaming each competition live on the internet at www.formuladrift.com/live. Also scheduled to air in the coming months is the Formula DRIFT Round 1: Streets of Long Beach event in 3D on DirecTV's n3D channel.

For more information visit: www.formuladrift.com