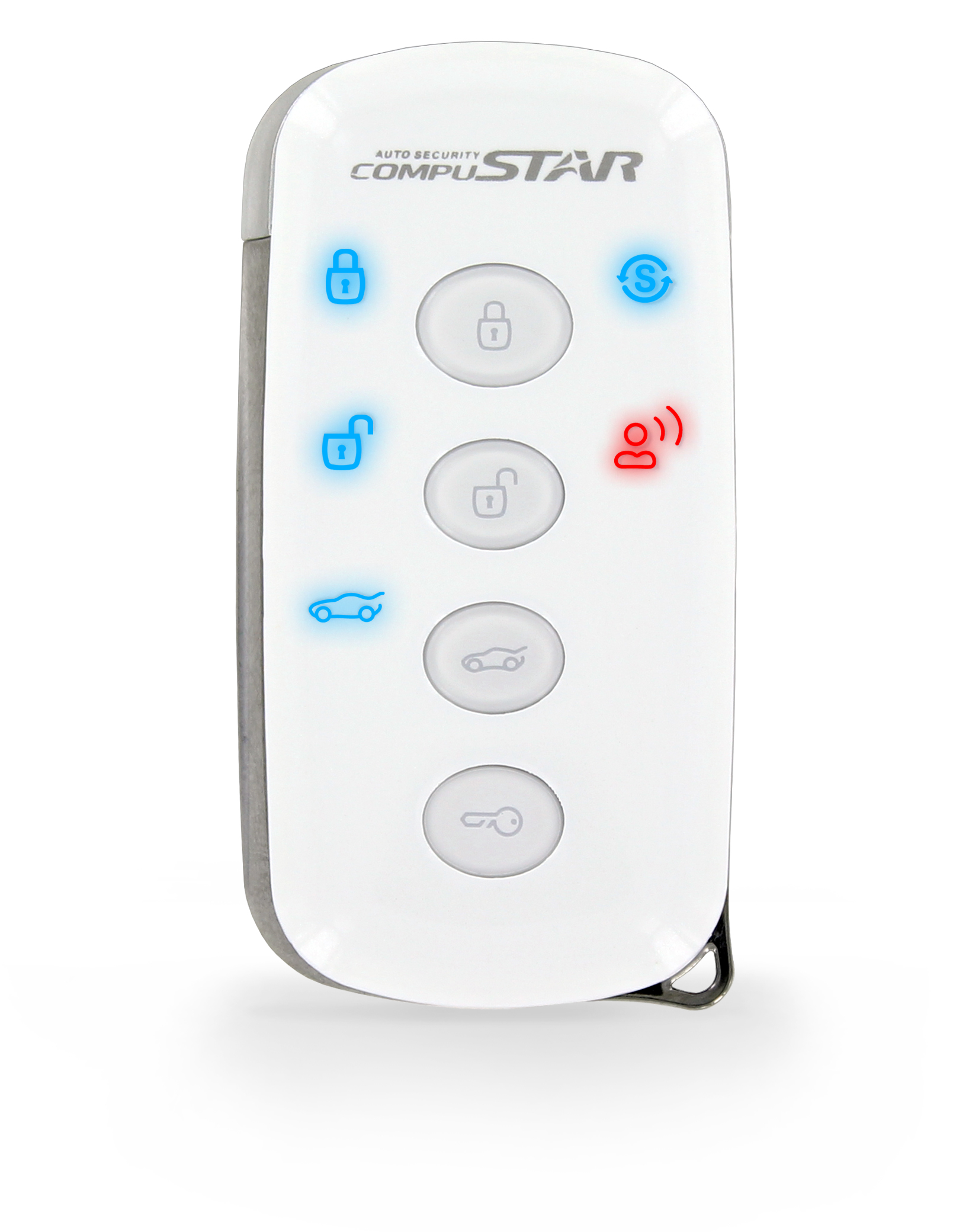 Snow and cold temperatures are approaching; meaning that 12-volt retailers across the country are gearing up for remote start season. This season, Compustar (makers of remote start systems and DroneMobile) will be introducing four new remote kits into their lineup: RF-P2W902-SP, RF-P1WG7-SP, RF-P1B-SH and RF-1WG6-AM. These new systems will feature redesigned casings and a new remote frequency, Super Heterodyne PLUS.
The RF-P2W902-SP, RF-P1WG7-SP and RF-P1B-SH will each be added to the Compustar Pro Series, which is sold exclusively by Compustar's top dealers. The RF-P2W902-SP features a 2-way remote that provides instant audible and visual confirmation via LED lights. The RF-P1WG7-SP is a 1-way remote that is encased in a heavy-duty shell that is both high-impact and water resistant. Videos and images released by Compustar via their Facebook page (@compustaronline) showed the remote working even after being dunked in water and being ran over by a SUV. Both of these remotes can send remote start & security commands to your vehicle via Super Heterodyne PLUS, which has an extended range of 3000 feet. Lastly, the RF-P1B-SH supersedes Compustar's previous Pro 1-button remote, RF-P1B-SS.
The RF-1WG6-AM is Compustar's latest addition to its Prime Series, available at all retail locations where Compustar is sold. This remote has the same heavy duty/water-resistant casing featured on the RF-P1WG7-SP. The RF-1WG6-AM has a range of 1000 feet.
Earlier this fall, Compustar released the thinnest 2-way remote in the industry, Slice. Slice is a 2-way remote that is less than a 1/4" thick and uses five ghost-LED's to provide command confirmation.
All of these remote kits require professional installation with a Firstech control module (either FT6 series or LT series). These remote kits can also be added onto most existing Compustar systems installed within the last five years. Please check with your local Compustar retailer or visit www.compustar.com for more information.
Compustar is a brand of Firstech, LLC. Firstech was founded in 1997 to provide the industry's most innovative aftermarket automotive technologies, backed by unmatched customer service. The company's primary focus is on remote start and security solutions for automobiles.
These products are all now available and more info is available online at Compustar.com.