The 2011 New York Auto show is at a welcome time of year when Spring arrives to create a vibrant Manhattan. New Yorkers are emerging from their homes after long and ruthless winters and they are in the mood to go shopping. Contrary to what you might think, not all New Yorkers take cabs or ride courier bikes - they drive every conceivable kind of cars and truck!
This city is tough on cars, so you have to drive a vehicle that can not only take the abuse but get great fuel economy since everything is gridlocked. New York has typically showcased a handful of concepts geared towards the urban warrior type of vehicle and luxury cars aimed at Wall Street Bankers. However, this year Scion dropped a bombshell in the form of an explosive little coupe, the FR-S.
"FR-S" stands for "front-engine, rear-wheel-drive, sport." Under the hood is a naturally aspirated 2.0L Boxer flat-4 mated to either a 6-speed manual or automatic transmission. The FR-S concept rolls on on stunning 20-inch wheels, hiding a massive set of 18-inch carbon ceramic brake rotors that are fixed to the wheels like a motorcycle. The compact and balanced looking FR chassis looks to be promising low curb weight and ideal weight distribution. With a real hint of what the production version will look like, were sure some of the footwork and stance will not survive. On the other hand Toyota's president is a racer and a gearhead who promises the FR-S will deliver on track. The interior of the hatch space was designed to accommodate four R-Compound tires and a hydraulic jack!
The new sheetmetal didn't stop there. Hyundai had one of their Veloster three-door coupes on display as a debut. This 2012 model is designed with connectivity in mind, and will sport Hyundai's Blue Link Telematics, a 7-inch touch screen display and Pandora internet radio. The Veloster is to be powered by a 1.6L direct-injection 4-banger mated to Hyundai's first dual-clutch transmission.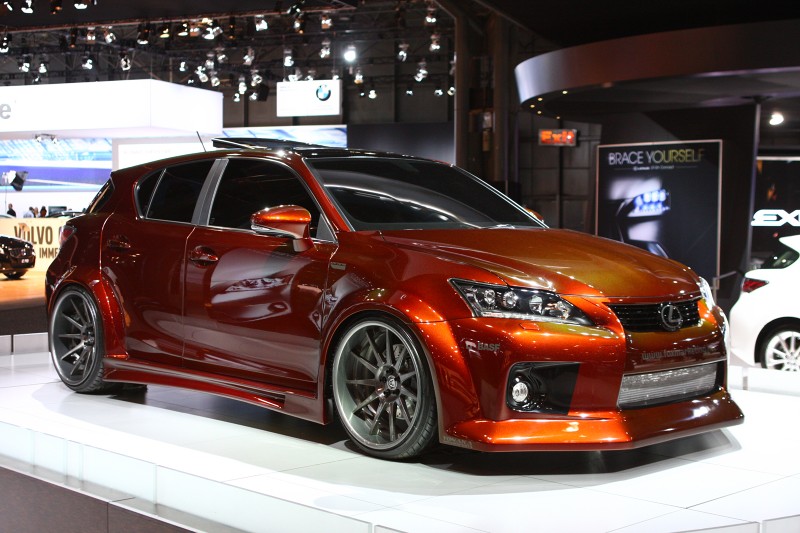 Stepping slightly out of demographic, there was the Nissan Leaf – the companies first all-electric car. Cool as it is, Nissan showed a slightly more aggressive version – called the Nissan Lead Nismo RC. Sounds like a perfect commuter solution to us!
With a full house of manufacturers (aside from Ferrari, Maserati and Lamborghini) there was a lot to look at. VW released a new Beetle, Mercedes had a few new AMG offerings and even a motorbike co-developed with Ducati. Chrysler dropped the SRT-8 Charger and some funky Fiats. Nissan hauled out the Leaf but also in a racecar format called the Nismo RC. The balance of the other cars we've seen at LA and Detroit but it was great to take in some fresh models. www.autoshowny.com